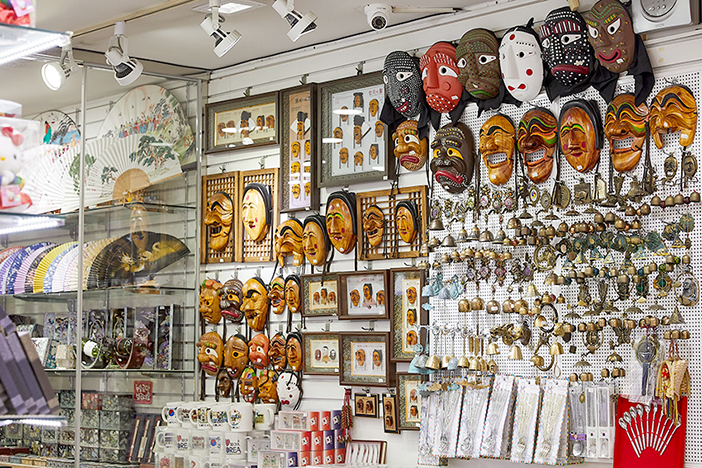 【 Photo: Traditional Korean souvenirs 】
Traditional souvenirs, with their distinct beauty and value, are great items for tourists to keep as a memory of Korea as well as give to friends and family as valuable gifts. Graceful Hanbok (traditional Korean clothes), high quality pottery, and other handmade crafts are some of the recommended traditional Korean souvenirs.
Hanbok
【 Hanbok 】
Hanbok, Korea's traditional clothing, features a beautiful harmony between curves and straight lines. In particular, women's hanbok set, which consists of a skirt and jeogori top, exemplifies beauty and grace.

Hanbok designs are endless but can largely be divided into the two major styles of formal and lifestyle. The styles further vary by adult and child, female and male, and season. Modern lifestyle hanbok has gained popularity over the past few years for their comfortable take on traditional elements. Both formal and modern styles of hanbok can be found at shops in Dongdaemun, Insa-dong, and Samcheong-dong. Prices vary greatly by designer, brand, and fabric.
Pottery
【 Pottery 】
Korean pottery is known internationally for its beautiful color and design. Teacup sets or dishes make for great souvenirs; for something a bit smaller, display accessories and ceramic key chains are also available. There are many shops dedicated to selling pottery in Insa-dong and Icheon Ceramics Village. Prices can range from under 10,000 won to in the hundreds, depending on the size and quality. Various pottery classes are available for those who would like to take home a personal souvenir.
Arts and crafts
【 Arts and crafts 】
Delicately handcrafted traditional accessories are one of the most popular souvenirs for international tourists to take home. These crafts can be widely found in many shops at Namdaemun, Dongdaemun and Insa-dong. Folding fans, bokjumeoni luck pouches, and embroidery key chains can be purchased for around 10,000 won. For those who are looking for something more luxurious, mother-of-pearl crafts such as najeonchilgi, a traditional mother-of-pearl craft with patterns made of shells inlaid into wood and coated with a lacquer finish, are recommended.
This page was last updated in October 12, 2021, and therefore information may differ from what is presented here.