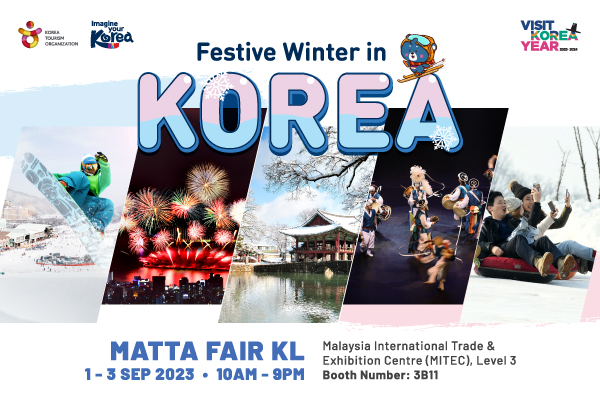 FESTIVE WINTER IN KOREA
~Korea Tourism Organization joins Matta Fair KL September 2023~
Malaysia, Kuala Lumpur 21 August 2023 – Korea Tourism Organization Malaysia Office will participate in the upcoming Matta Fair KL, Malaysia's biggest Travel Fair at Malaysia International Trade & Exhibition Centre (MITEC) from 1 - 3 September 2023. With the popularity of Korean wave or also known as "Hallyu", KTO Malaysia welcomes all Malaysian Travellers to come to enjoy Korea's K-Culture that encompasses the realms of K-Pop, K-Beauty, K-Food, K-Fashion, and various K-Contents, especially K-Drama. Venture into the enchanting Winter in Korea where vibrant festivities and sports unfold amidst breathtaking sceneries.

KTO Malaysia will be highlighting tourism destinations and festivals for the Autumn and Winter seasons. There will be 15 exhibitors consisting of the KTO HQ team, regional tourism provinces, and inbound operators from Korea who will present exclusive K-Culture Contents. They will participate in the travel fair to promote Korea as a tourist destination as well as to interact with the MATTA visitors. A visit to the KTO Booth at MATTA Fair KL will be a rewarding one as visitors can get key information regarding the latest travel safety guidelines, the 100 must-visit places in Korea for year 2023-2024, Muslim-friendly travel news, K-Drama filming locations and enjoy many activities at the booth with plenty of gifts to be won. Visitors who purchase any Korea packages from our Travel Agency Partners can also redeem gift(s) from KTO Booth.

In alignment with the Visit Korea Year 2023-2024, Korea Tourism Organization unveils the carefully selected "100 K-Culture Travel Events", which are 100 events taking place in all corners of Korea. Visitors planning their trip to Korea can experience festivals such as Andong Mask Dance Festival, Busan One Asia Festival, Busan International Film Festival, Busan Fireworks Festival, Hwacheon Sancheoneo Ice Festival, Pink Muhly Festival, Welcome Daehakro, and many more. There are many other festivals happening throughout the different seasons in Korea, for more information, visitors can visit https://visitkoreayear.kr/.

Also, as part of the Visit Korea Year, spot the vibrant Light Rail Transit (LRT) wrapped with Korea's four enchanting seasons, a moving canvas capturing the essence of the country's beauty. From 26 August onwards to November, commuters on Rapid KL's Kelana Jaya LRT line can catch a glimpse of the train and take part in the social media contest to win prizes. Fans of Korea can stay connected on the latest news and contest updates on KTO Malaysia social media platforms and website.

Matta Fair KL 2023
Date : 1 – 3 September 2023 (3 Days)
Time : 10:00am – 9:00pm
Location: Booth No: 3B11, Level 3, Malaysia International Trade & Exhibition Centre (MITEC)

For more information on South Korea, visit Korea Tourism Organization (KTO Malaysia)'s Booth that will be located at Booth 3B11, Level 3 at MATTA FAIR KL 2023 from 1 – 3 September 2023 at Malaysia International Trade & Exhibition Centre (MITEC), from 10:00am to 9:00pm.

Annyeong Kawan, Let's Celebrate Festive Winter in Korea, See you at Matta Fair KL!

Activities: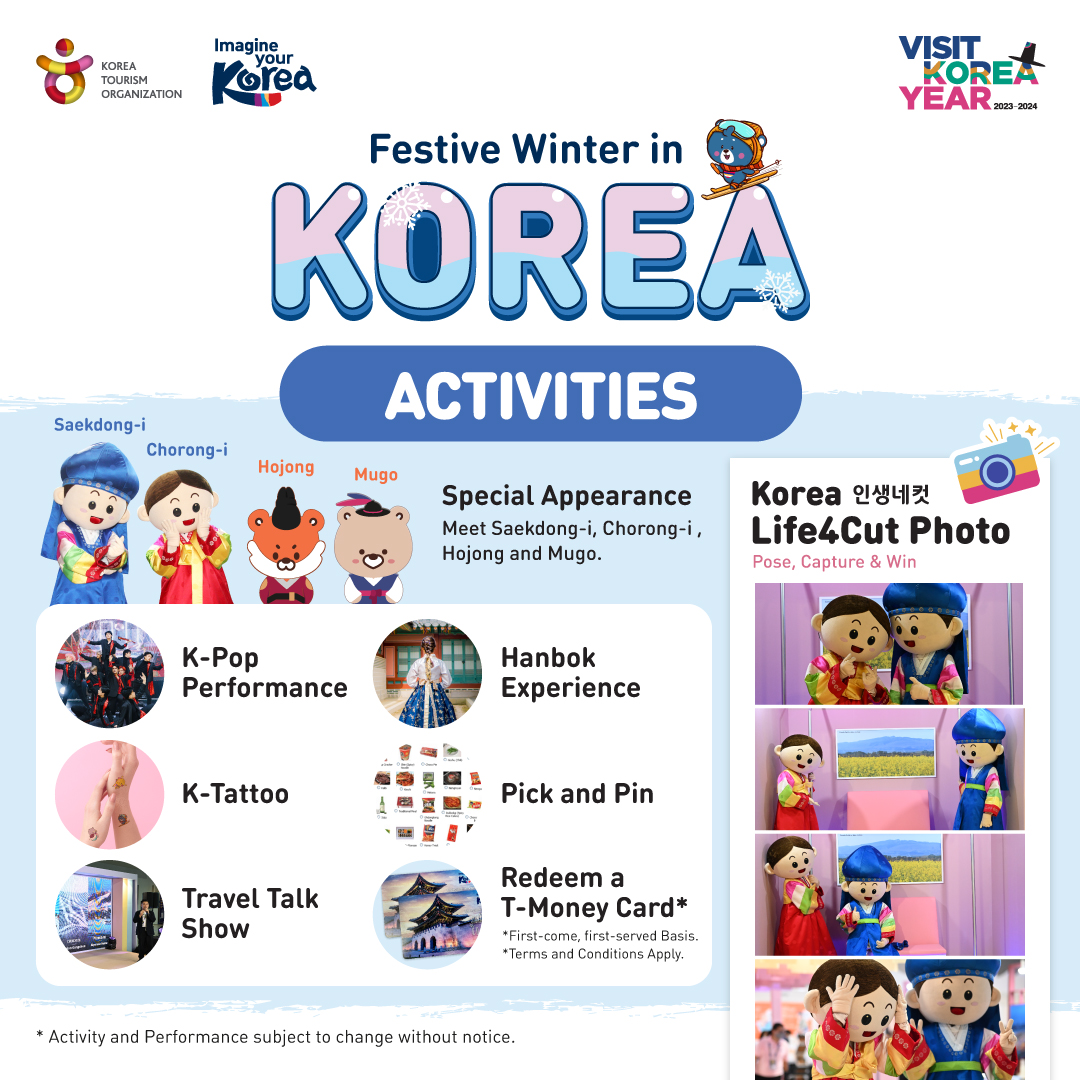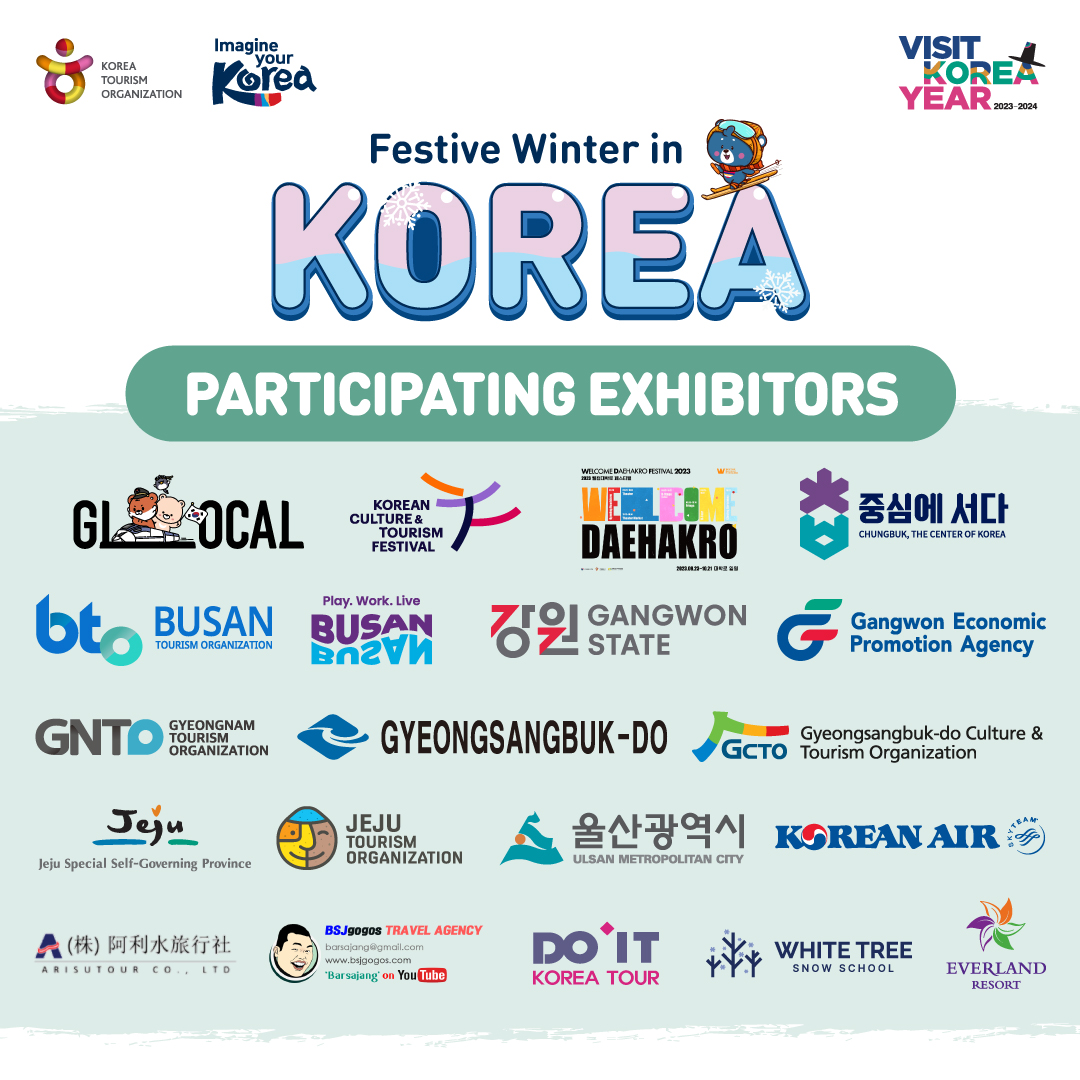 Redemption Details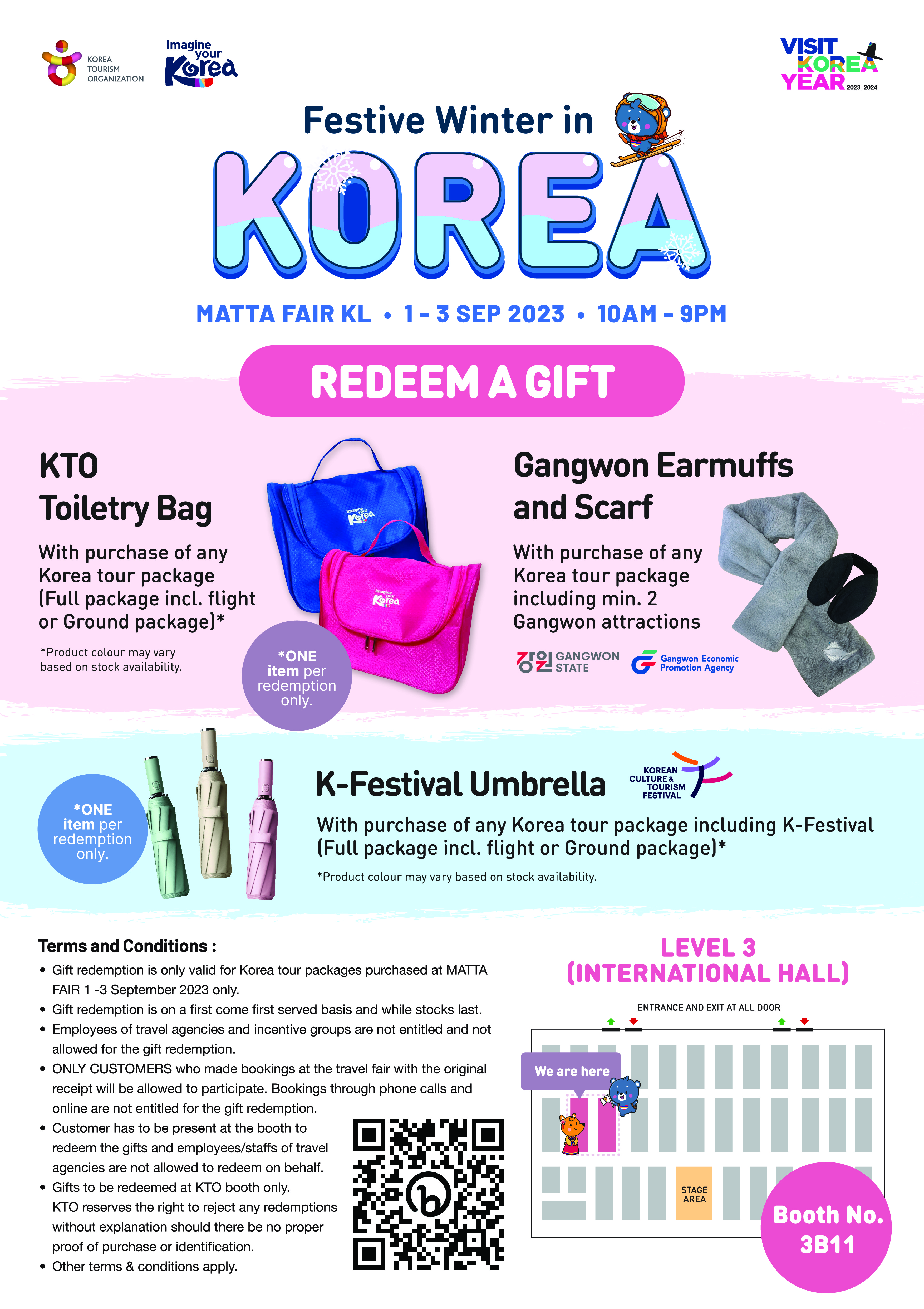 Festive Season During Winter in Korea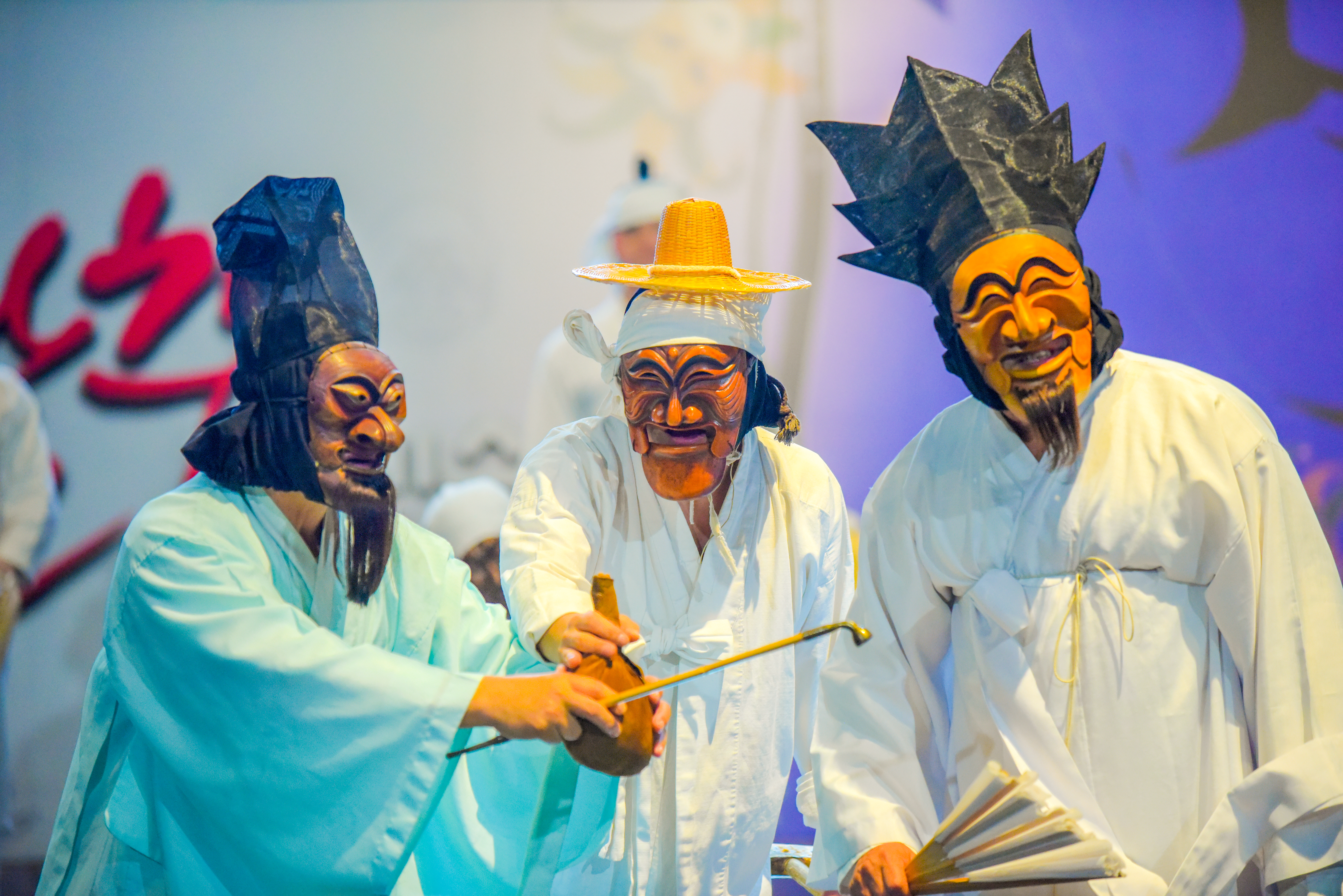 Andong Mask Dance Festival takes place in Andong, home of the UNESCO World Heritage designated Andong Hahoe Village. The festival includes various cultural performances including Korea's mask dance drama, an intangible cultural heritage, and mask dance performances from around the world.

In addition to watching performances, visitors can also participate in a variety of hands-on experience programs to learn more about the dances, masks, and related culture. This beloved festival attracts one million visitors every year and has been selected as the Honorary Representative Culture and Tourism Festival of Korea by the Ministry of Culture, Sports, and Tourism.

Festival Date: October 2 – 9, 2023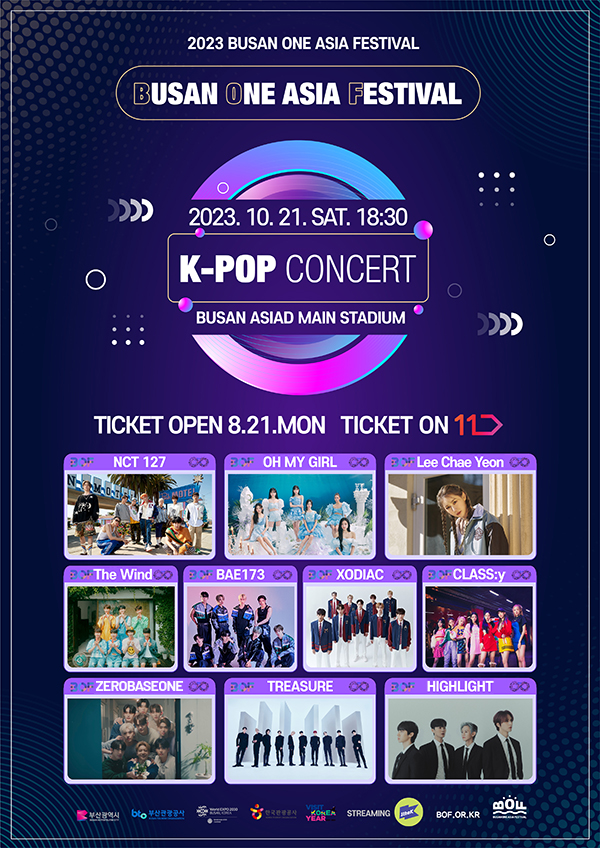 The Busan One Asia Festival (BOF) is a grand hallyu culture festival held every October in various venues around Busan, including at the Asiad Main Stadium featuring many famous K-pop stars. This year's festival will feature major K-pop idols to perform including NCT 127, OH MY GIRL, TREASURE and more.

Festival Date: October 21, 2023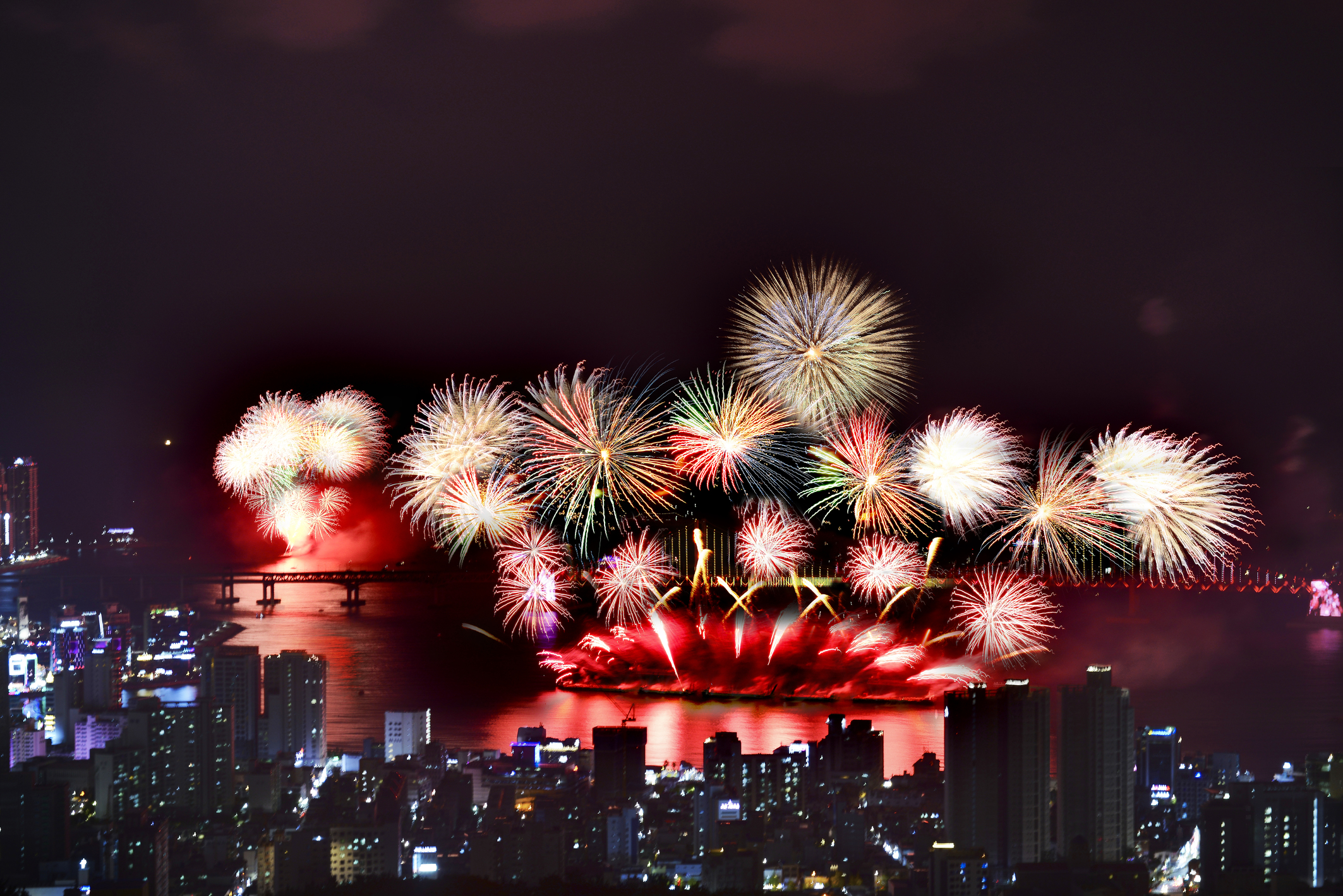 This fireworks festival glitters over the night sky of Gwangalli Beach every autumn. The festival's diverse programs of cultural events, high-tech laser light shows, and myriad of unique and colorful fireworks make this one of the area's most popular festivals, drawing crowds of over 1 million visitors each year. Visitors can watch the fireworks show from Gwangalli Beach, Dongbaekseom Island and Igidae Cliff- as the show is designed to be seen from "3 Points" in Busan.

Festival Date: November 4, 2023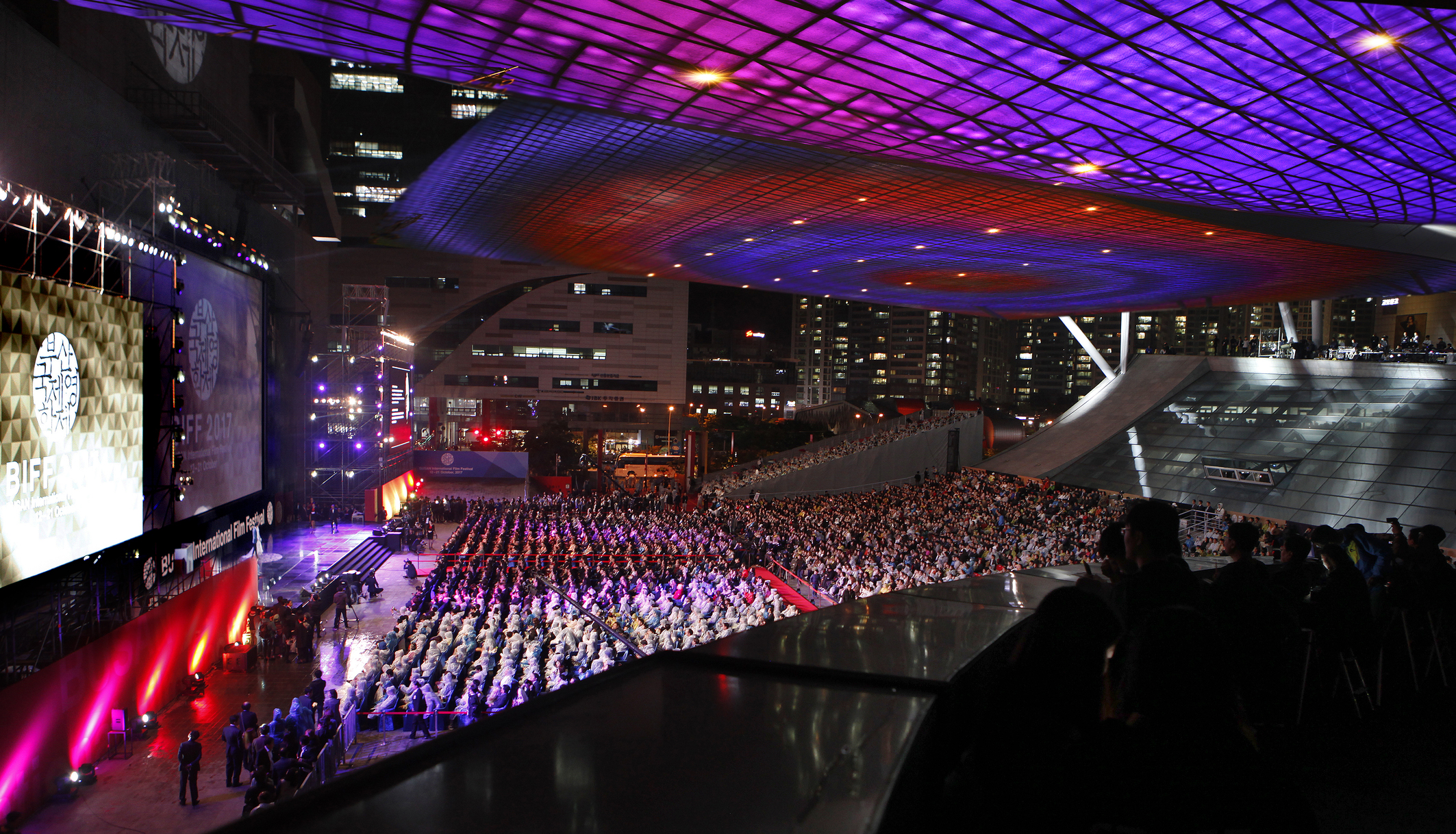 Asia's largest international film festival is held around Busan Cinema Center every autumn. Busan International Film Festival (BIFF) was the first international film festival in Korea that is now considered one of the biggest in Asia. Each year, the film festival looks into global movie trends by inviting films of various genres from various regions worldwide. The festival also helps search for talented movie directors and unknown movies by previewing various film genres.

Festival Date: October 4 – 13, 2023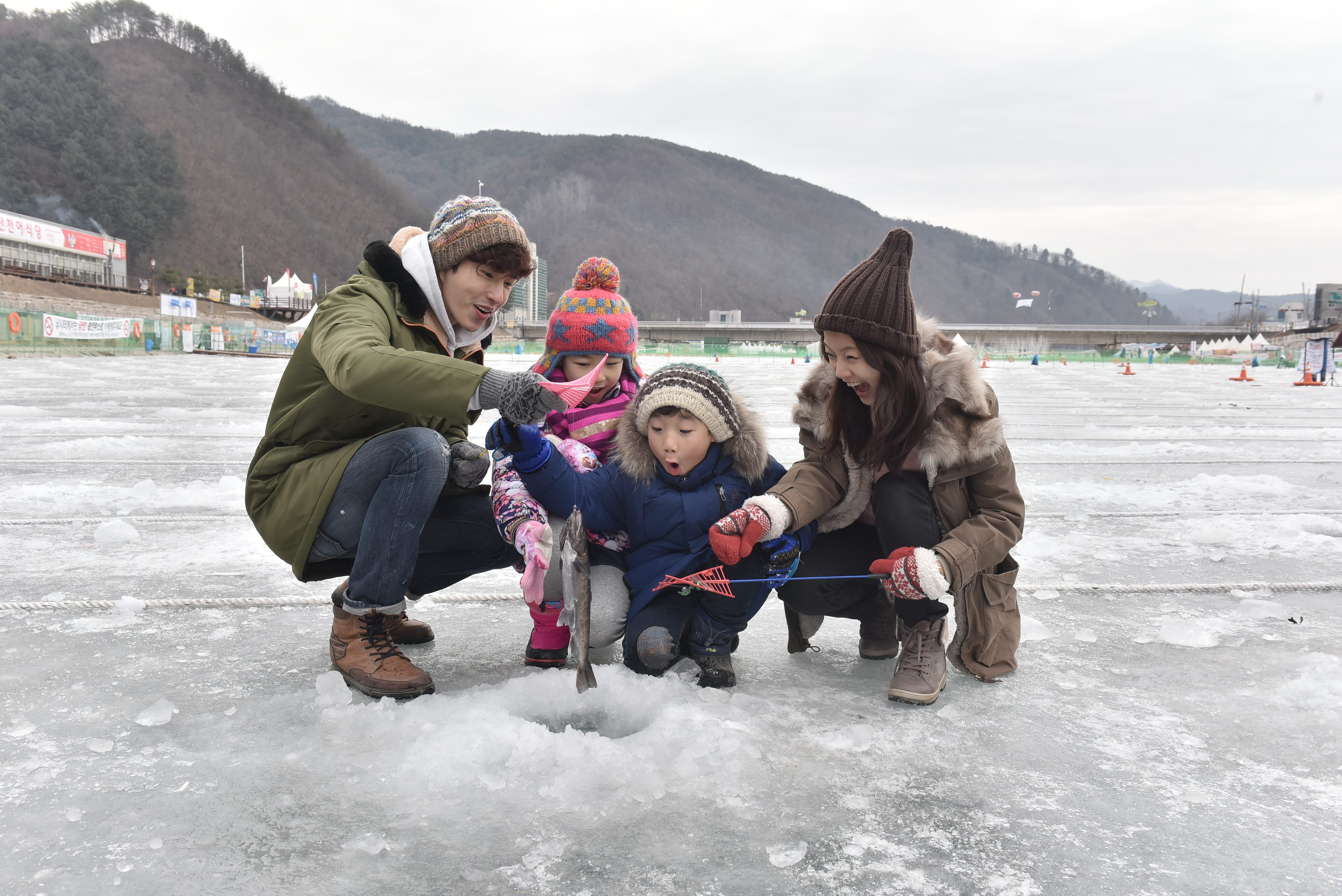 Hwacheon Sancheoneo Ice Festival takes place in Hwacheon-gun, Gangwon-do with plenty of snow and ice, perfect for a winter getaway. It was even introduced by CNN as one of the "Seven Winter Wonders" in 2011. The main event of the festival, ice fishing, takes place on the frozen Hwacheoncheon Stream. The festival has been visited by more than a million people, attesting to the festival's charm. In addition to the various festival programs such as ice fishing, ice sledding, and bobsled, visitors can get a taste of the freshly caught trout grilled on the spot.

Festival Date: TBC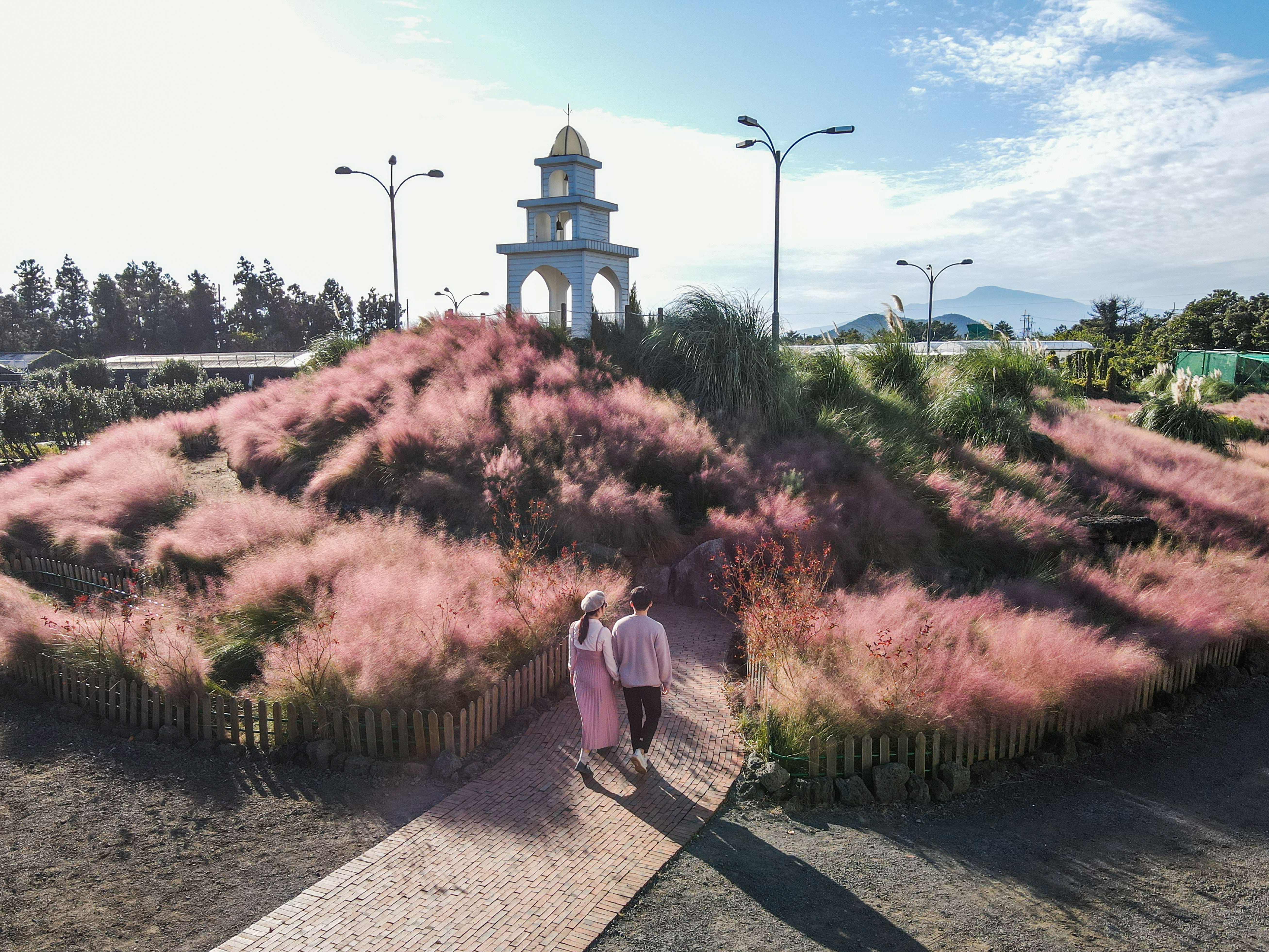 Pink Muhly Festival is hosted every fall on Jeju Island to celebrate the beautiful waves of pink hue in fall. The blanket of pink muhly in the backdrop generates impressive photos to post on the social media feed.

Period: Mid-September to October every year

※ Detailed schedule will be announced later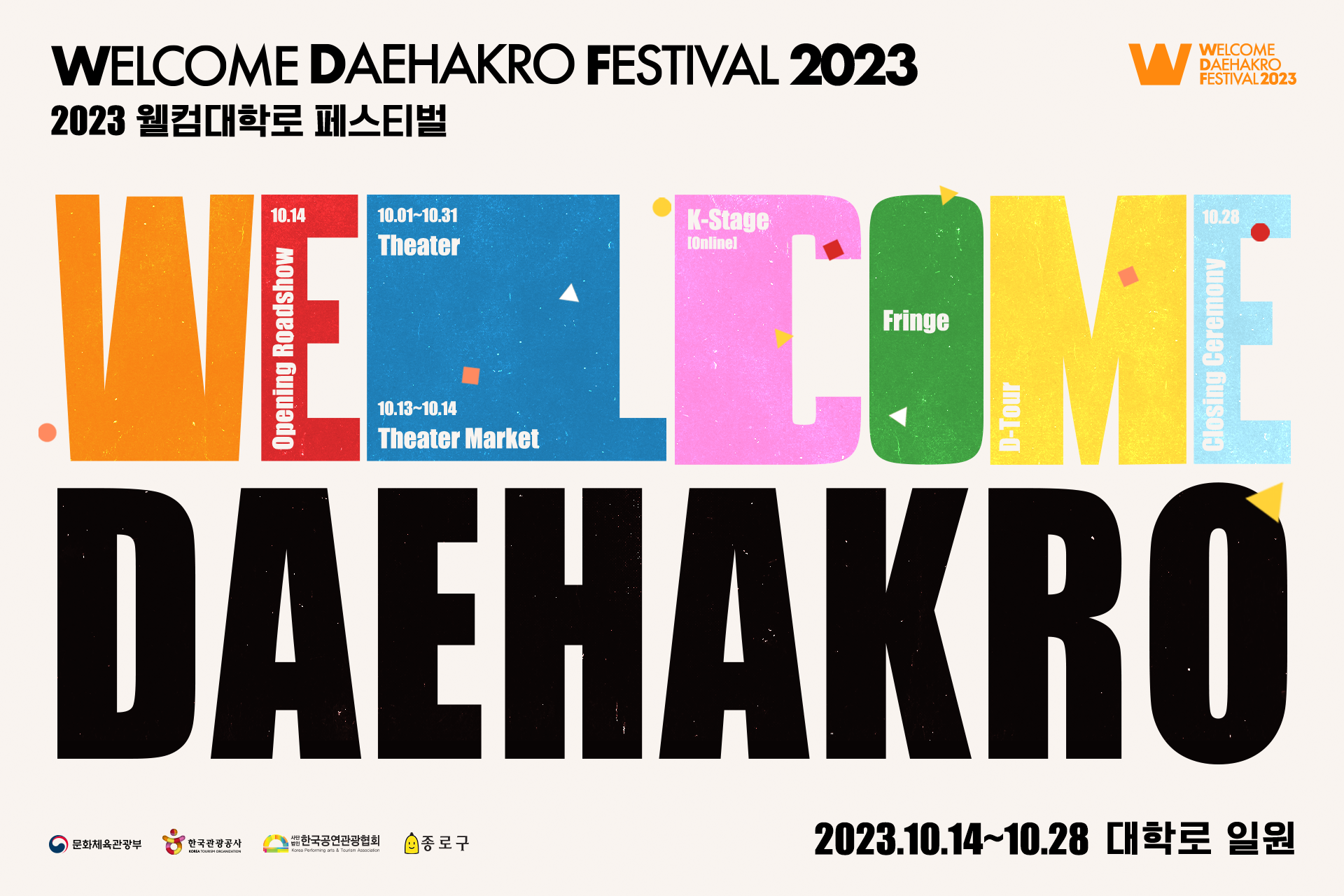 Welcome Daehakro is a festival that offers various types of performances including non-verbal, traditional, musical, plays, and more such as NANTA and Painters HERO. Started in 2017, the festival attracts visitors from around the world every Fall. Welcome Daehakro opened ground for visitors from outside of Korea to get to know magnetism of performing arts scene in the are by offering language subtitle service, hosting talk shows with performing artists, and organizing outdoor performance.

Festival Date: October 14 – 28, 2023