In Praise of Forest Walks
This 11 km-long forest trail winds through a dense forest of cypress and cedar trees, so much so that in some particular spots only a sparse amount of sunlight reaches down to the ground level. Seogwipo Healing Forest is perfect for the weary to take slow strolls, or even space out in the view of the trees.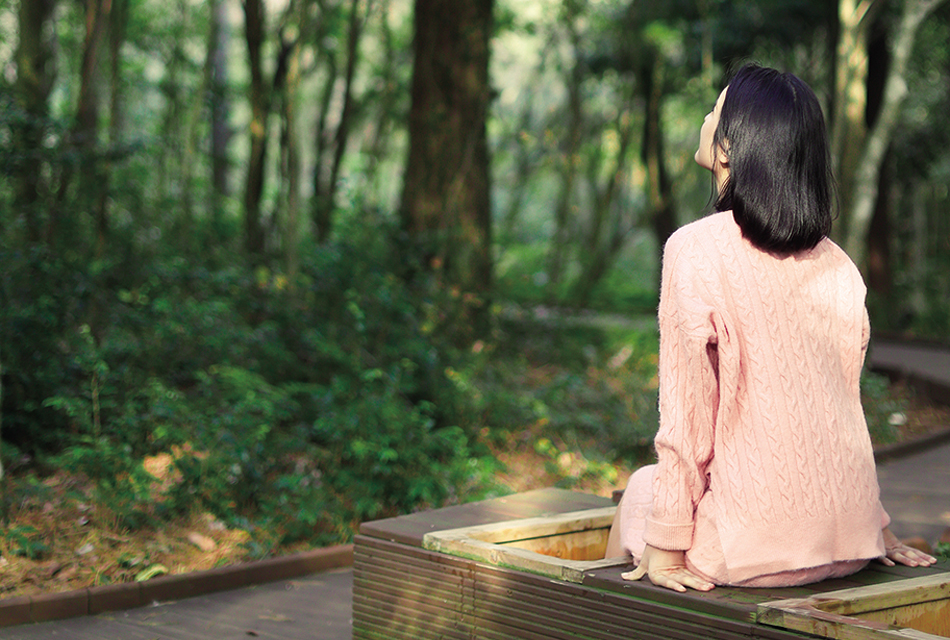 Being a renowned tourist site, Jeju Island is full of things to see and do. But if you are looking for a more peaceful and less crowded destination on the island, Seogwipo Healing Forest is sure to serve you well. Seogwipo Healing Forest is perfect for that purpose as well. The biggest draw of the Seogwipo Healing Forest is its location: its elevation at 320- 760m above sea level allows the area to house flora and fauna from both temperate and subtropical forests. 10 forest trails wind through a dense forest of cypress and cedar trees with more than 60 years of age. Visitors must make reservations to enter the ten trails, nine of which branch out from the 1.9km-long Gameongomeong Trail that starts out from the entrance.
Recommended Forest Healing Programs per Age Group
Forest Healing programs that offer something for the whole family are yet another reason to visit the Seogwipo Healing Forest. "Forest Healing" is the signature program offered by Seogwipo Healing Forest. It offers a chance for you to boost your immune system, achieve harmony with nature, and keep your body and mind healthy by utilizing the environments found in a forest. The program is led by a qualified forest healing instructor, and is designed to accommodate up to 10 people per session to maximize the healing effects. There are three broad categories of programs on offer. If you are visiting with your children, you are recommended to opt for the "Forest Healing for Family" program, where children play games to become familiar with the forest while the grown-ups enjoy educational walks and foot baths in stone steps and anion-rich forest trails running next to valleys. "Forest Healing for Workers" program brings you to see the wonders of the forest, and heal your body and mind as you walk on forest trails through an evergreen forest. "Forest Healing for Adults" program includes tree exercise, breathing techniques, meditation, and tea ceremonies to restore the balance and peace in your body and mind. But regardless of the choice, all three programs offer a healing trip for those who find it hard to take care of themselves due to stress or busy schedule, in a forest rich in phytoncide, sunlight, breeze, and beautiful view.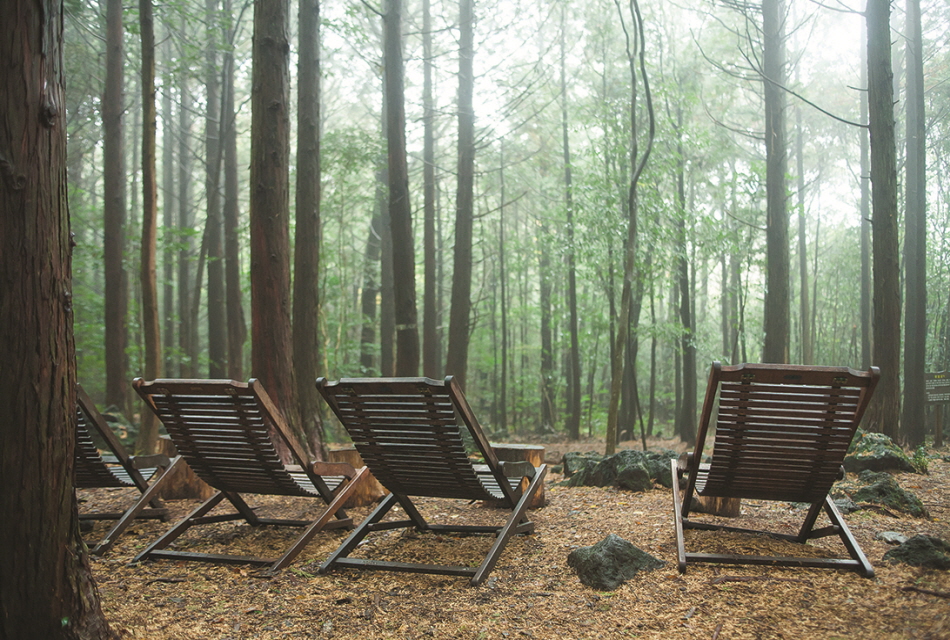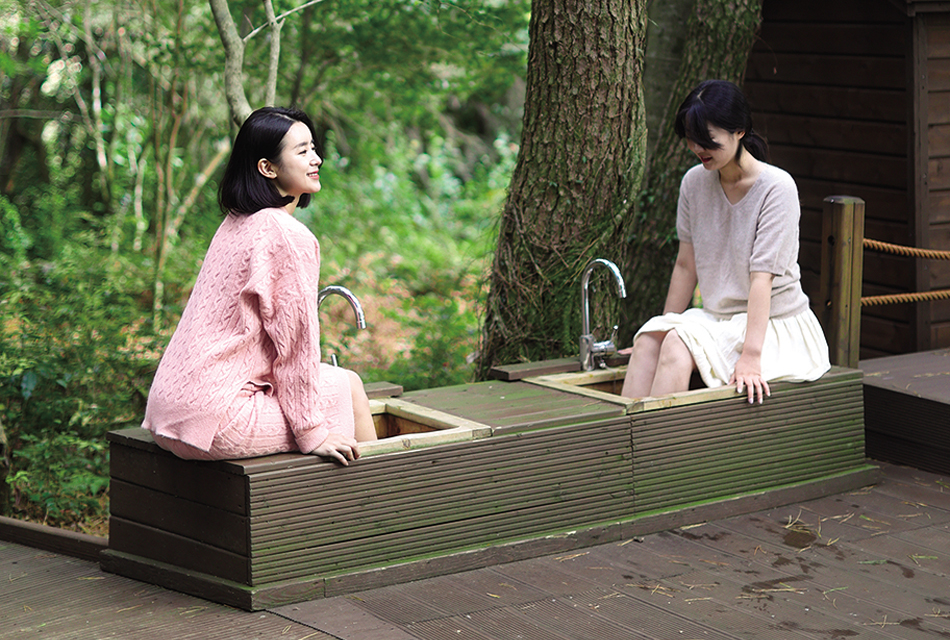 Lost in Thought in the Most Beautiful Forest
The beauty of Seogwipo Healing Forest has been widely recognized as it won the Life Award (grand prize) at the 17th Forest for Life. It is particularly worth noting that it preserves Jeju's unique ecosystem as it is unlike any other place on the island. In this healing forest, you do not have to worry about your weakened physical strength. All you need to do is to drink in the beautiful scenery of the forest, get some fresh air, and enjoy trekking in a laid-back environment. Throughout all seasons, the forest is full of retinispora, red-wood evergreen oaks, and cedars so dense that you can barely see the sky. In autumn, you are bound to find gorgeous autumn foliage, while in winter, you can immerse yourself in walking along a beautiful snowy path.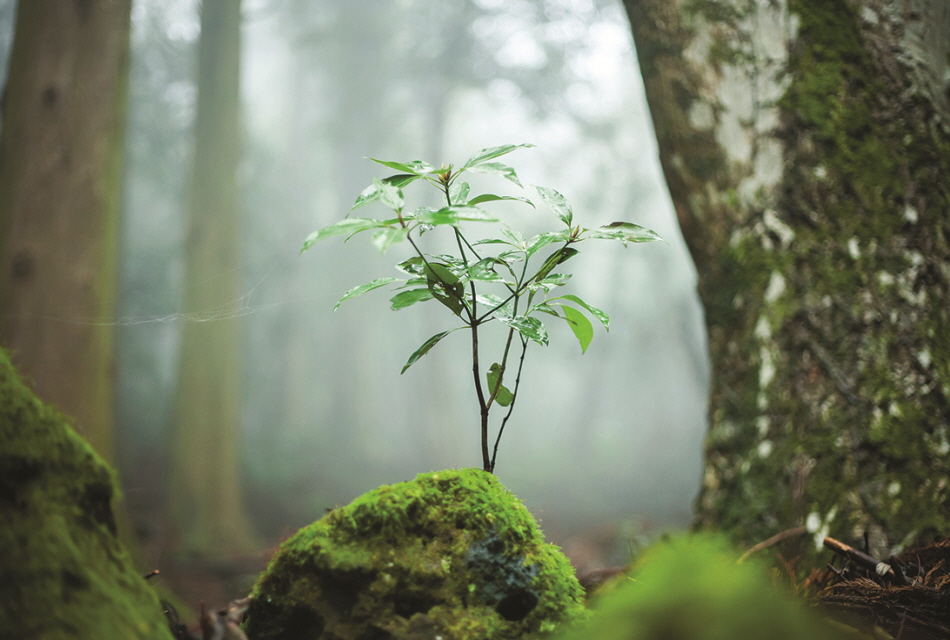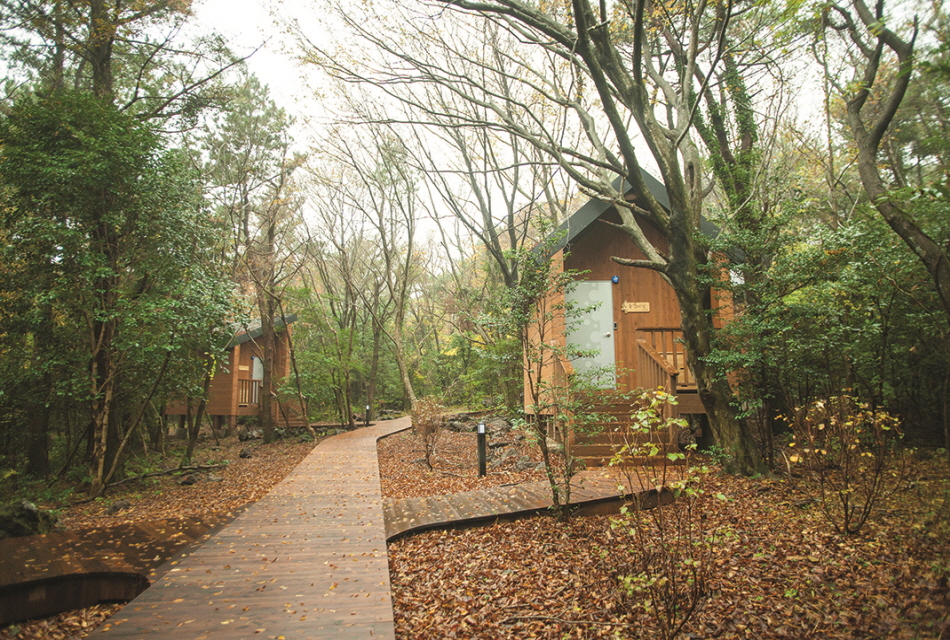 Information
Seogwipo Healing Forest
∨ +82-64-760-3067~8
∨ 08:00–18:00 from Apr. to Dec. & 09:00–17:00 from Nov. to Mar. (Ticket sales closed one hour before forest closing)
∨ Reservation required (on a space-available basis, accommodating up to 300 visitors on weekdays and 600 on weekends); phone reservation required for foreigners and persons with disabilities
∨ Admission Fees KRW 1,000 for adults, KRW 600 for teenagers & soldiers; Forest Healing Program KRW 20,000
∨ Parking Available
∨ 2271, Sanroknam-ro, Seogwipo, Jeju Special Self-Governing Province
NOTE
A Healthy Meal in the Forest, Charong Healing Lunchbox
"Charong" refers to a Jeju-style bamboo basket. For "Charong healing lunchbox," the basket is filled with plentiful heartwarming meals made with Jeju Island's ingredients, including stir-fried shiitake mushrooms from Hallasan Mountain, Jeju-style radish-stuffed buckwheat crepes, broccoli, meat or vegetable skewers, rice balls with hijiki, vegetable wraps and rice with ragwort, and rice balls with pumpkin leaves. Forest Healing programs are suspended as of now due to the COVID-19 pandemic. Visitors are advised to check the availability of the programs before they visit.
Things To Do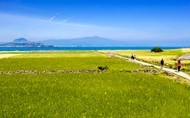 Gapado Island
This island is best known for the impressive view of barley sprouts, over 1m in height, swaying gently in the wind.
∇ Gapa-ro, Daejeong-eup, Seogwipo-si, Jeju-do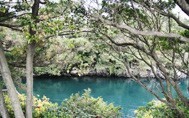 Soesokkak Estuary
A combination of a pine forest and Jeju's characteristic volcanic rock formations make for one of the most memorable views on the island.
∇ 104, Soesokkak-ro, Seogwipo-si, Jeju-do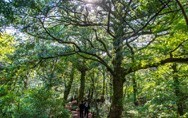 Bijarim Forest
The Natural Monument No. 374 of Korea is a dense forest made up of nearly 2,800 nutmeg (bija) trees.
∇ 55 Bijasup-gil, Gujwa-eup, Jeju-si, Jeju-do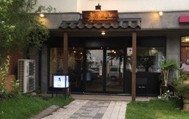 KOU
This Japanese restaurant makes use of seasonal ingredients in the Jeju Island.
∇ 3-5, Sinjung-ro 13beon-gil, Seogwipo-si, Jeju-do