A New Water Park for Relaxing and Swimming at Once
Under the themes of "Healing and Feeling" by emptying one's mind of clutter and filling it with peace, this therapeutic space was opened with Goyang's Starfield City in 2017. Its modern and luxurious sauna and spa facilities, coupled with a rooftop pool, has established a place of relaxation for anyone regardless of age and gender.
Do you want to enjoy both swimming in a cool pool and sweating in a hot dry sauna? Aquafield Goyang would be a good choice as it offers you sauna, Korean dry sauna, Water Park, and Infinity Pool all at once. It is not easy to find a water park of this size in the city center. It can even stack up to a decent aquarium in terms of size. The best part of this facility is that it can be reached within an hour by car from Seoul. Besides, since it is located inside Starfield, you can not only enjoy swimming and sauna but also shopping. That is why it is crowded with people particularly on weekends. Once you enter Aquafield Goyang, you can stay there for up to six hours without paying an additional charge. You may find it long enough; however, as you look around every corner of the facility, you will lose track of time. Aquafield Goyang which offers a wide range of services can be roughly divided to three parts: Sauna, Jjimjil Spa, and Rooftop Pool. Wherever you go, wherever you lie down, you will feel comfortable and refreshed.
an upgraded Version of Jjimjil Spa
Physical pain is closely linked to blood circulation. When your body temperature drops, your blood vessels constrict. Over time, plaque can build up narrowing the vessels, which can lead to pain and stiffness. Jjimjil is a Korean word for soothing stiff joints, relaxing muscles, and boosting circulation with heat. At Aquafield Goyang, we focus on heat therapy that is good for the body.
Aquafield Goyang is equipped with eight different jjimjil spas. The first spa that catches your attention is the igloo-shaped Charcoal Room that contains high-quality charcoal from Hoengseong, Gangwon-do. Charcoal releases a large amount of anions, which are effective in balancing your pH level. The Charcoal Room is at the center, and from there, you can see other interesting themed spas: the Salt Room with its wall packed with Himalayan rock salt; Elvan Stone Room, which uses Elvan stones from Yecheon, Gyeongsangbuk-do; Bulgama, that is composed of red clay bricks from Gochang, Jeollabuk-do; and Red Clay Room, which is built with red clay from Gochang as well. At Aquafield Goyang, there are so many things to eat. At the entrance to the Jjimjil Spa, you will come across a food court that has famous food options provided by Shinsegae Food. In the main hall of the spa, you will find a snack bar that sells must-try "spa snacks" such as sweet rice drinks and roasted eggs.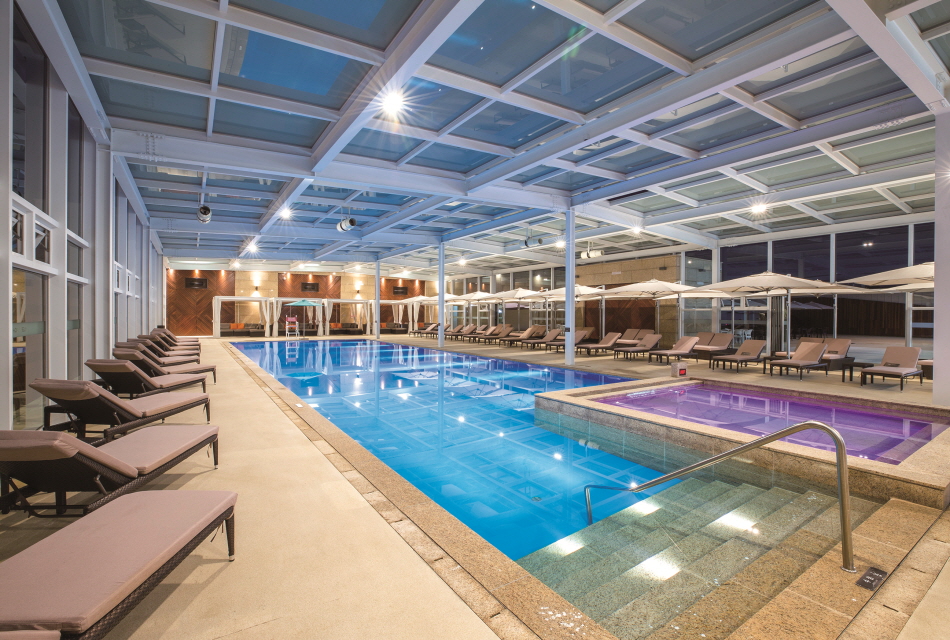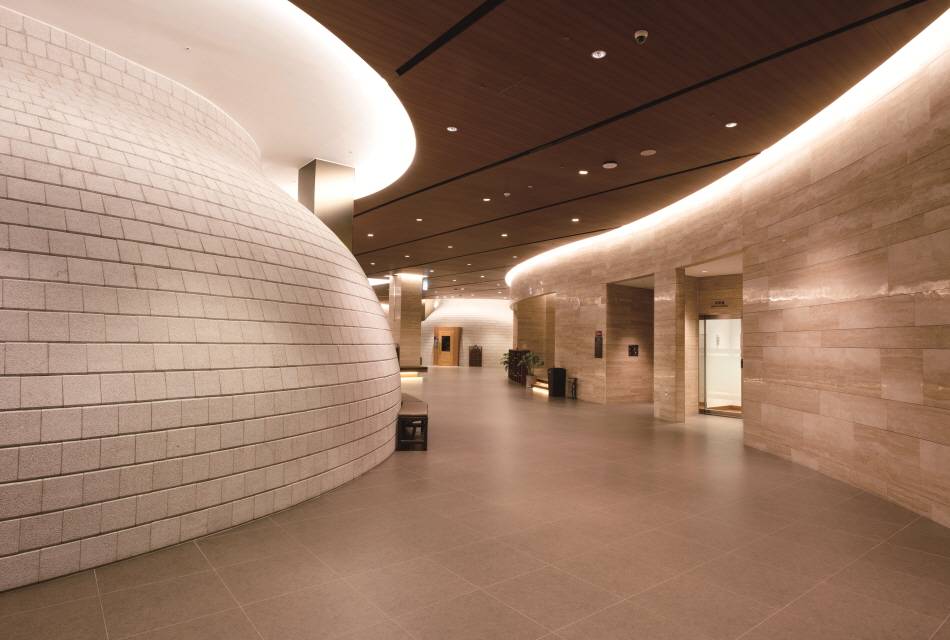 Relieving Fatigue in Jjimjil Spa and Chilling out in a Rooftop pool
The high-temperature Korean dry sauna has been proven to have excellent far-infrared emissivity through the Korea Far Infrared Association's test. Once far-infrared rays get into your body, they activate cells, helping to relieve stress, combat fatigue, promote blood circulation, and excrete contributors to fatigue. If you want to cool down your body slowly, you can stay in the low-temperature Jjimjil Spas. These include the Cloud Room, which carries a distinct aroma with its cloud-likealls; Media Arts Room, featuring a panoramic underwater 360-degree video that makes use of the entire room, from ceiling to floor; and Cypress Room, which is filled with cypress trees from Shikoku, Japan.
Aquafield Goyang is a fun and exciting place to spend time with your family, friends, or your boyfriend or girlfriend. Once you finish making the most out of the facilities, now is the time to take a rest. The rest area is divided into the adult and kid zones for customers' convenience. The Relax Room is only for adults who want to sit in reclining chairs and listen to music or watch TV, while the Kids Room is separately located and filled with toys. With Bubble Play and nine pools, including a Jacuzzi, the rooftop pool is in the outdoor and indoor areas.
From the Infinity Pool and Jacuzzi on the rooftop that meets the sky, you can have fun both swimming and relaxing with an open view.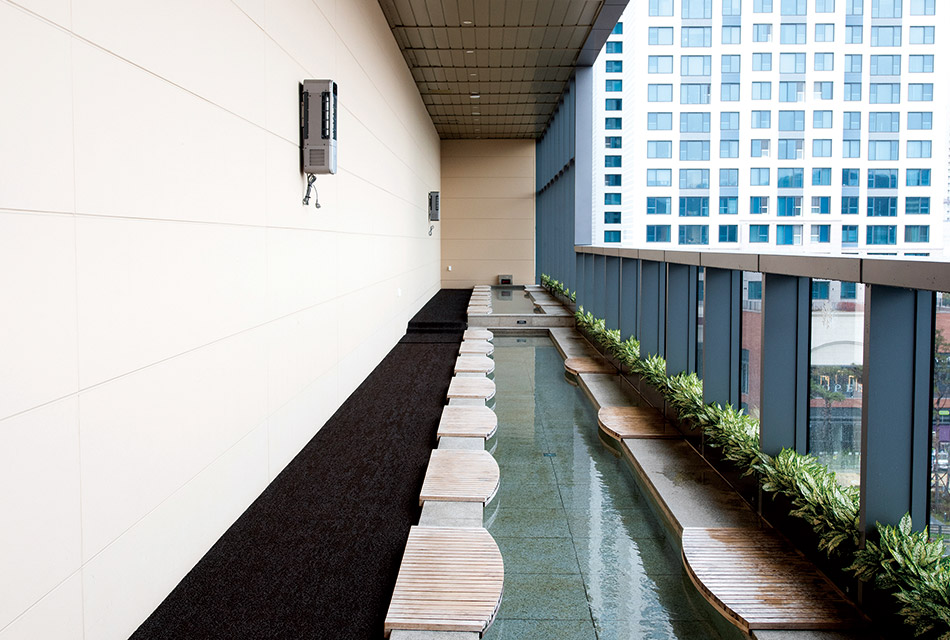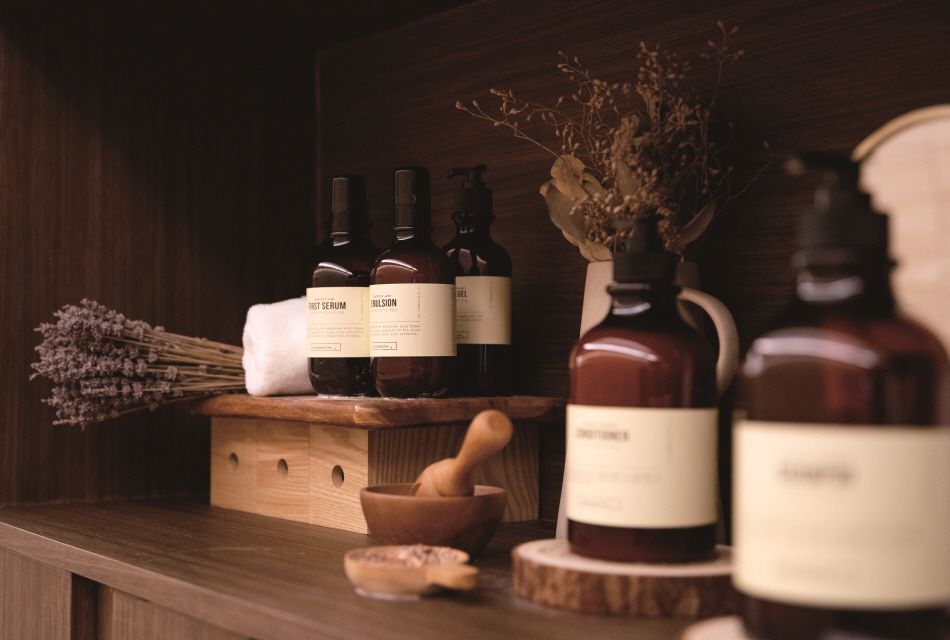 Information
Aquafield Goyang
∨ +82-31-5173-4500
∨ Jjimjil Spa 10:00~19:00, Rooftop Pool 10:00~18:00
∨ Adults KRW 21,000 Children KRW 17,000 (additional KRW 2,000 on weekends)
∨ Parking Available
∨ 1955, Goyang-daero, Deogyang-gu, Goyang-si, Gyeonggi-do
NOTE
a Heaven for Children
The rooftop pool has numerous things for children to do. There are ground sprays and floor fountains so that you can have fun with water without entering a pool. If you get bored of playing with water, it is time to jump on a trampoline. Bubble Play, which will awaken your five senses with colorful LED lights and fluffy bubbles with fruit notes, is also popular among visitors.
Things To Do
Ilsan Lake park
It is Asia's largest park that has an artificial lake with a total area of 300,000 m2. It is equipped with bike paths, a nature learning center, and other facilites.
∇ 595, Hosu-ro, Ilsandong-gu, Goyang-si, Gyeonggi-do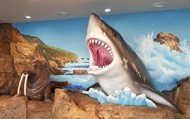 aqua planet
You can observe 36,500 sea and land animals out of 325 species from all around the world in one place.
∇ 282, Hallyuworld-ro, Ilsanseo-gu, Goyang-si, Gyeonggi-do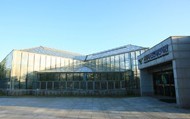 Goyang Cactus exhibition Center
It exhibits 6,800 cactus including the rare ones such as Alluaudia procera and golden barrel cactus.
∇ 595, Hosu-ro, Ilsandong-gu, Goyang-si, Gyeonggi-do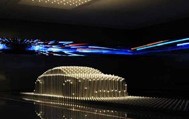 Hyundai Motor Studio
It is an indoor car-themed park built by Hyundai Motor Company. You must make a reservation in advance to attend the permanent exhibition.
∇ 217-6, Kintex-ro, Ilsanseo-gu, Goyang-si, Gyeonggi-do