Tax Refund Eligibility & Requirement
Non-Korean citizens: travelers staying in Korea for less than six months
Overseas Koreans: travelers staying in Korea for less than three months and have lived overseas for more than two years or hold a permanent residency in another country

To claim your tax refund, the item must be new and unused, cost 30,000 won or more (15,000 won, effective 2024), and the shopper must leave the country within 3 months from the purchase date.
[Step 1] Receive and keep VAT refund receipts when purchasing items.
Before making your purchase, be sure to check that the retail business is a participating store of the certified tax refund brands. Shops with the refund service should have signs written "Tax Refund" and have "Tax Refund" indicated on their VAT refund receipts. Present your passport to the cashier upon payment.
Tip Before making a purchase, be sure to check for the store mark!
If the store sign or receipt has one of the following certification marks with either "Tax free" or "Tax refund" written, you can claim your tax refund.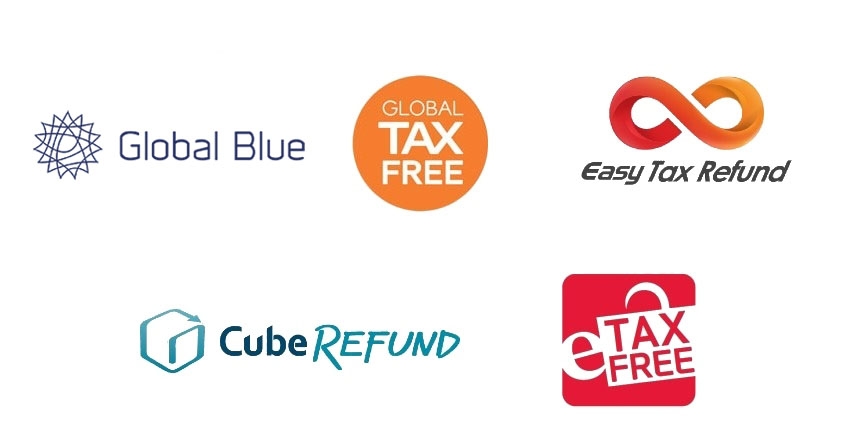 【 Photo: Logos of companies offering tax refund services 】
[Step 2] Claim your tax refund at major airports and service branches located nationwide.
At airport and port terminals

There is no purchase amount limit during the stay, and tax refunds can be received at the tax refund counter or kiosk. If there is no tax refund counter or if it is closed, write the information of the person who will be receiving tax refund on the receipt and place it in the designated box on site. If the tax refund request is successfully processed, the amount will be refunded automatically to your international credit card, Alipay, or WeChat Pay within 1 to 2 months.
* The procedure may vary by airport or passenger port terminal; travelers are strongly advised to check with a staff on site.
① Claim your boarding pass, but do not check-in your baggage and make sure to hold onto the VAT refund receipts.
② Show the purchased goods and VAT refund receipts to the customs officer and get the Customs Export Approval stamp on the receipts.
③ Proceed to the oversized baggage counter at the check-in area and check-in your luggage.
④ Proceed to a nearby tax refund counter or kiosk machine with your passport and tax refund receipt. Actual cash refund can be received in the Duty Free Zone after security inspection and screening.
Tip Main refund locations at Incheon International Airport
Tax refund counters
Terminal 1: 3F Duty Free Zone near Gate 28
Terminal 2: 3F Check-in counters D & E / 3F Duty Free Zone near Gate 253
Tax refund kiosk machines
Terminal 1: 3F Concourse near the central pharmacy / 3F Duty Free Zone near Gate 28
Terminal 2: 3F Duty Free Zone near Gates 250 & 253
** As locations may change, travelers are advised to check the locations upon arrival at the airport.
At tax refund booths in the city

You can receive immediate cash refunds at tax refund booths in major cities. To receive tax refund at the city tax refund booths, present your purchased goods, VAT refund receipt, passport, and international credit card. You must have purchased less than 5,000,000 won (6,000,000 won, effective 2024) during your whole trip duration to claim for tax refund at a city tax refund booth. Once you get your refund, you must report it to the customs office or designated refund counter at the airport upon departure. Tax refund booths in the city only offer refunds offered by their respective company. Tax refund counters in the airport or port offer tax refunds for purchases regardless of the company.
Tip
As the refund amount and period may vary depending on the credit card, travelers are advised to check with their credit card company before processing.


[Immediate tax refund] Receive immediate tax refund on site
Travelers who are eligible for tax refund can also receive immediate tax refund at select duty free shops. Immediate tax refund service has its own limitations: the amount of a single payment must be at least 30,000 won but less than 500,000 won (700,000 won, effective 2024), and the traveler must have spent no more than 2,500,000 won during the whole trip. Present your passport upon making your purchase.
▼Looking for more info? ▼
Global Blue: www.globalblue.com (Korean, English, Japanese, Chinese, Russian, Spanish, Indonesian, German, French, Portuguese)
GLOBAL TAX FREE: web.gtfetrs.com (Korean, English, Chinese)
Easy Tax Refund: www.easytaxrefund.co.kr (Korean, English, Japanese, Chinese)
CubeRefund: www.cuberefund.com (Korean, English, Japanese, Chinese)
eTAX FREE: www.etax-free.com (Korean only)