It can be quite a hassle to purchase a ticket or pay with cash each and every time you use public transportation during your trip. For convenience, try using a Korean transportation card (NAMANE Card, Tmoney Card, Cashbee Card)! These are chargeable prepaid cards that do not require an account. Not only do they offer transfer discount benefits on public transportation, but also enable payments at both online and offline stores, making them extremely convenient. Make your trip in Korea more easy and convenient with a simple card.
NAMANE Card
Create your own card with a NAMANE card. The only one in the world! NAMANE Card is a customizable card that you can create with an image of your choice. It is a great souvenir to take home after your trip is over. You can purchase a card on the NAMANE app or at a NAMANE kiosk installed at major locations nationwide including Incheon Airport, Myeong-dong, and Seoul Station. You can also check the card balance in real time and conveniently charge it on the app. The card can be used for all public transportation and at any shop like a debit card.

+ Visit the following website for more information
NAMANE Card website: www.namanecard.com/service-manual (English, Chinese, Japanese)
Tip! Use the NAMANE Card with the VISITKOREA app
If you have the Korea Tourism Organization's VISITKOREA app installed on your phone, you don't need to install the NAMANE app to check the usage history and balance of your NAMANE Card, which is quite convenient. You can use it after consenting to the KTO's provision of personal information to third parties, i-Aurora's provision of personal information to third parties, and the terms and conditions (to be available in July 2023).

Tmoney Card & Cashbee Card
You can purchase and charge these cards at any convenience store nationwide. They can be used for all public transportation and at affiliated stores that display the logos of these cards. If you are under the age of 18 and wish to receive discount benefits for public transportation fees, you must register your date of birth when purchasing a card.
The Tmoney Card has the largest number of affiliated stores in Korea and it can be used for city tour buses and lockers in subway stations. The Korea Tour Card and Mpass Card are a type of Tmoney Card exclusive to foreign tourists so travelers are recommended to compare the benefits before selecting a card.

+ Visit the following websites for more information
Tmoney website: www.t-money.co.kr (Korean, English)
Cashbee website: www.cashbee.co.kr (English, Chinese)
Korea Tour Card
Korea Tour Card is a foreigner-exclusive transportation card that includes benefits for tourists. Like other transportation cards, you can use the Korea Tour Card to pay for subways, buses, taxis, AREX, and purchases at convenience and affiliated stores. The mobile app can only be charged with cards, while physical cards can be charged with cash (Korean won only). The maximum deposit amount is 500,000 won, and refunds are available at convenience stores, Tmoney service centers inside subway stations, and Tmoney Town.
Additionally, Korea Tour Cards can be used as a method of payment at Tmoney affiliated stores. This card is also an excellent option for tourists as you can receive discounts or gifts at attractions, shopping centers, F&B, entertainment facilities, and more from 1,840 stores from 251 brands.

+ Visit the following website for more information
Korea Tour Card: www.koreatourcard.kr (English, Japanese, Chinese)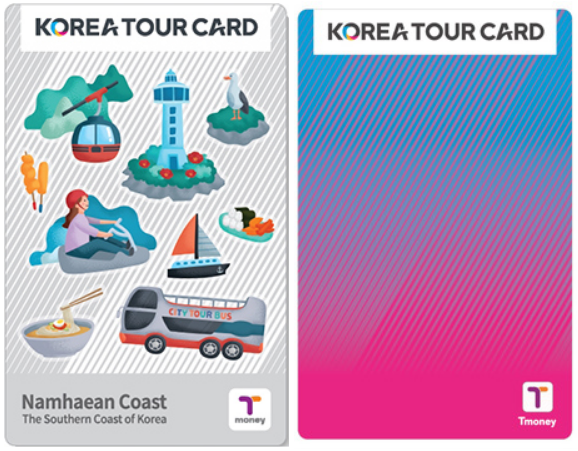 Tmoney Cards exclusive to foreign tourists

✔ AmazingPay T-Money

Provides a 10% discount when purchasing an airport bus ticket (only when paying by cash). Also, includes a coupon book offering discounts at various tourist attractions, food and beverage stores, and cultural performing halls. This card can be purchased at an airport bus ticket counter.

✔ Mpass Card

Transportation card that offers rides on public transportation up to 20 times a day for a maximum of 7 days. Card types include 1-day pass (15,000 won), 2-day pass (23,000 won), 3-day pass (30,500 won), 5-day pass (47,500 won), and 7-day pass (64,500 won). The card is only valid for 30 days starting on the issued date. Cards purchased after 17:00 receive 3,000 won discount automatically. Mpass Card also has the same transportation card features of a Tmoney Card. Load the card with Tmoney at locations that sell the Tmoney Card, to use it on taxis, express buses, intercity buses, or trains.

* Card issuance and return location: Tmoney Town across the street from Seoul Station (Tmoney, 1F, Seoul City Tower, 110, Huam-ro, Jung-gu, Seoul (서울특별시 중구 후암로110 서울시티타워 1층 티머니))
NAMANE Card
Tmoney Card
Cashbee Card
Retail locations

- NAMANE app: Search "NAMANE" on Google Play Store or App Store
- NAMANE Card vending machine:
Search for the locations of vending machines on the website or app

- Convenience stores nationwide (GS25, CU, MINISTOP, etc.)
- Ticket/card machines in subway stations for purchasing single tickets and reloading transportation cards (only reloading available and limited to max. 500,000 won)

- Convenience stores nationwide (GS25, CU, MINISTOP, etc.)
- Ticket/card machine in subway stations for purchasing single tickets and reloading transportation cards (only reloading available and limited to max. 500,000 won)

Price

Custom card 7,000 won (when purchased from a vending machine)

3,000 won-5,000 won (General)

2,000 won ~

Card usage

- Any store nationwide
- Public transportation nationwide
- Highway toll gates
- Affiliated partner stores displaying the Rail+ stickers, manned mobile sales stands in KTX trains

- Public transportation and affiliated stores displaying the Tmoney Card logo
- Fares on highways and toll roads
- City tour buses
- Public phones
- Lockers, unmanned photo booths, etc. in subway stations

- Public transportation and affiliate stores displaying the Cashbee Card logo
- Subways in the Metropolitan Area, Busan, Daejeon, Daegu, and Gwangju
- Fares for highways and toll roads
- Public phones

Tips

- All taxis nationwide
- Payment not possible at certain hotels, Hyundai-affiliated outlets and department stores
- Only the Transit Balance can be loaded with cash at subway stations, train stations, or convenience stores (however, after reloading the Transit Balance, it can be converted to the Pay Balance).

- If you are under the age of 18 and wish to receive discount benefits, you must register your date of birth at a convenience store
- Refunds of 50,000 won or more are only possible at Tmoney Town in Seoul Station

- Only refunds of less than 20,000 won possible at convenience stores
- Smartphone tap feature available by registering the purchased card on the Cashbee app

Advantages

- Great souvenir item that is customizable
- Possible to check the balance on the VISITKOREA app
- Possible to apply for a refund if more than 60% of the charged Pay Balance is used

- Largest number of affiliated stores
- Diverse types of cards and discount benefits specialized for travelers including Korea Tour Card, AmazingPay Tmoney, and Mpass Card
- Card-type products of various designs and stickers that can be attached to iPhones

- In addition to cards, Cashbee Cards come in the form of wristwatches, accessories, and stickers for iPhones

Websites

https://www.namanecard.com
(English, Chinese, Japanese)

www.t-money.co.kr
(English, Chinese, Japanese)

www.cashbee.co.kr
(English, Chinese)
This page was last updated in August 2023, and therefore information may differ from what is presented here.
1330 Korea Travel Hotline: +82-2-1330 (Korean, English, Japanese, Chinese, Russian, Vietnamese, Thai, Malay)