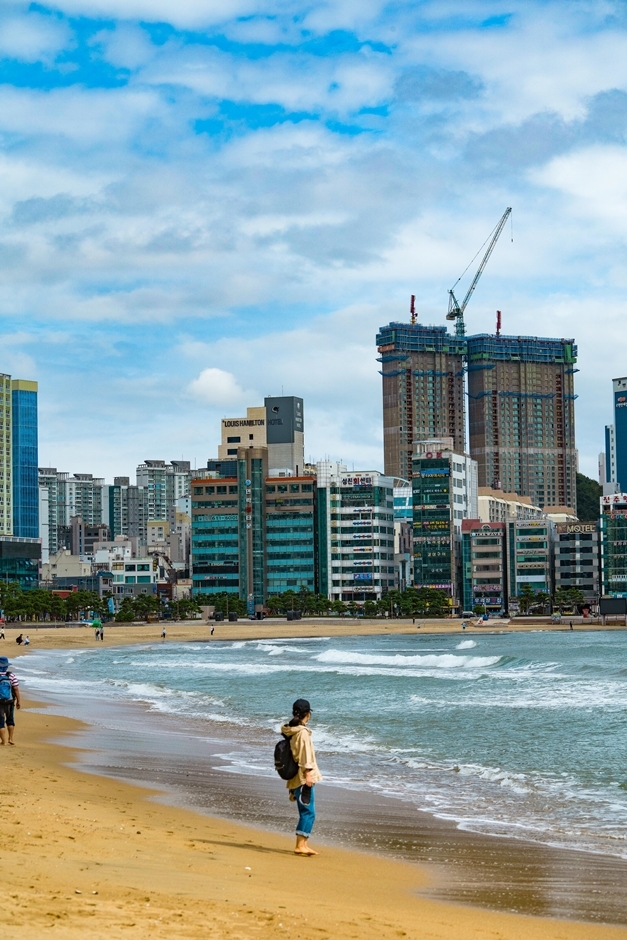 It is October, the time when the cool breeze starts to blow.
Now that the high season of summer is over,
I thought to myself that I would see less crowds in the beloved tourist hangout of Busan as I made my way to the train station.
To my surprise, Busan in October was full of life, with even larger crowds than the ones in summer.
What could have drawn so many people to Busan when the summer sun was giving way to a cooler fall breeze?



Well, the answer is the content that can only be enjoyed right now,
such as the beloved Busan International Film Festival,
returning after 3 years of absence from October 5 to 14,
and the Jeonpo Coffee Festival, held from October 7 to 9.
For those who want to enjoy the dynamic and fun month of October in Busan,
here is our recommendation: The Korea Quality (KQ)-certified Baymond Hotel,
where one can enjoy an exquisite healing experience and three thematic courses for your trip in Busan.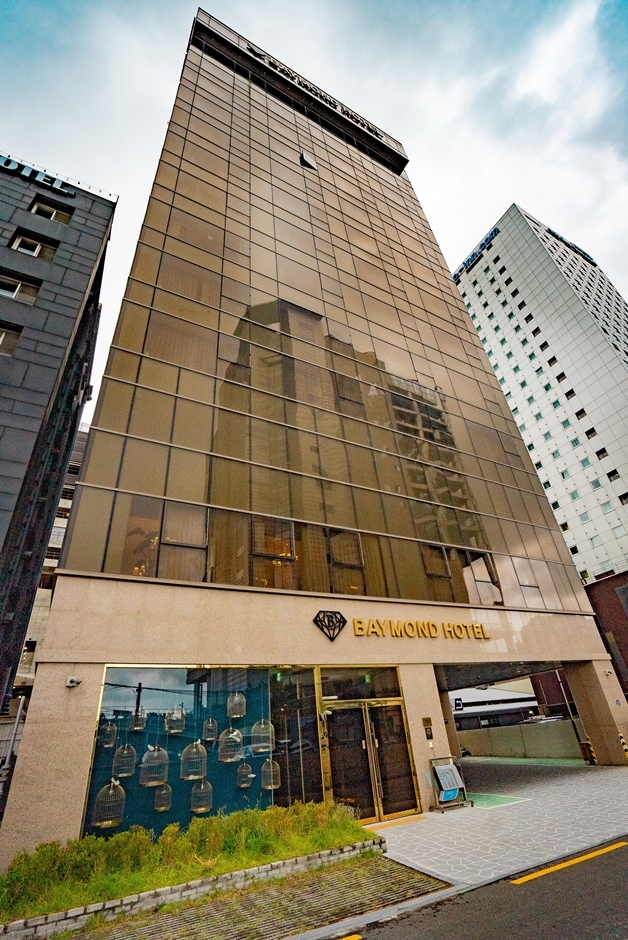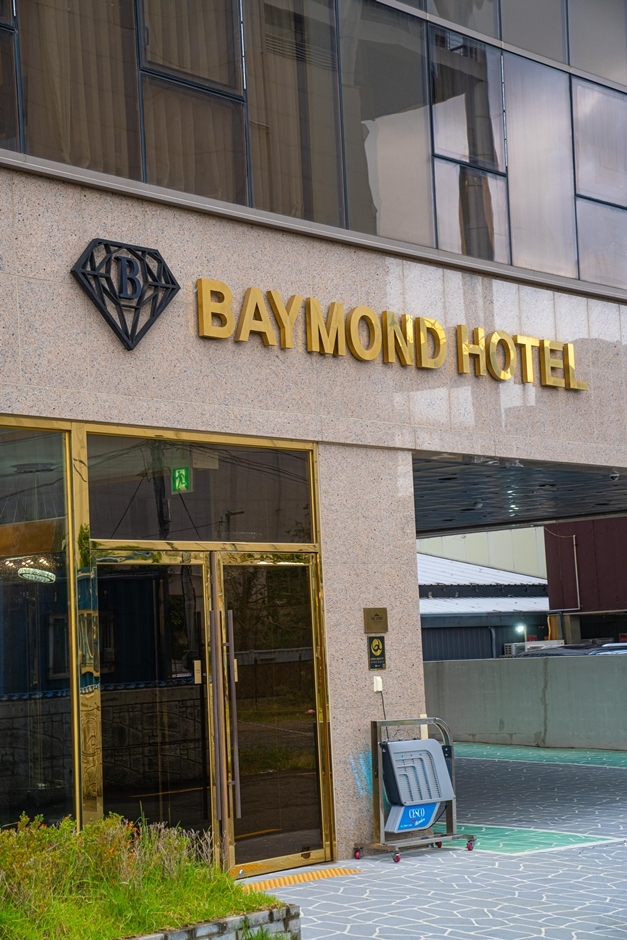 KQ-certified accommodation with Haeundae Beach as its courtyard
Baymond Hotel



Baymond Hotel, located only 10 minutes by foot from Haeundae Station on Busan Metro Line 2,
is a KQ-certified hotel that offers a restful experience as classy as its exterior.
Thanks to its location in the city center, it boasts excellent access to restaurants and amenities,
and Haeundae Beach is only 5 minutes away by foot for some time at sea.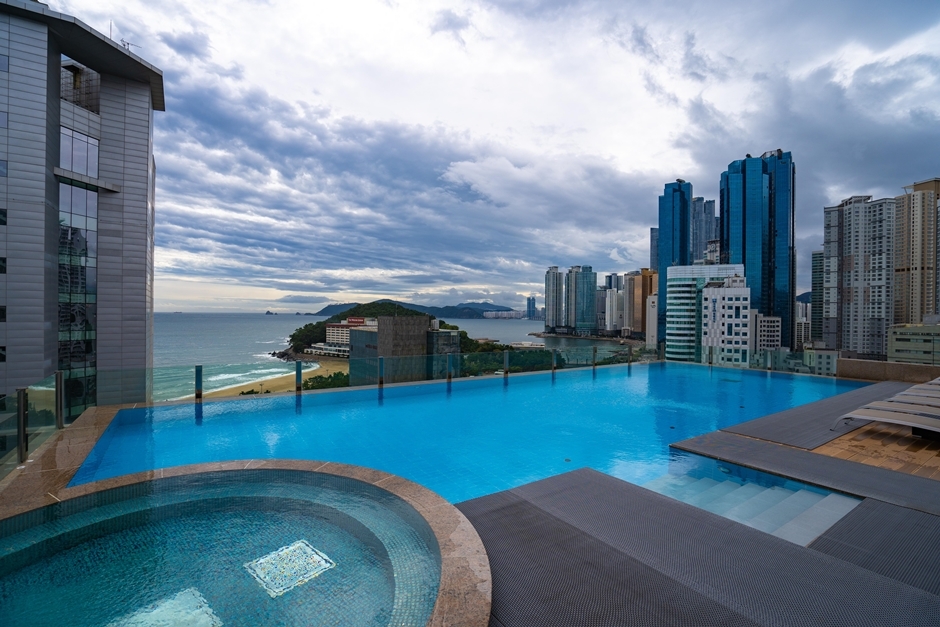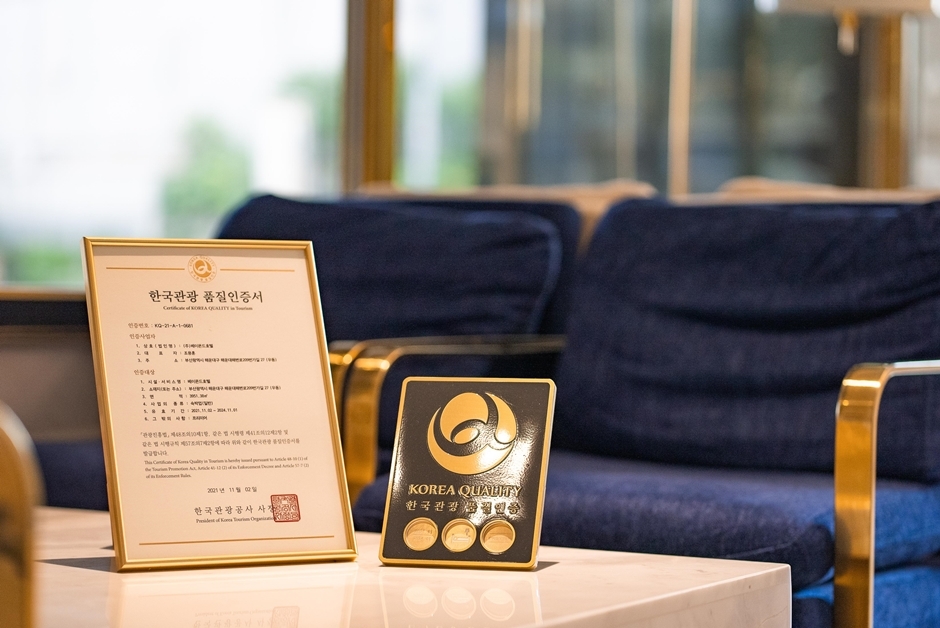 During the daytime, when the sunlight still bears a hint of summer sun,
make sure to visit the common swimming pool on the rooftop.
It is wide and furnished for comfort, and it even has an expansive view of Haeundae Beach to boot.
Dedicated specialists manage the pool's environment every day,
so you can have convenient access to swimming by the sea without getting a single grain of sand on one's feet.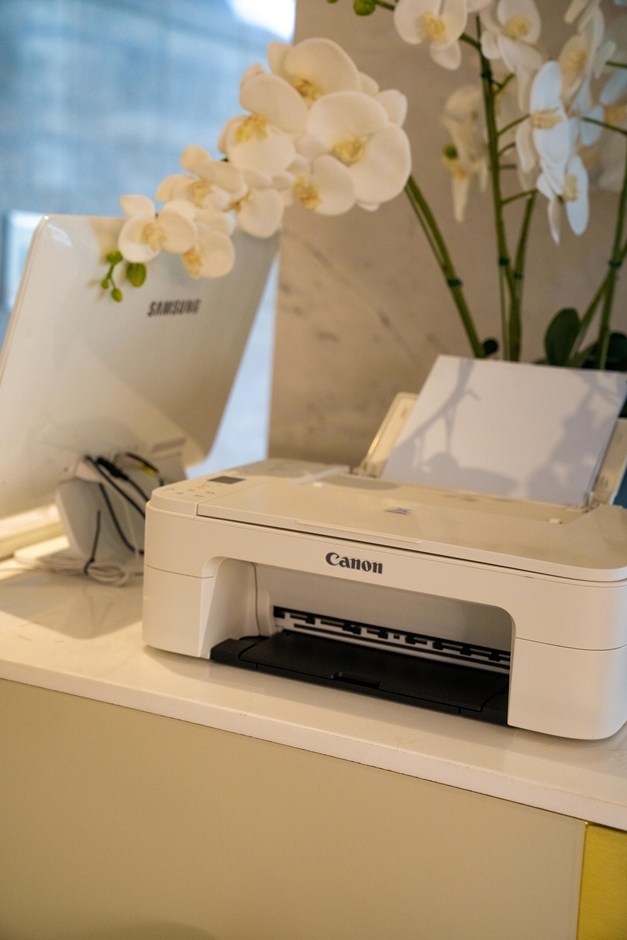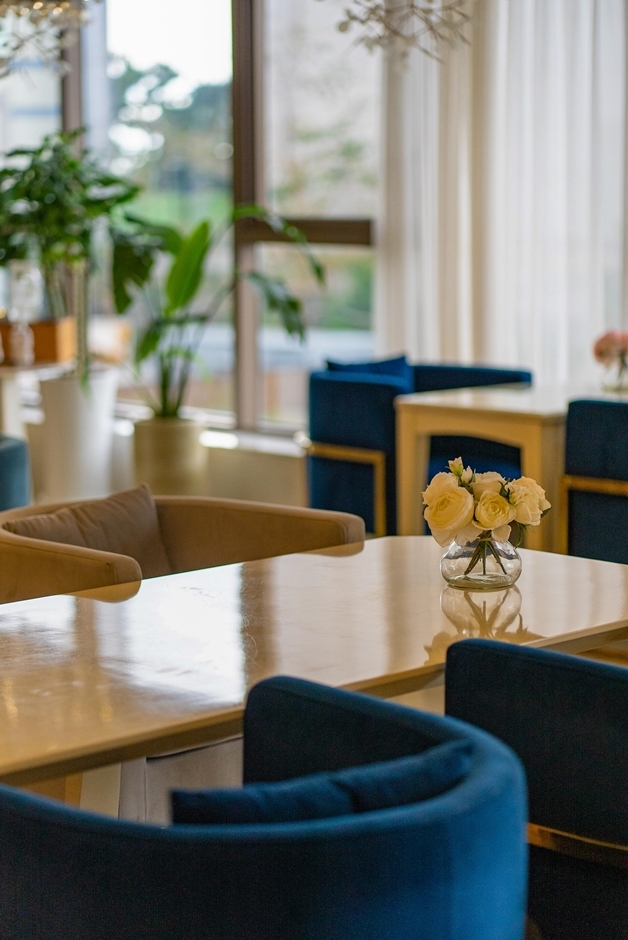 There are computers and printers for office workers on their workation,
self-service laundromats with washing machines and dryers,
and the Mond Restaurant on the 3rd floor, with an elegant blue-and-white interior.
These amenities all ensure that you will have no shortage of comfort in Baymond Hotel.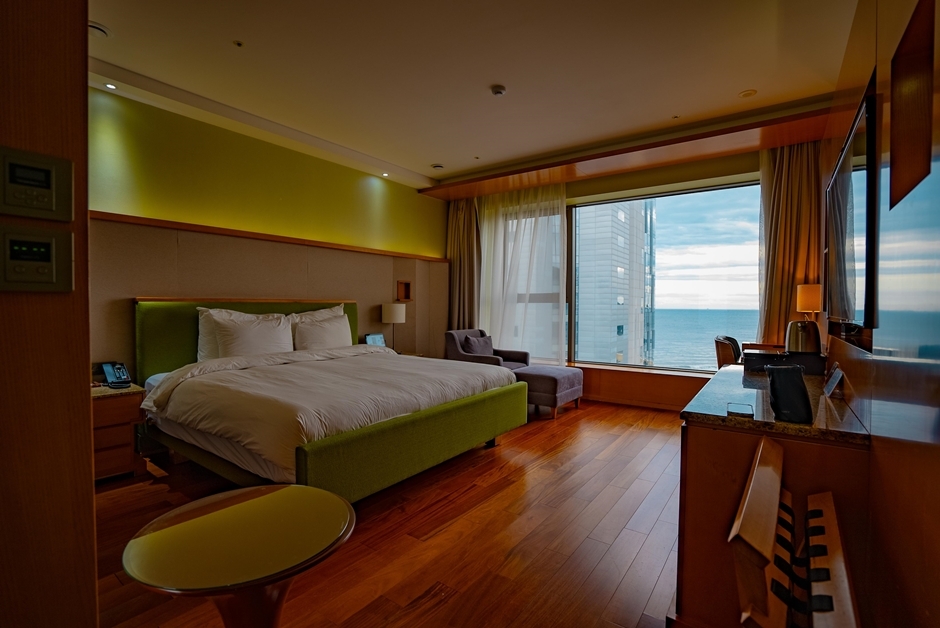 A scenery like a painting and a stay like a movie
High Deluxe Double



The room itself is also jaw-dropping. Even for a hotel room,
it has an expansive sense of space that is sure to please,
not to mention the sea at Haeundae that lies beyond the window,
whose sense of elegance cannot be hidden even with curtains.
The interior design makes heavy use of light green for eye comfort
and wooden floor and furniture for a natural touch.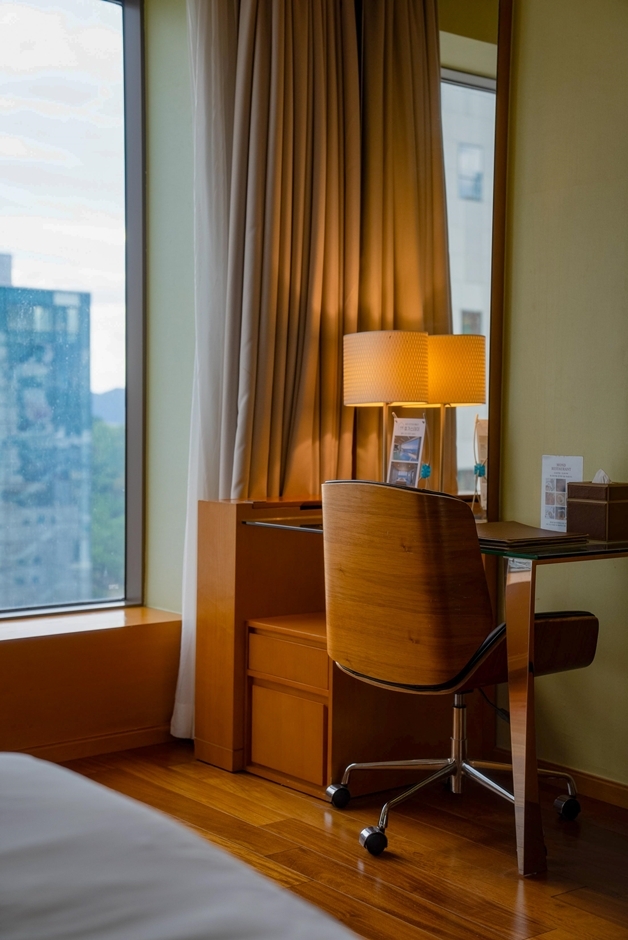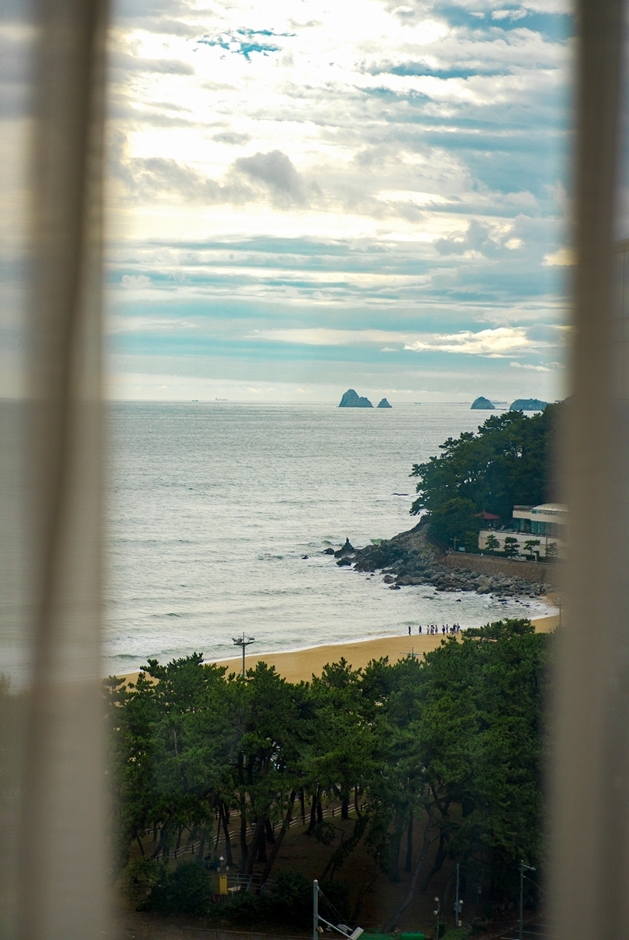 Despite its width, the room does not waste any space.
A desk and a chair stand facing the sea for simple office work;
a sofa invites one to sit down for some rest; the bed smells like freshly-dried cotton;
and a tablet PC adds to the convenience; all located in optimal spaces for the guest's comfort.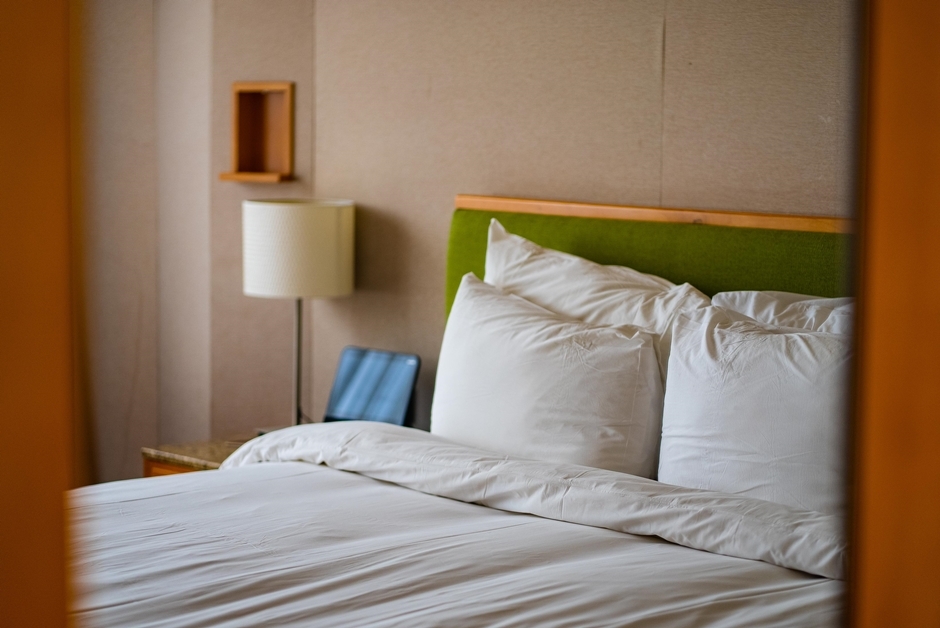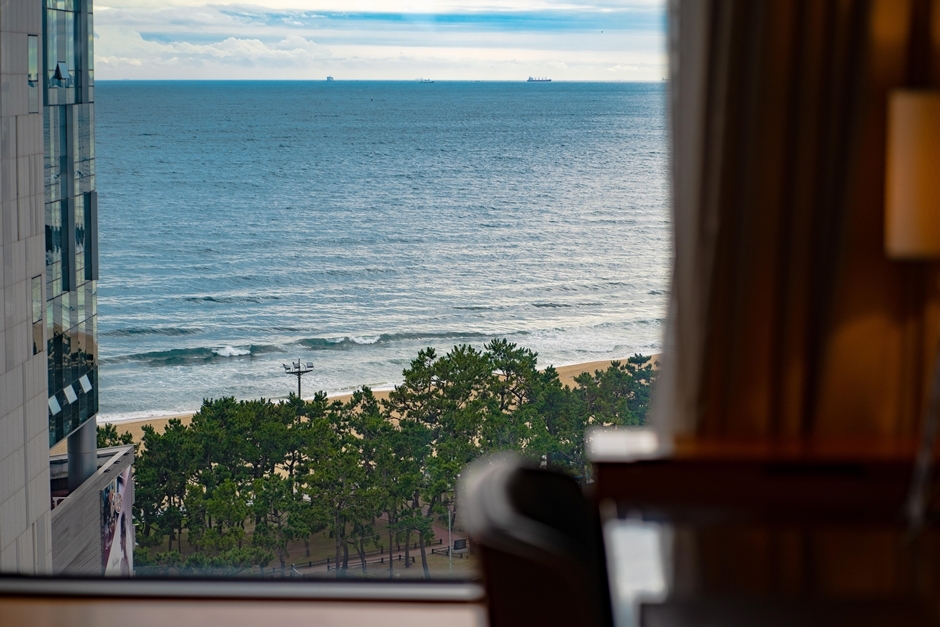 Busan is a city full of things to see, things to eat, and things to enjoy;
so any stay in Busan requires a restful and relaxed stay.
The Baymond Hotel is located near Busan's beloved tourist sites.
It does not put itself ahead of them, but rather smartly steps back to allow its guests to enjoy the city like a landscape painting.
Now that you have enjoyed a comfortable rest in the hotel, it is time to set off in search of fun in Busan.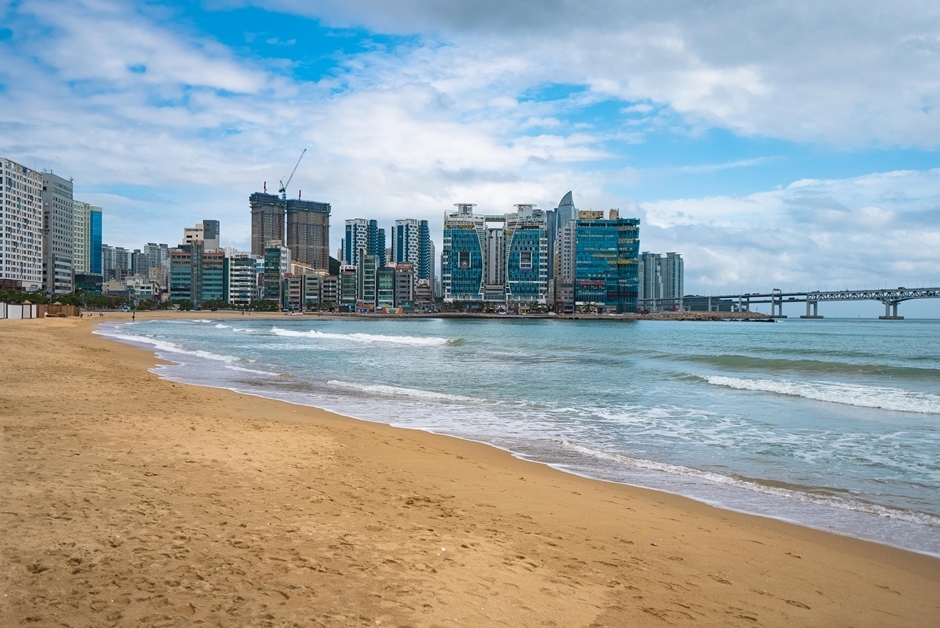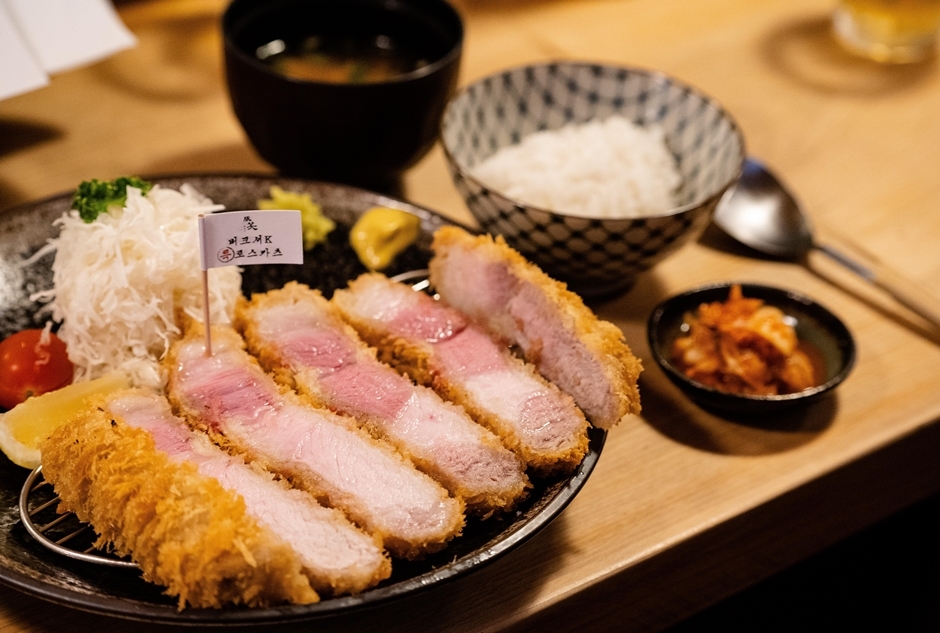 Course 1 to get the most out of Busan
Gwangalli Beach and Tonshou Gwangan


Any visit to Busan must include a view of the sea.
Once you have had your fill of the Haeundae Beach in Baymond Hotel,
head to Gwangalli where the view of the cafés,
restaurants and the sea offers a view that is more colorful and bustling.
October's Gwangalli is populated by those who want to enjoy a leisurely walk
with the sea breeze rather than sweethearts in swimsuits,
making it a great time to enjoy the blue sea with a more relaxed and comfortable atmosphere.



Tonshou Gwangan, located scarcely 5 minutes away from the beach,
is a pork cutlet restaurant that draws a long line of visitors even before its opening.
Its daily special, renowned throughout Busan for its savory and rich flavor, sells out well before the end of lunchtime.
For a satisfying meal, try a piece of Tonkatsu that is crispy on the outside and juicy on the inside.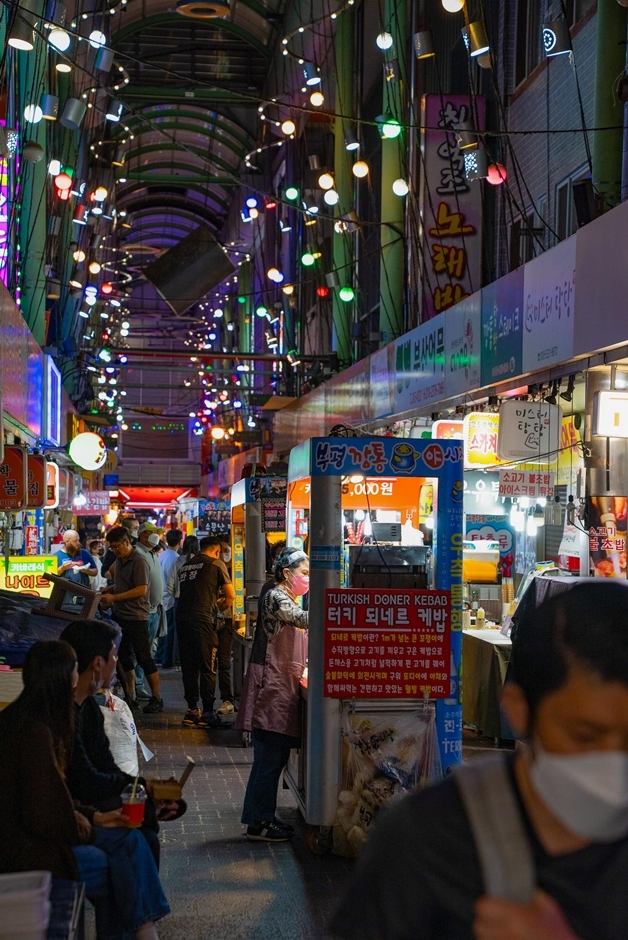 Course 2 to get the most out of Busan
Bupyeong Kkangtong Night Market and Daejeong Yanggopchang


Busan is a city that does not sleep.
Bupyeong Kkangtong Night Market is a place where visitors can enjoy everything
from more international fare to Busan specialties like fishcakes and other snacks.
Now that the tourists are visiting once again in line with relaxed quarantine measures,
the night market brims with lively laughter, with both visitors and sellers wearing big smiles.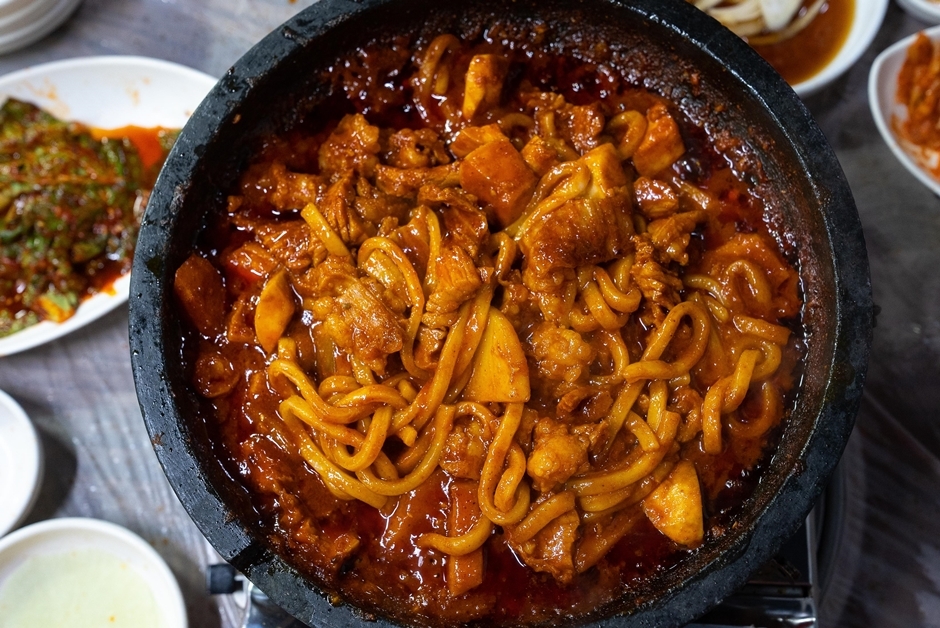 Daejeong Yanggopchang, a nearby restaurant, is a hidden gem frequented by locals:
A rare visitor using a Seoul dialect often draws curious attention from others.
There are only three items on the menu, all using either beef large intestines or tripe;
they are prepared salt-grilled, grilled marinated, or in a hot pot.
We recommend getting the grilled marinated version with udon noodles.
It's not like spicy braised chicken or tteokbokki,
but the sweet-and-spicy marinade seems destined for greatness with the help of chewy udon noodles
and savory juice from the large intestine, giving everyone at the table a happy ending.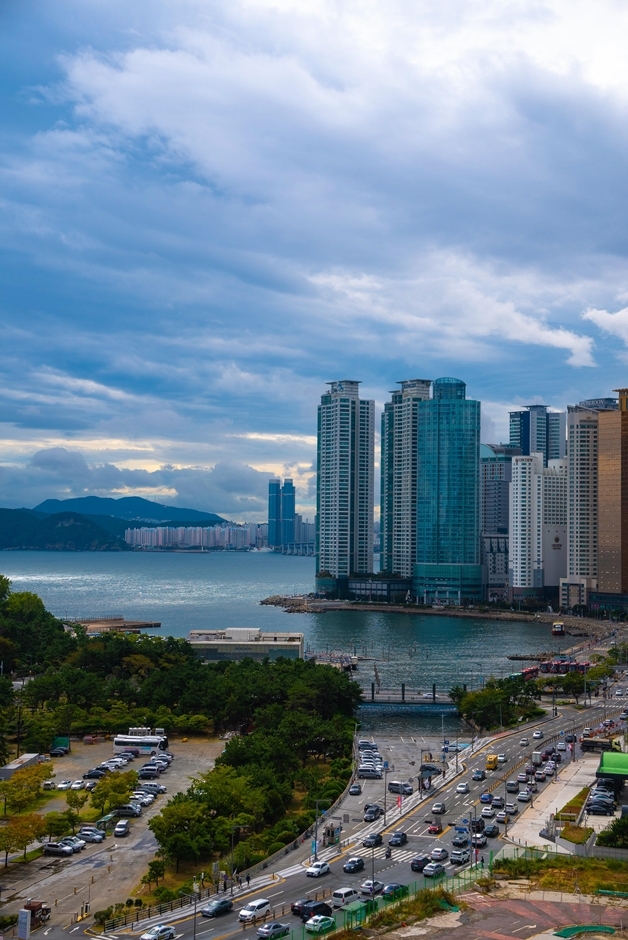 Course 3 to get the most out of Busan
Haeundae Beach and Haeundae 31cm Haemul Kalguksu


Interested in a stay-in vacation at Baymond Hotel?
Here's another itinerary that minimizes movement.
Get the most out of the romantic sea in fall at Haeundae Beach,
located scarcely five minutes away by foot from the hotel,
and head to the entrance of the nearby Jwa-dong Market for
a bowl of haemul kalguksu (noodle soup with seafood) as rich
and savory as the characteristic atmosphere of Busan.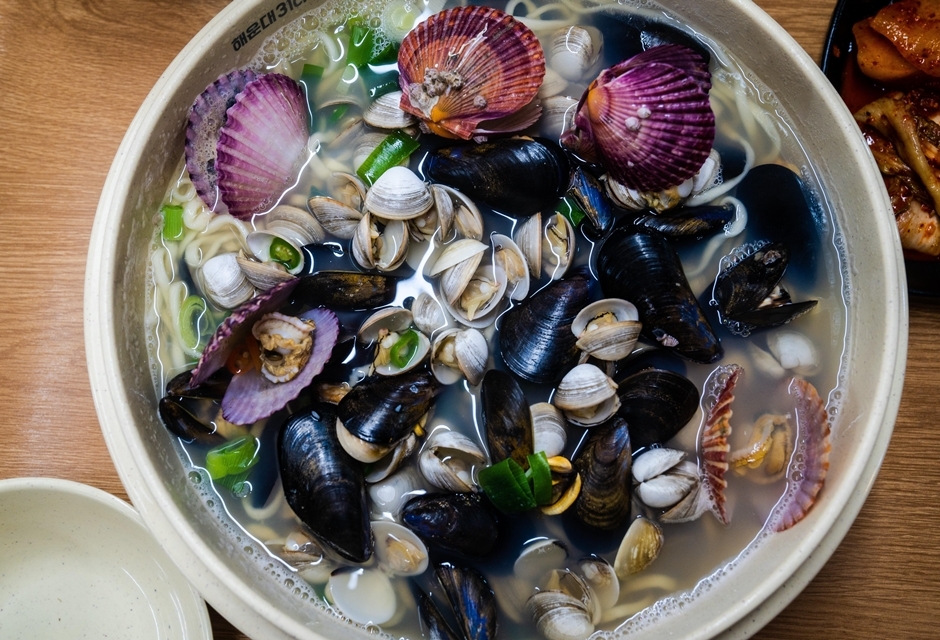 Haeundae 31cm Haemul Kalguksu made rounds among Korean gourmand accounts on social media.
Its fame has even drawn some international visitors to drop by already,
blowing at the piping-hot noodles straight from the bowl.
The noodle soup here is full of mussels and clams and comes with fiery spicy kimchi.
Even if you had the mother of all hangovers, this dynamic duo is guaranteed to beat it back.
Don't miss the rich seafood soup itself, flavored with extra spicy chili pepper.



A festival for all cinephiles worldwide that returned to us after 3 years
Busan International Film Festival (BIFF)


The film industry was hit hard by the pandemic.
With the rising threat of over-the-top (OTT) media services and home theater in competition,
the industry had to do some deep soul-searching for its survival over the past 3 years.
Now, those times are over, and the festival of film enthusiasts
who focus on the communal character of a theater experience is here again to remind us
just how precious the cinema is to our lives.


The opening ceremony of the BIFF,
with the presence of a massive crowd outside the Busan Cinema Center on October 4,
was also attended by the likes of Song Kang-ho and other leading actors of Korea,
international masters of the film craft like Hirokazu Kore-eda,
and the iconic Hong Kong actor Tony Leung Chiu-wai.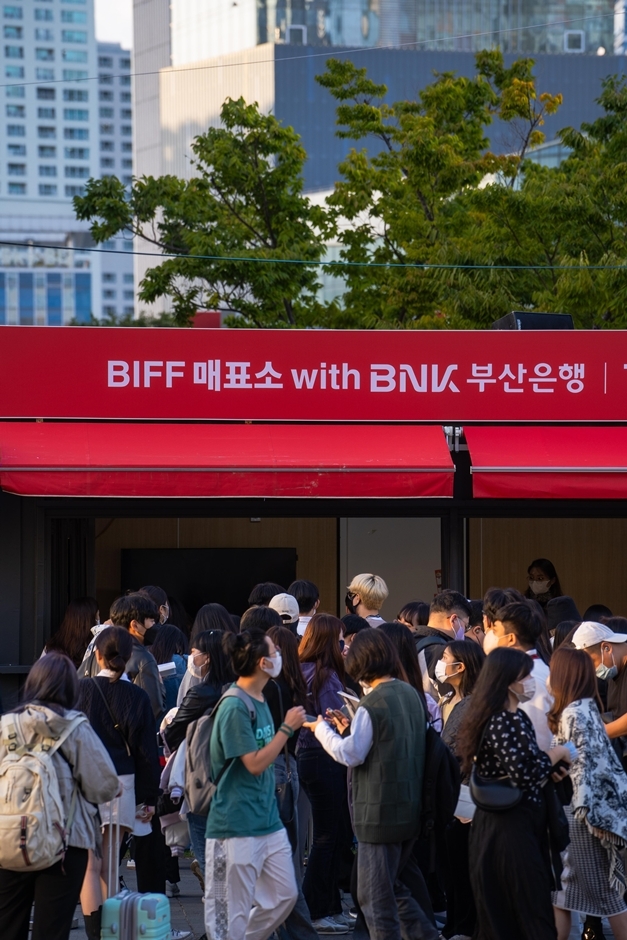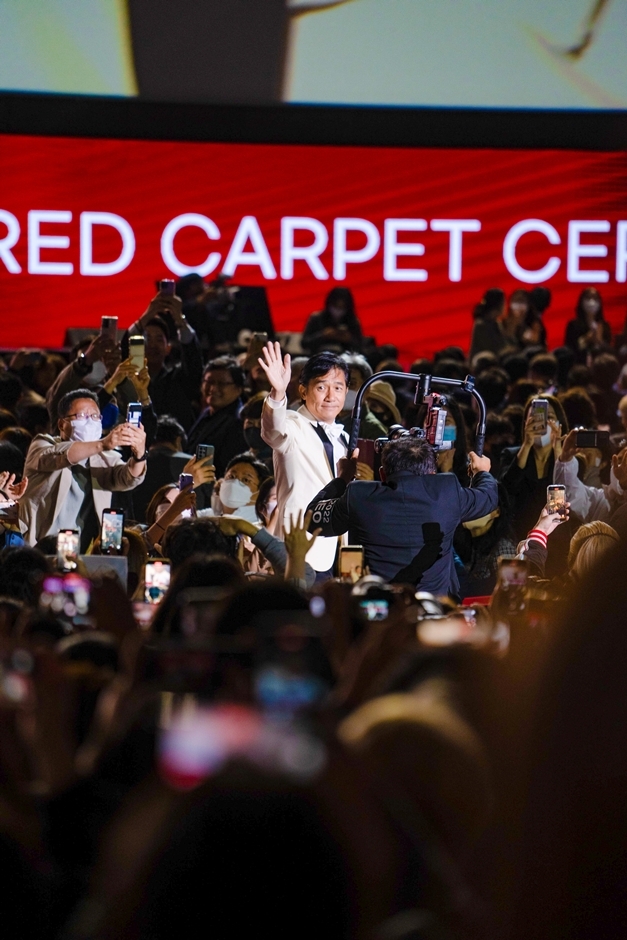 We've overcome the challenge together and won back some normalcy in our lives,
and the BIFF discusses how one such value as watching a film together
speaks to the importance of a future we will make together.
The BIFF will continue until October 14 with content
and programs that will slake the thirst of film enthusiasts.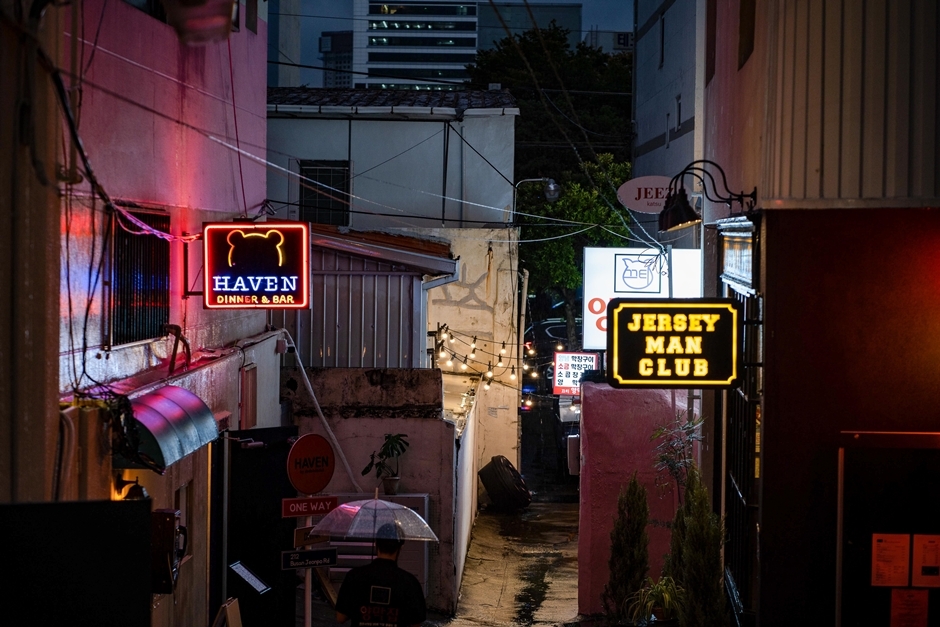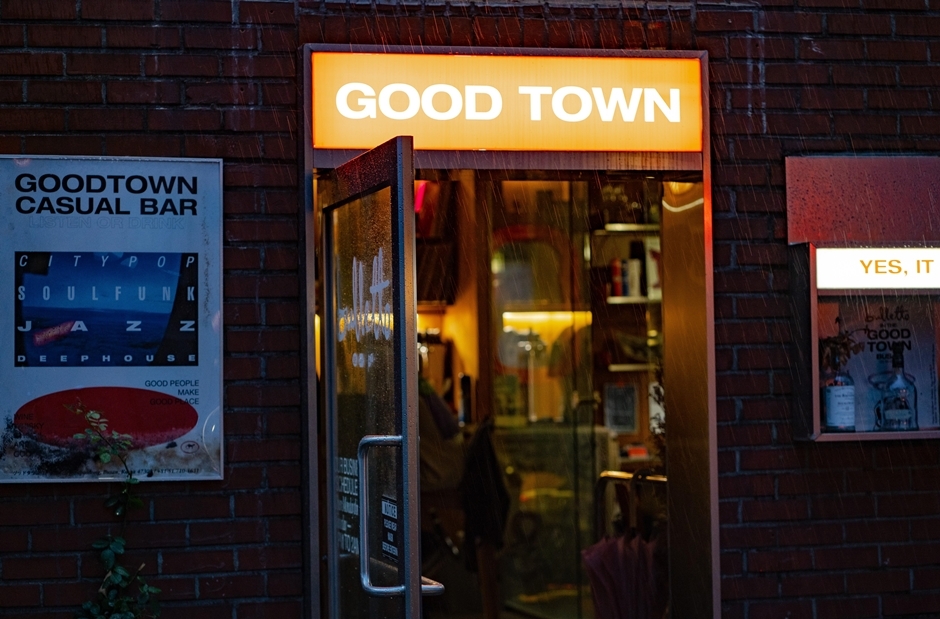 It's still hot in Busan's October



Jeonpo-dong Café Street's unique and exotic atmosphere is now augmented by equally unique and exotic pubs and restaurants,
so visitors can continue to enjoy its uniqueness well into the night.
Busan is a city full of new things to see and enjoy, no matter the time of the day or the year,
but now is the most fun and lively period to visit the city.
Enjoy the benefits of a KQ-certified accommodation, create lasting memories in Busan's many tourist sites,
and reflect upon this eventful year as it comes to a close.