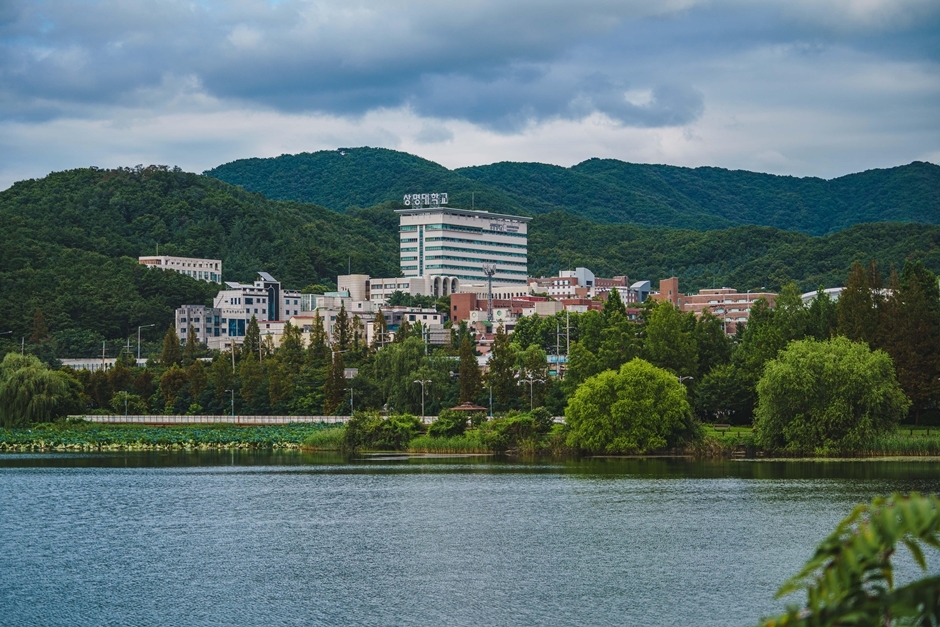 This summer, there was not a single quiet day because of the heavy rains in August and typhoons in September.
The climate crisis we experienced makes us take a look back on our attitude towards environmental protection.
To reduce the frequency of such severe climate disasters and to preserve our green planet Earth for a long time,
it may be necessary to not only change our daily life routines but also travel habits.
This is why the word "Sustainable Travel" is quickly emerging as a new keyword.



There are many ways to protect the environment and travel for a healthier future.
A simple way is to separate and dispose of garbage generated at the place where you stay,
and if you can afford it, there is another way you can travel while doing garbage collection services,
such as plogging* or beach combing*.
Zero-waste travel, which reduces the generation of waste to zero by bringing multiuse containers instead of single-use items,
or using public transportation or bicycles instead of cars,is also a great help for environmental protection.
Another option is a vegan trip where meat is not consumed during the trip.
(*Plogging: Volunteering activity to pick up trash while jogging *Beach Combing: Volunteering activity to pick up trash at the beach)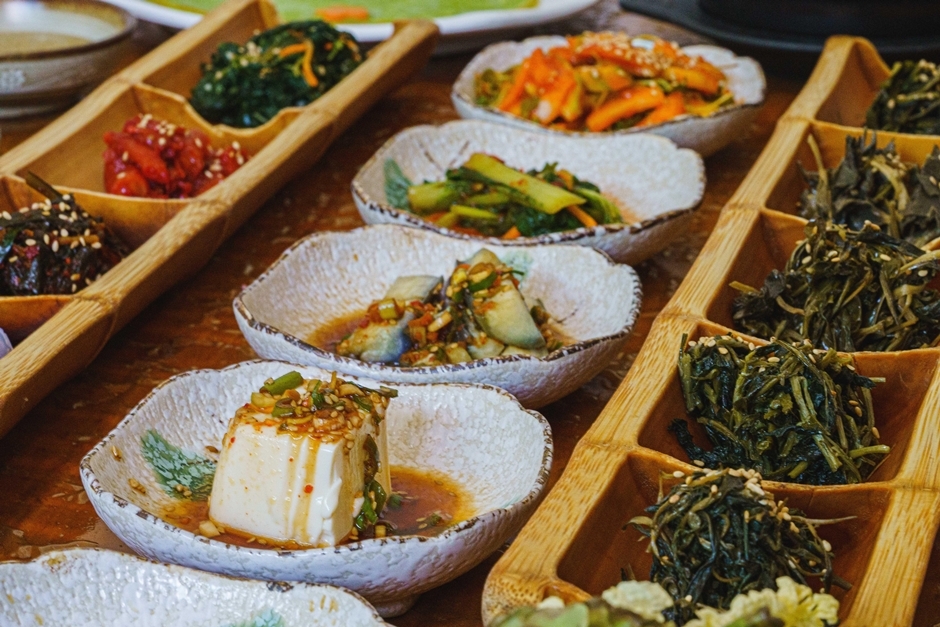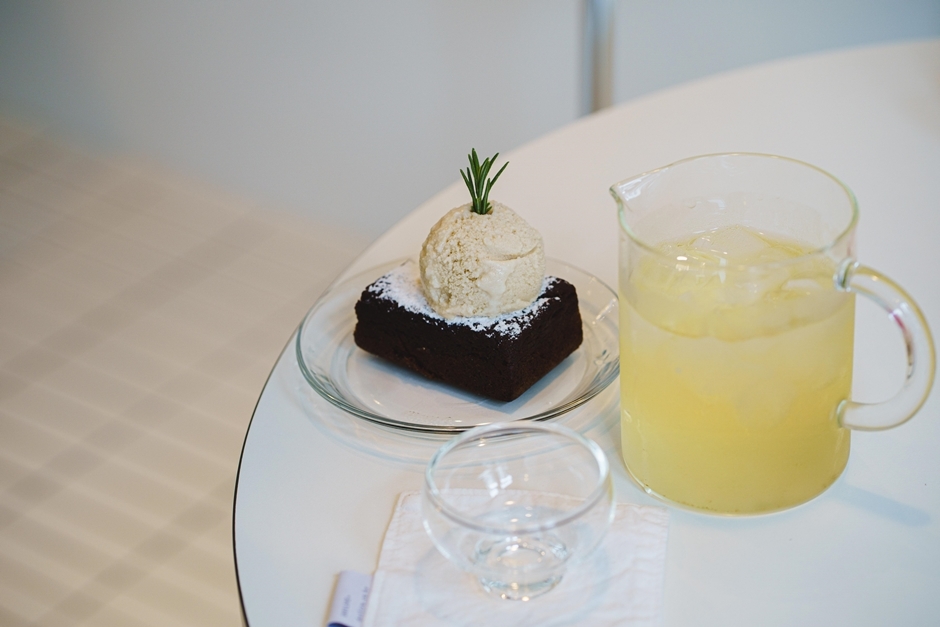 Greenhouse gases are the main cause of global warming.
This greenhouse gas is generated the most from daily use of automobiles
and second most from the livestock raised for meat consumption.
The amount of greenhouse gas emitted by two or three cows is equivalent to that emitted by one automobile,
and considering that 1.3 billion cows are currently being raised on Earth,
the total annual emission of methane gas is not small enough to amount to 30% of the total.
Therefore, reducing daily consumption of meat as much as possible
and eating a healthy vegetarian meal is very effective in terms of not only personal health
but also environmental protection.
This is because even if one person reduces the consumption of meat once,
the effect of carbon reduction can be seen if the efforts are combined.



To contribute to the efforts of creating a healthy Earth,
I took a sustainable trip to Cheonan, a destination full of delicious local cuisine and attractions,
under the theme of a vegan tour.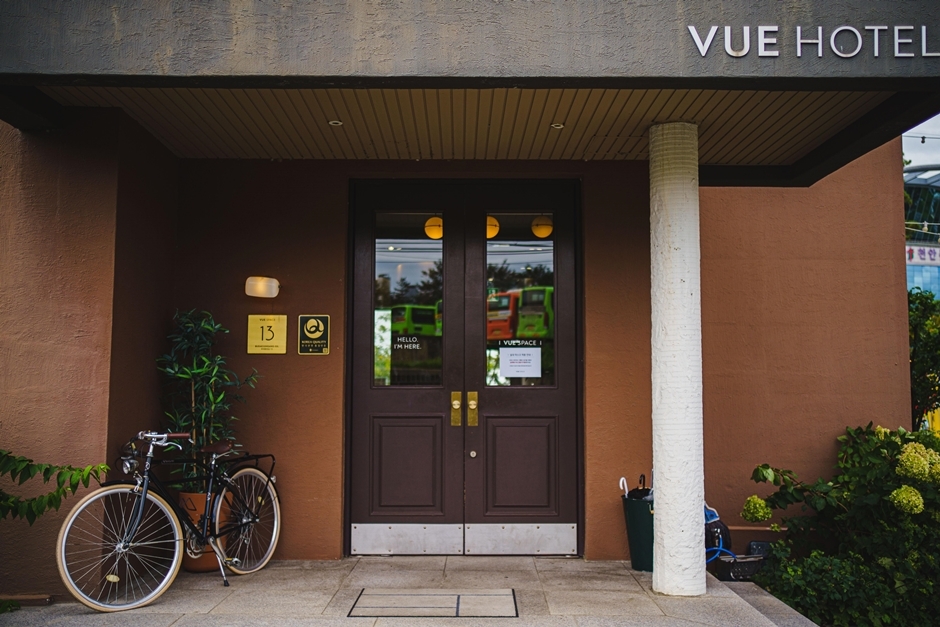 VUE Hotel Standard Connecting Cheonan with Recreation



Cheonan is a very attractive city retaining the natural scenery of mountains, plains,
and lakes and does not lose its infrastructure and convenience as the largest city in Chungcheongnam-do.
One of the many reasons to visit Cheonan is the incomparably comfortable
and pleasant Korea Quality (KQ)-certified accommodation "VUE Hotel Standard."
This place is located at a reasonable distance from the city center, offering a quiet atmosphere,
and it has a garden and a café decorated with simple, elegant design,
eliminating any inconvenience when spending leisure time.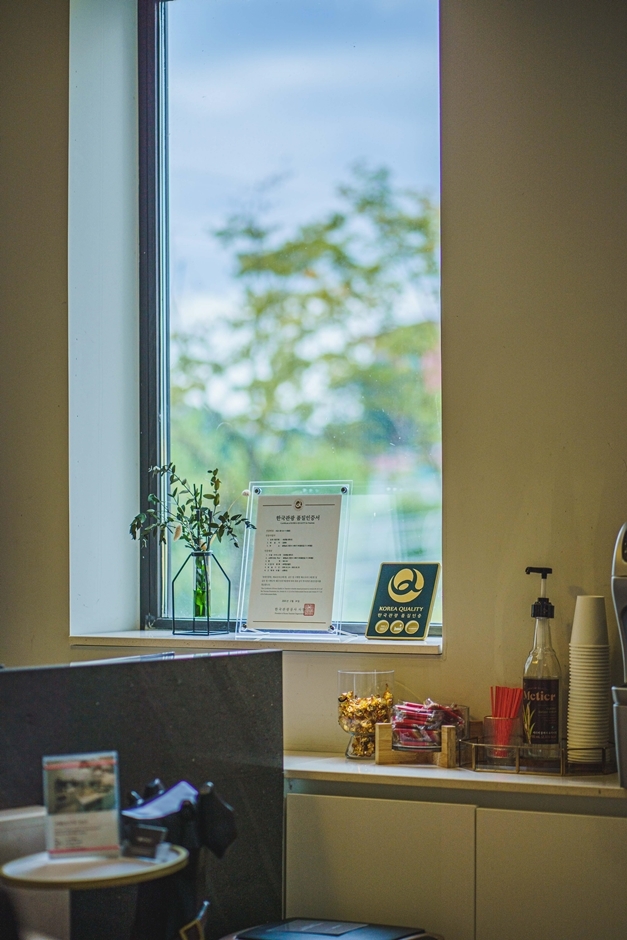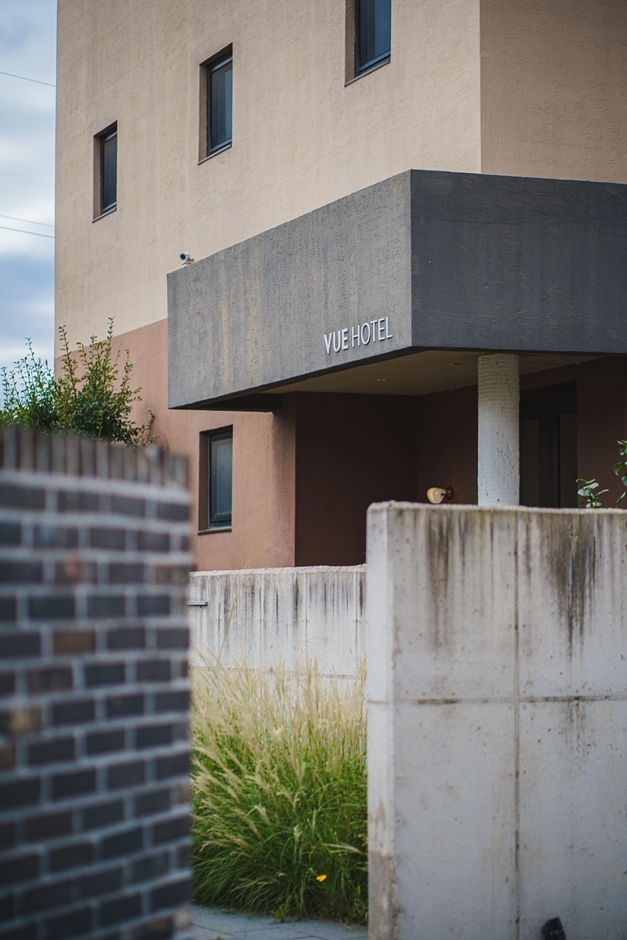 As you enter the lobby along the sensibly decorated promenade,
you are first greeted by the cozy lighting and a subtle scent.
The warm, fluffy scent that you can smell on a sun-dried duvet spreads throughout the lobby,
putting you in the vacation mood even before entering the room.
You can also sense that the lobby manager prioritizes customer service above all else,
leaving you with a strong impression even from the start of the trip.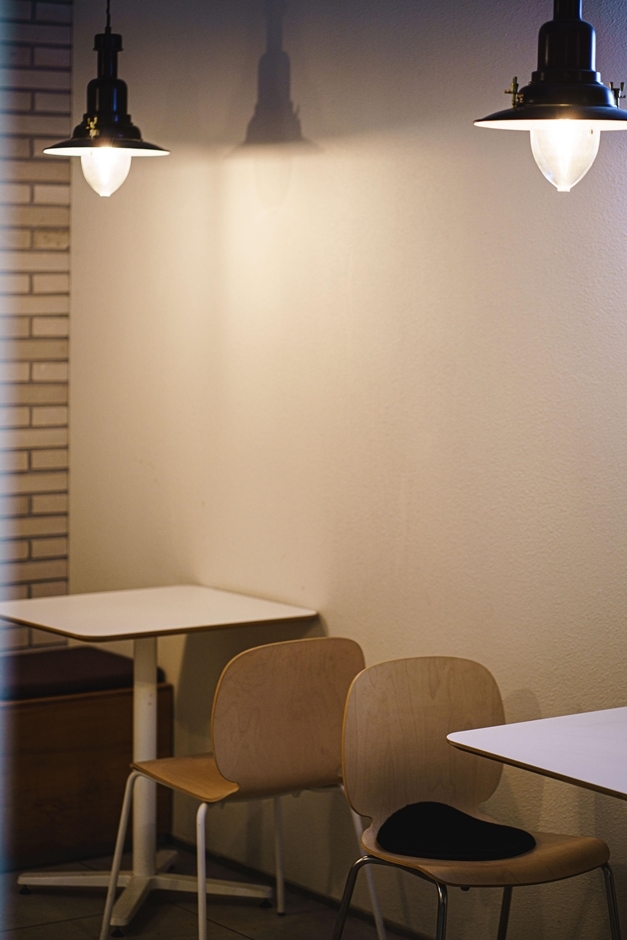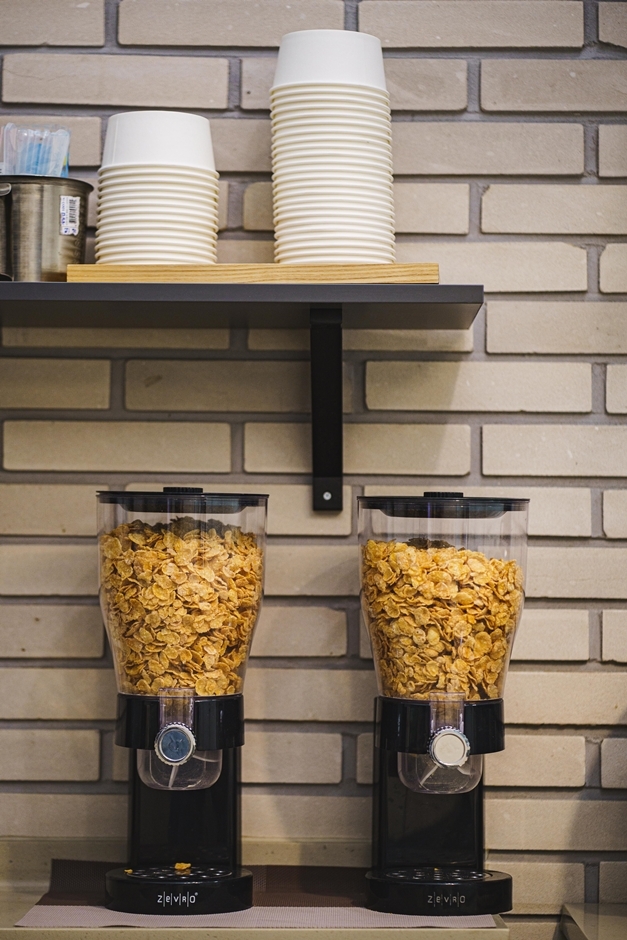 It would be nice to go straight up to the room, but don't miss the chance to stop by the basement
and check out the space the VUE Hotel has prepared for its guests.
The basement is furnished with a shared kitchen where you can enjoy a hearty breakfast,
a dining space provided at a sufficient distance,
and an office space where you can conduct simple business tasks.
In addition, various convenience facilities, such as a laundry space for those
who want to keep their clothes clean even in the hot summer,
awaits customers in a clean and modern atmosphere.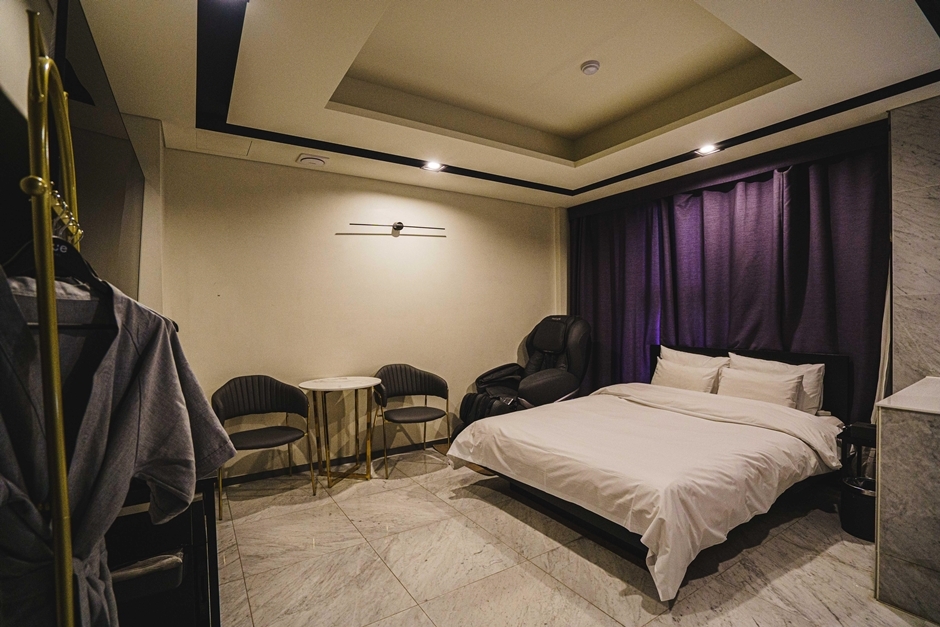 Double Bedroom Preserving the Dignity of Cheonan



The rooms seem to be finished with either smooth marble or wooden floors,
depending on the atmosphere the hotel aims for.
The room I visited this time has a marble floor, creating a sense of luxury
and sophistication at the same time.
Moreover, the room's white and gray tones are accented with deep purple curtains,
giving it an urban aesthetic.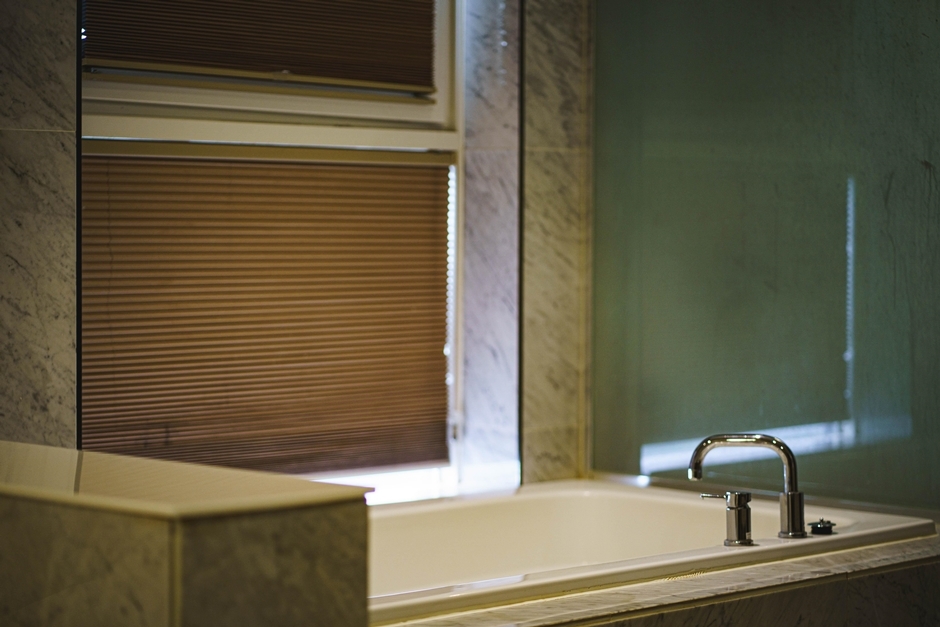 There are two things that make this room unique.
The first is a massage chair provided right next to the bed to relieve the fatigue of travel,
and the second is the bathtub and washbasin separated from the toilet and set in an open style.
Guests can unwind and enjoy maximum freedom in the comfortable room space,
and enjoy a relaxing bath time in the private bathtub.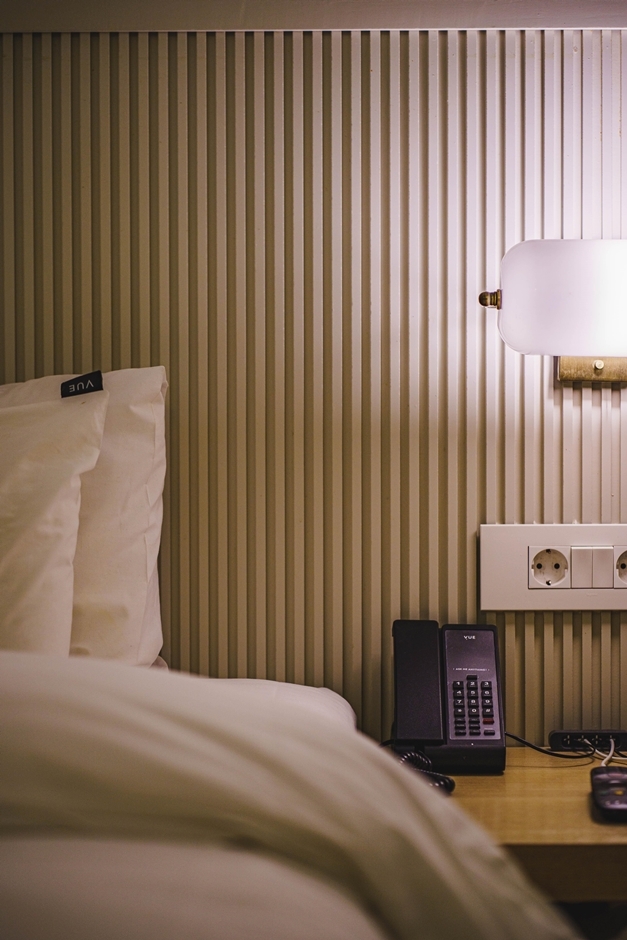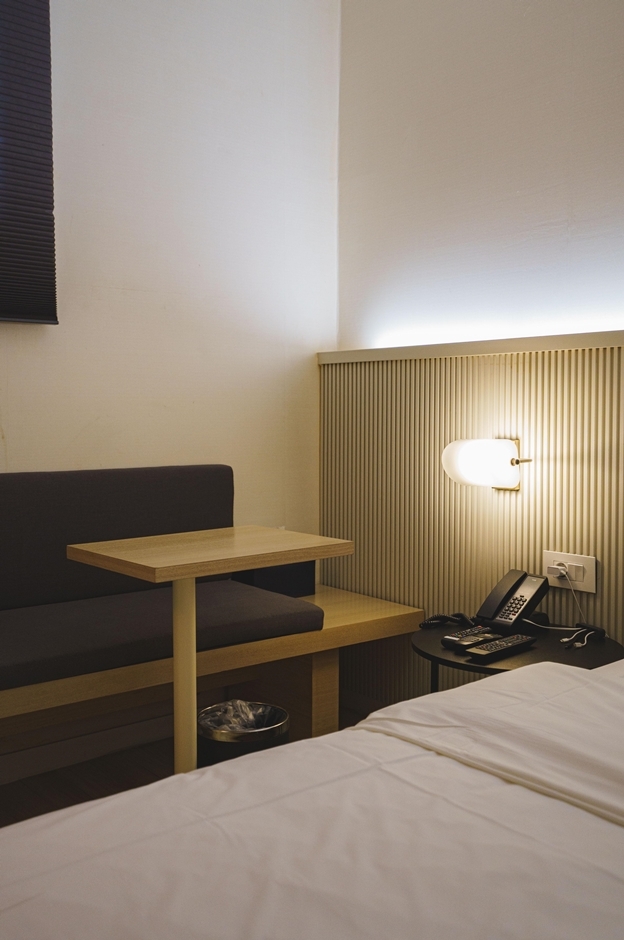 Some of the rooms, which are always kept in clean condition,
are equipped with a styler device or have a sofa where you can sit and relax as in a café,
allowing you to enjoy the trip your way, depending on the number of visitors and room preferences.
The VUE Hotel Standard, which is not too flashy or bright,
gives a feeling of comfort wherever your eyes stay, and is impeccably arranged,
from the bedding to the furnishings.
This is why guests agree that the condition of the rooms is the biggest strength of this place.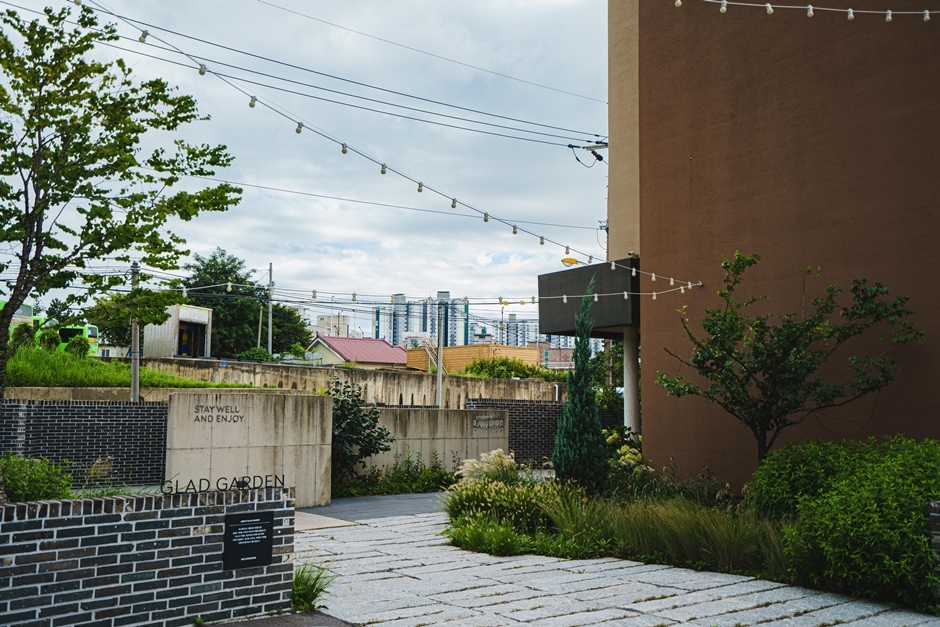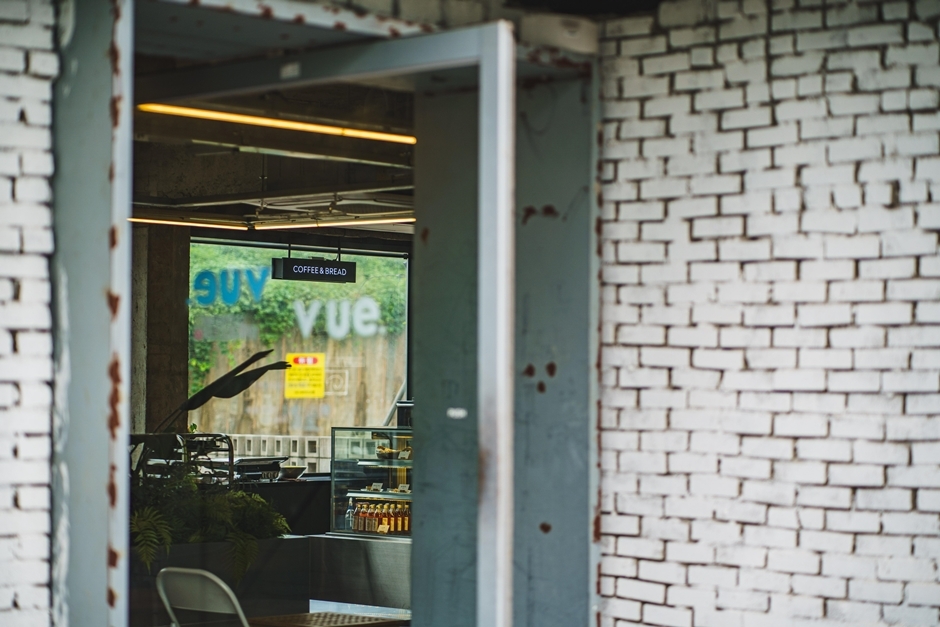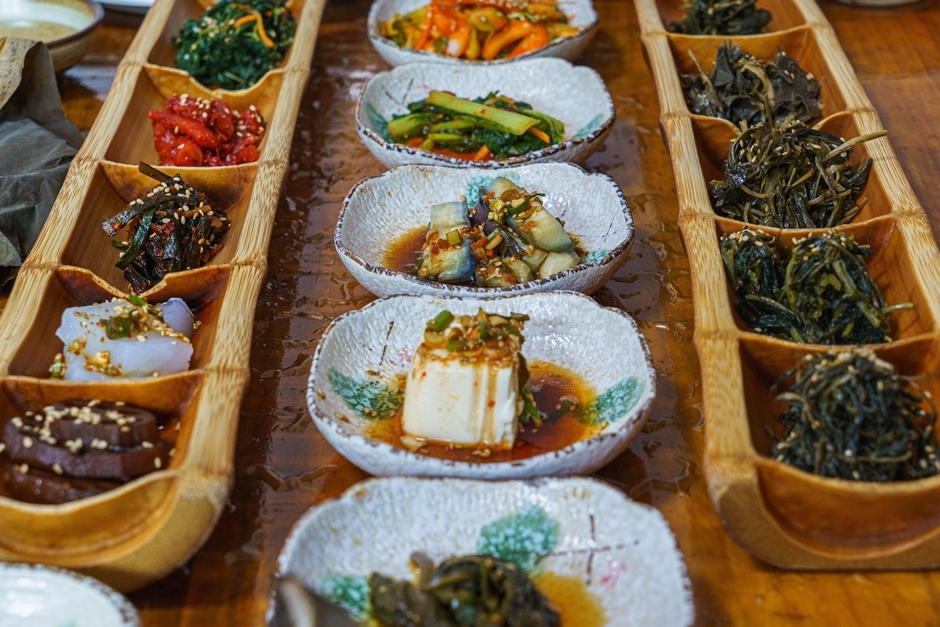 Recharge Your Health with All Kinds of Salad
Sandulle Hanjeongsik



This is a Korean Table d'hote restaurant located at the entrance to a mountain,
where you can enjoy the lotus leaf rice set menu with over 10 vegetable side dishes.
Medicinal herbal vegetables, such as aster, amur wallflower, goldenrod,
Siler divaricata, Fischer's ragwort, Siberian ginseng, Fatsia shoots,
and deodeok, which are not commonly eaten as side dishes for rice, are flavored with fragrant sesame oil,
so you can empty a bowl of rice just by tasting each type.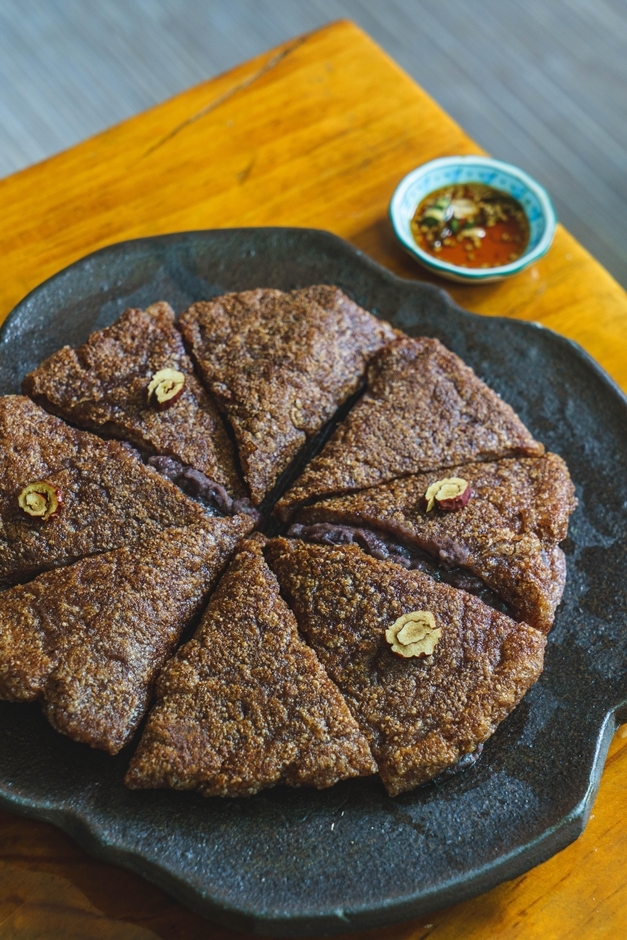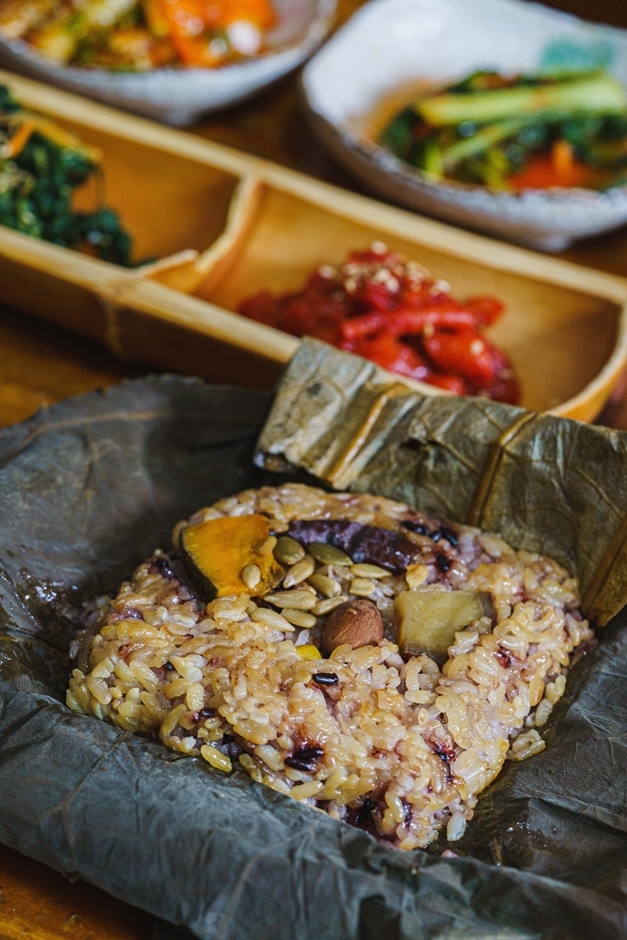 This dish may contain salted fish sauce, etc. during the seasoning process, s
o those who follow a completely vegetarian diet may be a bit disappointed with the seasoning,
but it is the best choice for those who want to enjoy a healthy
and delicious meal while excluding meat as much as possible from one meal.
Pan-fried millet rice cake, "crunchy on the outside and moist on the inside,"
which competes only with the unique sweetness of red beans, is also a delicacy that this house is proud of.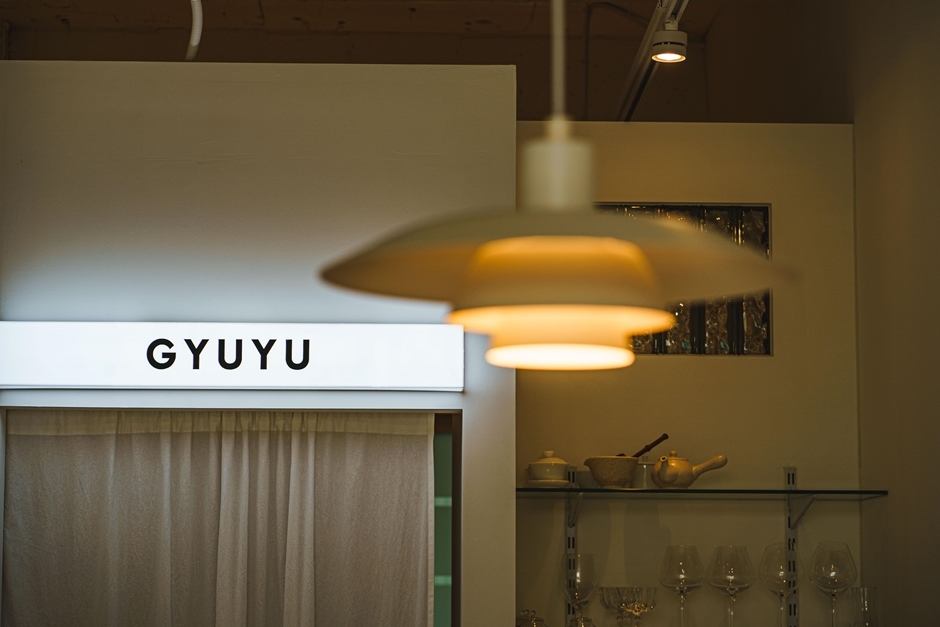 Don't Worry as It's Tasty Enough
Vegan café GYUYU



Located at the heart of the city in an area with lots of cafés and restaurants with a good atmosphere,
GYUYU is a small but well-run café for vegetarians.
It serves fresh and savory desserts made without using dairy products,
so it is frequented by vegan travelers who want to enjoy sweet confectionery.
You can also taste different types of tea with fragrant scents,
so you can venture out from the usual cup of coffee.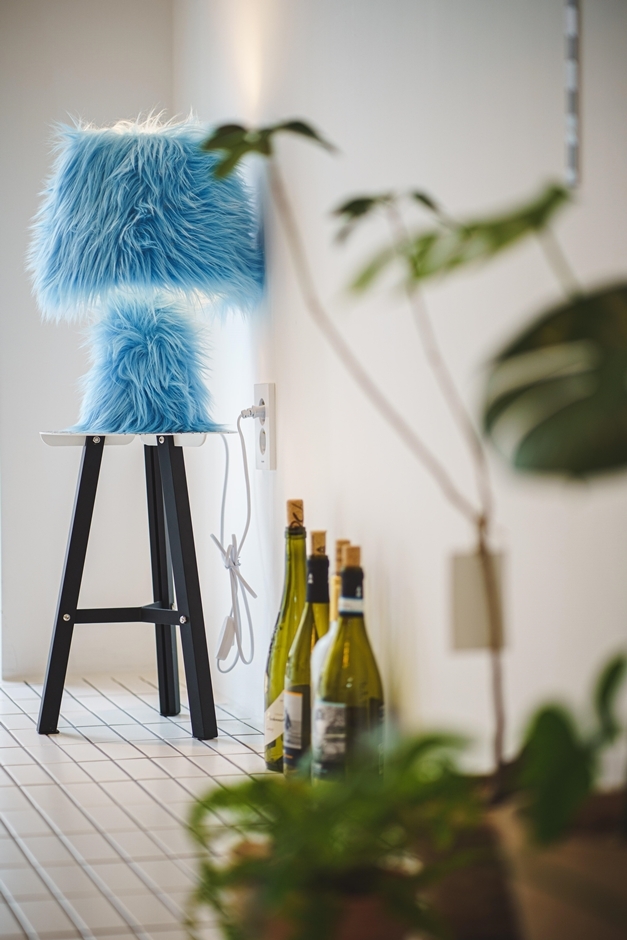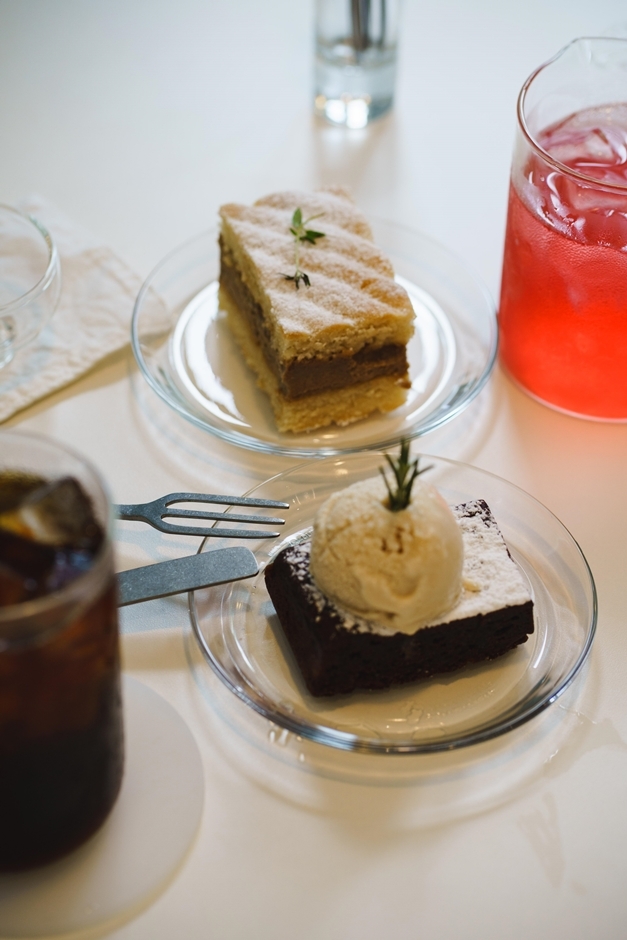 It is said that even the ice cream on the moist brownies is made without milk,
so it's easy to see how much care has been put into each ingredient.
Although it is not a large-scale café, its well-decorated interior is on par with Seoul's representative cafés.
Let's go in for a while and relieve the fatigue from travel with a healthy dessert.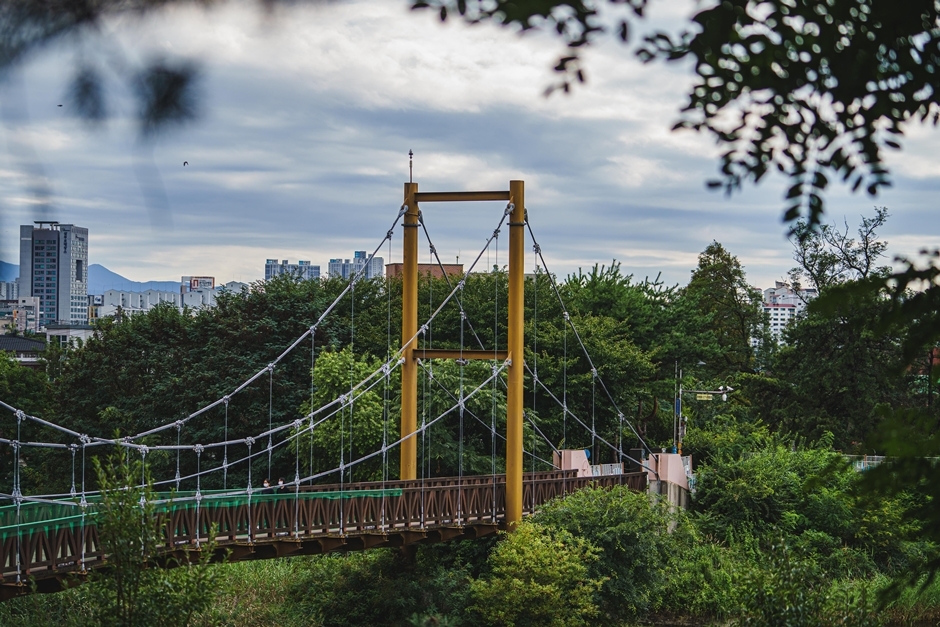 The Pride of Cheonan Loved by Otters as well as Local Residents
Cheonho Reservoir



Having a natural landscape where anyone can relax in the city center,
such as New York's Central Park, is a great advantage for a tourist destination.
Cheonho Reservoir has a large lake park where not only nearby college students
but also neighboring residents can exercise and take a walk,
making it a good place for tourists visiting Cheonan to take a rest.
With many visitors, cleanliness may be a concern, but it is well-maintained,
to the extent that a pair of otters was found hunting carp in the winter of last year.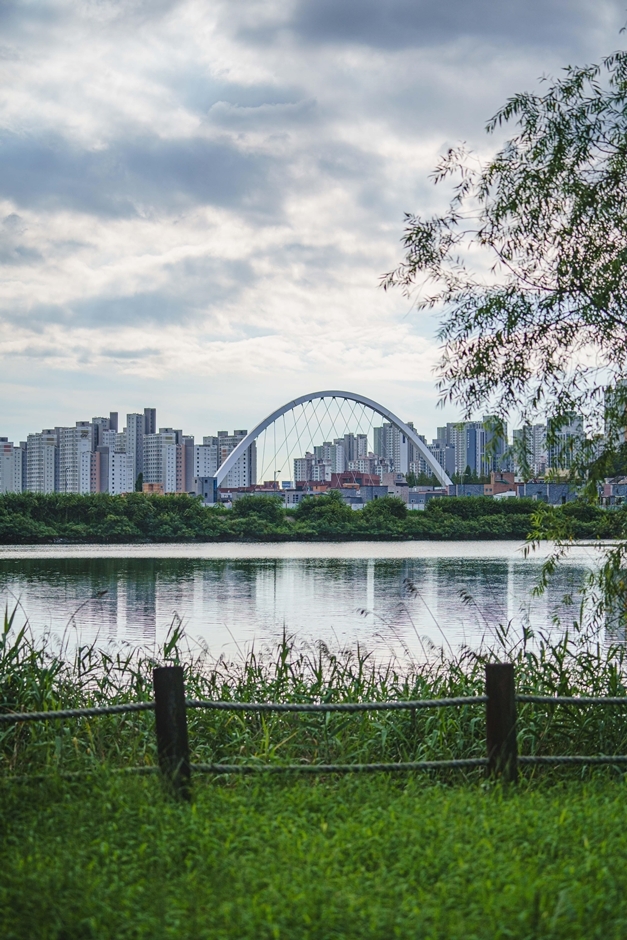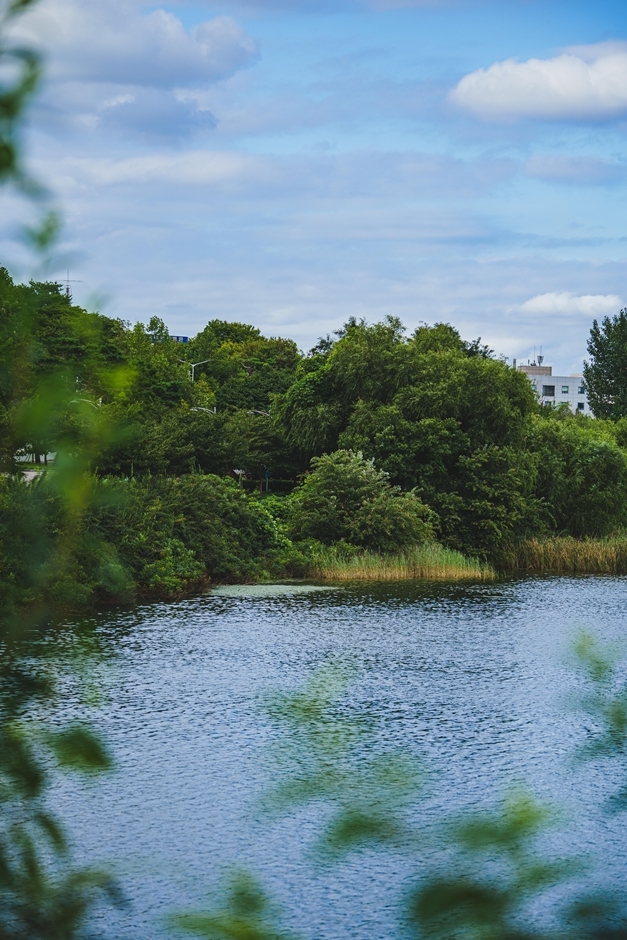 Beyond being a simple neighborhood facility,
Cheonho Reservoir protects Cheonan as an ecological space where various animals,
such as ducks and otters, live together. It is maintained as a sustainable tourist destination,
so I believe it must be protected even more with our own two hands.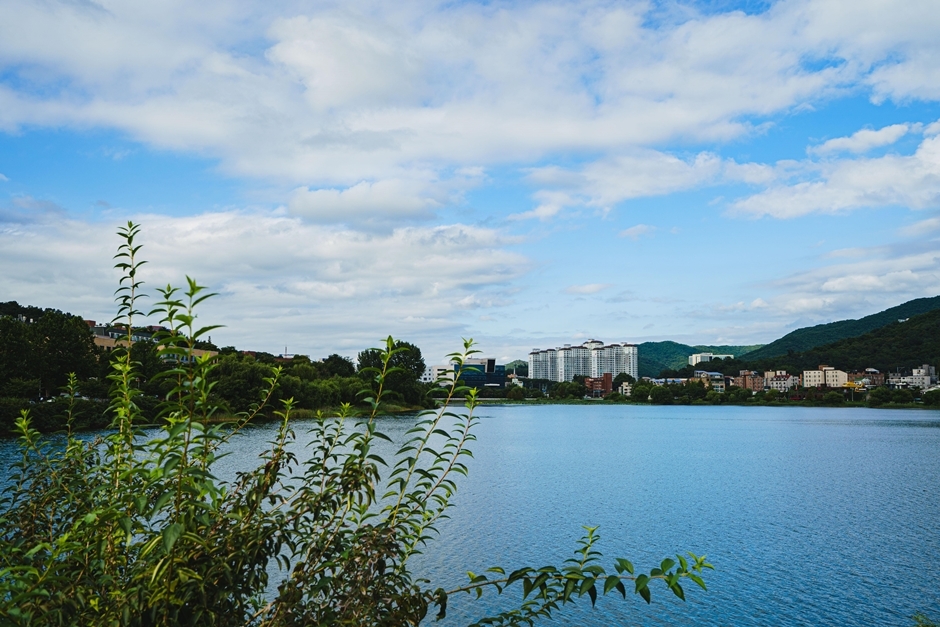 This trip to Cheonan was filled with good food, relaxing scenery, and beautiful green nature.
I felt a heavy sense of responsibility for even one small act,
thinking that the travel culture created by the food we eat and even a small habit of cleaning up
the tourist spots will shape our planet for the better in the future.
I hope that the number of people who enjoy sustainable travel will increase so they can enjoy the beauty of Cheonan,
which offers both the charm of the city and nature, next year and in the coming years.