Introducing bridges that travelers must cross at least once, found by scouring all over Korea! Read on to explore these special bridges that can add fun and give a thrilling experience unlike ever before.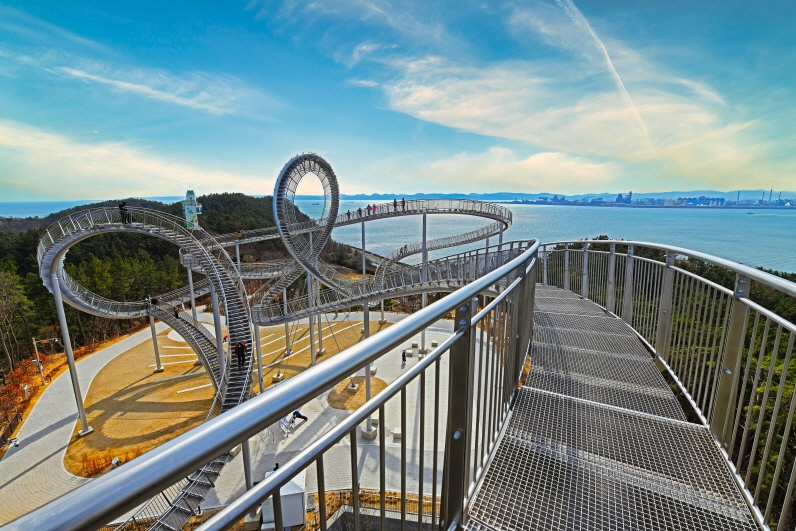 Donghae Dojjebigol Sky Valley
The Most Dramatic Donghae Scenery Under Your Feet!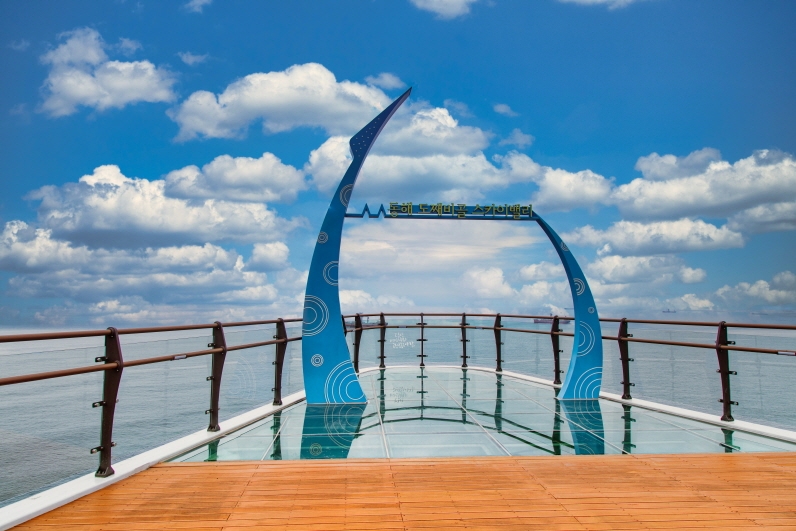 The 59-meter-high skywalk, made with the motif of a goblin bat, is a place where visitors can walk on the scenery of the East Sea, a painting containing all the hues of blue in the world.
Would you ride the Sky Cycle or the Giant Slide?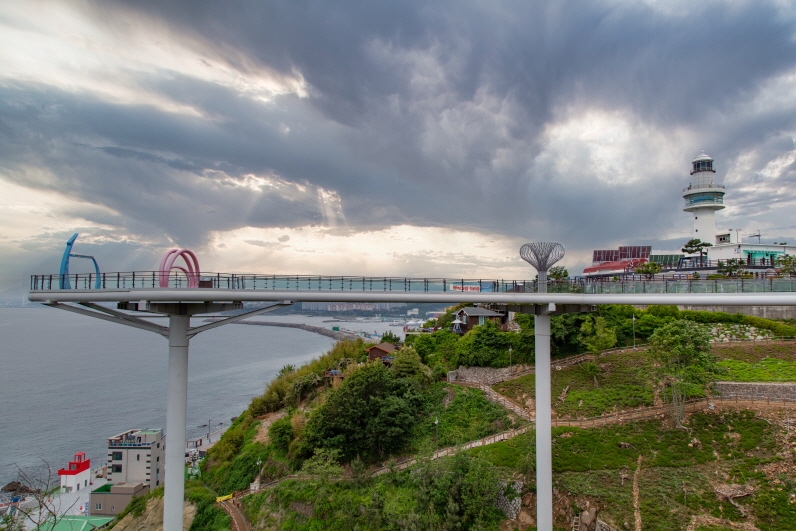 Have you heard of the unique rides that can only be found in Dojjebigol Sky Valley? The Sky Cycle runs on a single rope suspended in the air and the Giant Slide is a huge slide with a length of 87 meters! Visitors will be shocked by the dizzying rides.
Geumgang Pedestrian Bridge
Address: 2-109, Mukhojin-dong, Donghae-si, Gangwon-do (강원도 동해시 묵호진동 2-109)
Operating hours: Tuesday – Sunday 10:00-17:00
Inquiries: +82-33-534-6955
Website: www.dh.go.kr (Korean, English, Chinese, Japanese)
Sejong Geumgang Pedestrian Bridge
Walking Trail Encircling a River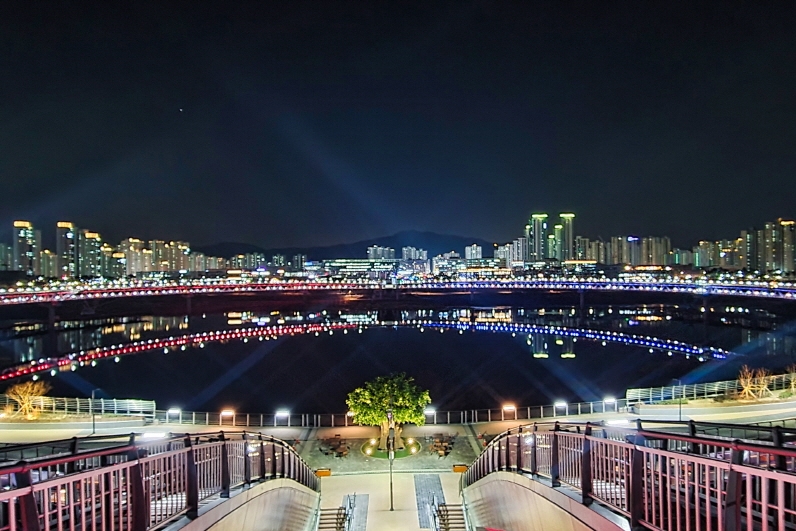 Sejong Geumgang Pedestrian Bridge named Yieungdari opened in March 2022. The donut-shaped bridge spread over the river is fun to walk on and fun to look at. When the lights turn on at night, the fantastic night view is a bonus, and it looks like a spaceship descending from space!
The World's Most Unique Two-Story Bridge
There are two ways to cross the Sejong Geumgang Pedestrian Bridge. The open upper floor is a pedestrian bridge for walking while enjoying the scenery of the Geumgang River, and the lower floor is a bicycle path where you can cycle with the wind in your hair.
Geumgang Pedestrian Bridge
Address: Sejong-ri, Sejong-si
Operating hours: 06:00-23:00
Inquiries: +82-44-868-9127
Pohang Hwanho Park Space Walk
It's Not a Rollercoaster, It's a Bridge!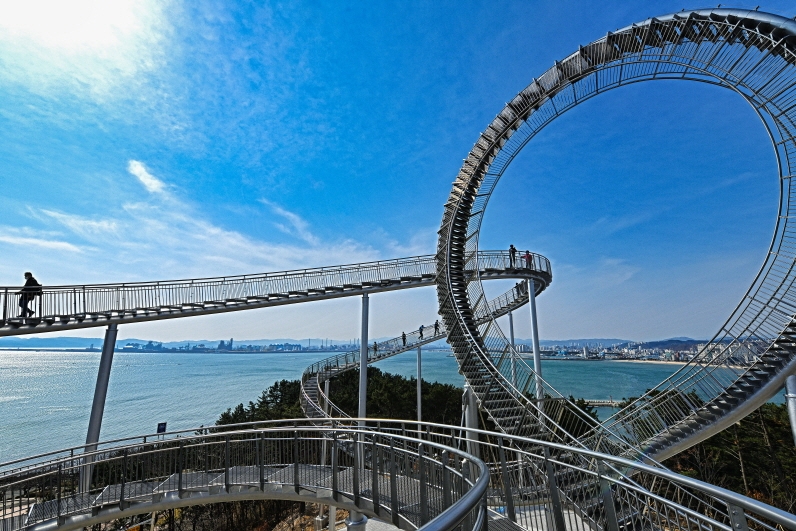 Hwanho Park Space Walk resembles a roller coaster track that spins 360 degrees and makes you doubt your eyes. Stepping up one step at a time, you might feel dizzy, as if you are walking in space!
The Best View in Pohang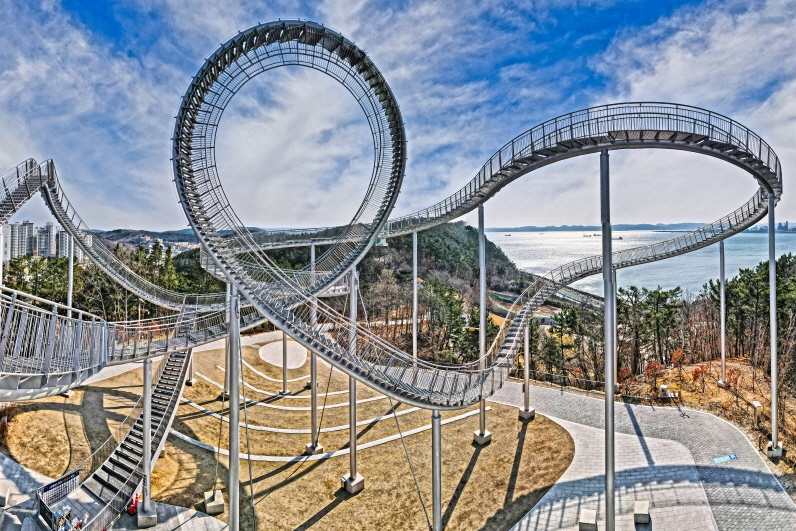 The Space Walk is also popular for its fantastic view! Standing at the top of the 333-meter-long and 25-meter-high Space Walk, you can get a panoramic view of Pohang city beyond the lush forest and park.
Hwanho Park Space Walk
Address: Hwanho Park, 30, Hwanhogongwon-gil, Buk-gu, Pohang-si, Gyeongsangbuk-do (경상북도 포항시 북구 환호공원길 30 환호공원 내)
Operating hours: Weekdays 10:00-20:00 / Weekends 10:00-21:00 (Subject to change depending on season)
Inquiries: +82-54-270-8282
Website: pohang.go.kr (Korean, English, Chinese, Japanese, Russian)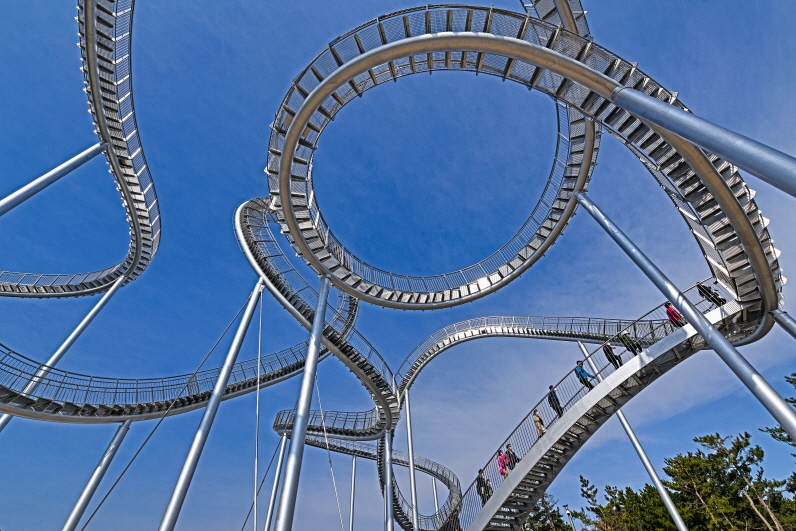 From a bridge that looks like it's about to fall into the sea, to a bridge that walks around a river and a bridge that resembles a roller coaster! Bring out your traveling desires and take a trip to these special bridge attractions.
More info
1330 Korea Travel Hotline: +82-2-1330 (Korean, English, Japanese, Chinese, Russian, Vietnamese, Thai, Malay)
* This column was last updated in March 2022, and therefore information may differ from what is presented here. We advise you to check details before visiting.