Our KTO Office in Kuala Lumpur operates to promote South Korea as a tourist destination to Malaysian and Bruneian travelers along with providing a diversity of travel information on tourist destinations in South Korea. Concurrently, the office takes charge of promotional activities in both Malaysia and Brunei.
1. Consumer Assistance
Our Korea Plaza which is located at Menara Hap Seng KL offers a wide array of travel information and free consultation service for Malaysians who are interested to travel to South Korea. All the travel brochures provided are complimentary for visitors including tourist maps, travel guides, and discount coupon booklets.

KTO Kuala Lumpur runs the King Sejong Institute in Korea Plaza which offers free Korean Language class for beginner level. Along with that, Korean cooking class, Korean dance class, Free & Easy Travel (FIT) seminars, and special tourism promotional events are regularly hosted at our Korea Plaza venue.
2. Travel Agent Assistance
At the forefront, we work closely and collaborate with local travel agencies, airlines and OTA partners for the introduction and development of new destination promotion and tour itinerary in Korea. We also host workshops, seminars, and familiarization tours to encourage networking between our Korean service providers with our Malaysian and Bruneian local travel agencies. These events have been significant in developing interest in producing updated Korean tour programs, while bridging the gap between South Korea and the targeted markets.
3. Visit Us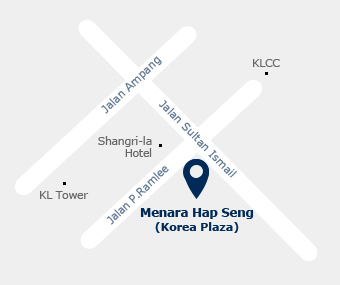 Address

Suite 7-03, 7th Floor, Menara Hap Seng, Letter box No.39, Jalan P. Ramlee, 50250, Kuala Lumpur, Malaysia

Telephone

60-3-2143-9000(Office)
60-3-2072-2515(Korea Plaza)

Fax

60-3-2142-2515

E-mail

Working Hours (Excluding Public Holiday)

- Office : 9:00 am - 12:00 pm,
1:00 pm - 6:00 pm (Mon - Fri)
- Korea Plaza : 10:00am – 7:00pm(Mon-Fri)
10:00am – 3:00pm(Sat)
4. Staff
Managing DirectorYang Kyung Soo
Marketing DirectorShin Hae In
Marketing ManagerCaryn
Korea Plaza ManagerMunira
Online ManagerEstee
MICE ManagerHiza
Administrative
assistantDzulfadhli
Gangwon
Marketing ManagerDexter
Jeju
Marketing ManagerNabila
Busan
Marketing ManagerCherub