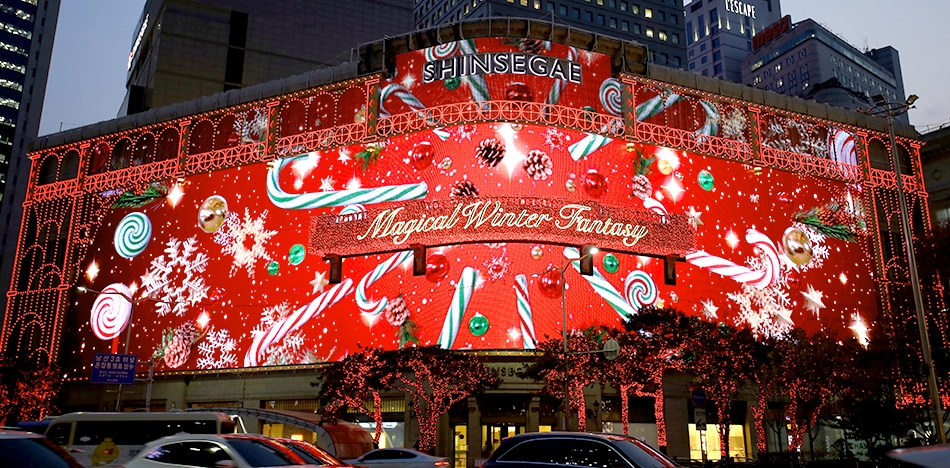 Seoul is known for its beautiful city lights. Come December, Christmas is in the air and the evening in Seoul becomes even more fascinating. In particular, the neighborhoods around Cheonggyecheon Stream gleam and sparkle with Christmas lights, creating a jolly mood. Start from KTO's promotional hall HiKR Ground, and pass by Lotte Department Store and Shinsegae Department Store to arrive at the shopping paradise Myeong-dong. Follow our course that covers the major Christmas attractions near Cheonggyecheon Stream in the heart of Seoul.
Recommended course
HiKR Ground → Cheonggyecheon walking path → Lotte Department Store Main Branch → Shinsegae Department Store → Myeong-dong
HiKR Ground, promoting Korea to the world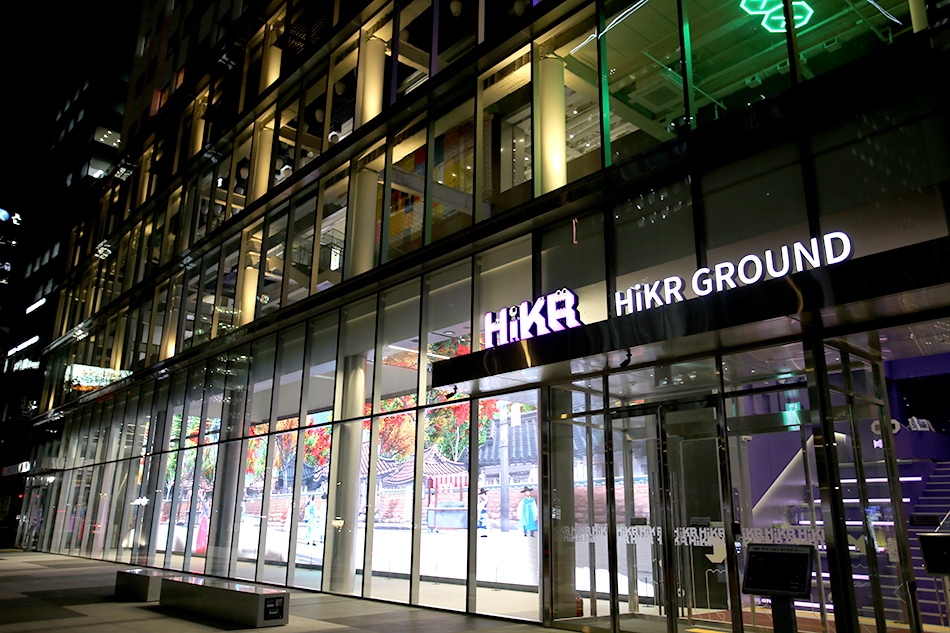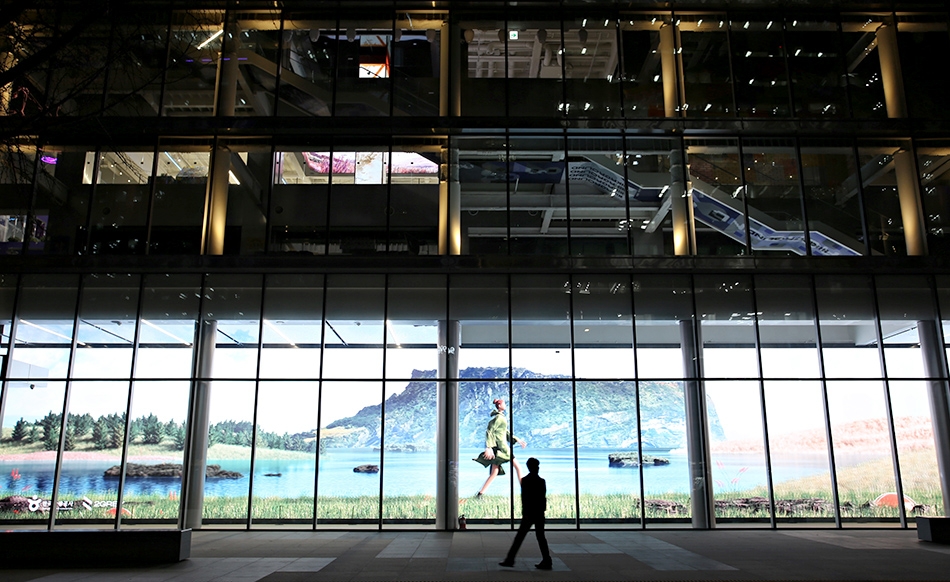 HiKR Ground is a promotional hall of Korea tourism at the Korea Tourism Organization Seoul Center. By combining the words "Hi," "Korea," and "playground," HiKR Ground aims to greet international visitors to Korea by offering a wide array of content related to Korea's vibrant culture. This five-story building captures the attention of passersby with a beautiful media wall on the first floor.
HiKR Ground
Address: 40, Cheonggyecheon-ro, Jung-gu, Seoul (서울특별시 중구 청계천로 40 한국관광공사 서울센터)
Operating hours: 1F 10:00-21:00 / 2-4F (Tuesday-Sunday) 10:00-19:00 / 5F 10:00-21:00 (Information center 10:00-19:00)
Website: hikr.visitkorea.or.kr
Cheonggycheon Stream, recreational space for the public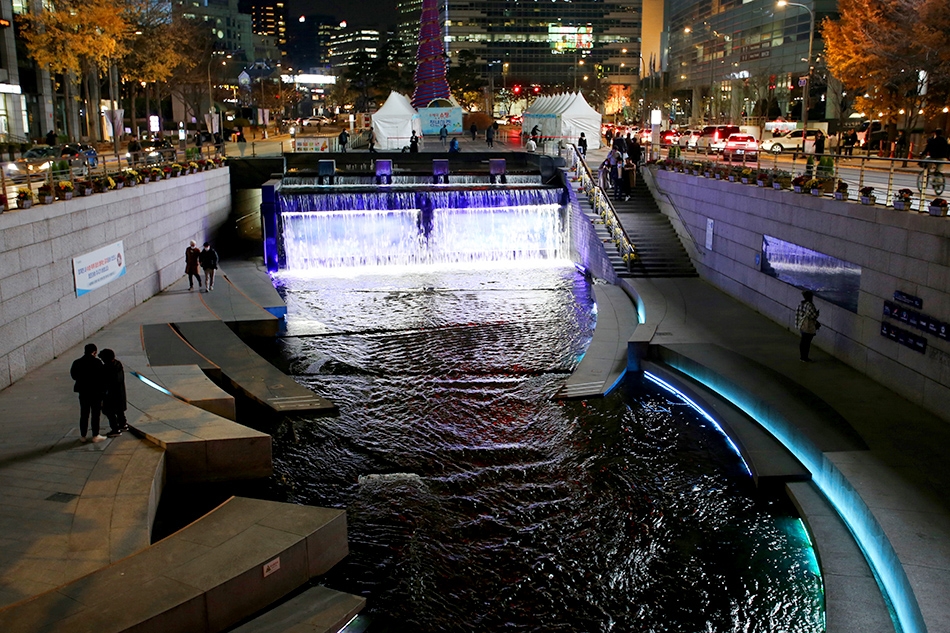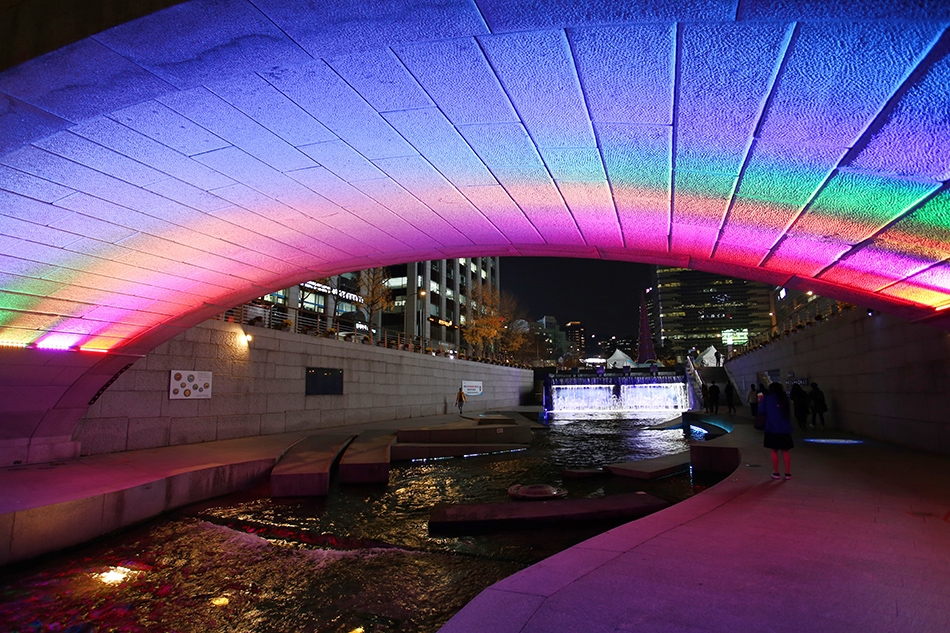 In front of HiKR Ground is Cheonggyecheon Stream, a landmark of Seoul that is open to the public for recreational purposes. Although the stream flows through downtown Seoul, the riverside walkways offer a refreshing feeling away from the busy city. In the evening, Cheonggyecheon Stream light installations illuminate the waterway and set a tranquil mood. The two-tiered mini waterfall at the starting point of the stream becomes even more marvelous at night thanks to the gleaming light installation behind the water cascade.
Cheonggyecheon Stream
Address: Cheonggye Plaza, 1, Taepyeong-ro 1-ga, Jung-gu, Seoul (서울특별시 중구 태평로1가 1(청계광장))
Website: www.sisul.or.kr (English, Japanese, Chinese)
Lotte Department Store Main Branch presents a Christmas fairytale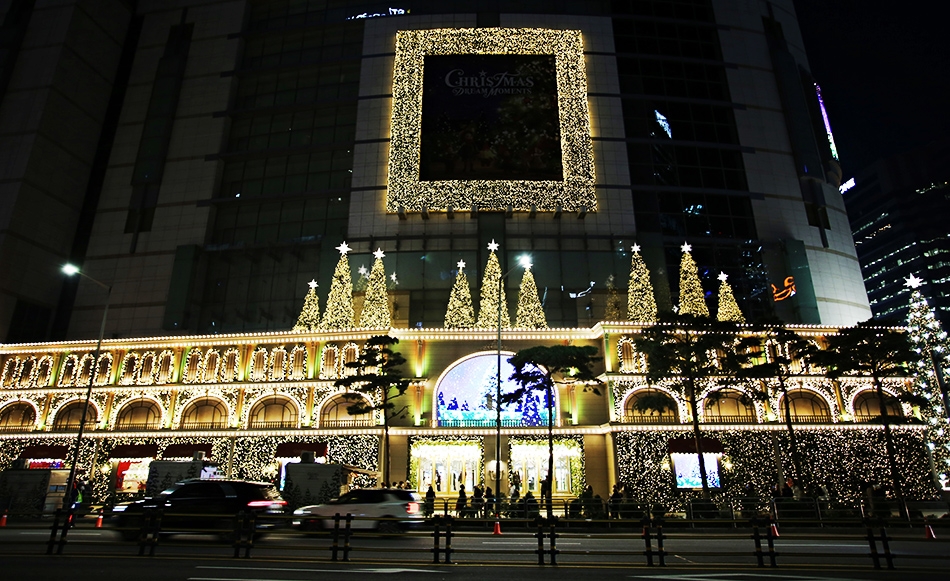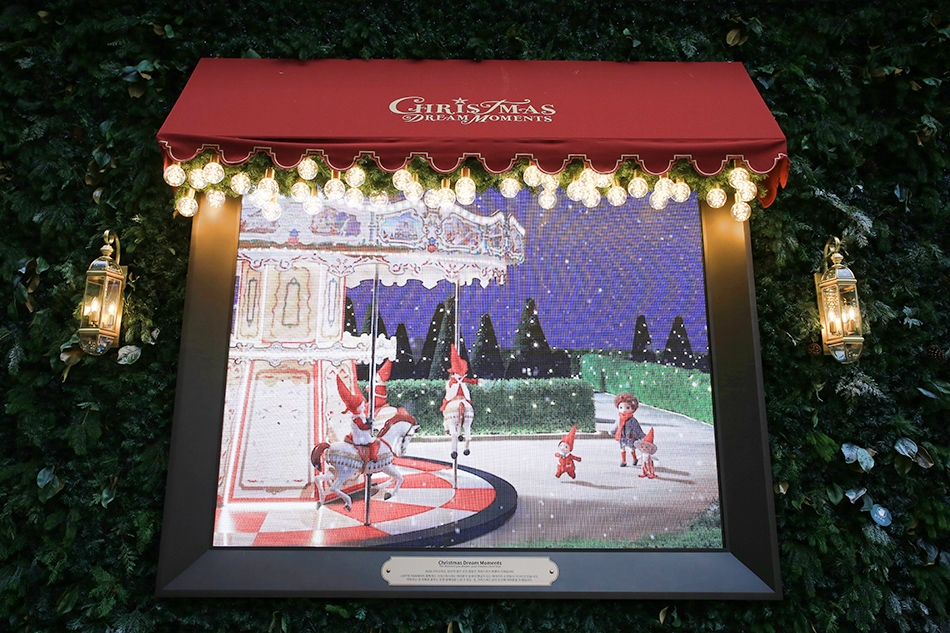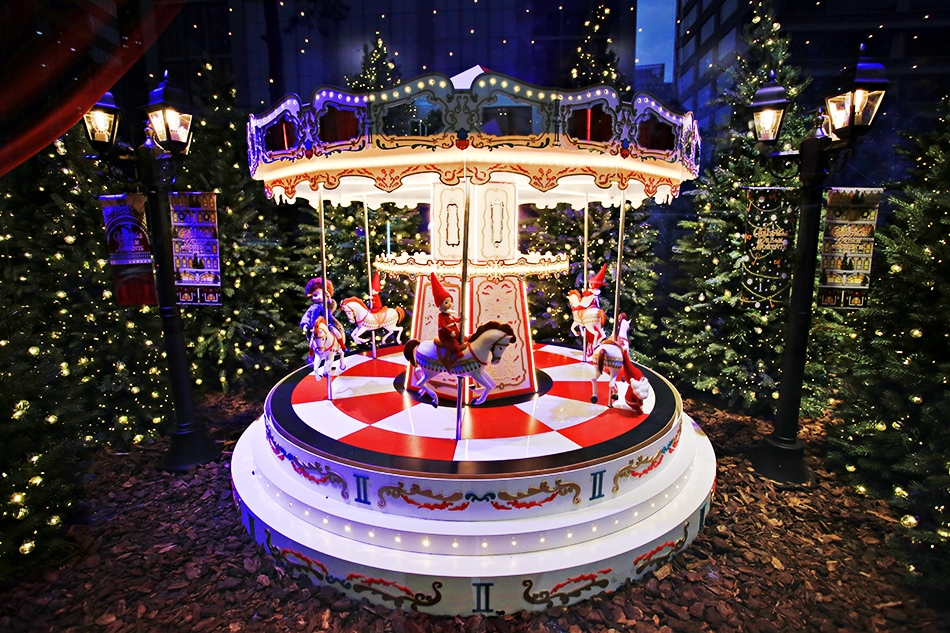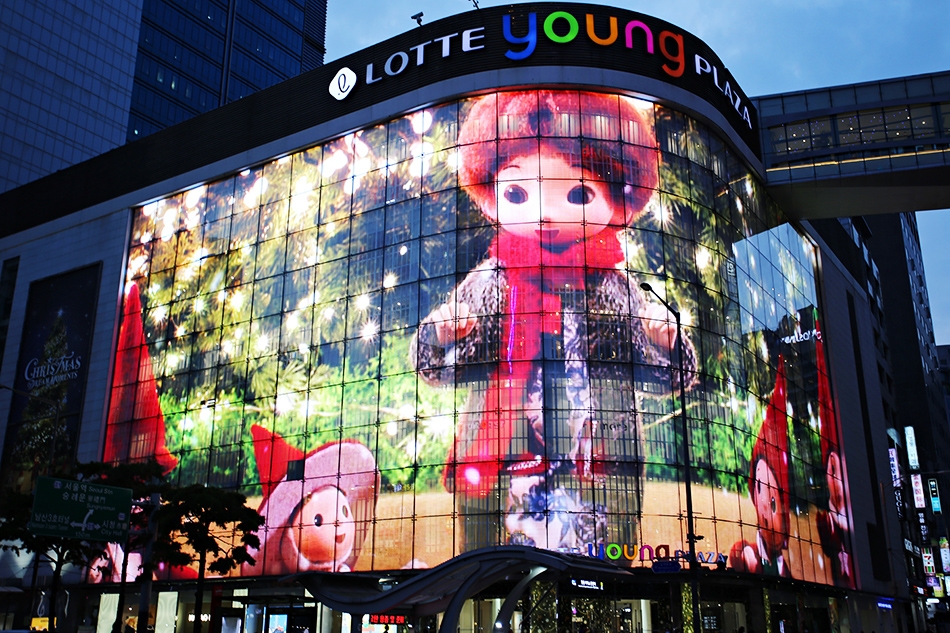 Major department stores in Korea welcome the holidays with extravagant Christmas decorations. This year, Lotte Department Store Main Branch features 3-story high lights and tree decorations focused on the theme "Christmas Dream Moments." The Young Plaza building has a top-to-bottom screen media façade that plays stop motion animation featuring lovely characters. The first floor's window displays show replicas of scenes shown in the stop motion video.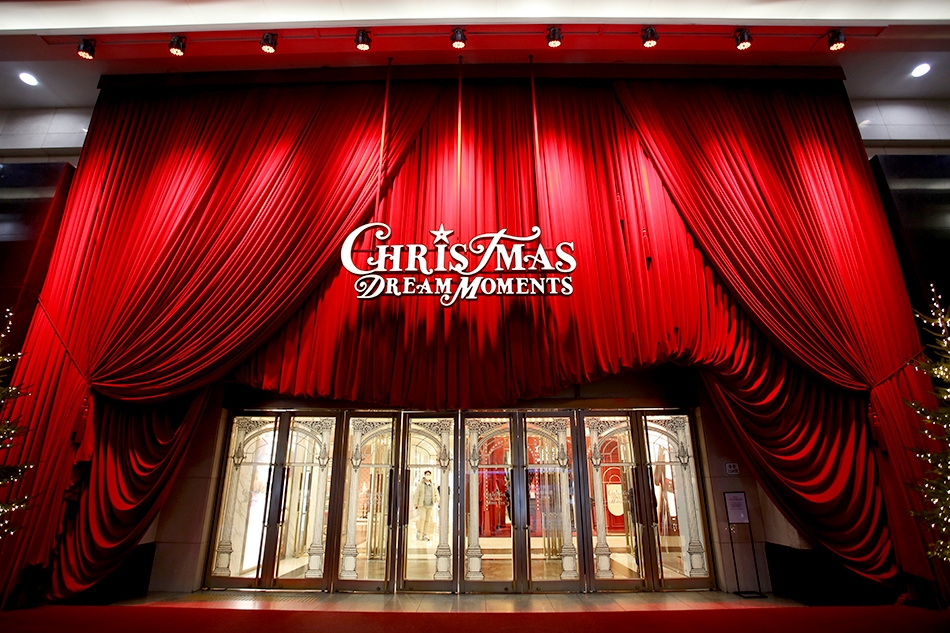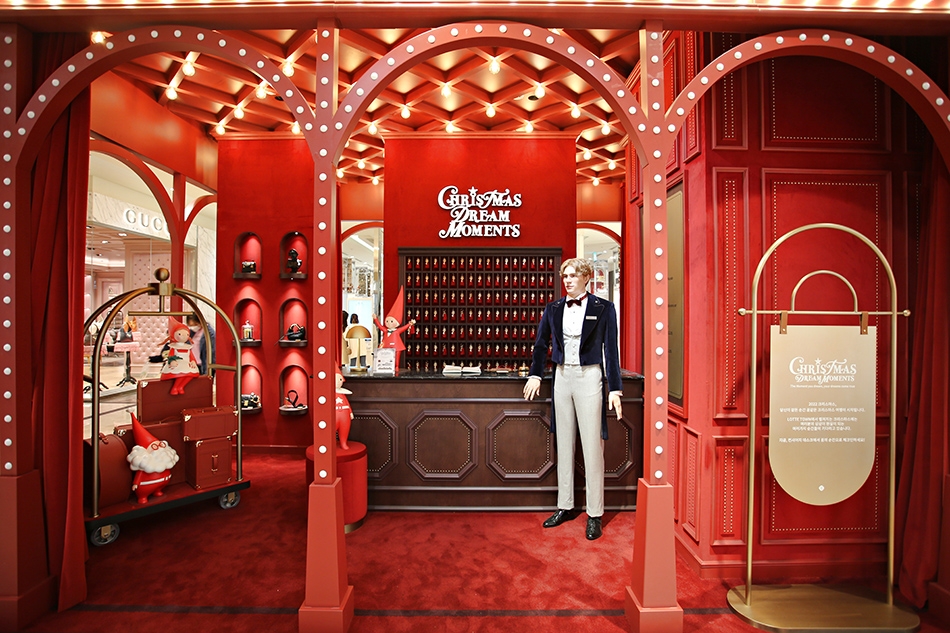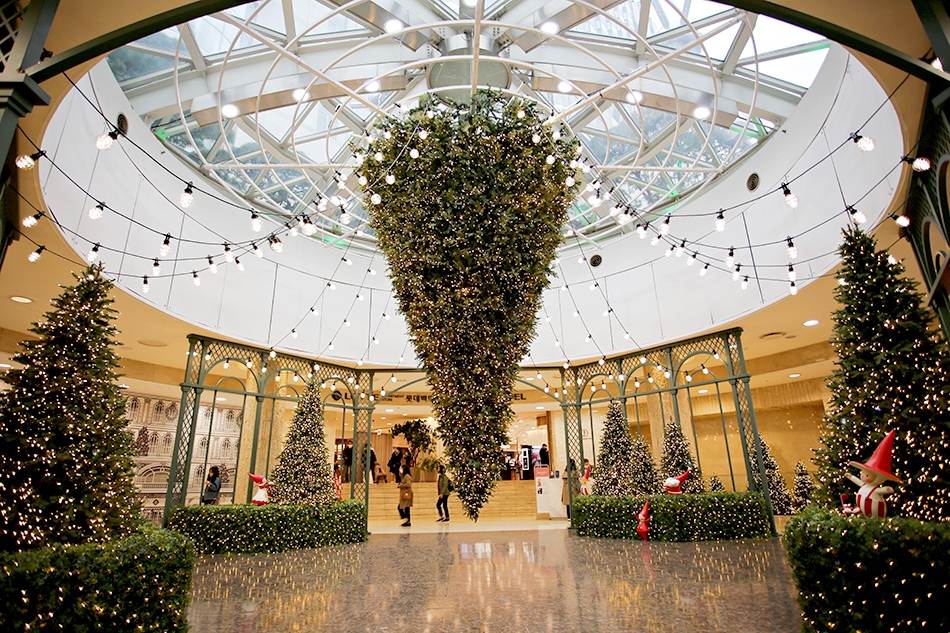 The festive mood continues inside the mall. The main entrance greets visitors with grand red curtains. Inside the store, a Christmas-themed photo zone is installed at the Concierge Desk while the passageway connecting the subway station and the basement floor features a Christmas Garden with an upside down tree. Another popular photo spot is the giant Christmas tree by Eulji-ro 1(il)-ga Station, Exit 7.
Lotte Department Store Main Branch
Address: 81, Namdaemun-ro, Jung-gu, Seoul (서울특별시 중구 남대문로 81)
Christmas celebration period & time: Until mid-January 2023 / 17:45-22:30
* Schedule subject to change; check before visiting.
Shinsegae Department Store media façade lights up downtown Seoul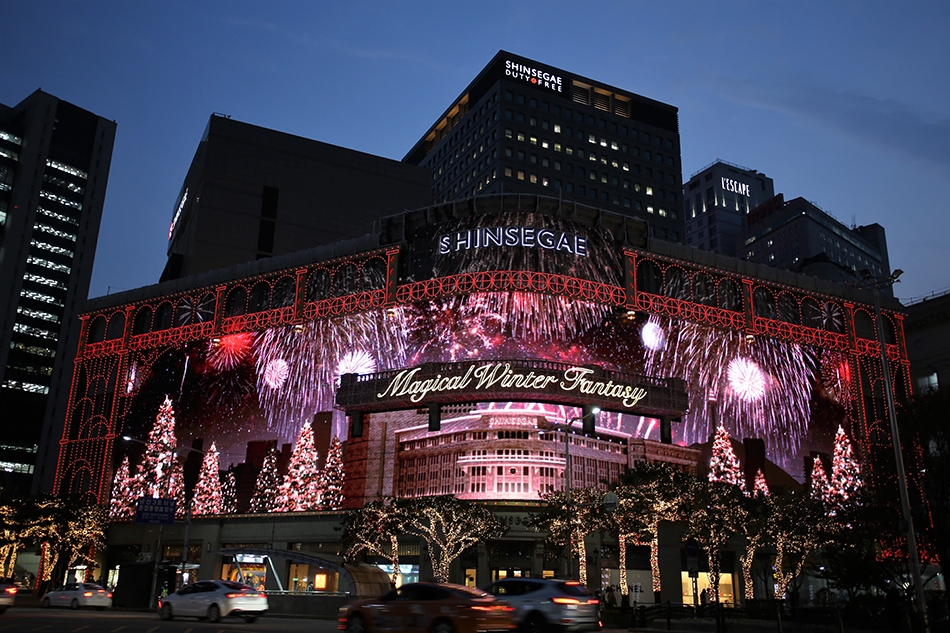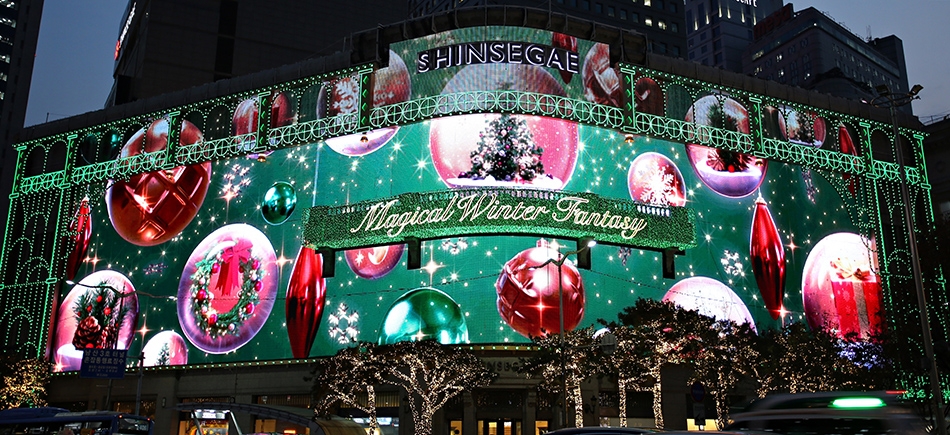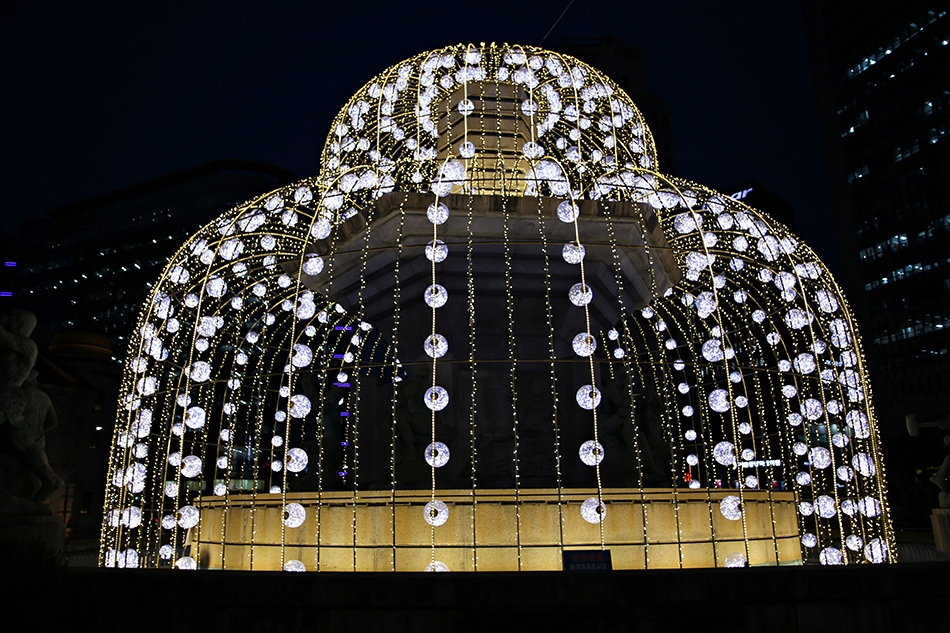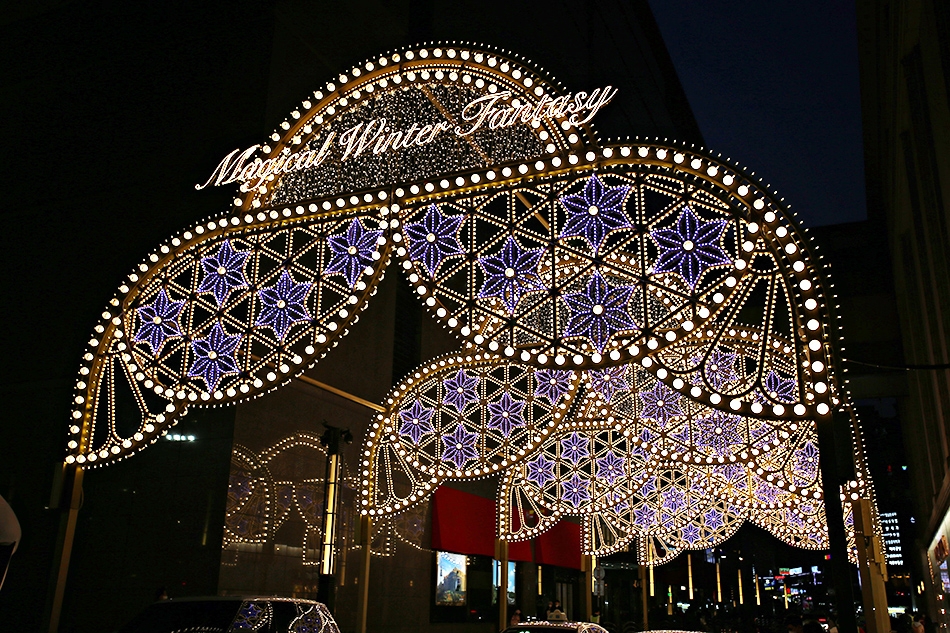 In aims to continue its popularity as a Christmas attraction, Shinsegae Department Store has put on a media screen large enough to cover the whole façade with the theme of "Magical Winter Fantasy." The screen shows a fascinating 3-minute video featuring all things Christmas, including colorful ornaments, presents, trees, and more. To enjoy the media façade in full view, we recommend standing across the road from the building. For spectators' safety, fences are installed along with security personnel. There are more to see near the mall such as the fountain lighting and Luminairie Tunnel.
Shinsegae Department Store
Address: 63, Sogong-ro, Jung-gu, Seoul (서울특별시 중구 소공로 63)
Christmas celebration period & time: Until January 31, 2023 / 17:40-22:30
* Schedule subject to change; check before visiting.
Myeong-dong Street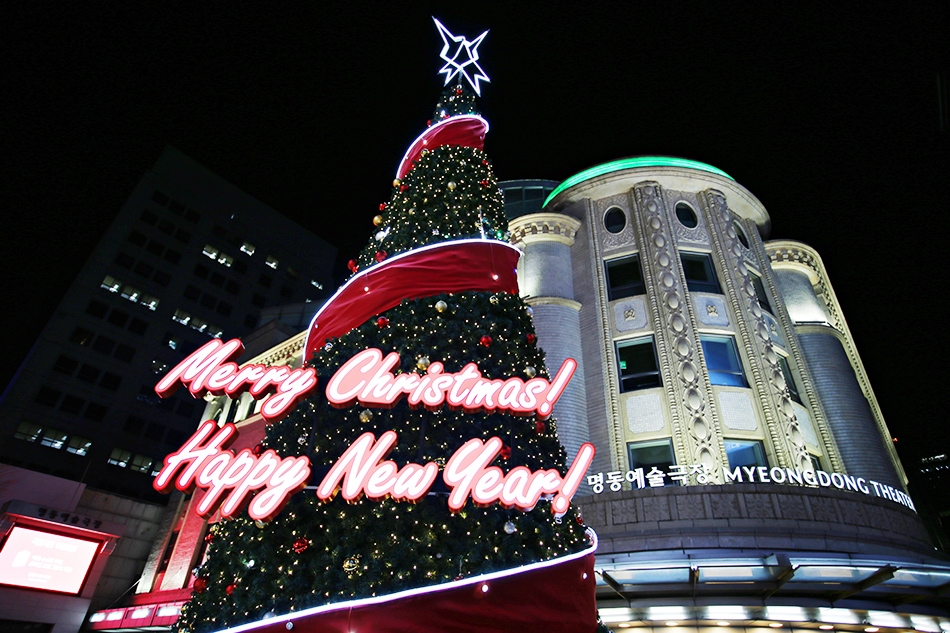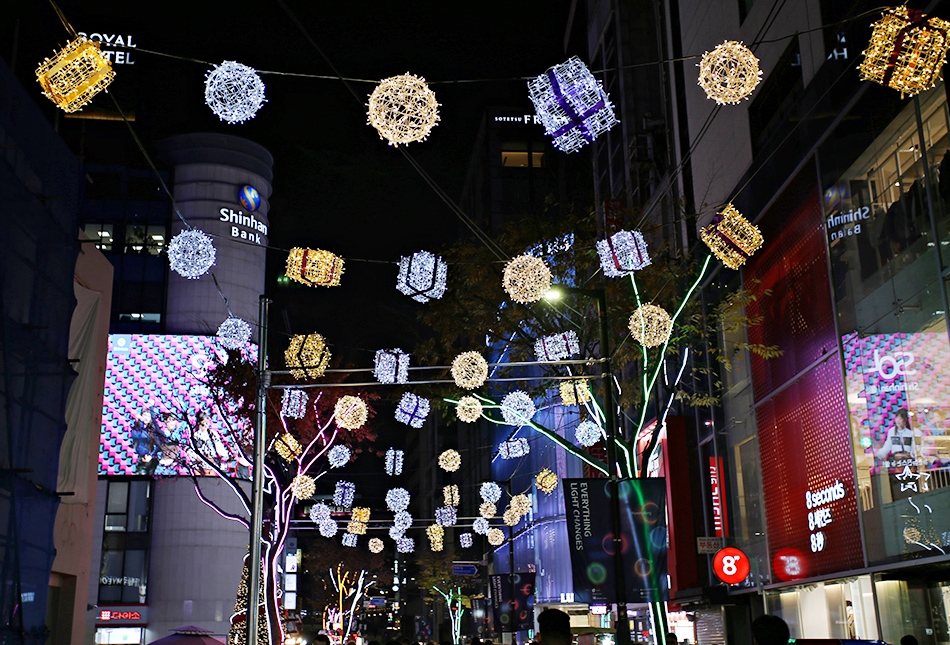 Seoul's major shopping district Myeong-dong is also adorned with beautiful ornaments. The busy streets and food stalls seem even more enthusiastic and energetic around the holidays thanks to the Christmas lightings. As you walk along the street your senses will be pleased with the smell of delicious street food and fancy decorations. Head to Myeongdong Theater located at the heart of Myeong-dong to see a giant Christmas tree, the most popular attraction in the area around this time of the year.
Myeong-dong
Address: 35, Myeongdong-gil, Jung-gu, Seoul (서울특별시 중구 명동길 35)
Other Noteworthy Christmas Attractions
Christmas Village in The Hyundai Seoul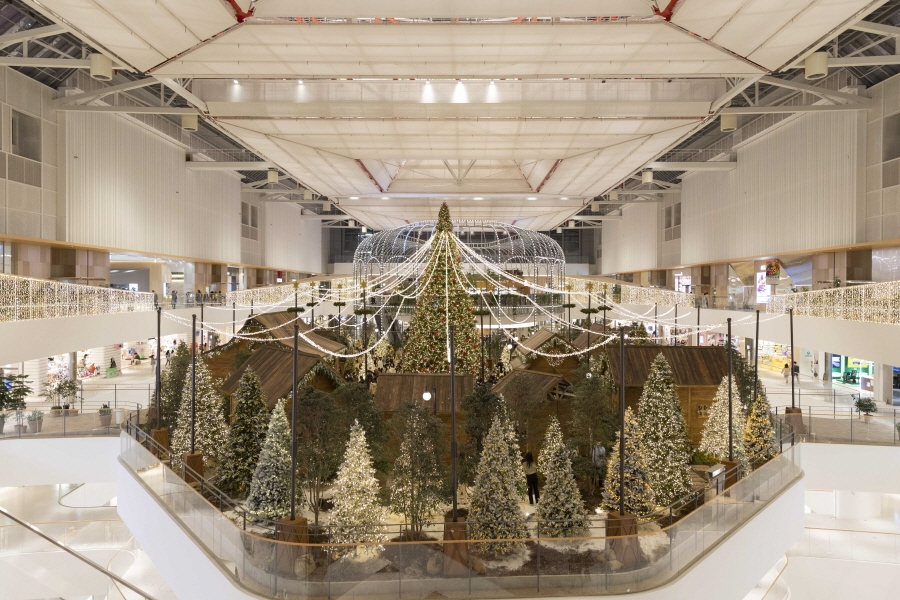 The Hyundai has made its own version of the Christmas Village at Sounds Forest, an indoor garden which gained much attention after its opening in 2021. The garden resembles a scene from a children's storybook with snow-covered trees and wooden cabins clustered around a 13-meter Christmas tree in the center. Lights and ornaments are beautifully arranged to add a charming and romantic atmosphere. It's the perfect attraction to take winter scenery photos without having to brace the cold air!
The Hyundai Seoul
Address: 108, Yeoui-daero, Yeongdeungpo-gu, Seoul (서울특별시 영등포구 여의대로 108)
Christmas celebration period & time: Until December 31, 2022 / 10:30-22:00
* Schedule subject to change; check before visiting.
Spend your Christmas with "Cookie Run" at Siheung Premium Outlets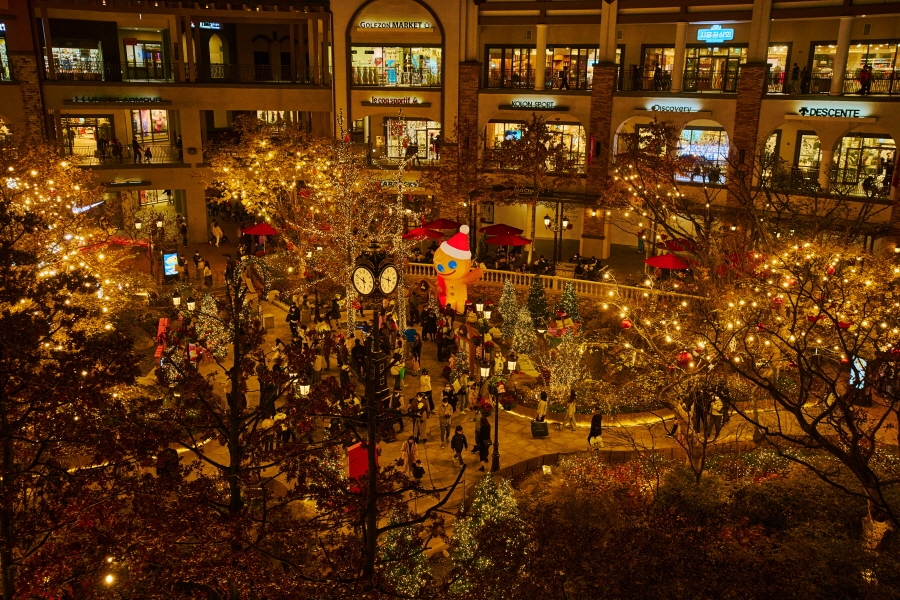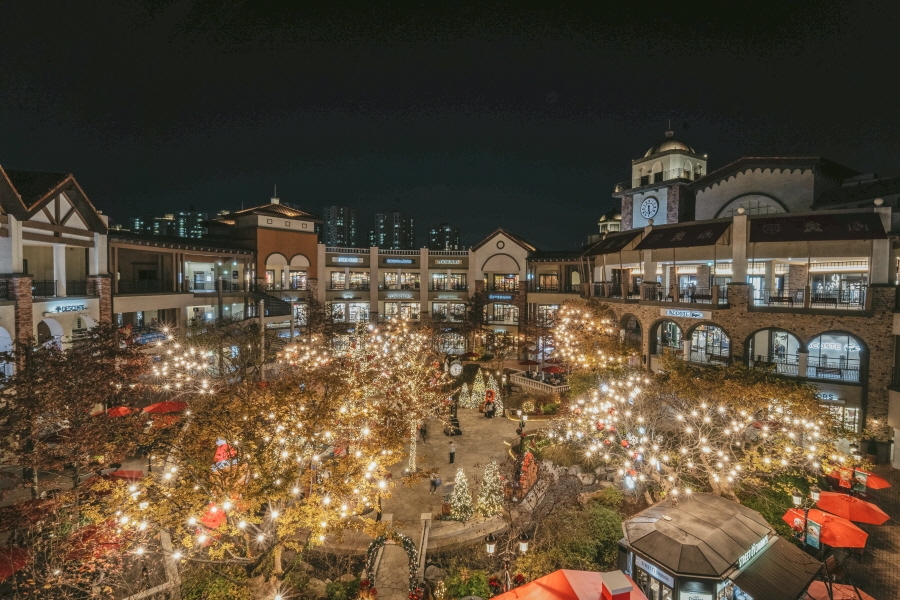 Siheung Premium Outlets has made the best out of its western-style buildings with the theme of "European Christmas Trip" in celebration of Christmas. They also incorporated themes from "Cookie Run," a Korean mobile game that features gingerbread cookie characters. The outlet has recreated the game's Christmas Village and placed cookie characters throughout the village. In addition, the mall will host Christmas Market every week from Friday to Sunday until December 25 to boost the holiday atmosphere.
Siheung Premium Outlets
Address: 699, Seohaean-ro, Siheung-si, Gyeonggi-do (경기도 시흥시 서해안로 699)
Christmas celebration period & time: Until January 15, 2023
* Schedule subject to change; check before visiting.
More info
1330 Korea Travel Helpline:+82-2-1330 (Korean, English, Japanese, Chinese, Russian, Vietnamese, Thai, Malay)
* This column was last updated in November 2022, and therefore information may differ from what is presented here. We advise you to check details before visiting.