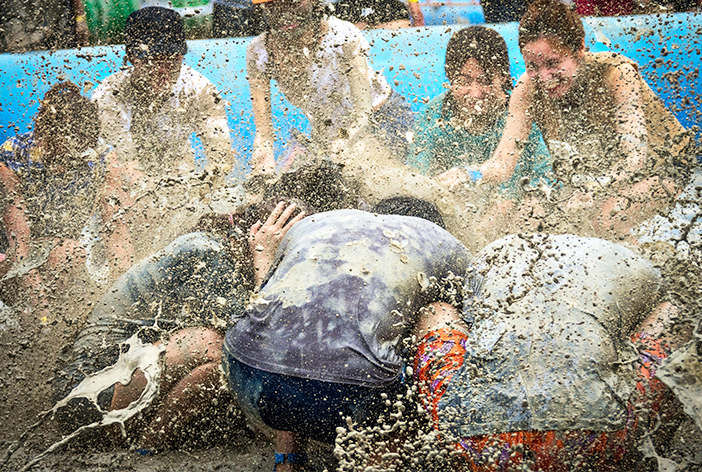 Summer is a time for fun vacations and outings with family and friends. Wherever one's destination in Korea may be, check out some of these fascinating summer festivals to help you forget the scorching heat.
Busan Food Film Festa
Period: July 1-3, 2022
Venue: Busan Cinema Center in Busan (부산시 영화의전당)

Busan Food Film Festa is a unique festival dedicated to films and foods. The festival showcases films and documentaries related to gourmet and offers diverse content related to foods that make scene appearances. Visitors can get to know foods that appeared in films as well as participate in food tasting.
Geumsan Samgyetang Festival
Period: July 15-17, 2022
Venues: Geumsan Ginseng Museum Plaza in Geumsan-gun, Chungcheongnam-do (충청남도 금산군 금산인삼관 광장)

Geumsan Samgyetang Festival is a food festival that celebrates one of Korea's best-loved summer foods – samgyetang (ginseng chicken soup)! Visitors can enjoy a bowl of samgyetang as well as other diverse Korean foods made of chicken. Entertaining activities such as water activities, hands-on herbal experience, and performances are also prepared.
Daegu Chimac Festival
Period: July 6-10, 2022
Venues: Area of Duryu Park in Daegu (대구시 두류공원 일원)
Website: chimacfestival.com (English, Japanese, Chinese)

Daegu Chimac Festival combines two of Korea's favorite food items – chicken and beer! Festival-goers can chill with a beer in hand and chicken in the other while they enjoy entertaining music and performances that take place throughout the summer evening. The festival is also the perfect place to try out different chickens all in one place as many popular chicken franchises participate in the event.
Boryeong Mud Festival
Period: July 16 – August 15, 2022
Venues: Daecheon Beach Mud Square in Boryeong-si, Chungcheongnam-do
(충청남도 보령시 대천해수욕장 머드 광장)
Website: mudfestival.or.kr (English, Japanese, Chinse, Spanish)

At the Boryeong Mud Festival, visitors jump into a huge pool of mud for more than just fun, as Boryeong mud is well-known for its excellent quality and efficacy. This fun, action-packed festival is popular among local and international visitors because it offers various programs such as the mud massage pack, colored-mud body painting, and mud soap-making.
Incheon Pentaport Rock Festival
Period: August 5-7, 2022
Venues: Songdo Dalbit Festival Park in Incheon (인천시 송도달빛축제공원)
Website: pentaport.co.kr (English)

Incheon Pentaport Rock Festival is not only Korea's largest rock festival but also one of the top ten rock festivals in the world. Bands from all over the world take over the stage for a passionate and energetic live performance, bringing the audience together with their rock-and-roll spirit.
More Info
1330 Korea Travel Hotline: +82-2-1330 (Korean, English, Japanese, Chinese, Russian, Vietnamese, Thai, Malay)
* Festival dates and schedules are subject to change.

* This column was last updated in June 2022, and therefore information may differ from what is presented here. We advise you to check details before visiting.