A suspension bridge tour you'll never forget! With every step comes a spine-tingling feeling along with dramatic views that will forever be engraved in your mind. A visit to these bridges are recommended as they will add thrills to your trip!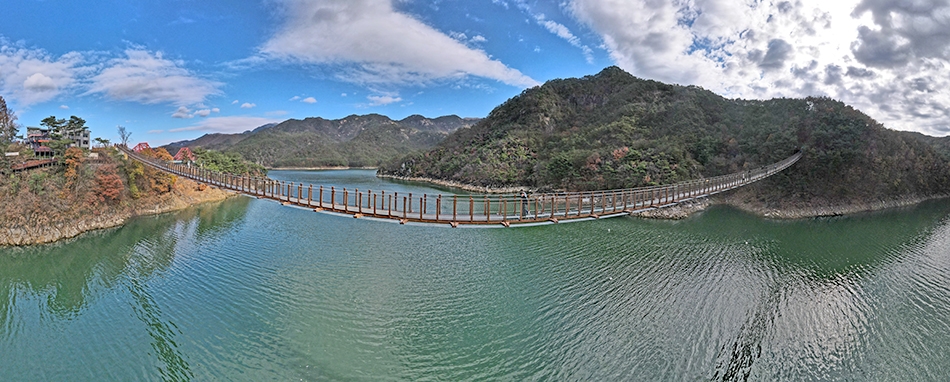 Wonju Sogeumsan Suspension Bridge
Feel Your Heart Pound at Wonju's Top Landmark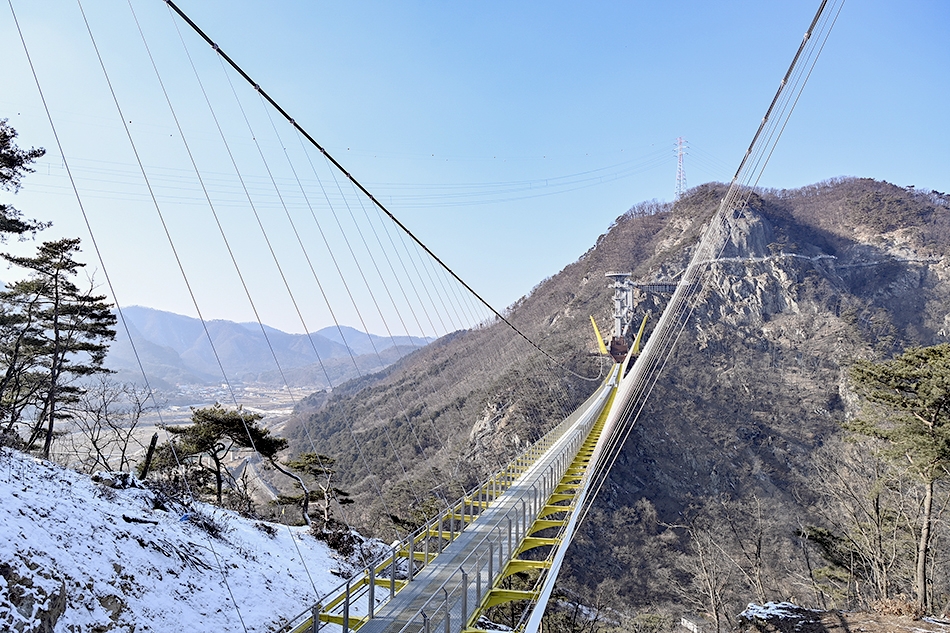 Located 200 meters above ground and stretching 404 meters in length, Sogeumsan Ulleong Bridge in Wonju offers big thrills with steel grid and glass-bottom flooring. Look down to see what's right under your feet, and look up to see the breathtaking view of the Sogeumsan Mountain terrains.
Get Ready for Extreme Thrills!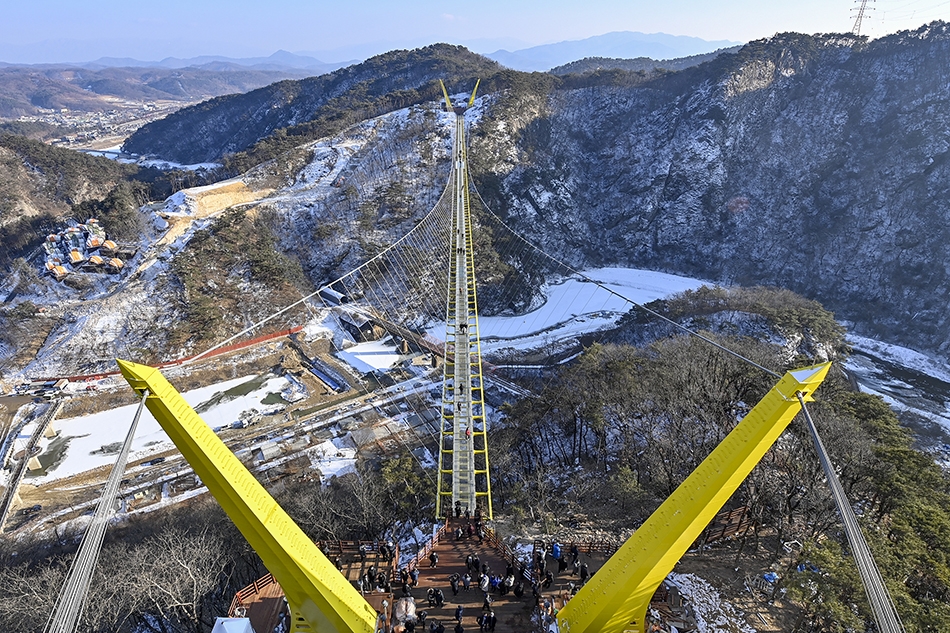 If you can stand the thrills of looking down through the glass-floored bridge, you'll be rewarded with a wonderful view of Sogeumsan Mountain and Samsancheon Valley. It's a spine-chilling experience, but it will leave you with unforgettable memories.
Address: 12, Sogeumsan-gil, Wonju-si, Gangwon-do (강원도 원주시 소금산길 12)
Operating hours: May-October 09:00-18:00, November-April 09:00~17:00
* Closed 1st & 3rd Mondays of every month, and the day of Seollal (Lunar New Year's Day) & Chuseok (Korean Thanksgiving Day)
Inquiries: +82-33-749-4860 (Sogeumsan Grand Valley Office)
Website: wonju.go.kr/tour (Korean, English, Japanese, Chinese)
Jecheon Oksunbong Suspension Bridge
Masterpiece Created by Cheongpungho Lake and the Wind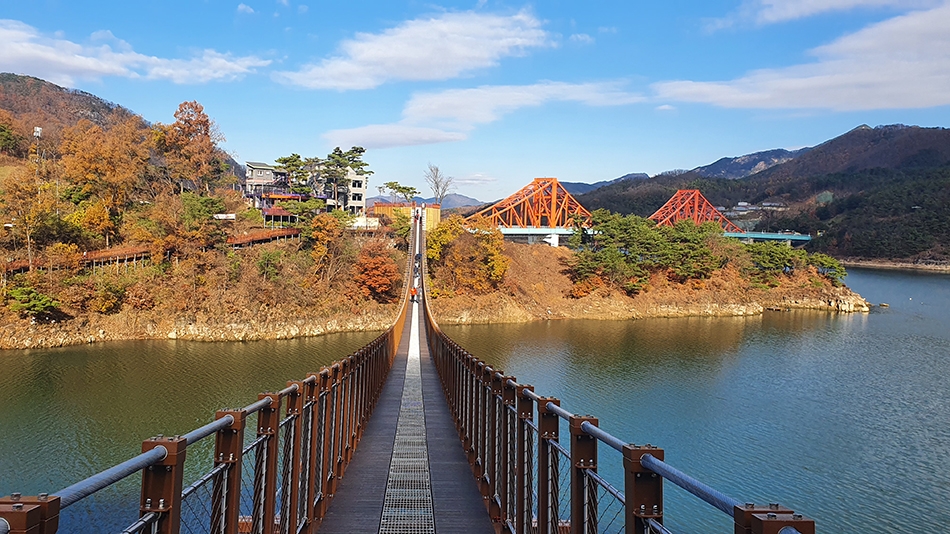 Take a careful step forward to behold the beauty of Oksunbong Peak and Cheongpungho Lake in one view and you'll be welcomed by a sensation where even the slightest breeze feels like magic. Soon, you'll be able to forget about all your fear and hesitation and enjoy the experience wholeheartedly.
Meet the Hottest Place in Jecheon!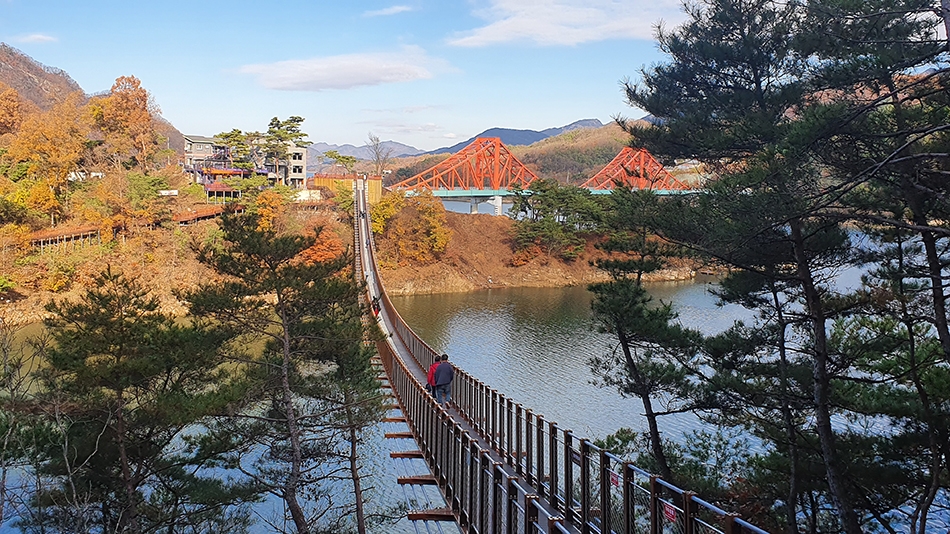 Oksunbong Suspension Bridge quickly became the number one attraction in Jecheon by drawing crowds of visitors nationwide since its grand opening in October 2021. Time will fly by as you enjoy the bridge and other nearby attractions such as Cheongpungho Lake, Oksunbong Peak, and Yongdampokpo Falls.
Address: 342, Oksunbong-ro, Jecheon-si, Chungcheongbuk-do (충청북도 제천시 수산면 옥순봉로 342)
Operating hours: March-October 09:00-18:00, November-February 10:00-17:00
* Closed Mondays, Seollal (Lunar New Year's Day) & Chuseok (Korean Thanksgiving Day) holidays, & Labor Day (May 1)
Operating hours: +82-43-641-6738
Website: tour.jecheon.go.kr (Korean, English, Japanese, Chinese)
Nonsan Tapjeongho Suspension Bridge
Asia's Longest, the 600-meter Landmark of Nonsan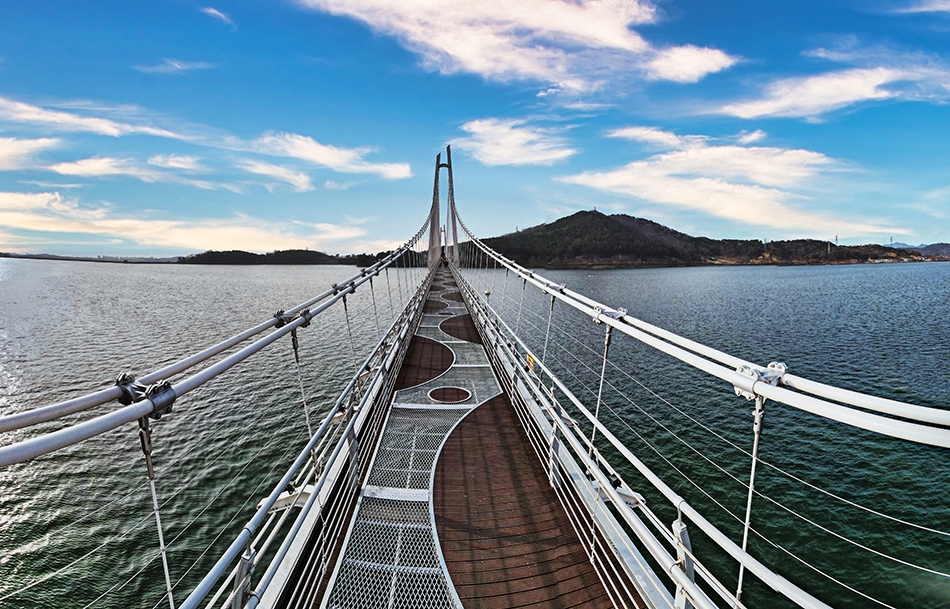 Nonasan Tapjeongho Suspension Bridge lies over a calm and vast lake, portraying a picturesque scenery. Cross the bridge to see the gentle water right under your feet, and let the pleasant view of mountain scenery soothe your mind.
Stunning Nightscape for a Change of Mood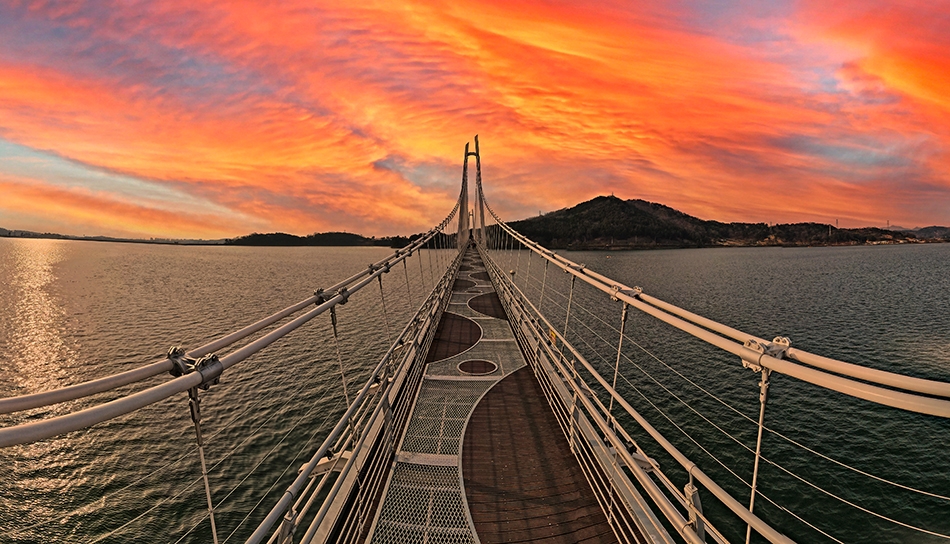 At night, the whole bridge turns into a canvas for colorful nightlights, creating a fascinating evening atmosphere. The bridge is full of remarkable charms, offering a thrilling sensation during the day while pleasing your eyes and mood at night.
Address: 665, Bujeok-ro, Nonsan-si, Chungcheongnam-do (충청남도 논산시 부적면 부적로 665)
Operating hours: 09:00-18:00
* Closed Wednesdays
Inquiries: +82-41-746-6645
Website: www.nonsan.go.kr (Korean only)
The suspension bridge tour is a unique adventure where you can feel a sense of youthful enthusiasm along with gripping excitement. Add in a suspension bridge attraction to your travel plans to challenge yourself for exciting thrills and entertainment!
1330 Korea Travel Hotline: +82-2-1330 (Korean, English, Japanese, Chinese, Russian, Vietnamese, Thai, Malay)
This column was last updated in March 2022, and therefore information may differ from what is presented here. We advise you to check details before visiting.