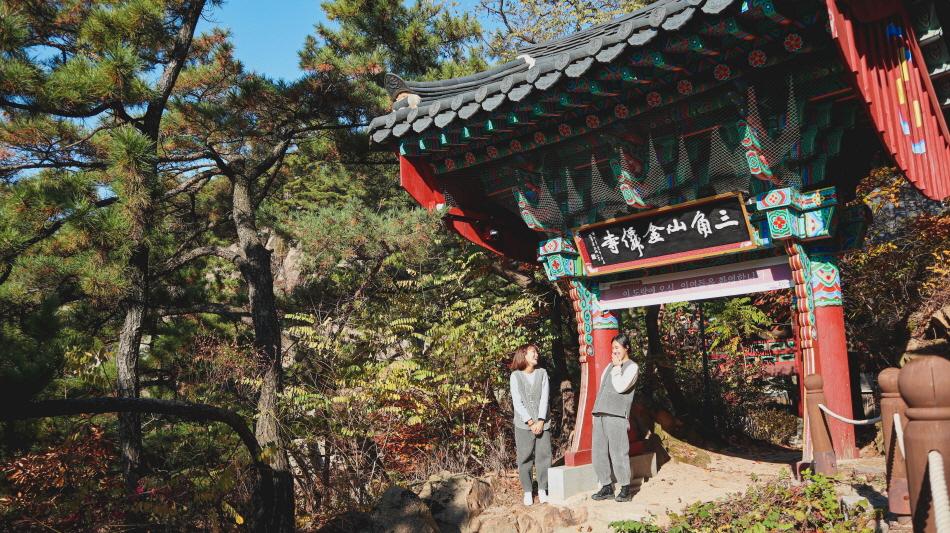 There is a special peaceful feeling when visiting Korean temples. People visit temples to find inner peace or just to escape from the busy life for a moment. A day trip to the temple can be unique, but travelers are recommended to try a Templestay program for a one-of-a-kind experience. Here are three Templestay spots that can heal any heart with their beautiful natural surroundings and atmosphere.
Seoul Geumsunsa Temple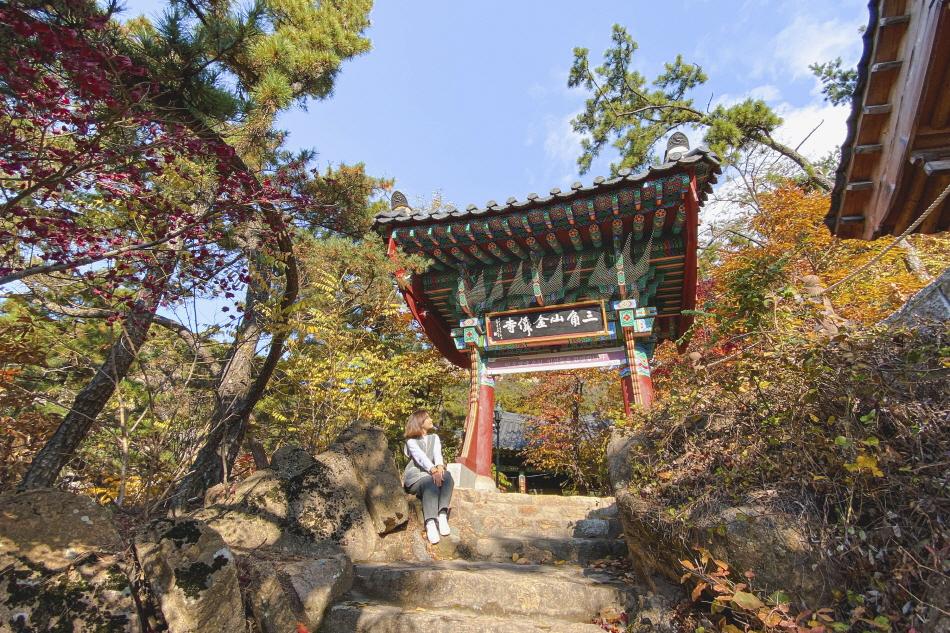 Located in the middle of Seoul, Geumsunsa Temple is conveniently located in Jongno-gu with easy access to public transportations. The temple is popular for its Templestay program as well as a relaxing stroll and hiking spot. With various attractions nearby including Gyeongbokgung Palace, Bukchon Hanok Village, Cheong Wa Dae (the Blue House), and more, there are plenty of things to enjoy before and after Templestay.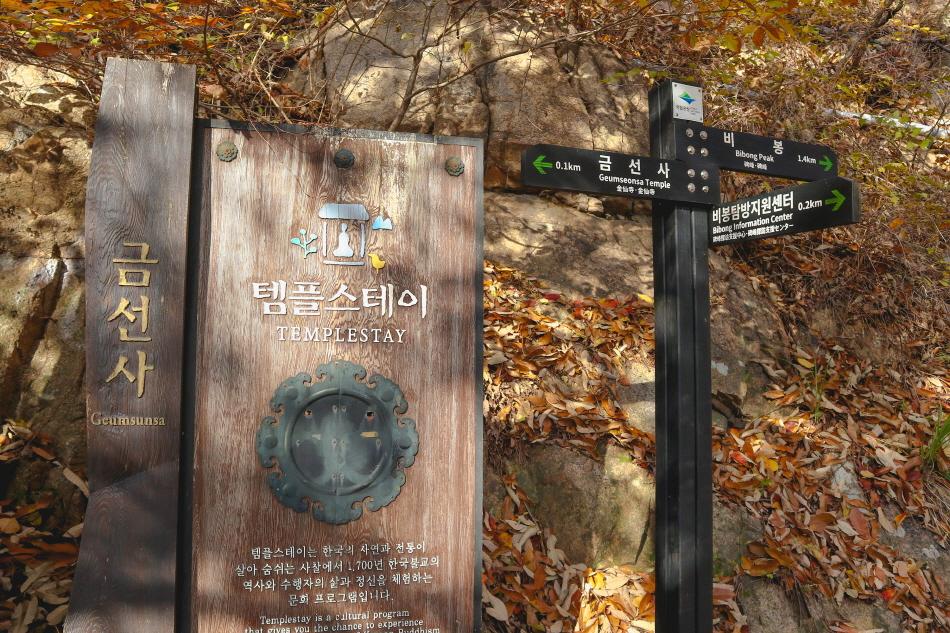 Walking slowly up to the temple from the busy city is the first step towards Templestay. From the bus stop, walk up the hill for approximately 20 minutes to reach Geumsunsa Temple, led by signs along the way for those who might get lost. You can think of it as a light trekking to the temple.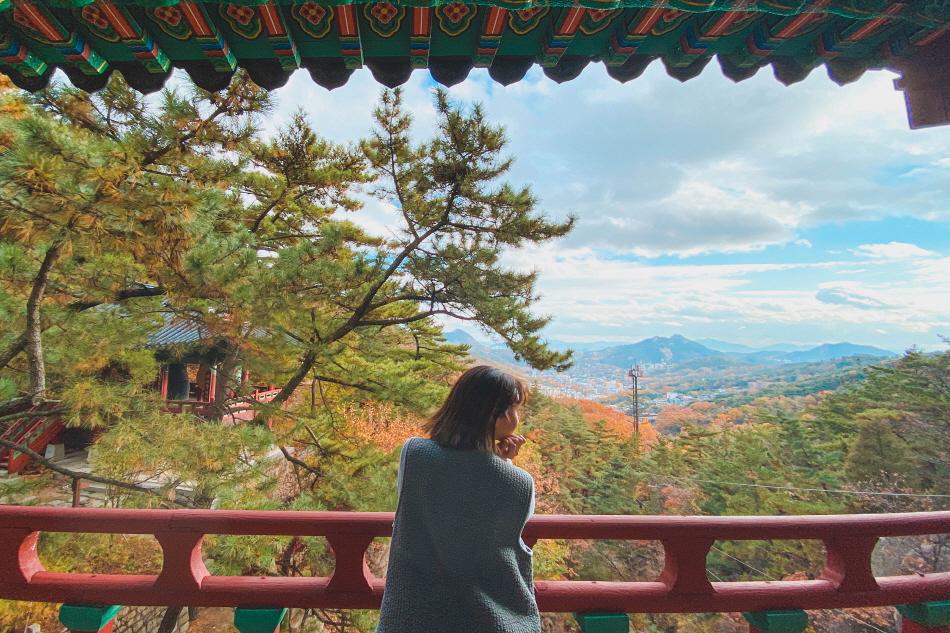 Most of the 2-day Templestay runs for approximately 20 hours like the one in Geumsunsa Temple, with check-in around 3 p.m. and check-out after lunch the next day. Get there early to check-in to your room and change into comfortable temple clothes before exploring the temple. The area is exclusive to Templestay participants, providing a sense of calmness for a peaceful relaxation.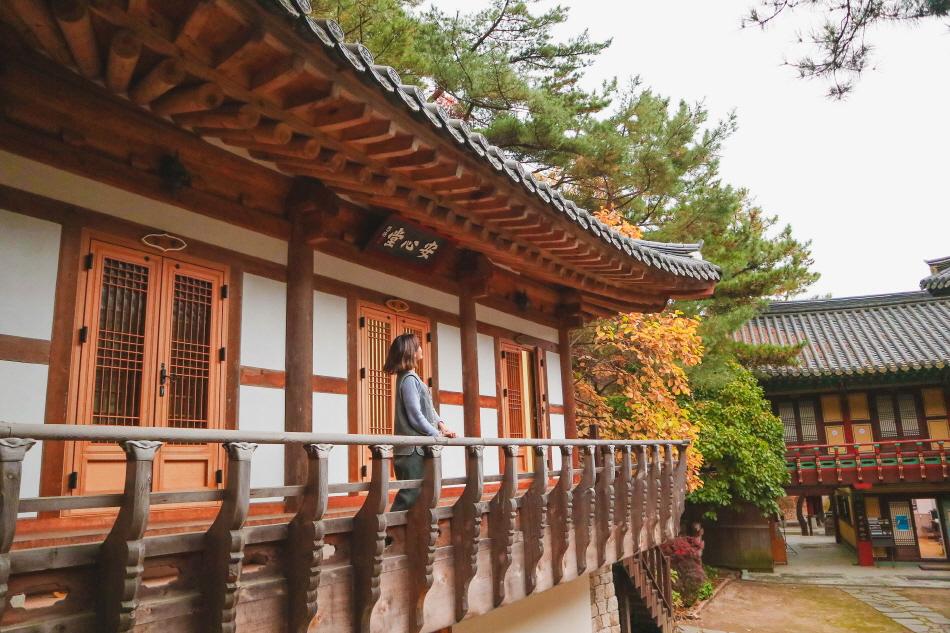 A tour of the temple begins at a designated time. Following the monk, the Templestay participants will walk around the temple in small groups to learn basic information about Buddhism and Templestay for about 50 minutes.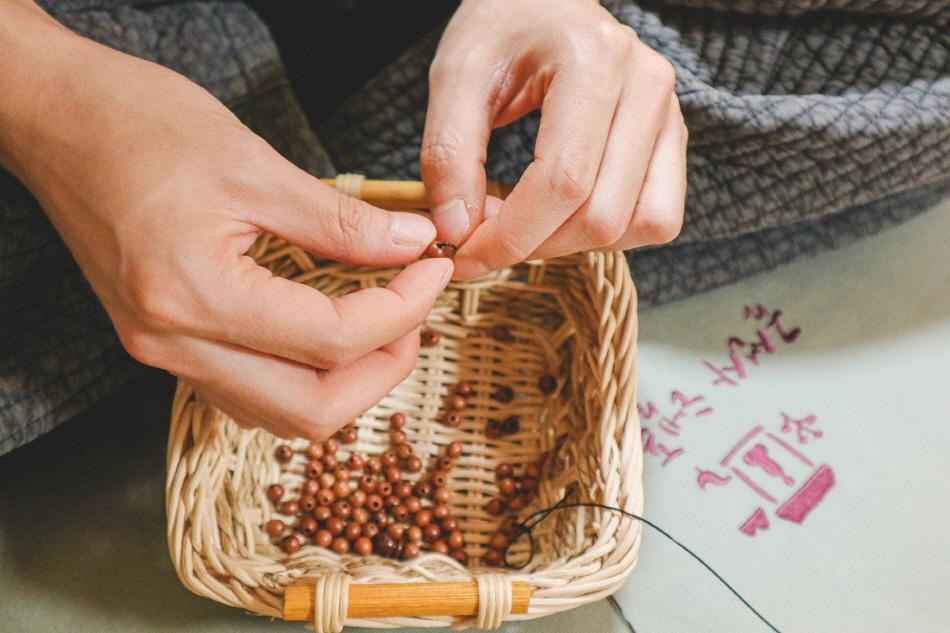 Participants can experience various programs during their Templestay. It is possible to just relax and stay overnight, but at Geumsunsa Temple, some of the programs include Buddhism dining etiquette, making Buddhist rosary, 108 bows and more.

After all the programs are finished, participants can enjoy temple food that are specially made by monks. Even though the dishes might be a little different and humble from outside food, eating a temple meal can be a special experience. The rules are to fill the plate only as much as you can eat and clean the dishes after the meal. You must eat in silence without conversing with others to focus on the value of eating. The meals are made only with vegetables grown at the temple, providing a healthy meal even for vegetarians.
Geumsunsa Templestay
Address: 137, Bibong-gil, Jongno-gu, Seoul (서울특별시 종로구 비봉길 137)
Directions: Cross the road and walk to the left for approx. 120 m from Bulgwang Station (Seoul Subway Line 3), Exit 2 to Bulgwang Station, Bulgwang 1-dong Community Center Bus Stop. Take Bus No. 7212 and get off at Five Northern Korean Provinces Bus Stop and walk for approx. 607 m
Operating hours: Open all year round for Templestay
Fees: Adults 70,000 won / Teenagers (ages 18 and younger) 50,000 won
Website: eng.templestay.com (Korean, English)
Ganghwado Island Jeondeungsa Temple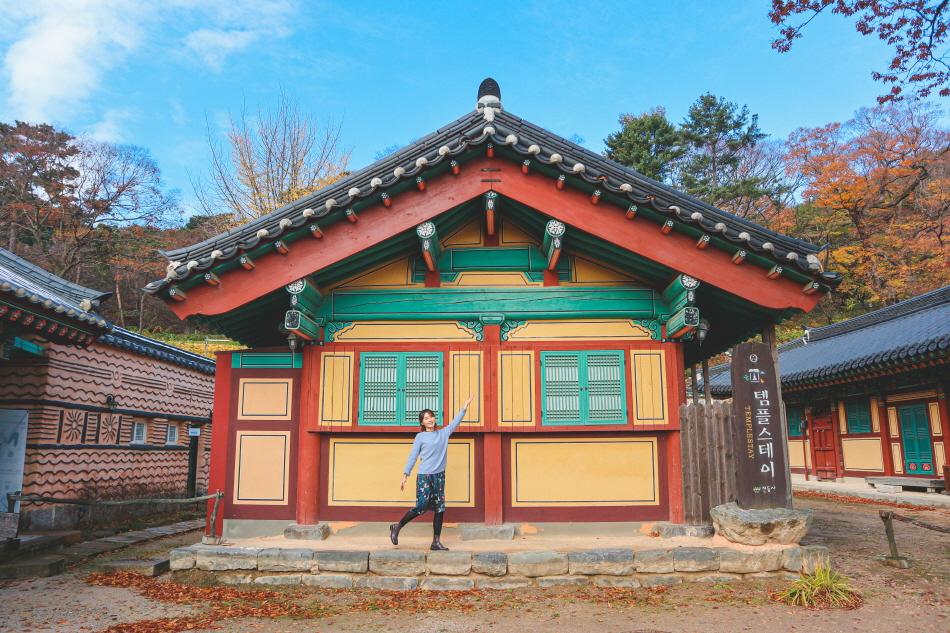 Selected as one of the ten Incheon Wellness Tourism attractions, Jeondeungsa Temple is easily accessible through public transportation from Seoul. The temple is a popular attraction of Gangwhado Island along with Yeonmijeong Pavilion and Dongmak Beach. A beautiful unobstructed view of the sunset can be seen from the temple as the island is located in the far west of the country.
The 600-meter road from the bus stop to the temple is full of various trees, providing different scenery throughout the year. The road is especially beautiful during fall with fall foliage.
Like most Templestay programs, Jeondeungsa Temple also runs a 2-day program. After check-in and a short tour of the temple, it is free time for the rest of the stay, allowing participants to roam freely and rest without distraction. Due to its long history, the temple has various cultural assets such as Daeungjeon Hall and Yaksajeon Hall. Zelkova tree bench is also a popular spot for participants to sit and collect their thoughts.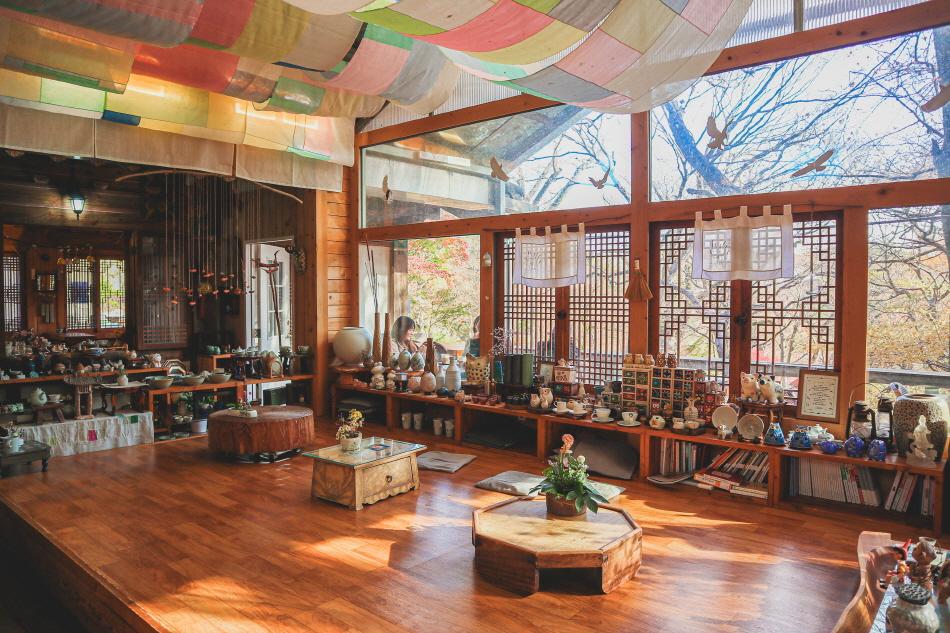 There is one place in Jeondeungsa Temple where every visitor stops by, even if they are not participating in Templestay. Café Jungnimdawon, secretly hidden among the trees, is a hanok café in perfect harmony with the surroundings. The café has big windows for taking in the sunlight and various decorations that match the atmosphere. Visitors can enjoy traditional teas and desserts in a calm mountain temple setting. Templestay participants can receive a 1,000-won discount coupon that can be used at the café.
Jeondeungsa Templestay
Address: 37-41, Jeondeungsa-ro, Ganghwa-gun, Incheon (인천광역시 강화군 길상면 전등사로 37-41)
Directions: Take Bus No. 70 from Gurye Station (Gimpo Line) to Jeondeungsa Nammun Bus Stop and walk for approx. 15 min
Operating hours: Open all year round for Templestay
Fees (Private bathroom with shower stall): Adults 90,000 won / Teenagers (ages 18 and younger) 70,000 won / Preschoolers 10,000 won
Website: eng.templestay.com (Korean, English)
Café Jungnimdawon
Address: 37-41, Jeondeungsa-ro, Ganghwa-gun, Incheon (인천광역시 강화군 길상면 전등사로 37-41)
Directions: Take Bus No. 70 from Gurye Station (Gimpo Line) to Jeondeungsa Nammun Bus Stop and walk for approx. 15 min
Operating hours: Summer 08:30-18:30 / Winter 09:00-17:30
Main menu: Set (1 Drink + 1 Mugwork rice cake) 9,000 won / Herbal tonic tea 7,000 won / Other teas 6,000~7,000 won
Gochang Seonunsa Temple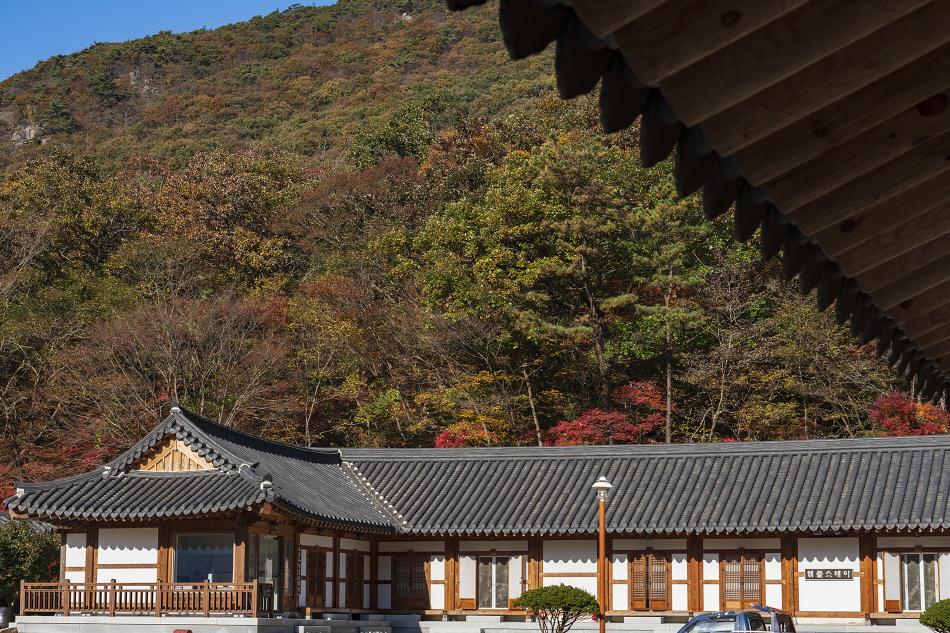 Seonunsa Temple, located in Gochang, Jeollabuk-do, is one of the most famous fall foliage attractions in Korea. Even though it is far from Seoul, approximately 4- to 5-hour drive, it is well worth a visit as the temple is nestled in nature and full of beautiful flowers.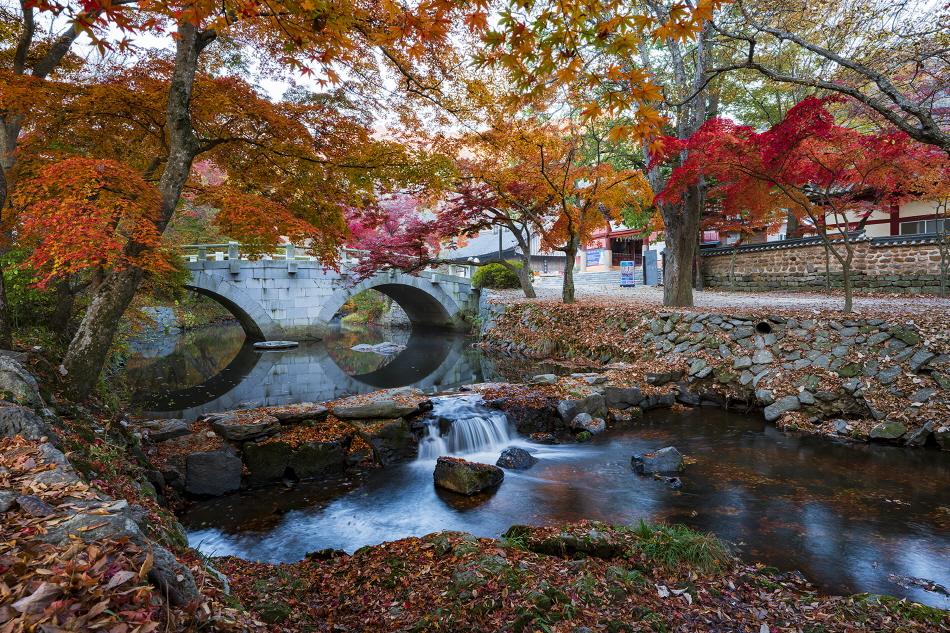 The most photogenic spot of all, where everyone stops to take a photo, at Seonunsa Temple is the bridge to the temple's entrance. Water reflection of the arch bridge surrounded by fall foliage is like a piece of painting. Listening to the sound of flowing stream water will wash the worries away and calm one's mind even before Templestay begins.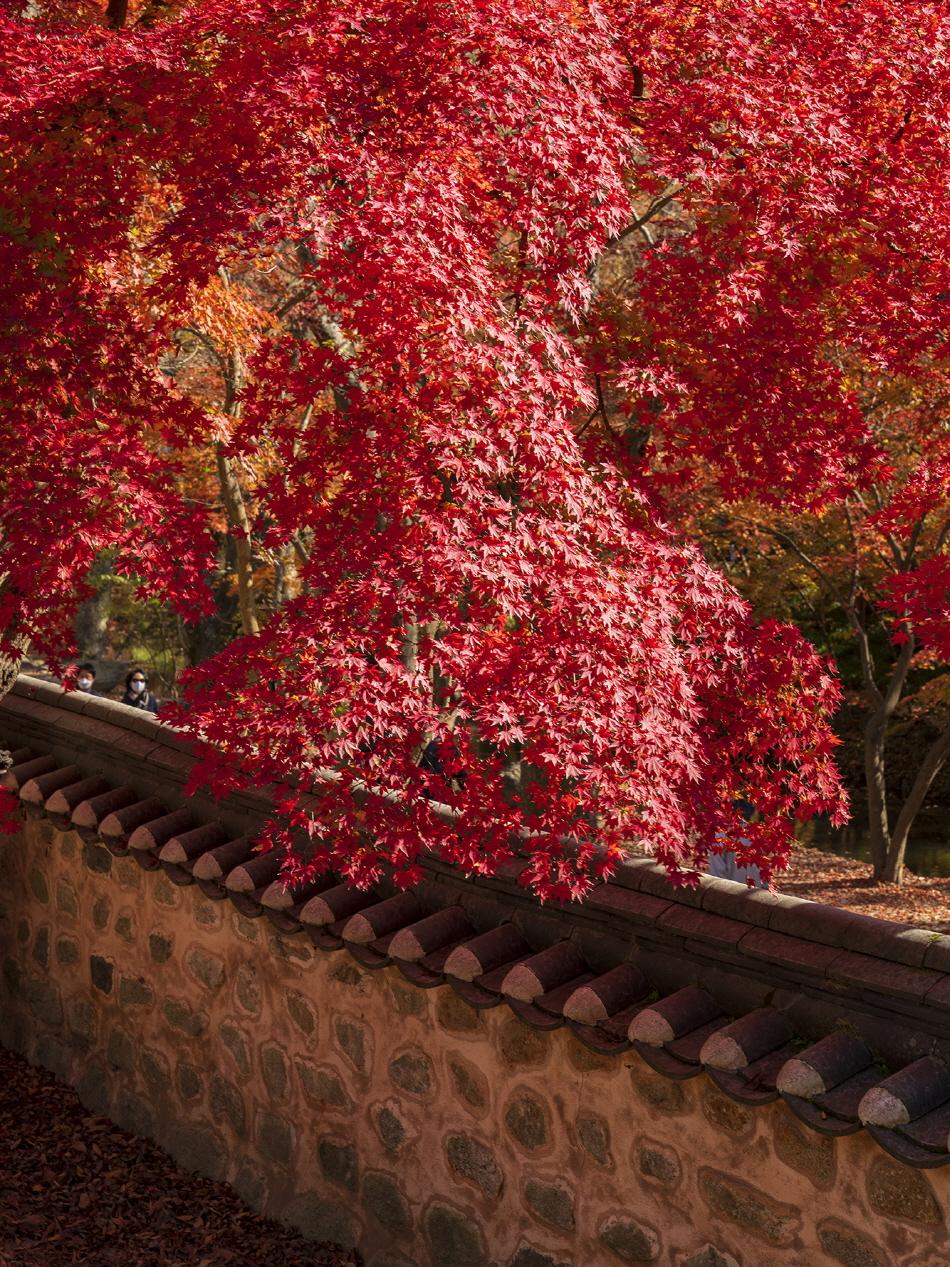 Visitors can enjoy the beauty of nature throughout the year as the colors and scenery change by season. Not only is Gochang famous for fall foliage, but the camellia flowers in early spring, green barley and green tea field in May, and sunflowers in summer are also a must-see in Gochang.
For those participating in Templestay, be sure to go on the Seonunsan Mountain hiking course. In fall, the path leading up to Cheonmabong Peak is filled with colorful trees and the view of Dosoram Hermitage covered in fall foliage is just as magnificent. Visitors can take in fresh air as they walk in the middle of open fields and nature's beauty.

The main mindset of Templestay is "Do it if you want to, don't do it if you don't want to." Why not let go of all your worries and refresh your body and mind at one of the Templestay locations above?
Seonunsa Templestay
Address: 120, Dosol-gil, Gochang-gun, Jeollabuk-do (전라북도 고창군 아산면 도솔길 120)
Directions: Take a local bus from Gochang Bus Terminal Bus Stop to Seonunsan Mountain Bus Stop and walk for approx. 20 min
Operating hours: Open all year round for Templestay
Fees: Adults 60,000 won / Teenagers (ages 18 and younger) 50,000 won / Preschoolers 20,000 won
Website: eng.templestay.com (Korean, English)
More info
1330 Korea Travel Hotline: +82-2-1330 (Korean, English, Japanese, Chinese, Russian, Vietnamese, Thai, Malay)
* This column was last updated in November 2021 and therefore information may differ from what is presented here. We advise you to check details before visiting.
* Column content provided by TRAVELHOLIC writer Jolly Kim (김지영)