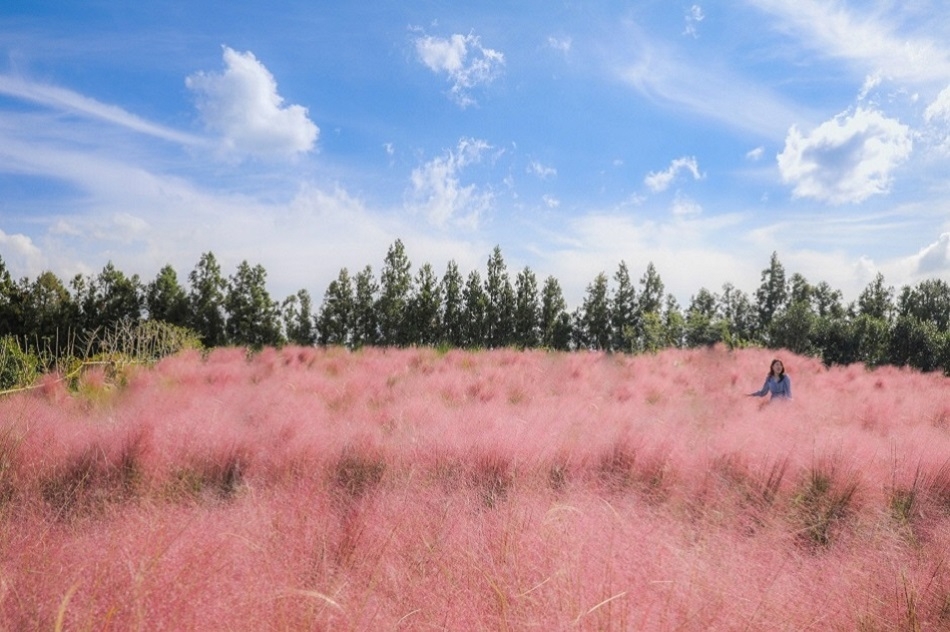 Temperatures start to drop in Korea as September rolls around, bringing a gentle breeze and providing just the perfect atmosphere to travel. Hence, festivals seem to pop-up almost everywhere between September and October. As autumn is a season of harvest, festivals during this time of year offer plenty to eat. Don't miss out on this opportunity to fully embrace some of the most fascinating elements of Korean history, culture, arts, and food at any one of the following festivals!
September
Taean Autumn Flower Festival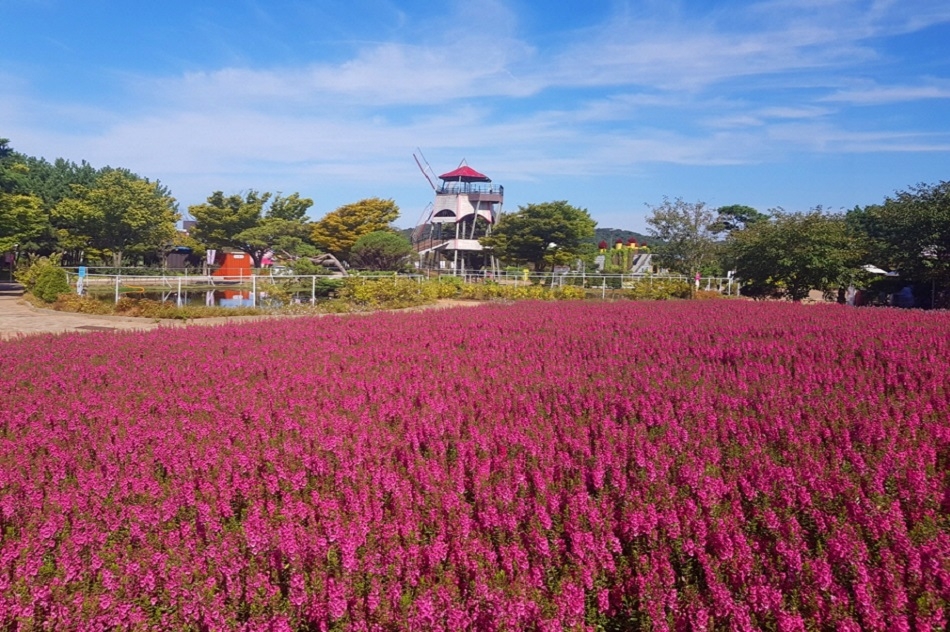 Period: September 1 – October 31, 2022
Venue: Korea Flower Park in Taean, Chungcheongnam-do
 
Taean Autumn Flower Festival takes place by Kkotji Beach in the western coast. Visitors can enjoy the view of diverse autumn flowers such as chrysanthemum, verbena, angelonia, and touch-me-nots. Take pleasure surrounded by the scent of autumn flowers as you stroll along the floral pathways.
Hueree Pink Muhly Festival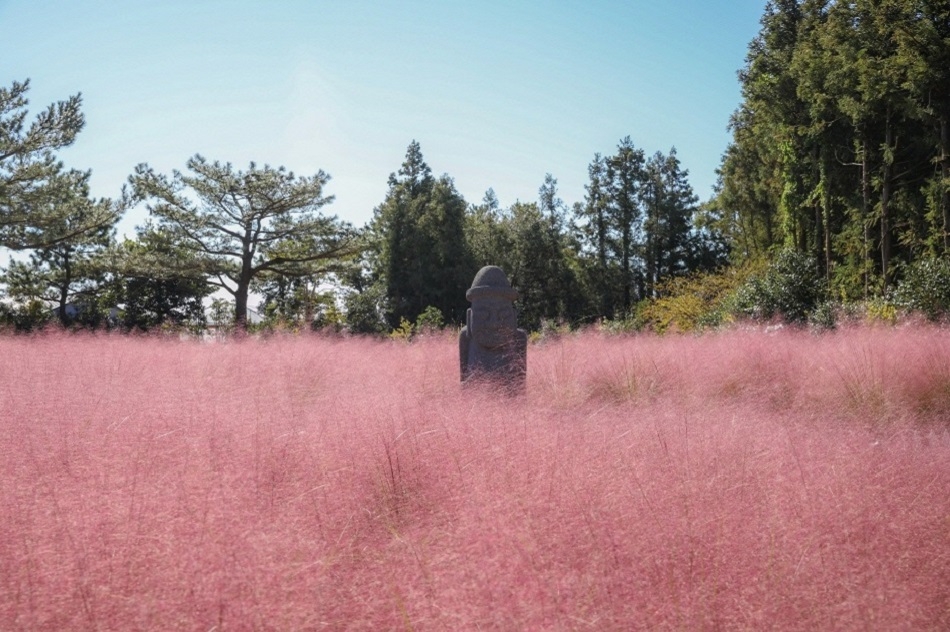 Period: September 15 – November 15, 2022
Venue: Hueree Natural Park in Seogwipo, Jeju-do
 
Located at the foot of Hallasan Mountain, Hueree Natural Park hosts Hueree Pink Muhly Festival every fall to celebrate the beautiful waves of pink hue in fall. The blanket of pink muhly in the backdrop generates impressive photos to post on your social media feed. Visit in October and you may even get the chance to participate in picking and eating Jeju mandarins during their peak season.
Jarasum Namdo Flower Park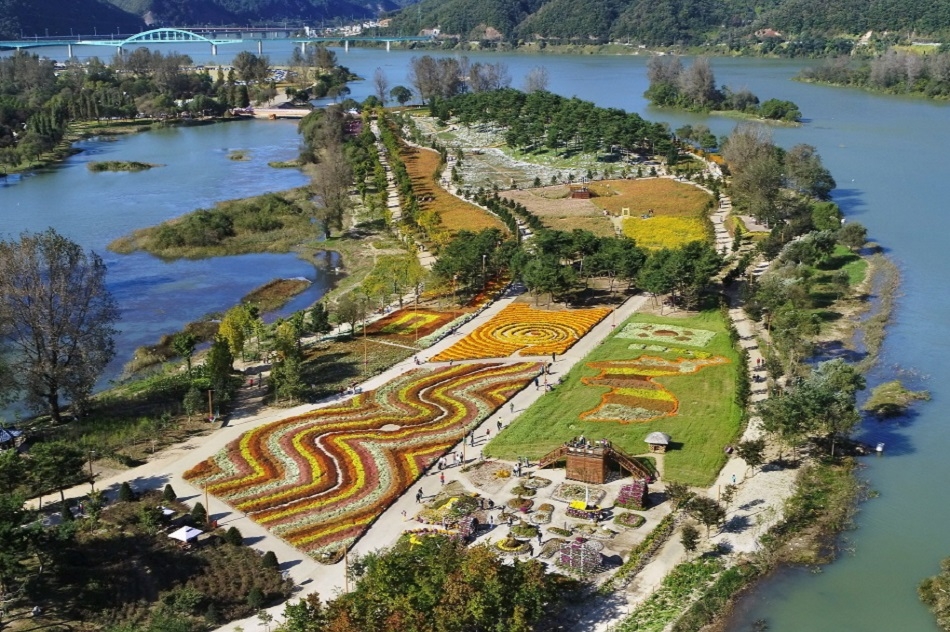 Period: September 18 – October 16, 2022
Venue: Jarasum Namdo in Gapyeong, Gyeonggi-do
 
Visitors to Jarasum Island will be greeted by a large-scale flower garden at Jarasum Namdo Park. Jarasum Island is located by Nami Island, Korea's popular tourist attraction in Gapyeong. Jarasum Namdo Park is decorated with diverse autumn flowers like chrysanthemums, zinnias, verbenas, and pink muhly. Event programs like performance and exhibitions are also prepared.
Andong Mask Dance Festival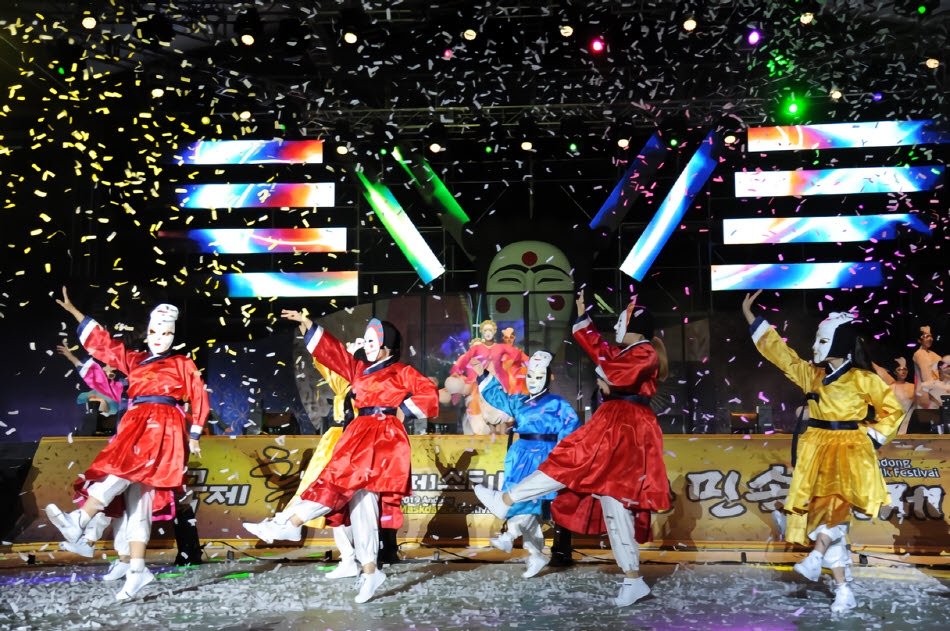 Period: September 29 – October 3, 2022
Venue: Downtown area in Andong, Gyeongsangbuk-do
Website: www.maskdance.com
 
Andong Mask Dance Festival features traditional Korean mask dance performances and traditional rituals. The festival takes place at Hahoe Viilage, a UNESCO World Heritage site. The performances are a must-see for those hoping to understand more about Korean culture. Artists from home and abroad will not only treat you to a series of captivating performances, but will also encourage you to join in the free-spirited fun with various experience programs.
October
Jarasum International Jazz Festival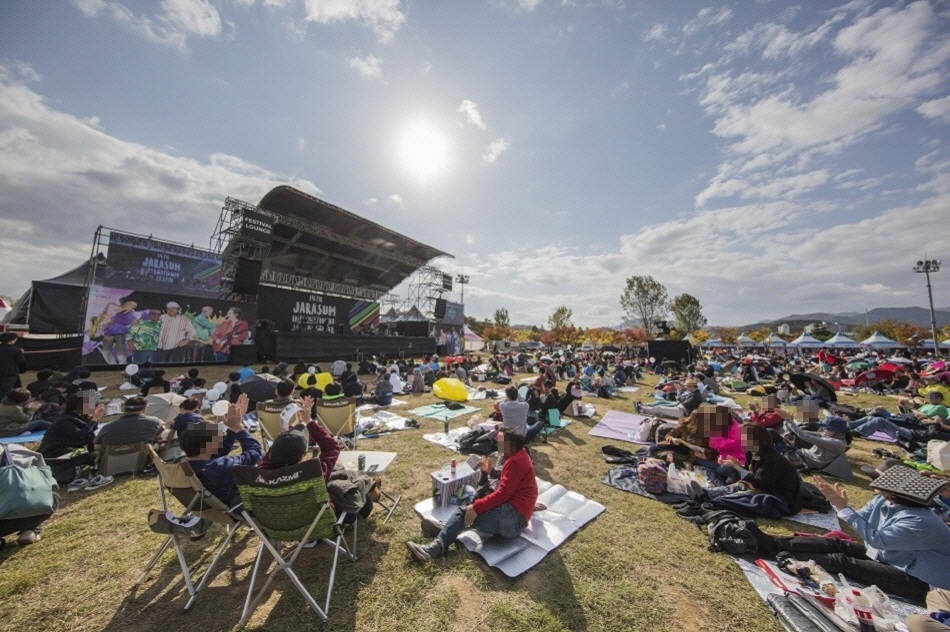 Period: October 1-3, 2022
Venue: Areas of Jarasum Island and Gapyeong in Gapyeong, Gyeonggi-do
Website: www.jarasumjazz.com
 
Jarasum International Jazz Festival is undoubtedly the most popular jazz festival in Korea. Local and international jazz musicians congregate on the island to fill the air with the sweet sounds of jazz day and night. The best part of this festival is that visitors can spread out on the field and enjoy picnic while savoring music and food.
Royal Culture Festival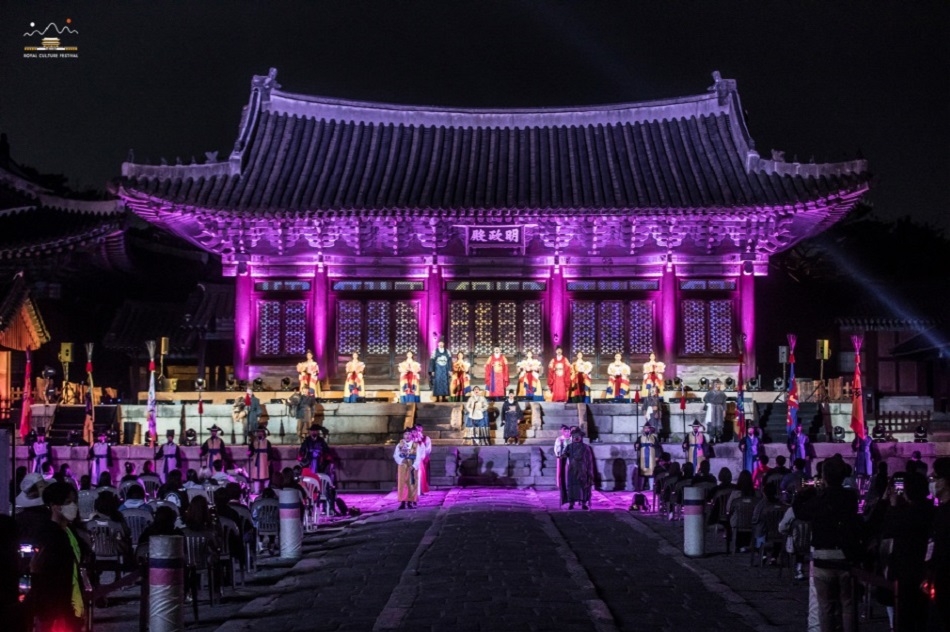 Period: October 1-9, 2022
Venue: Gyeongbokgung Palace, Changdeokgung Palace, Deoksugung Palace, Changgyeonggung Palace, Gyeonghuigung Palace, Jongmyo Shrine, Sajikdan Altar
Website: www.chf.or.kr
 
Royal Culture Festival takes place at the five palaces, Jongmyo Shrine, and Sajikdan Altar. It is the largest cultural heritage festival to be held in Korea with diverse programs and events such as the Royal Guard Changing Ceremony, Royal Courts Orchestra, food experience, folk games and more.
Jinan Red Ginseng Festival
Period: October 7-10, 2022
Venue: Areas of Jinan Gowon Market and north of Maisan Mountain in Jinan, Jeollabuk-do
 
Jinan Red Gingseng Festival takes place in Jinan to promote quality ginseng products and foods made with red ginseng. Visitors can also purchase certified quality red ginseng at reasonable prices. Several events promoting red ginseng and entertaining performances take place as well.
Hanhwa Seoul International Fireworks Festival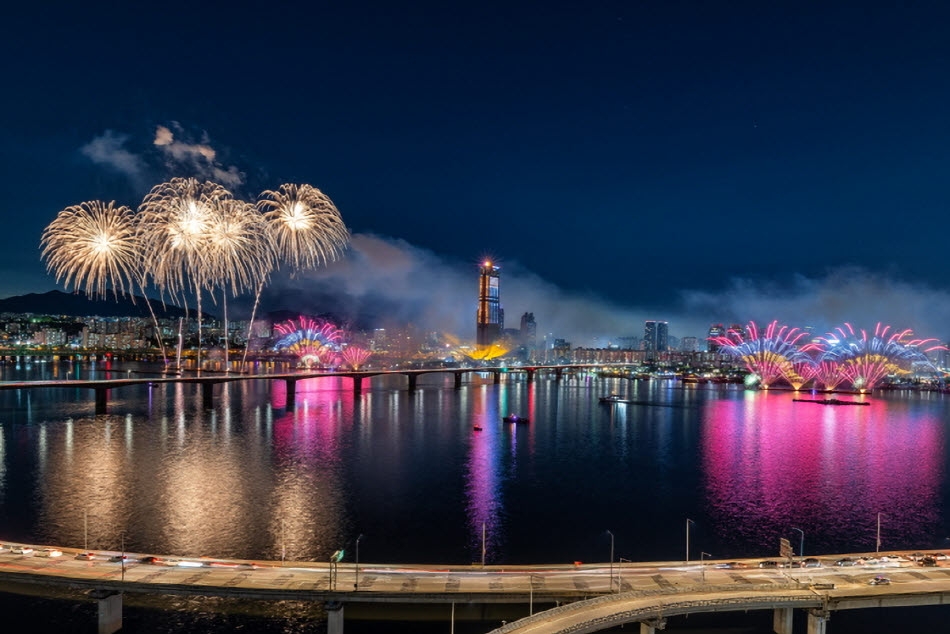 Period: October 8, 2022
Venue: Yeouido Hangang Park
 
After being held off due to COVID-19, Seoul International Fireworks Festival hosted by Hanhwa Group is coming back this October. Fireworks technicians from around the world will gather in Korea to put up an extravagant fireworks show by the Hangang River. This year's theme is based on spreading the message of encouragement to everyone who had gone through a tough time due to COVID-19. Seoul International Fireworks Festival is one of the most popular fall festivals in Seoul for enjoying the Hangang River in the evening along with beautiful fireworks.
King Jeongjo Tomb Parade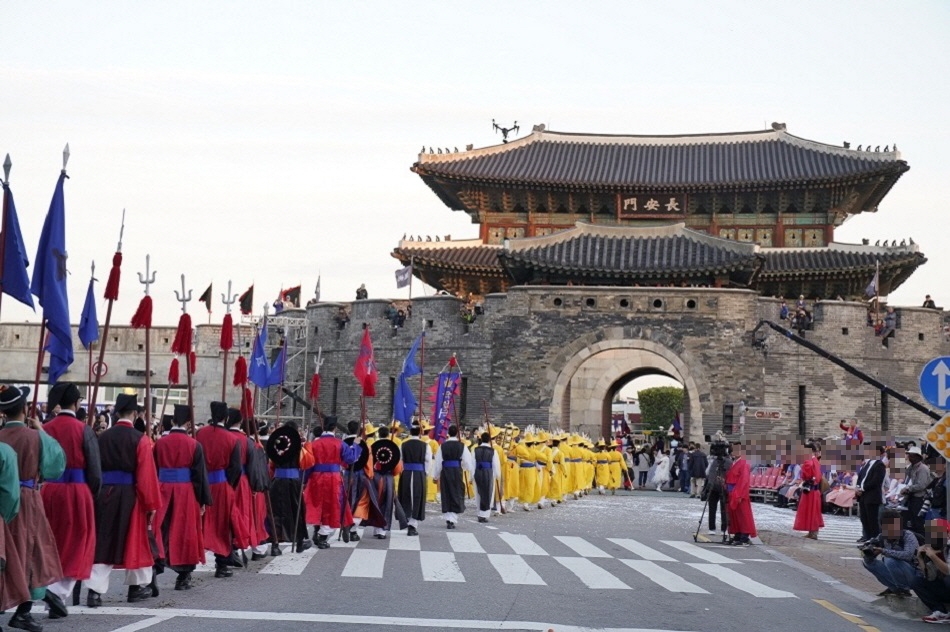 Period: October 8-9, 2022
Venues: Seoul (Changdeokgung Palace → Siheung Temporary Palace), Gyeonggi-do (Geumcheon-gu Office → Anyang → Gunpo → Uiwang), Suwon (Old Pine Forest → Suwon Sports Complex → Janganmun Gate → Hwaseong Temporary Palace → Daehwanggyo-dong), Hwaseong (Daehwanggyo-dong → Yungneung & Geolleung Royal Tombs)
 
King Jeongjo Tomb Parade reenacts the parade of King Jeongjo, the 22nd King of Joeseon dynasty. This intercity festival held by Seoul, Gyeonggi-do, Suwon, and Hwaseong commemorates King Jeongjo's filial piety by reenacting the tomb parade, along with recorded rituals, held in the past. The parade starts from Changdeokgung Palace, passes by Suwon Hwaseong Fortress, and ends at Yungneung & Geolleung Royal Tombs, where King Jeongjo's father is buried. Other festive events are also prepared.
Jinju Namgang Yudeung (Lantern) Festival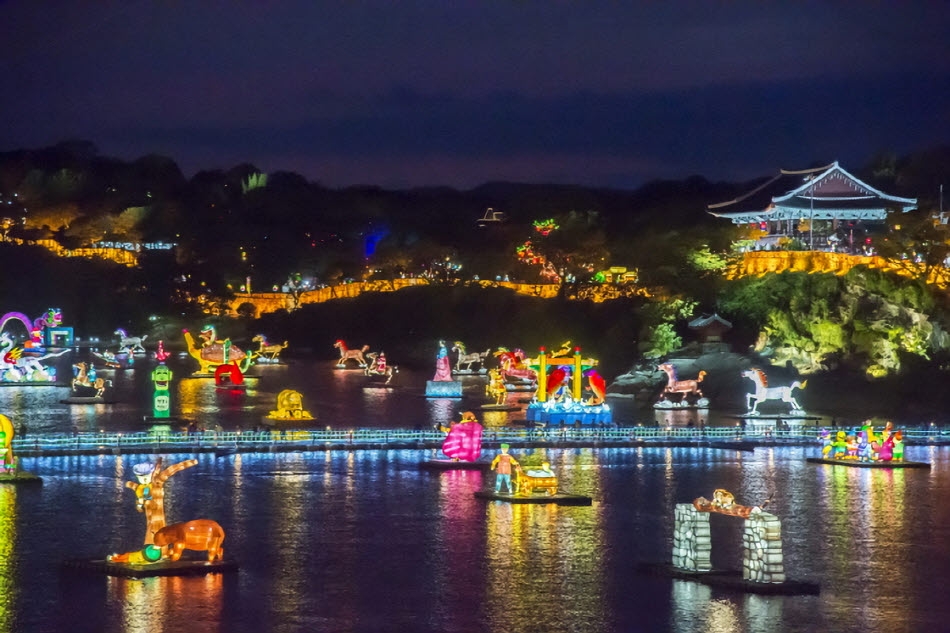 Period: October 10-31, 2022
Venue: Area of Namgang River & Jinjuseong Fortress in Jinju, Gyeongsangnam-do
 
Jinju Namgang Yudeung Festival brightens the autumn evening with beautiful lights. Visitors can experience making their own wish lanterns and send it downstream. With traditional lanterns from all over the world on display, the beauty of thousands of lanterns lighting up the night will captivate your heart.
December
Busan Fireworks Festival (Postponed to December)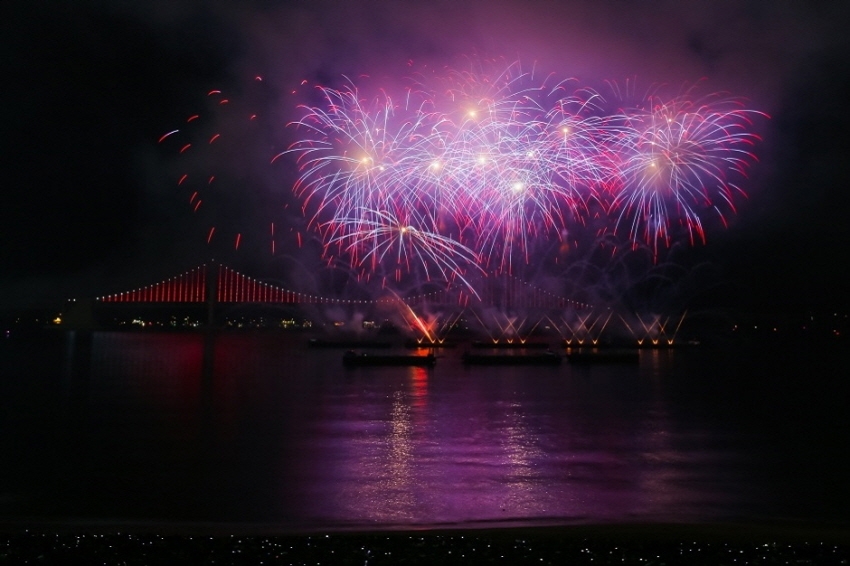 Period: December 17, 2022
Venue: Gwangalli Beach in Suyeong-gu, Busan
 
Busan Fireworks Festival first began in 2005 in celebration of the APEC summit and has now grown to an annual festive event that represents Busan. A fabulous fireworks show takes place by Gwangalli Beach along with a media façade display using Gwangandaegyo Bridge. The fireworks, lightings, and music come altogether to tell a heartwarming story for a very memorable autumn evening.
More info
1330 Korea Travel Hotline:+82-2-1330 (Korean, English, Japanese, Chinese, Russian, Vietnamese, Thai, Malay)
* Festival dates and schedules are subject to change.

* This column was last updated in October 2022, and therefore information may differ from what is presented here. We advise you to check details before visiting.