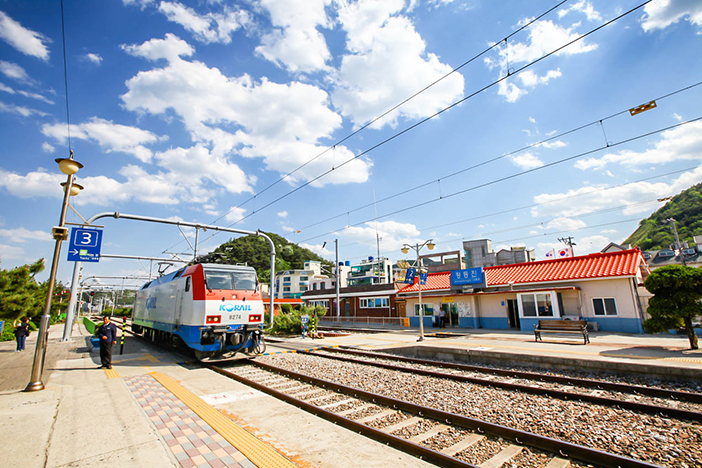 【 Photo: Mugunghwa train pulling into Jeongdongjin Station 】
One of the most convenient ways to travel between cities in Korea is by train. Bus schedules can vary depending on traffic, but that is hardly the case for the railroad, allowing passengers to make more exact travel plans and move to destinations on time.
Korean trains are classified based on their speed and the amenities offered onboard. The classifications include KTX express trains, KTX-Sancheon, ITX-Saemaeul, Mugunghwa, and KORAIL tourist trains with prices ranging depending on the train type and distance traveled. The two main railway lines are Gyeongbu Line and Honam Line but other railway lines also include Jeolla and Gyeongjeon Lines, which reach as far as Yeosu and Changwon on the southern coast.
For an affordable vacation traveling around Korea, the KORAIL Pass, an exclusive railway pass for foreign visitors, allows unlimited use of all trains, including KTX express trains, for a select number of days.
Major Train Stations in Seoul
Train Classifications
Korea Train Express (KTX)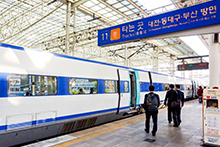 Korea's express train, aptly named the KTX, began operations in April 2004. This high-speed train has been designed to reach speeds of up to approx. 305 km per hour.
ITX-Saemaeul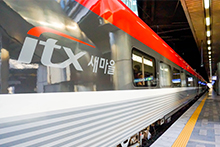 Operating on Gyeongbu, Honam and Gyeongjeon Lines, this train runs in place of regular Saemaeul trains, running at a slightly faster speed.
Mugunghwa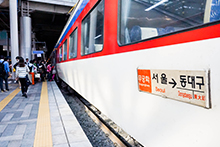 Mugunghwa has been in operation since the 1960s, making it the oldest passenger train in Korea. This train is the most common train type in Korea, making stops at smaller stations that the KTX or ITX-Saemaeul trains bypass.
Super Rapid Train (SRT)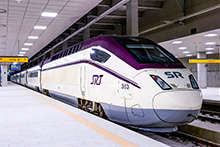 A super rapid train, known as the SRT, operates on the Gyeongbu and Honam Lines from Suseo Station.
Detailed Information about Trains
KORAIL website:

info.korail.com (Korean, English)

KORAIL PASS page:

www.letskorail.com (English, Japanese, Chinese)

SR Website:

etk.srail.co.kr (Korean, Japanese, Chinese)

KORAIL Customer Service Center:

+82-1599-7777 (English, Japanese, Chinese)

SR Customer Service Center:

+82-1800-1472 (English)
Information and photos of major train stations courtesy of KORAIL
Suseo Station and SRT train photos courtesy of SR
This page was last updated on May 25, 2018, and therefore information may differ from what is presented here.