Jeju-do, perhaps Korea's most beautiful destination to visit all year-round, is also a designated UNESCO World Natural Heritage Site. There are several ways to travel to this beautiful island and one of them is by ferries! The ferry services to the island are currently available from multiple points including passenger ports at Goheung and Yeosu of Jeollanam-do, and more ports will be opened for operations in the future.
A trip on the ferry allows tourists to enjoy magnificent views over ocean along with sunrises and sunsets. On top of these, most ferries can also transport passengers and their vehicles. (Note: Not all ferries can accommodate vehicles. Please check in advance with the ferry company.) However, terms and schedules of the service may change depending on circumstances, thus it is advised to research thoroughly for up-to-date information in advance of your travel plan.
Ferry routes
The following ferry routes are in service to Jeju Island.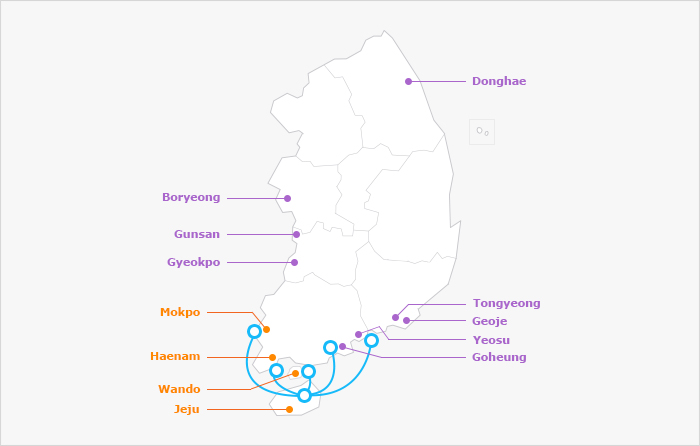 Ferry schedule and ticket reservations
The ferry service is now available at seaports of Goheung, Mokpo, Wando and Haenam. The ferries offer a variety of price options to Jeju Island, differing by regions, dates, and other additional options. The operating schedules and prices can be found at the official websites and online ticketing is available.
The service hours and conditions may change depending on the weather and other unforeseen circumstances. Therefore, please check for updates from the respective websites before traveling.
Boarding procedure
Passengers are required to carry personal identification in the form of a passport, alien registration card or other ID card. As travel to Jeju Island is domestic, check-in procedures are comparatively simple, however, travelers are recommended to arrive at the port terminal ahead of their departing time. Walk-on passengers are asked to arrive at the passenger terminal at least 40 minutes prior to departure. Passengers bringing vehicles are asked to arrive at the appropriate departure gate at least 1-2 hours before departure for ticket issuance and boarding. Please note that after the ticketing time is closed, even passengers with reserved tickets will be unable to pick up their ticket, and will not be allowed to board the ferry.
Please note that the operating schedule for all aforementioned ferry service operators are subject to change or cancellation for safety measures depending on the weather conditions.
This page was last updated on June 1, 2016, and therefore information may differ from what is presented here.