1. Korea Plaza
Operated by Korea Tourism Organization, the tourist information centre at Korea Plaza provides visitors with information on tourism in Korea. All brochures, maps and travel guides are provided free of charge. Visitors may approach our staff at the counter if assistance is required. As a neutral organization, please note that we are unable to recommend specific accommodations or travel agencies. Under the Travel Agents Act (Chapter 334), we are not allowed to make any bookings or reservations on the traveller's behalf as we do not have the license to perform any Travel Agents duties. We thank you for your understanding.
Korea Plaza Activities

Regular courses are held in Korea Plaza every month for the public to learn and understand more about Korea and the Korean culture. These classes include Korean Language Classes and Korean Food Making such as "Kimchi-Making", "Korean Rice Cake (tteokbokki)", "Seafood Pancake (haemul pajeon)", and many more!

To find out more about Korea Plaza's monthly activities, you may check out our "What's Happening" Page, and remember to "Like" and "Follow" our Facebook Page to stay updated.

Korea Plaza also showcases the following

- Hanbok Trying & Photo-taking zone

Visitors of Korea Plaza can try our wide selection of Hanbok (Korean Traditional Costume) and take pictures at our Photo-taking zone at no cost.

- Korea Free & Easy FIT Workshops

Occasionally, we organize Korea Free & Easy FIT Workshops for the members of the public to understand more about travelling in Korea. To find out more about such workshops, you may check out our "What's Happening" Page, and remember to "Like" and "Follow" our Facebook Page to stay updated.

- Hallyu (Korean Wave)

Korea Plaza is also open to Hallyu Fan Clubs to utilize our space to organize events. If you would like to hold your fan club gatherings here in Korea Plaza, please feel free to drop us an email at singapore@knto.or.kr to enquire for more details.
2. Travel Agent Assistance
We work with travel agents as well as airlines in the development of new tour itineraries and regularly produces press releases to ensure that new developments are constantly communicated and updated to the media.
3. Visit Us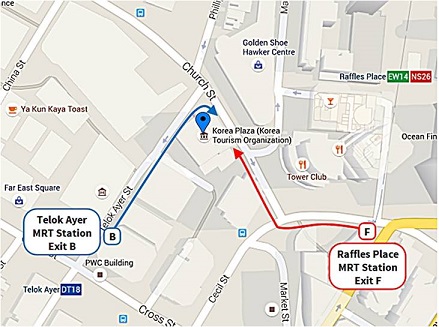 Address

Korea Plaza, 3 Church Street, #01-02 Samsung Hub, Singapore 049483

Korea Plaza Operating Hours

Monday - Friday: 9AM - 6PM


Closed

on Weekends, Public Holidays; or otherwise stated

Telephone

6533-0441

Fax

6534-3427

E-mail

Website
4. Staffs
General ManagerSon Sae Hyeong
Assistant Marketing ManagerFelise Tan
Assistant Admin & Event ManagerMelissa Ling
Social Media & Event ExecutiveLecia Tan
NAMESon Sae Hyeong | 손세형
JOB TITLEGeneral Manager
JOB DESCRIPTION

FIT and online marketing for Singapore market. Operating Korea Plaza events and activities. Administration and Accounting.
"Hello Singapore! I am very excited to introduce beautiful and fun country, Korea to you. Please do not hesitate to visit Korea Plaza at any time. You can learn Korean language, cook Korean food, even dance KPOP. Korea is wating for you!"
NAMEFelise Tan | 진세연
JOB TITLEAssistant Marketing Manager
JOB DESCRIPTION

In charge of Free & Independent Travel sector, event management, etc.
I'm happy to share the culture, fun experiences, and all the nice food in Korea. Welcome!!
NAMEMelissa Ling
JOB TITLEAssistant Admin & Event Manager
JOB DESCRIPTION

MICE, event planning and management, etc.
"Korea? Saranghaeyo! I would be delighted to be of help to tourists traveling to Korea, as well as to those who wish to experience Korea right here at our local Korea Plaza."
NAMELecia Tan | 진재인
JOB TITLESocial Media & Event Executive
JOB DESCRIPTION

Attend to visitor enquiries, in-charge of running Korea Plaza operations and related events.
"There are yet still so many unexplored places in Korea that I would be glad to introduce them to everyone!"