* Programs subject to cancelation or schedule change due to COVID-19. Please check before visiting.
Taekwondo, Experience the Traditional Martial Art of Korea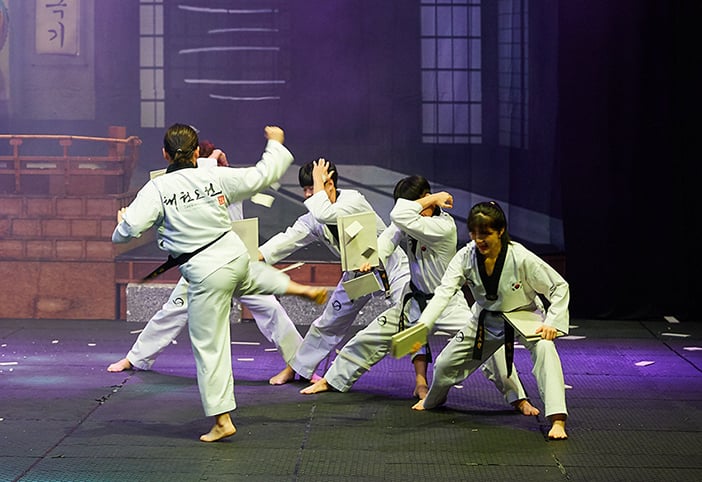 【 Photo: Taekwondo demonstration performance 】
Taekwondo, the most recognized form of Korean martial arts, is a sport that emphasizes a sense of morality, humility, and a respect for one's opponent. It has become a globally recognized sport where practitioners improve both their physical ability and mental strength. This martial art teaches both defensive and offensive techniques without using weapons. However, taekwondo puts more emphasis on defense because of the taekwondo spirit of respecting peace and justice. Continue reading to find out where you can experience this traditional Korean martial art yourself.
International Kumgang Taekwondo Center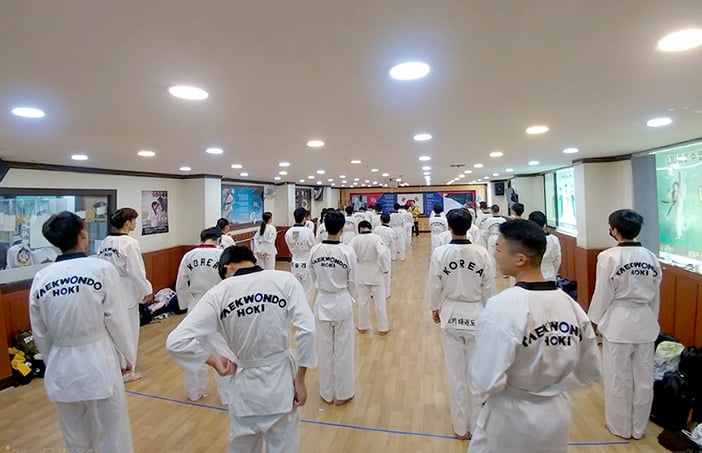 【 Photo: International Kumgang Taekwondo Center (Credit: International Kumgang Taekwondo Center) 】
The International Kumgang Taekwondo Center specializes in providing taekwondo experience programs to foreigners. Programs range from short-term (basic forms and techniques) to long-term (a more intensive program held for a month or longer). The programs are generally carried out inside taekwondo studios in Korea, making the experience more meaningful. Small group sessions and large group sessions are available. For more details and reservations for the programs, please visit the official website.
International Kumgang Taekwondo Center
Address: 47, Mokdongjungangbon-ro 1-gil, Yangcheon-gu, Seoul (서울특별시 양천구 목동중앙본로1길 47)
Directions: Take Bus No. 602, 650, 654, 6715 or 6623 from Hongik Hospital Bus Stop near Mokdong Station (Seoul Subway Line 5, Exit 3) to Yeongdo Middle School/Gangseo High School Bus Stop and walk for approx. 10 min
Fee (per person): 35,000 won (90-min lesson) / 100,000 won (3-hr lesson) / 50,000 won (self-defense lesson)
Inquiries: +82-2-2654-1999 (Korean, English)
Website: www.taekwontokorea.com (Korean, English)
National Taekwondowon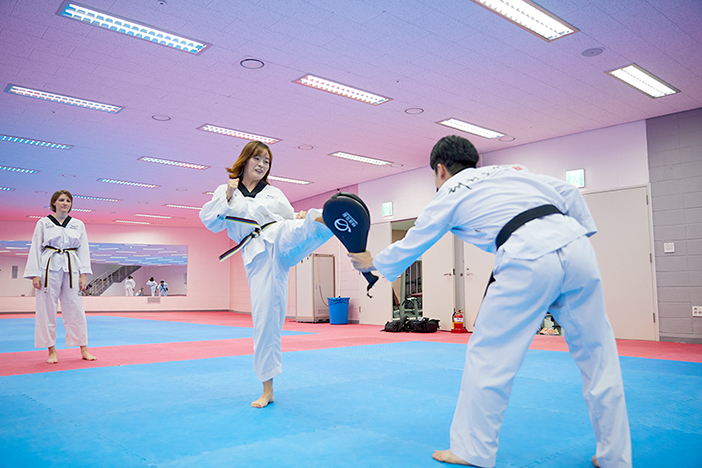 【 Photo: Taekwondo training experience 】
The National Taekwondowon consists of an exclusive taekwondo competition arena, experience hall, museum, indoor performance hall, training center, and more. The experience hall integrates technology with taekwondo by using VR and the Taekwondo Museum exhibits the basics and the history of taekwondo as well as some other taekwondo-related materials. The center also offers program packages ranging from a one-day program to multiple-day programs for groups of more than 20 people. For more information, please see the website.
National Taekwondowon
Address: 1482, Museol-ro, Muju-gun, Jeollabuk-do (전라북도 무주군 설천면 무설로 1482)
Directions: Take a taxi for approx. 20 min from Muju Bus Terminal
Fee: Varies by program; refer to the website
Inquiries: +82-63-320-0114 -> 1 -> 4 (Korean, English, Japanese, Chinese)
Website: www.tpf.or.kr (Korean, English, Chinese, Spanish)
* Program schedule subject to change. Visitors are advised to check in advance before visiting.
1330 Korea Travel Hotline: +82-2-1330 (Korean, English, Japanese, Chinese Russian, Vietnamese, Thai, Malay)
This page was last updated on September 28, 2020, and therefore information may differ from what is presented here.