* Attractions and trains subject to closure due to COVID-19, please check ahead before visiting.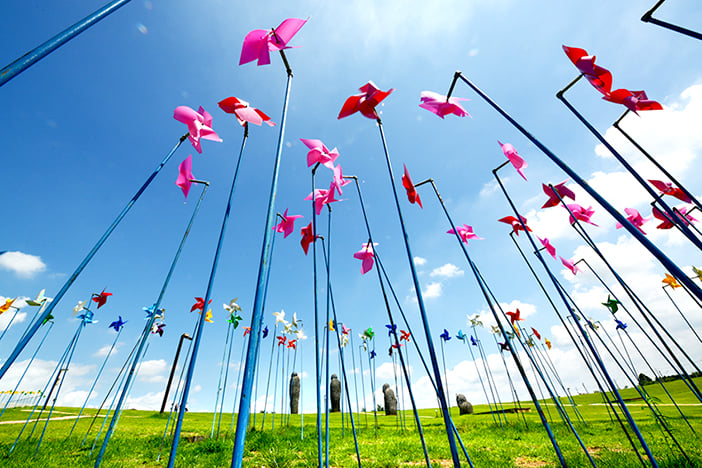 【 Photo: Imjingak Pyeonghwa Nuri Park 】
The Demilitarized Zone (DMZ) is a weapons-free buffer zone between North and South Korea. The area was established on July 27, 1953 when the Armistice Agreement was signed during the Korean War, and includes a 2 kilometer-wide stretch of land on both north and south of the line. The DMZ extends largely from Gyeonggi-do to Gangwon-do, including seven different cities and smaller counties of Paju, Yeoncheon, Cheorwon, Hwacheon, Yanggu, Inje and Goseong. The zone has been protected from human disturbance for more than 6 decades and has unintentionally become a haven for wildlife, making it a popular destination for nature lovers.
DMZ Travel Tip
Many places are located beyond the Civilian Control Line, and therefore are not open to individual tourists. To enjoy the DMZ comfortably, sign up for a travel package such as the DMZ Peace Train, operated by KORAIL. Panmunjeom is only open to visitors traveling with approved tour agencies. More importantly, visitors are required to bring a legitimate form of identification and/or passport when going to the DMZ. Tourists are additionally reminded that photography is highly restricted, so please check before taking photographs.
DMZ Peace Train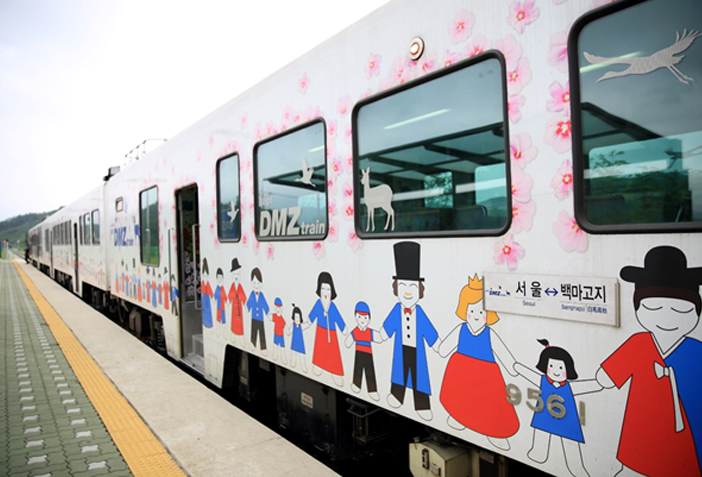 【 Photo: Peace Train 】
The DMZ Peace Train is a tourist train operated by KORAIL departing from Seoul to the DMZ. The train runs in three courses, including the Dorasan Security Tour, Yeoncheon Dreaming Tour, and Cheorwon Security Tour. Each tour package is a round-trip, one-day tour.
Dorasan Security Tour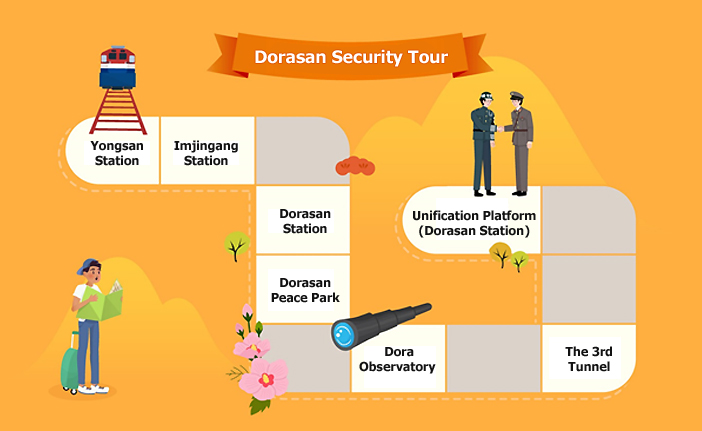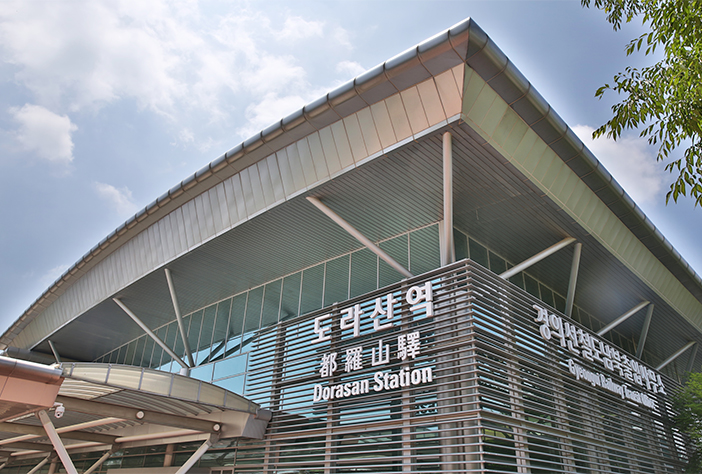 【 Photo: Dorasan Station 】
Dorasan Station is one of the northernmost railway stations on the Gyeongui Line, connecting Seoul to Sinuiju. The station was visited by previous Korean President Kim Daejung and previous American President George W. Bush. The station has become a symbol of effort for a unified Korea.
- Dorasan Peace Park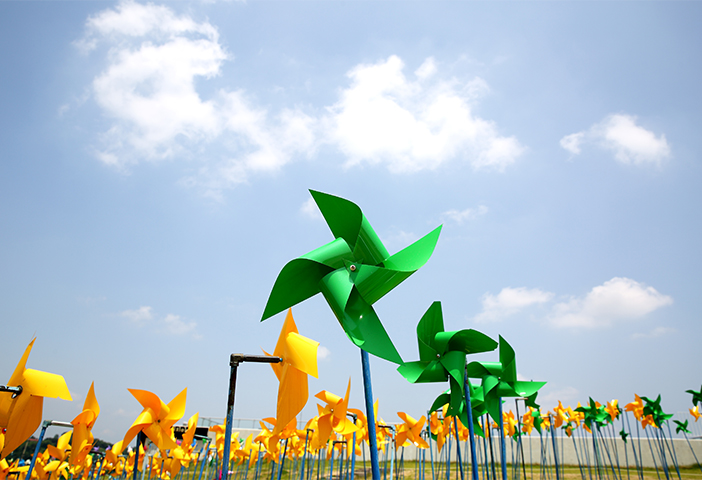 【 Photo: Pinwheels at Dorasan Peace Park 】
Dorasan Peace Park is an ecological park featuring a pond in the shape of the Korean peninsula with a boardwalk around it. The park's exhibition hall showcases information and materials related to the history of Dorasan Station and DMZ's ecosystem.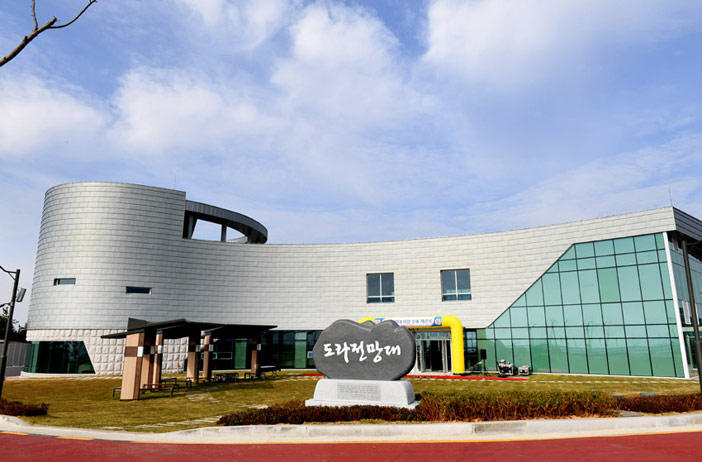 【 Photo: Dora Observatory (Credit: Paju-si Culture & Tourism) 】
Dora Observatory is the northernmost observatory on the western section of the DMZ. The binoculars offer views of the city of Gaeseong, Songaksan Mountain, and the Statue of Kim Il-sung in North Korea. The area just beyond the observatory is within a military outpost command, so photography is strictly prohibited here. In addition, the observatory is located within the Civilian Control Line, so visitors must join the Dorasan Security Tour to visit.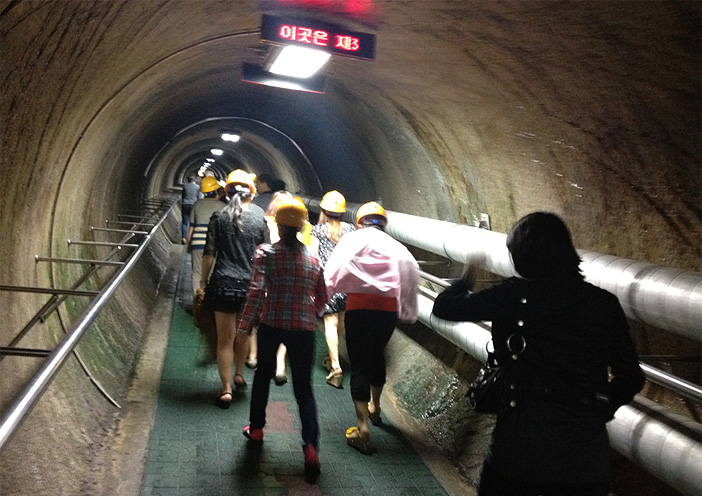 【 Photo: The 3rd Tunnel 】
Discovered in 1978, the third infiltration tunnel was dug by the Northern army to spy on their Southern counterparts. The tunnel is 1,635 meters long, with a height and width of 2 meters. It is estimated that over 30,000 soldiers would have been able to pass through the tunnel in just one hour. It is now an all-inclusive tourist attraction, with a DMZ video hall, symbolic sculptures, gift shops and more.
DMZ Peace Train - Dorasan Security Tour
Operating days: Wednesday-Sunday, once a day / No trains Monday-Tuesday
Tour schedule: Depart from Yongsan Station (10:08) – Seoul Station (10:15) – Arrive at Imjingang Station (11:24) – Complete identity check (11:32) – Arrive at Dorasan Station and board connecting bus (11:43) – Dorasan Peace Park (12:10) – Lunch break at Tongilchon (Unification Village) (13:00) - Dora Observatory (14:00) - The 3rd Tunnel (14:40) – Tour Unification Platform (15:50) - Depart from Dorasan Station (16:27) – Seoul Station (17:47) – Arrive at Yongsan Station (17:54)
Fares: Adults & Teenagers 36,000 won / Children 33,000 won / Senior citizens 34,000 won
* Adults & Teenagers (ages 13-64) / Children (ages 12 & younger) / Senior citizens (ages 65 & older)
* Listed fares are based on Yongsan Station departure
Reservations
- Online: www.korailtravel.com/web/goods_view (Korean only)
- On-site: Tour package is available from the KORAIL Travel Center at each departure station
- Foreigners can purchase train tickets from Yongsan Station to Dorasan Station online, but will have to register for the Dorasan Security Tour at Dorasan Station if they wish to travel further.
Website: www.letskorail.com (Korean, English, Japanese, Chinese)
More Info
Websites
- Paju-si Culture & Tourism: tour.paju.go.kr (Korean, English, Japanese, Chinese)
- Gyeonggi-do DMZ: dmz.gg.go.kr (Korean, English, Japanese, Chinese, Vietnamese)
This page was last updated on May 27, 2021, and therefore information may differ from what is presented here. We advise you to check details before visiting.