Visa
As of 2009, visitors coming to Korea for medical treatment can be issued a special visa for a period of 3 months (C3-M) to 1 year (G1-M).

If you wish to obtain more information on specific visas, please contact your local Korean Embassy.
Written Diagnosis and Doctor's Referral
If you obtain a written diagnosis and referral from your doctor or local healthcare professional, it will be of great help in obtaining treatment in Korea. The letter will provide valuable information for doctors in Korea and aid them in choosing the right treatment for you.

You may give your medical documents and prescriptions to the doctor upon arrival or have your home doctor send them prior to your departure.
Choose a Medical Service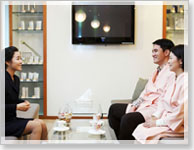 The KTO will provide you with abundant support, information, and resources to help you when deciding what type of treatment you wish to receive and where and when to receive it.
This website contains:
For further infomation on visa issuance/extension, flights, accommodations for patients and travel companions, reservations, airport pick-up services, interpretation services, treatment costs, insurance benefits, and general/tour inquiries, please contact the Medical Tourist Information Center.
KTO's Role and Locations