---
---
---
h1 Title

---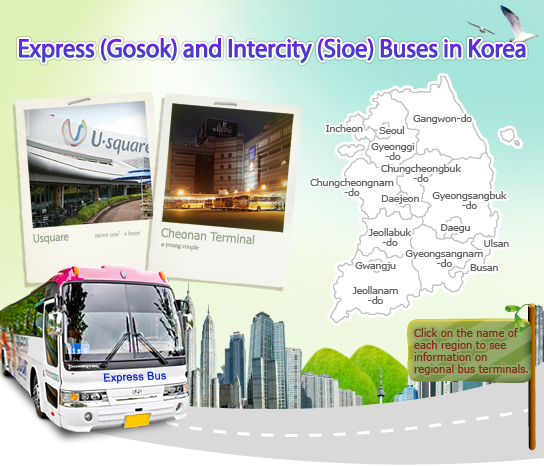 Express (고속, Gosok) and Intercity (시외, Sioe) buses are the most popular way to get from region to region. The extensive networks of express and intercity buses offer a comfortable and convenient way to get to and from even the smallest towns in Korea.

Travel Times:
Travel times can vary depending on road conditions, but buses almost always depart on time, which is one of the reasons they are such a preferred means of travel!

Ticketing:
Due to the lack of an integrated reservation system, visitors are advised to buy their tickets directly from the bus terminal ticket counter. Once you have your ticket, check the gate number and board the bus at the correct gate (check with the bus driver if you're not sure). You will be asked to hand your ticket to the bus driver when you get on or off the bus.

Location & Facilities:
In most cities, bus terminals are located in the downtown area. There are accommodation facilities and restaurants around terminals, so a bus terminal can be a good starting point for your travel. In a bus terminal, you will find restrooms, convenience stores, coin-operated lockers, and an ATM or two. Some of the bigger terminals also have restaurants, coffee shops, and shopping malls.
At bus terminals, there are generally two types of buses: Express (고속, Gosok) and Intercity (시외, Sioe) buses. In some cases, these buses may run out of different terminals (from different locations in the city) so you may need to double-check before your departure. Once you arrive at the bus terminal, you'll see that each bus is marked with a sign reading 'Gosok' (고속) or 'Sioe' (시외) along with the city for which the bus is bound.

Bus terminals with the word 'Jonghap'(종합) serve both types of buses. If a certain city runs separate bus terminals for Gosok and Sioe buses, check which of the two is more convenient considering your travel itinerary.

Express (Gosok) buses

 run on expressways. Gosok buses stop at a rest area but seldom make a stop-over in a city other than its destination. Different fares apply for Ilban (일반, regular) buses and Udeung (우등, luxury) buses. Udeung buses offer additional comfort with wider seats. If you take a Gosok bus, you will get off at the Express Bus Terminal of the city of arrival.
Intercity (Sioe) buses

 are either Ilban (regular) or Jikaeng (straight). The difference is that an Ilban (일반) bus makes a number of stop-overs, while the Jikaeng (직행) bus goes straight to its destination. When traveling a long distance, make sure to take a Jikaeng bus. Non-stop buses are designated by the sign 'Mujeongcha' (무정차, non-stop) or 'Jikaeng' (straight) on the front of the bus. If you take a Sioe bus, you will get off at a Sioe bus terminal upon arrival. Typically, Sioe buses are all the same, without differentiation in classes, but seats on late-night buses are usually wider, more comfortable, and cost a little more.
Information about bus terminals by region  
* Bus Terminal Types:
General (Jonghap / 종합) - both bus types (Express and Intercity),
Express (Gosok / 고속) - Express buses only,
Intercity (Sioe / 시외) - Intercity buses only
---
---
---