Yeosu City Tour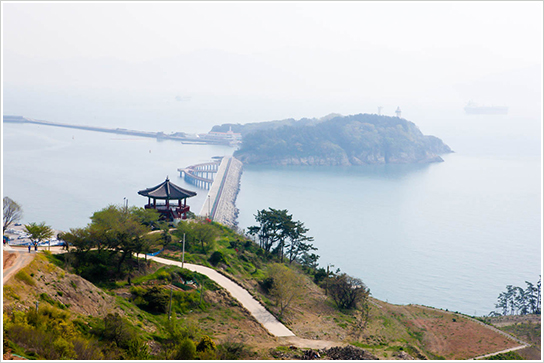 Photo: Odongdo Island
Yeosu, meaning "good water in Korean," is a maritime city renowned for its pristine coastal scenery and a seemingly endless stretch of coastline. The city has become a rising tourist destination since hosting the 2012 World Expo, which promoted the importance of marine resources worldwide.

In addition to its scenic seascape, Yeosu has an archipelago of over 300 picturesque islands surrounding it. The Yeosu City Tour offers various courses that take visitors to see some of the city's major attractions. The Yeosu City Tour covers the famous Odongdo Island and Hyangiram Hermitage, a small temple perched high on a coastal cliff. While the night course allows visitors to take in the magnificent night views of this beautiful port city, the themed bus tour takes visitors through the city's historic sites. The double-decker City Tour Bus is waiting for you to hop on and discover the beauty of Yeosu!
• Yeosu City Tour Bus Information
Yeosu City Tour Information
Fees: Adults 5,000 won / Children 2,500 won
* City tour fee does not include attraction entrance fees and lunch.
Ticket purchase: The tour requires reservation in advance / On-site purchase is available for foreign tourists if there are available seats.
Inquiries & Reservation: Odong Tour Agency+82-61-666-1201~2 (Korean only)
Double Decker City Tour Bus Information
Fees: Adults 3,000 won / Teenagers 2,000 won / Children 1,000 won
Day Pass: Adults 5,000 won / Teenagers 4,000 won / Children 2,000 won
* Purchase tickets when boarding.
* City tour fee does not include attraction entrance fees and lunch.
* Only passengers with a day pass can hop on and off the bus freely at all attractions.
Closed: First and third Monday of every month.
Inquiries: Dongseo Tour Agency +82-61-691-0883 (Korean only)
* Operating hours, travel time and bus routes are subject to change.
☞ 1330 Korea Travel Hotline: +82-2-1330 (Korean, English, Japanese, Chinese)
Major Attractions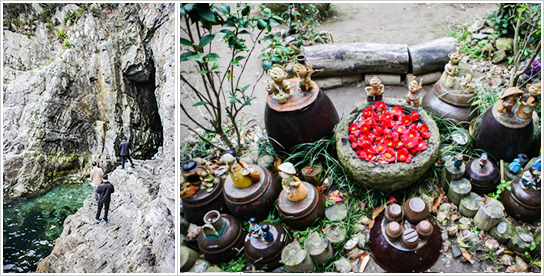 A top tourist destination in Yeosu, Odongdo Island is known by many as the "Island of Love." Passengers are met with cawing seagulls as they fly back and forth over the ferry's wake. The island is connected to the mainland by bridge and can be reached by the Dongbaek (Magnolia) Train or on foot. Odongdo Island's attractions include forested walking trails, a 25-meter-tall lighthouse observation deck, and a musical fountain.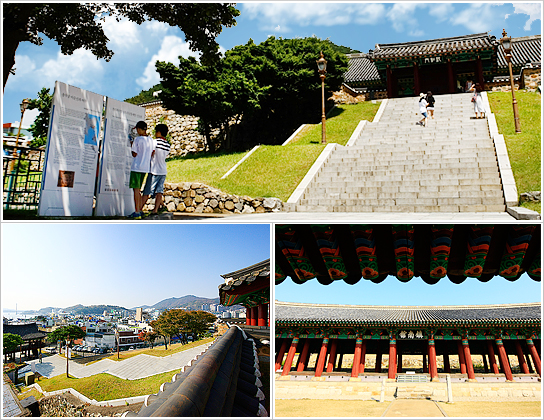 Jinnamgwan Hall is the oldest existing single-story wooden building in Korea and is a prized National Treasure (a protected cultural asset). It was used as the headquarters for Admiral Yi Sun-Sin, who led the Korean forces to victory in a celebrated naval battle against the Japanese army during the Imjin War, which lasted from 1592 to 1598. Admiral Yi is one of the most heroic and respected figures in Korean history, and several tourist sites commemorate his many accomplishments.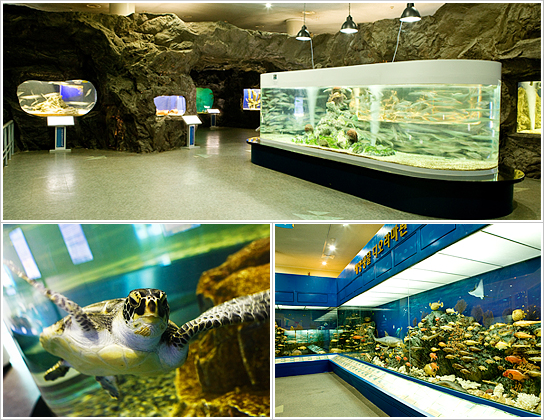 Located next to the ocean, the Maritime & Fisheries Science Museum is an ideal place to learn about and appreciate local marine ecology. Over one hundred species of fish and sea turtles indigenous to the Yeosu region are on exhibit. The museum also has a hands-on discovery center that gives visitors a chance to learn about various species of shellfish.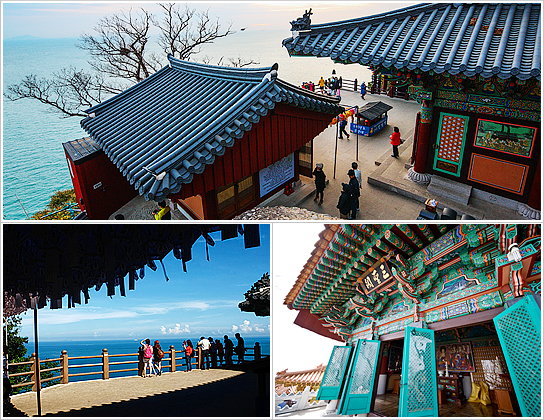 A popular spot for watching the sunrise and sunset, Hyangiram Hermitage is located at the southern end of Dolsando Island, which is connected to the mainland by Dolsandaegyo Bridge. The steep narrow road that leads up to Hyangiram has recently been made more accessible with the addition of stairs. After passing through a narrow rocky crevice, a stunning view of the ocean unfolds just beyond the temple. Explore the area to discover Daeungjeon Hall, Bawidonggul Cave, Beomjong Temple's bell and a mineral spring.

Located halfway up Yeongchwisan Mountain (510m), Heungguksa Temple was built in the 12th century. The temple was established as a place for those praying for the country to flourish. The name Heungguksa means: "When the country prospers, so does the temple." Within the precincts of the temple are many cultural assets that have been designated as cultural treasures. In particular, the temple's main hall, Daeungjeon (Treasure No. 396) is equipped with traditional Korean doors and characterized by its open structure. Yeongchwisan Mountain offers hikers a bird's-eye view of the city, and in April, visitors flock here to enjoy the colorful scenery created by pink azalea blossoms blooming all over the mountain.

Dolsan Park is the perfect place to enjoy the striking nightscapes of the beautiful port city of Yeosu. The park provides a panoramic view of the downtown area, Yeosuhang Port, and the lighthouse beam gleaming on the sea's surface. The park also offers a view of the 450-meter long Dolsandaegyo Bridge, which links downtown Yeosu with Dolsando Island. The view from here is one of the most popular nightscapes of Yeosu.
* This column was last updated in September 2015, and therefore information may differ from what is presented here. We advise you to check details from the official websites before visiting.
<Last updated on September 1, 2015>