Incheon International Airport

Location
272 Gonghang-ro, Jung-gu, Incheon (Unseo-dong) / Tel: +82-1577-2600
Description
The Incheon International Airport offers three main domestic routes (Incheon↔Jeju / Incheon↔Busan / Incheon↔Daegu), with more expected in the near future.

To travel to Busan, Jeju, or Daegu, traveling out of Gimpo Airport is often a better option. If you are going directly from Incheon Airport to Gimpo for a domestic flight, take one of the buses located outside the arrival gate. For specific bus numbers, stop by the Tourist Information Center or ask outside the arrival terminal at the bus ticket booth. (Travel Time: Approximately 1 hour).
• Incheon Airport Information Center
• Tourist Information Center
- Location: beside gate A and F
- Hours: 07:00-22:00
- Tel: +82-32-743-2602
* Guidebooks and brochures are available in English, Japanese, Chinese, and German.
• Incheon Int'l Airport Hotel Information Desk
- Location: Incheon Int'l Airport Arrival Floor (1st floor) next to exit 7 & 11
- Hours: 07:30-22:00
- Tel: +82-32-743-2570, 2579
- Email: info@hotelskorea.or.kr
- Services: Hotel information and reservations, hotel pick-up service, promotional materials
• Boarding / Ticketing Counter for Domestic Flights
Boarding and ticketing for both Korean Airlines and Asiana Airlines is available at counter A on the 3rd floor.
• Lost and Found Center
Located behind counter L on the west end of the 3rd floor.
• Internet Services
Internet services are available at Information Communication Centers located at the center of the 2nd floor (KT Plaza: free for 30 min), the transfer lounge on the 4th floor, and near boarding gates 12 and 30.

Airport Guide: Procedures
• Arrival
Arrival→ Quarantine Regulations→ Arrival Immigration→ Baggage Claim→ Customs Immigration→ Meeter/Greeter Hall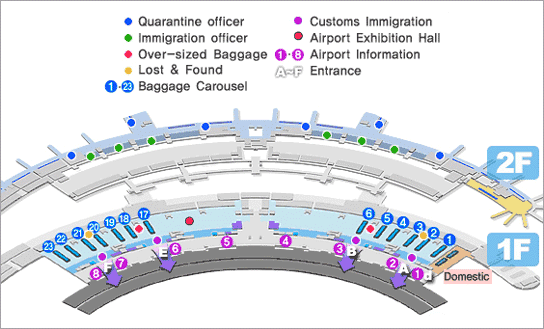 • Departure
Check-in with baggage→ Fill out the E/D Card and pay Airport Departure Tax→ Quarantine Regulations→ Customs Declaration→ Security Inspection→ Departure Immigration→ Boarding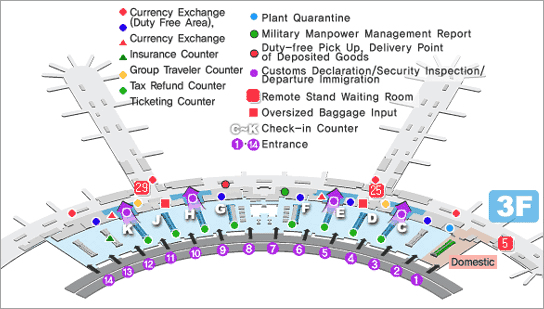 Transportation
1. Bus
Buses from Incheon International Airport to Seoul or Gimpo Airport operate at 10-15 minute intervals during flight operation hours. The most convenient way to get to Seoul is by coach, or limousine bus. Deluxe limousine bus tickets to Seoul cost 12,000-13,000 won, standard limousine buses cost 7,500-8,000 won. Tickets can be purchased at the Transportation Information Counter near the exits 2, 4, 9, 13 on the arrivals floor (1st floor) or at the bus stops themselves. It is recommended that passengers confirm the bus stop number and location at the Transportation Information Counter, as there are many bus routes to and from the airport.

*Multiple buses may use the same bus stop, so make sure to double-check the bus number before boarding.
**Bus drivers will stow your luggage underneath the bus in the luggage compartment. Please hold on to your luggage ticket and show it to the bus driver when you disembark.
***Bus stop announcements are made over the bus P.A. system in both Korean and English.

For more information on buses, please click here
2. Airport Railroad (Access to the Seoul Metro)
To access the Seoul Subway system from Incheon International Airport, use the AREX Airport Rail service (B1 level of Transportation Center). There are two types of service: Express trains (direct from Incheon Airport to Seoul Station; 43 min, 13,300 won), and commuter trains (stops at nine stations between Incheon Airport and Seoul Station; 53 min, fare varies). Among the nine stations along the commuter service, five stops (Gyeyang, Gimpo Airport, Digital Media City, Hongik Univ., and Seoul Station) offer subway transfers, adding to the convenience of passengers seeking to transfer to the Seoul or Incheon metro lines.

For more information on the Airport Railroad, please click here
3. Taxi
- Taxi Stand: Taxi stand No. 16~21 on the passenger car platform on the arrivals floor
(1st floor)
- There are no additional charges when you go from the Incheon International Airport to Seoul, Incheon, or Gyeonggi-do (except Bucheon, Gwangmyeong, Gimpo, Goyang). Additional charges may apply when traveling to other regions.
- Additional toll fees shall be provided by the passenger.
- For more information on taxis, click here
4. Rent-A-Car
Location of rent-a-car companies: near exits 2 and 13 on the arrivals floor (1st floor)
* Information are subject to changes and updates without notice.



* This was last updated in October 2015, and therefore information may differ from what is presented here. We advise you to check details before visiting.

<Last updated in October 2015>