Every fall, sightseers flock to Korea's beautiful rural destinations to enjoy the fiery colors of autumn. For some Seoul residents, however, traveling to other regions in the autumn season is out of reach. The following sites are known as the best places to see rich fall foliage in the city. They offer a place for peaceful walks among colorful leaves that are also located near popular tourist sites.
A Romantic Stroll along Deoksugung Palace's Stone Wall Road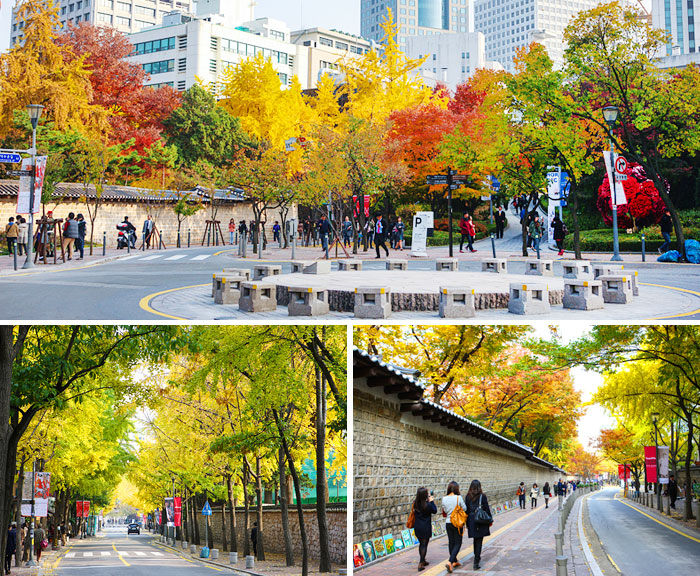 Also known as 'Jeongdong-gil road,' Deoksugung Doldam-gil (Deoksugung Stone Wall Road) is the road along Deoksugung Palace's stone wall and is a popular place for romantic strolls. In the fall, yellow ginkgo leaves add to the romantic ambience. This elegant road is about 900 meters long and stretches from Deoksugung Palace by Seoul City Hall to Chongdong Theater. There are numerous cultural sites and traditional and modern structures along the way that make the trip all the more worthwhile.

The first place to visit is the Seoul Museum of Art. The leaves of a 500-year-old maple tree in the garden are rich in color. Sit down in the quiet, cozy garden and enjoy the sunlight, or visit one of the exhibitions in the gallery. Then, move on to Chongdong Theater (venue for traditional Korean stage performances) and Kyunghyang Art Hill (venue for contemporary performances such as Fanta-Stick and KIM JIN KYU Original Drawing Show). You can select a performance to suit the autumn mood. Other famous tourist attractions nearby include the National Museum of Modern and Contemporary Art, Deoksugung and the royal palaces including Deoksugung Palace and Gyeonghuigung Palace. The location is also popular for its proximity to Myeong-dong and Namdaemun Market.
More Info
☞ Location: 5-1, Jeong-dong, Jung-gu, Seoul
☞ Directions: City Hall Station (Seoul Subway Line 1–Exit 2 or Line 2–Exit 12) / Turn left upon exiting and walk straight for 30 meters
☞ Nearby Attractions:
Deoksugung Palace
National Museum of Modern and Contemporary Art, Deoksugung
Seoul Museum of Art
Gyeonghuigung Palace
Chongdong Theater
☞ Regular performances at Kyunghyang Art Hill:
Fanta-Stick
KIM JIN KYU Original Drawing Show
☞ Related Article:
Deoksugung-gil and Nokhwa Street
A Cultural Walk along the Streets of Samcheong-dong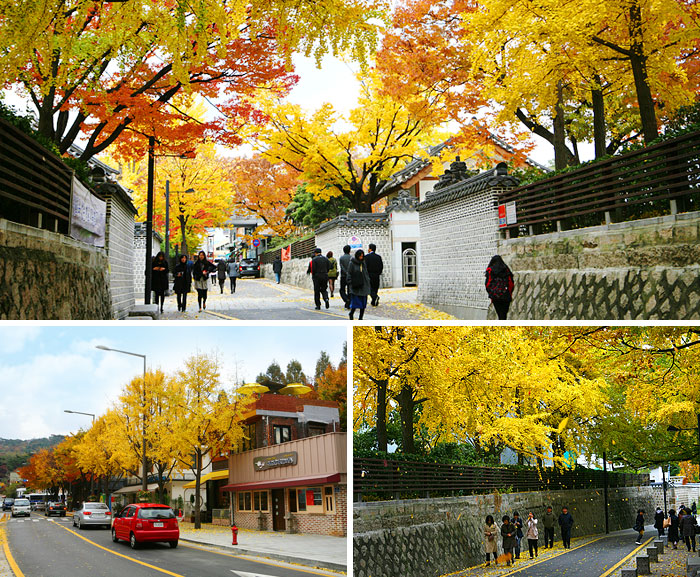 The unique stone wall road that runs beside the historic Gyeongbokgung Palace is called Samcheongdong-gil Road. The site is highly recommended in the fall, as many enjoy passing through the gates of the palace, visiting the National Folk Museum of Korea, and going for a scenic walk along the road. The ginkgo trees paint the area with striking yellow hues, and sightseers can travel down the path through the autumn atmosphere. Also called Gallery Road, this street is dotted with small galleries, restaurants and shops selling paintings and accessories. Visitors can stop in during their leisurely walk on the way to their final destination of Samcheong Park.

This park was a filming location for My Lovely Samsoon and Doctor Gang and is also ideal for leisurely walks. It is believed that if you go there with a special someone, you are sure to one day get married. Take a stroll through Samcheong Park, and/or consider making it the site of a romantic marriage proposal.
More Info
☞ Location: Samcheong-dong, Jongno-gu, Seoul
☞ Directions: Anguk Station (Seoul Subway Line 3), Exit 1 / Walk straight for 150m and turn right into the Jongno Culture Center alley.
☞ Nearby Attractions:
Samcheongdong-gil Road
National Folk Museum of Korea
Gyeongbokgung Palace
Samcheong Park
The Street in front of the Cheongwadae (Blue House)
Cheongwadae Sarangchae
Bukchon Hanok Village
Bukchon Art Museum
Owl Art & Craft Museum
Namsan Mountain: Experience Seoul from a Different Perspective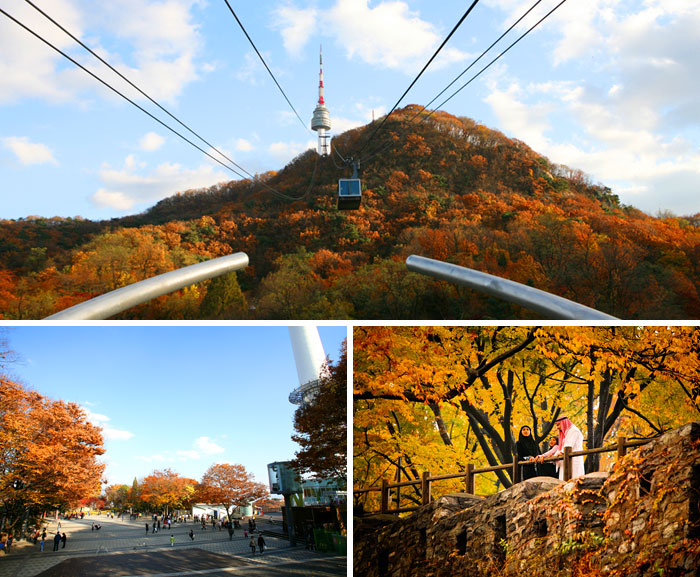 The routes that stretch from Namdaemun Market to Namsan Library and the path from Namsan Library down to Grand Hyatt Seoul offer a landscape rich in autumn colors, notably lined with dense forest areas on each side. As you walk along the road, you can look down at the houses sitting on the hill below and see Seoul from another perspective.

As you walk up from Namdaemun Market to Namsan Mountain, you will also find a number of notable sites such as the Goethe-Institut Korea, Namsan Library, and Namsan Botanical Garden. Take the walking path from Namsan Library to the mountain for about 10 minutes, and you will arrive at the popular N Seoul Tower. The N Seoul Tower observatory is a must-visit attraction for a unique view of fall foliage in Seoul. The observatory has a glass façade and offers a panoramic view of the city. As the sun sets, sit at the café with a cup of tea or coffee and enjoy the dramatic cityscape from the tower.
More Info
☞ Location: Huam-dong, Yongsan-gu, Seoul
☞ Directions: Chungmuro Station (Seoul Subway Line 4), Exit 4 / Take Yellow Bus 02 and get off at N Seoul Tower (Travel time: 20minutes / Fare: 950 won / First Bus: 07:00, Last Bus 23:30)
☞ Nearby Attractions
N Seoul Tower
Namsan Botanical Garden
Goethe-Institut Korea
Namdaemun Market
Namsangol Hanok Village
The Korea House
Jangchungdong Jokbal Street
Myeong-dong
☞ Related Articles:
N Seoul Tower on Namsan Mountain - A Must-See Landmark of Seoul
Take a walk down 'Seoul-gil,' pathways full of living, breathing history!-Bukchon Hanok-gil
Night View of Seoul: N Seoul Tower
Path lined with Redwood Trees, Metasequoia at Haneul (Sky) Park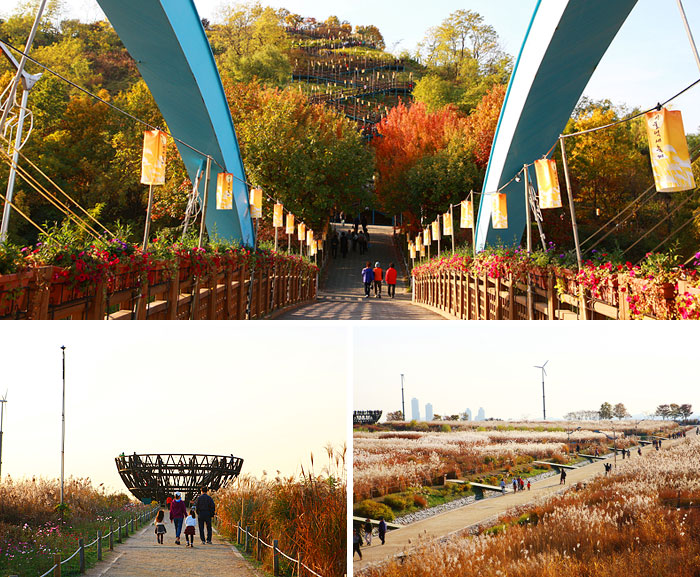 World Cup Park is made up of five parks: Haneul Park, Pyeonghwa (Peace) Park, Noeul (Sunset) Park, Nanjicheon Park, and Nanji Hangang Park. Haneul Park derives its name, which means 'sky' in Korean, from its status as the park with the highest elevation in the area. To get to the top you must first climb 290 steps or take the hiking trail. The top of the park offers impressive views of the city. The redwood tree path at Haneul Park is about 900 meters long. This popular path is lined with tall redwood trees and the path is in harmony with the thick groves and trees in the park. To reach the path, take the road to the left of the stairway that leads to the park. Walk straight and then follow the road to the right until you reach the information center. Pass the information center to arrive at the unpaved redwood lined path. In autumn every year, the Seoul Eulalia Festival is held at the top of the park to highlight the magnificent field of reeds. Walk among the reeds that move with the wind like silver waves to feel autumn at its fullest.
More Info
☞ Location: Sangam-dong, Mapo-gu, Seoul
☞ Directions: World Cup Stadium Station (Seoul Subway Line 6), Exit 1 / Walk for about 20 minutes toward Haneul Park and cross the bridge. Once you arrive at the stairs, turn left and go straight till you get to the Redwood Tree Path.
☞ World Cup Park Website: http://worldcuppark.seoul.go.kr (Korean)
☞ Nearby Attractions:
World Cup Park
Nanji Hangang Park
Seoul World Cup Stadium
600-year old Bugaksan Mountain Fortress Wall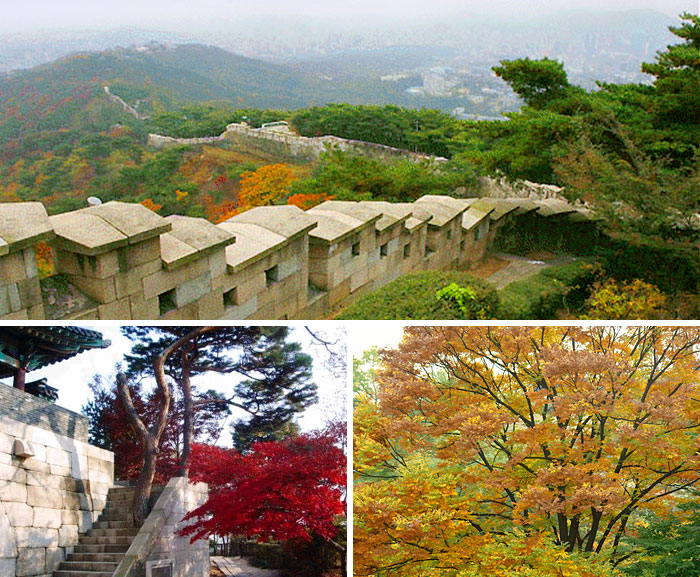 Photo courtesy of the Korea Cultural Heritage Foundation The Fortress Wall of Bugaksan Mountain is a popular tourist destination in Seoul and one of the best trails in the city. The road is surrounded by a scenic natural landscape and is visited by people of every age and gender. The hiking trail was closed to the public in 1968, and was finally reopened in 2006. Since then, it has become a major tourist site with more than 200,000 visitors a year. It is a popular trail course in every season because of the old fortress road and the view of Seoul over the fortress. Sightseers can enjoy a view of Seoul and autumn foliage on both sides of the trail. When visiting the fortress wall, make sure to bring proper identification (resident registration card, Korean driver's license, or passport) as this area is under military control. Note that photos can only be taken where officially permitted.
More Info
☞ Location: Seongbuk-dong, Seongbuk-gu, Seoul
☞ Directions: Anguk Station (Seoul Subway Line 3), Exit 2 / Take Bus 02 and get off at Waryong Park. Walk for about 10 minutes to get to Waryong Park and walk along the fortress wall from there. After 20 minutes of walking, if you pass the Malbawi Information Center (+82-2-765-0297~8 (Korean, English)), the trail starts.
☞ Operating Hours: March to October (09:00–16:00) / November to February (10:00–15:00)
☞ Website: http://www.bukak.or.kr (Korean, English, Japanese, Chinese)
☞ Nearby Attractions:
Bugaksan Mountain
Daelim Museum
Cheongwadae Sarangchae
Buam-dong
From Seoul Forest to Gwangjingyo Bridge, overlooking the Hangang River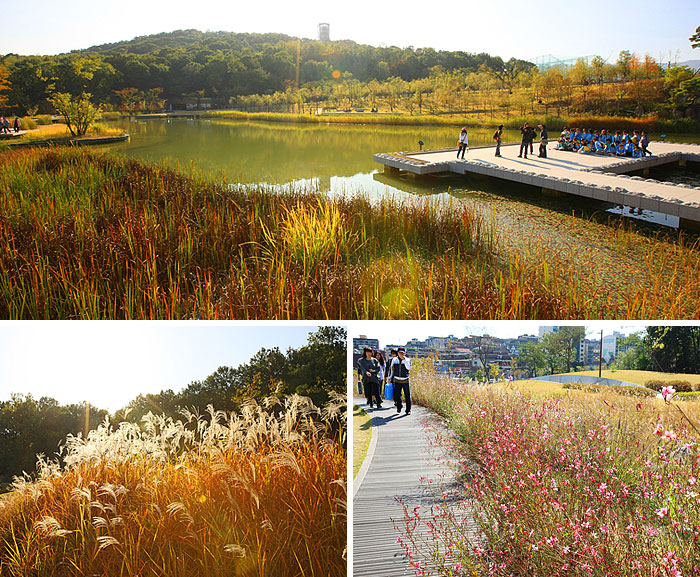 Cloud Bridge in Seoul Forest, which boasts beautiful autumn scenery, takes you to the Hangang riverside area. Walk along the road on the upper side of the river, and you will reach Ttukseom Hangang Park under Cheongdamdaegyo Bridge. Ttukseom Hangang Park is a large riverside park spanning 11.5 kilometers in length. The park features various facilities including a music fountain and swimming pools. The music fountain behind the park plaza spouts jets of water 15 meters high, and the water dances along with the music. When you reach Gwangjingyo Bridge, make sure to go up the bridge. Along both sides of the street you will find wide sidewalks. Midway on the bridge, there are observatories and gardens where you can rest while taking in the view of the Hangang River. Located under the bridge is a café called Riverview 8th Avenue. The name derives from the fact that the café is located on the eighth pillar of the bridge. The cafe is also popular among fans of Korean dramas as it is one of the filming locations of Iris.
Tourism Information
* Seoul Forest
Location: Seongsu-dong, Seongdong-gu, Seoul
Directions: Seoul Forest Station (Bundang Line, Exit 3) or Ttukseom Station (Seoul Subway Line 2, Exit 8) / Turn left at the intersection. It is a 15-minute walk from the station.
Website: http://parks.seoul.go.kr/eng/ (Korean, English, Japanese, Chinese)
* Ttukseom Hangang Park
Location: Jayangdong, Gwangjin-gu, Seoul
Directions: Ttukseom Resort Station (Seoul Subway Line 7), Exit 2,3 / 2 minute-walk from the station.
Website: http://hangang.seoul.go.kr (Korean)
* Riverview 8th Avenue
Location: Cheonho-dong, Gangdong-gu, Seoul
Directions: Gwangnaru Station (Seoul Subway Line 5), Exit2 or Cheonho Station (Seoul Subway Line 8), Exit2 / 15-minute walk from the station
Website: http://www.riverview8.co.kr (Korean)
☞ Nearby Attractions:
Waterworks Museum
Children's Grand Park
A Leisurely Walk through Nakseongdae's Garosu-gil Road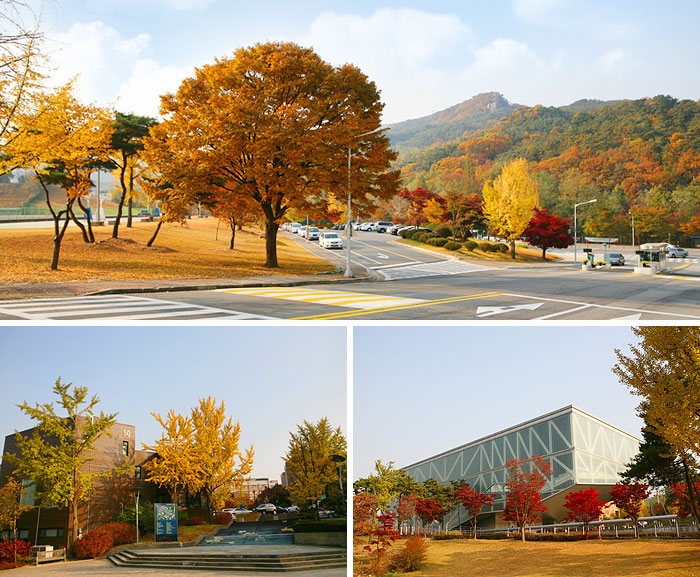 Just outside of Nakseongdae Station (Seoul Subway Line 2) is a one-kilometer-long road to Nakseongdae (Shrine of Goryeo General Kang Kam-chan). Named Garosu-gil, the road is covered with yellow ginkgo leaves and crimson maple leaves in the fall. Nakseongdae Park is big, but it is relatively lesser known so it is a good spot for a stroll outdoors. Inside, there is a shrine called Anguksa with small flower trees around the cozy and quaint crossroad. The road to the left of Seoul Science Park nearby leads to top-tier Seoul National University. Nestled in Gwanaksan Mountain, Seoul National University is renowned for its beautiful campus. The road between the dormitory and the art museum is notably lined with a wide variety of trees and flowers. Museum of Art, Seoul National University, which was designed by world-renowned Dutch architect Rem Koolhaas, is also a must-visit site. The road from the main gate of Seoul National University to Seoul National University Subway Station also offers scenic views of Gwanaksan Mountain.
More Info
☞ Location: Bongcheon-dong, Gwanak-gu, Seoul
☞ Directions: Nakseongdae Station (Seoul Subway Line 4), Exit 4 / 20m from the station
☞ Nearby Attractions:
Seoul National University, Museum of Art
Seoul National University
Nakseongdae Park
Seoul Science Park
Embracing Nature at Seoul Grand Park's 'Forest Bath'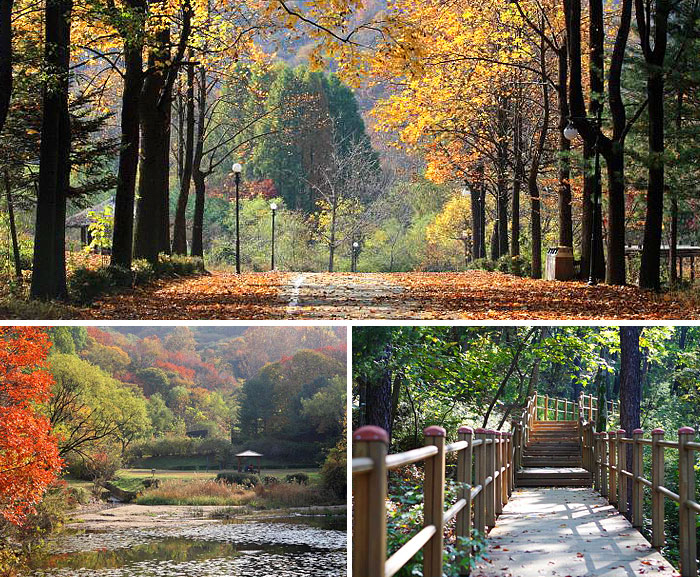 Photo courtesy of Seoul Grand ParkSeoul Grand Park Forest Park is a narrow path that takes visitors up and down the park's trails. "Forest bathing" is the act of taking a leisurely walk in the woods while breathing in the aromatic scent of trees and nature. The trail's entrance points are found in two areas: one behind the Forest Exhibition Center (to the right side of the main entrance of the Seoul Zoo in Seoul Grand Park), and the other behind the Australian Pavilion. For both starting points, the trail goes back to the main entrance of the Seoul Zoo in Seoul Grand Park. Within the zoo, the path is divided into five sections by type of tree, which includes groves of acacia, chestnuts, and pine trees. Visitors will enjoy 11 different themes such as 'forest with nature,' 'forest for meditation,' and 'forest for rest.' Walking through the forest bathing area takes as little as 50 minutes or as long as 2.5 hours.
More Info
☞ Location: Makgye-dong, Gwacheon-si, Gyeonggi-do
☞ Directions: Seoul Grand Park Station (Seoul Subway Line 4), Exit 2 / Walk for about 20 minutes toward Seoul Grand Park Zoo till you get to the entrance of the forest bathing area (as the area is inside the zoo, admission will be charged).
☞ Website: http://grandpark.seoul.go.kr/Eng/html/main/main.jsp (Korean, English, Japanese, Chinese)
☞ Nearby Attractions:
Seoul Zoo in Seoul Grand Park
Cheonggyesan Mountain
Seoul Land
Hobby In World
National Museum of Modern and Contemporary Art
☞ Related article:
Best Spring-time Destinations

☞ 1330 Korea Travel Hotline: +82-2-1330 (Korean, English, Japanese, Chinese)


Last updated on September 1, 2014