Who Can Participate :
- Foreign transit passengers with on-site registration.
Tour Language: English, Japanese
Departure time: Between 8:00 a.m. - 9:00 a.m. (min. 4 persons)
*Not available on Mondays and holidays.

Departure point: Incheon International Airport
Registration: transittour@naver.com
How to Apply : On the day of the tour, register and make payment at the Transit Tour Desk.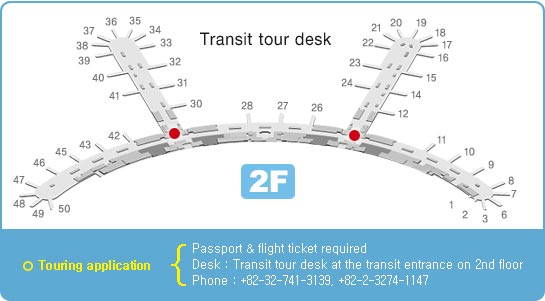 < Note >

1. The DMZ Transit Tour is designed for foreign transit passengers only. Carefully check the tour departure and arrival time against your transit schedule.

2. Tour participants must have their passport at all times during the tour.

3. Make sure to bring proper currency for payment. No foreign currencies other than US dollars, Japanese yen or Korean won are accepted.

4. We ask for your understanding that, as the DMZ is under military control, the tour may be cancelled or rescheduled without prior notice due to unexpected circumstances.

5. The operator cannot provide any assistance for participant's failure to take his/her scheduled flight as a result of the participant's own negligence.

Inquires : transittour@naver.com