Special art tour: Ceramic-Making Class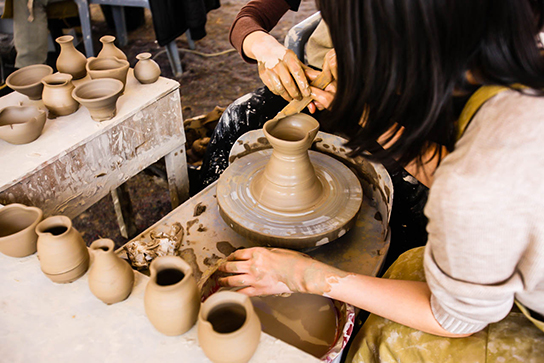 There are various hands-on activities available in Korea and many tourists both local and foreign visit experience-activity destinations just to partake in something new. Pottery-making is probably the most popular activity among all because of its foreigner-friendly services, such as language assistance and reasonable prices. But above all, the fact that they provide nourishing contents in learning Korea's traditional culture best explains its popularity.
On that note, Icheon of Gyeonggi-do region is heavily frequented for ceramic-making programs, and is recommended for international tourists as it has operated a ceramic program for a long time. Designated as the representative city of Korea's pottery culture, the city provides a one-day ceramic-making program for foreigners and is only a 40-minute bus ride away from Seoul. For most cases, the final products are ready to take home that day, but certain projects may require additional time for drying and baking. However, fret not as you can sign up to have your work delivered through air mail service later!
More info
Icheon Traditional Ceramic Experience
☞ Address: 286, Pyogyo-ri, Majang-myeon, Icheon-si, Gyeonggi-do
☞ Directions: Pick up service available from Icheon Bus Terminal. (* Phone reservation required in advance)
☞ Offered programs: Ceramic-making, decorating ceramic, etc.
☞ Website: www.ichontour.com (Korean, English, Japanese, Chinese)
☞ Inquiries: +82-70-8232-2299 (Korean, English)
☞ 1330 Korea Travel Hotline: +82-2-1330 (Korean, English, Japanese, Chinese)
* This information was last updated in August 2015, and therefore information may differ from what is presented here. We advise you to check details from the official websites to confirm.
<Last updated on August 19, 2015>