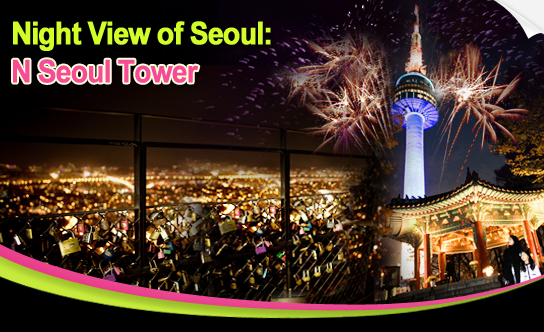 Atop Namsan Mountain (262 meters) in the heart of Seoul stands N Seoul Tower (236 meters). Completed in 1969, this beloved city landmark has come to represent the city itself and has been Seoul's most visited observation deck for several decades. The tower itself is a major attraction as it is brightly illuminated in the evening. The tower is lit blue when the dust density in the air is 45㎍/㎥ or lower, and white when greater than 45㎍/㎥. To get to N Seoul Tower, start at the Namsan Mountain cable car. After reaching the tower, visit the outdoor terrace and observation deck for a panoramic view of Seoul. Also be sure to spend some time with the adorable teddy bears at the Teddy Bear Museum.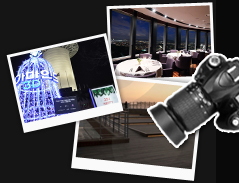 For a 360 degree view of Seoul, take the elevator to the observatory. There are several restaurants and cafés on the first through fifth floors. The upscale n•GRILL seems to attract guests celebrating special occasions, while the Korean restaurant HANCooK caters to family visitors. For those who are skipping dining, there is also an observatory café for coffee and pastries, and on the second floor (T2), simple snacks and beverages are also available. Also, don't miss the famous Sky restroom with a view.

<N Seoul Tower Visitor Information>

Address: 1-3 2-ga Yongsan-dong Yongsan-gu, Seoul
Getting there:
▶ By cable car
Myeongdong Station (Seoul Subway Line 4), Exit 3. Use the road to the right of Pacific Hotel and walk 10 minutes up to Namsan cable car station. Then take the cable car to N Seoul Tower (3-minute cable car ride)
* Myeongdong Station, Exit 4, walk straight to Hoehyeon intersection and take the Namsan Oreumi to get to the the cable car station.
▶ By Bus
Myeongdong Station (Seoul Subway Line 4), Exit 1. Take the Namsan local bus 05 or Seoul City Tour bus
Namsan Oreumi

Namsan Oreumi is a free outdoor elevator that runs between the plaza in front of the Namsan Tunnel #3 Commemorative Plaza and the Namsan cable car platform. This inclined elevator covers a distance of 140m and can accommodate up to 20 passengers. With glass on all sides, the Namsan Oreumi offers a unique and convenient way to get to the cable car station.
Admission
Adults
Children
Note
Observatory
9,000won
7,000won
Adults: Over 13 years old
Children: Between 3 and 12 years old
Seniors: Same admission fee as children
Alive Museum

12,000won

9,000won

Observatory + Alive Museum

15,000won

11,000won
Tel: +82-2-3455-9277 (Korean)
1330 Korea Travel Hotline: +82-2-1330 (Korean, English, Chinese, Japanese)
☞ N Seoul Tower Homepage: www.nseoultower.co.kr (Korean, English)
☞ Go to N Seoul Tower
☞ Related Column: N Seoul Tower



Namsan Cable Car, the gateway to Seoul's best night views
The trip to N Seoul Tower starts with a ride on the Namsan cable car. The 3-minute ride offers splendid night views of the capital city. After getting their tickets, visitors can board a cable car within 10 minutes. Passengers can relax and wait using the chairs and snack shop next to the ticket office.

Hours: 10:00-23:00 (3-minute ride to N Seoul Tower)
Fare: Round-trip — ages 14-64 8,000 won/ ages 4-13 & 65+ 5,000 won
One-way — ages 14-64 6,000 won/ ages 4-13 & 65+ 3,500 won
Tel: Day-time +82-2-753-2403 (Korean), night-time +82-2757-1308 (Korean)
Homepage:http://www.cablecar.co.kr/ (Korean, English, Japanese, Chinese)
Getting there: Myeongdong Station (Seoul Subway Line 4,) Exit 3. Take the street on the right of Pacific Hotel and walk for 10 minutes