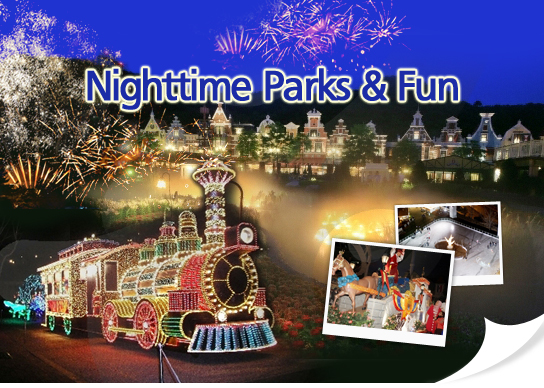 Visitors can find many things to do at night in Seoul as there are numerous parks and recreational activities available after dark. Visit a theme park for discounted evening admission and to enjoy colorful light shows, performances and rides. Another option is 24-hour gaming at casinos exclusively for international visitors. Theses gaming establishments are housed in deluxe hotels that offer top-notch accommodations. Also at select hotels are seasonal ice-skating rinks that attract those seeking some family fun or a little romance on the ice.

☞) Lotte World

Lotte World is a theme park located in Jamsil, Seoul. In the evening, the park turns into a fairy tale-like place where rides and buildings of Middle Age European style are illuminated with LED lights. Fabulous shows and events are organized for evening visitors, including a laser show and music performances. Nighttime hours of operation are from 4 to 10pm (11pm on select days), during which tickets are sold at discounted prices.

☞ Everland

Everland is a theme park in Yongin, about an hour drive from Seoul. It is popular for a variety of rides, the Caribbean Bay water park , and Safari World. Every night, Everland offers a fantastic laser light show and fireworks display as well as a night parade featuring floats with extravagant lighting. Evening tickets are sold from 4pm at discounted prices.
☞ Ice Skating Rinks

Open only during winter months from mid-December to mid-February, hotel ice-skating rinks offer great facilities, beautiful illumination, romantic ambience, and various fun-filled events for the family. This makes them popular nighttime attractions in Seoul. The Ice rink at the Grand Hyatt Seoul offers great night views of the Hangang River and the Gangnam area, attracting many young couples. The Walker Hill skating rink offers a fantastic ambience with lights, music and a variety of special events.