On June 6, 2007, the movie, "Hwang Jin-yi,' first premiering in North Korea, was released in South Korea. 'Hwang Jin-yi' is a movie based on a true story written by a North Korean writer. The reason why there is so much anticipation about this movie is due to the casting of star actress Song Hye-Gyo. There was a reason why she has not been out of the forefront of the movie screens and television sets for 2 years. Also, a lot of curiosity has aroused viewers, who have begun to make comparisons with the 2006 hit drama series 'Hwangjiny' and the movie. This is a large-scale production taking 4 years from production to its final release, requiring 194 days of filming, and costing ₩10,000,000,000 to produce such a film.
The film was shot in a number of popular tourist areas as well as in North Korea. This is a highly anticipated film that hopes to leave a lasting impression on the Korean film industry.
Movie Information
- Director: Jang Yun-Hyeon
- Cast: Song Hye-Gyo, Yu Ji-Tae, Ryu Seung-Ryong, Kim Hyeon-Ah
- Release Date: June 6, 2007
- Homepage : www.hwangjiny-movie.com (Korean)
- Genre: Drama
- Running Time: 141 minutes
Movie Synopsis
Takes place in the 16th Century Korea. A time when people were treated poorly unless you were of nobility. People used any means possible including cheating and deceiving others in order to be a part of the Korean nobility. Jiny, born into nobility, has been awaiting marriage, but the engagement is soon broken when they find that her mother was not of noble blood. She soon gives up on the path of nobility and decides to become a Gisaeng, a woman seducing noblemen. After an experience with her first man, an old school friend, Nomi, she moves into a Cheonggyobang (Gisaeng house) the next day. She then changes her name to Myeong-Wol, and soon seduces all the men with her unique beauty and talents. Myeong-Wol, the best Gisaeng of her time, her first man, Nomi's love, and the tragedy that befalls them begins.
Cast Introduction
Jin-yi

/ Played by Song Hye-Gyo

Although she is born into nobility, she is distressed when she founds out the hidden secrets of her birth. Eventually, she decides to become a Gisaeng and changes her name to Myeong-Wol. With her unrivaled beauty and unmatched entertainment talents, Hwang Jin-yi becomes the best Gisaeng throughout Korea from the common streets to the royal palace. Although all men of nobility are in love with her, her heart has always lied with her childhood friend and first love, Nomi.
Nomi / Played by Yu Ji-Tae

He longs for Jiny, whom he once lived with in the royal place when he was young. However, unable to compare with her social status, he suffers in agony over love alone. Even when Jiny's marriage engagement is broken and she becomes a Gisaeng, Nomi continues to show genuine love for her, staying by her side at all times. Born into the constantly suppressed social standings of a slave, he goes into the mountains to become a rebel and gathers the courage to fight against some corrupt noblemen. Though he gains much courage, he is a man that becomes weak in the presence of his one true love, Jiny.
Film Locations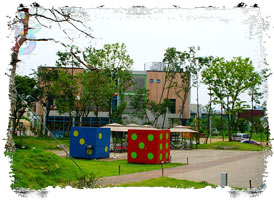 Paju's Art Service Studio

This was the first setting for Hwangjiny as soon as filming started. The Paju Art Service Studio was the set for a number of Korean films including 'Old Boy', and has reproduced houses of the early Joseon period for Hwangjiny's filming early on. Although visitors are unable to tour inside the studio, the art village, Haeiri, nearby is a great place to visit here.

Address: 1652-155, Beopheung-ri, Tanhyeon-myeon, Paju-si, Gyeonggi-do
Contact: +82-31-1330 (Korean, English, Chinese, Japanese)
Directions: Take Subway lines 2, 6 to Habjeong Station and go out of Exit #1 -> Take bus #200 from the bus station -> Get off at the Paju Chulbandan District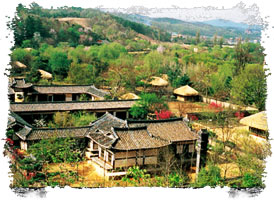 Korean Folk Village

The Korean Folk Village in Yongin is the film location for both the drama and film, and is easily accessible from Seoul. This is a film location for many historical dramas and films, and visitors can tour this place along with Everland in one day. Some main assembly places and some government offices are modeled after the royal court during the Joseon period, where many events and food can be enjoyed in this traditional theme park.

Address: 107, Bori-dong, Giheung-gu, Yongin-si, Gyeonggi-do
Contact: +92-31-288-0000
Homepage: www.koreanfolk.co.kr(Korean, English, Chinese, Japanese)
Fees: Admission 11,000 won, Folk Village Tour + Admission: 14,000 won, All-Exclusive ticket: 16,000 won
Directions: Take Subway line 2 to Gangnam Station and go out of exit #6 → Take the 1560 bus from the bus terminal in front of the LG Mart 250 meters ahead (06:05 ~ 23:20, 40 min. intervals) → Get off at the Folk Village's 3-Way Intersection
→ Click here for more on Korean Folk Village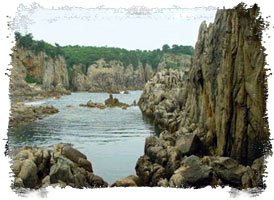 North Korea's Geumgangsan Mountains

Filming took place in the middle of winter at Geumgangsan Mountains in order to shoot a scene from Hwangjiny where she is climbing the mountain on her own. Star actress Song Hye-Gyo, and more than 60 crew members made this scene come alive as it took careful planning and 3 preliminary tours to shoot. With Geumgangsan Mountains' adverse weather as the setting, the sorrowful image of Hwangjiny that was captured on film was a component inserted into the movie that was shot in an undisclosed location to the north.

→ Click here for more on Geumgangsan Mountains