Recommended Hiking Trip following Bukhansan Dulle-gil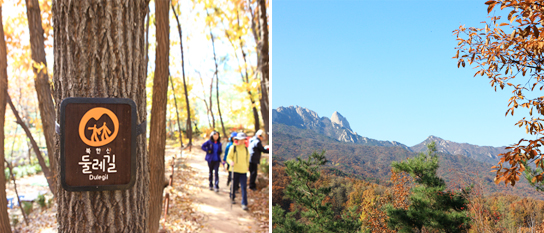 Photo: Bukhansan Dulle-gil (left) / Panoramic view of Bukhansan Mountain (right)
Stretching across downtown Seoul and further into the mountainside of Gyeonggi-do, Bukhansan Dulle-gil, a hiking trail 71.8 km in total length, connects the forest paths and villages along the foothills of Bukhansan Mountain (alt. 836.5m) and Dobongsan Mountain (alt. 739.5m). Bukhansan National Park, a popular destination throughout all four seasons, draws an impressive five million visitors each year, officially winning the Guinness Book of World Records for 'Most Visited National Park per Unit of Area.'

Bukhansan and Dobongsan are some of the most popular mountains in the Seoul area, their granite peaks rising up over the city skyline in an ever-present reminder that nature is only a few steps away from urban life. Over 1,300 different species of plants and animals call the slopes and streams of these mountains their home, giving hikers of the Dulle-gil trail an authentic nature hike despite the trail's city location. The trail is made up of a total of 21 sections, of which most are identified to be low-lying areas with gentle slopes where the trail allows for a leisurely hike for everyone to enjoy. On the other hand, some routes are known for requiring heavy clothes and professional hiking gear. Consequently, all 21 sections of Bukhansan Dulle-gil hold a unique story and vista.

In addition, visitors should note that routes 1 to 20 are open everyday to visitors without making a reservation; however, course 21 (Uiryeong-gil trail) can only be entered by hikers who have made a reservation in advance online or via phone. To ensure visitors' safety, ID checks are mandatory here. Therefore, visitors should bring their passport or citizen registration cards to begin their journey. Uiryeong-gil trail starts from Ui-dong and runs between the two mountains to Gyohyeon-ri village. Entrance to the trail is limiting from 9 a.m. to 2 p.m.
Let's take a refreshing retreat to Bukhansan Dulle-gil on a walk through lush forests to temples perched on mountain crags, and back into the history of ancient Korea!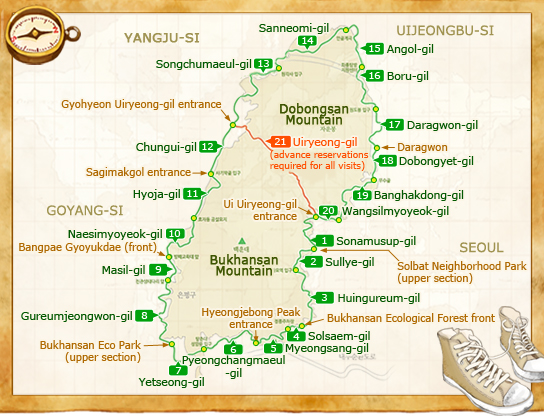 More info

Bukhansan Dulle-gil Hiking Information Center

☞ Address: San 73-1, Suyu-4-dong, Gangbuk-gu, Seoul
☞ Operating hours: 09:00-18:00
☞ Website: ecotour.knps.or.kr/dulegil (Korean, English, Japanese, Chinese)
☞ Inquiries: +82-2-900-8086 (Korean only)
☞ Reservation & Tour assistance (Uiryeong-gil trail): 10:00-17:00
Ui Information Center +82-2-998-8365 (Korean only),
Gyohyeon Information Center +82-31-855-6559 (Korean, Chinese)
* Note: Chinese language assistance may not be available depending on the staff working that day, please call in advance to confirm.
☞ 1330 Korea Travel Hotline: +82-2-1330 (Korean, English, Japanese, Chinese)
* This column was last updated in October 2015, and therefore information may differ from what is presented here. We advise you to check details from the official websites before visiting.
<Last updated on October 6, 2015>