Korea's Beautiful Four Seasons
Korea is geographically situated in a temperate climate zone at medium latitude. As a result, it has four distinct seasons. In general, spring is from March to May, summer from June to August, autumn from September to November, and winter from December to February. The weather in spring and autumn is clear and dry due to the influence of anticyclones; summer is hot and humid due to Korea's location on the North Pacific Edge; and in winter, continental high pressure brings cold, dry weather.
>> Autumn: The Season of Bountiful Harvests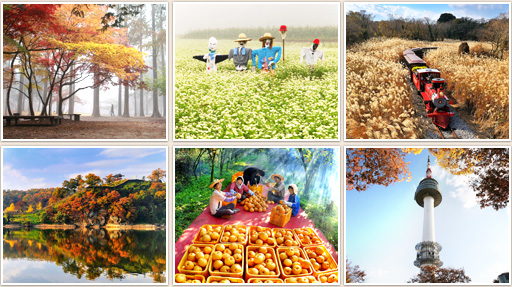 The autumn season in Korea is between September and November. The weather is cool and crisp, and the sky is blue with few clouds. Koreans refer to autumn as the season of cheongomabi*. The heat of summer still seems to linger in September with the daytime being hot, but the weather is cool in the morning and evening. In October, there is less precipitation and the humidity in the air decreases, resulting in crisp and enjoyable weather. In late summer to early autumn, typhoons rising from the South Pacific may occur.

Autumn is also a season of beautiful falling leaves. Ginkgo trees and maple trees throughout Korea change their hues to yellow and crimson. During this time, Koreans love to go hiking in the mountains to enjoy the picturesque landscape created by autumn leaves. Mountains and famous autumn foliage spots around the nation are bustling with people during this time of the year. Autumn is also the season of bountiful harvest, with rice, sweet potatoes, apples, pears, and jujubes ripening all around the nation.
*Cheongomabi

Literally meaning "the sky is high and horses get fat," cheongomabi is often used to describe the autumn season. In this season, the sky is particularly blue and clear, so it is great for outings, and the harvest season makes for plenty of food to eat.
Last updated on February 10, 2015