Korea's Beautiful Four Seasons
Korea is geographically situated in a temperate climate zone at medium latitude. As a result, it has four distinct seasons. In general, spring is from March to May, summer from June to August, autumn from September to November, and winter from December to February. The weather in spring and autumn is clear and dry due to the influence of anticyclones; summer is hot and humid due to Korea's location on the North Pacific Edge; and in winter, continental high pressure brings cold, dry weather.
>> Summer: The Hottest Season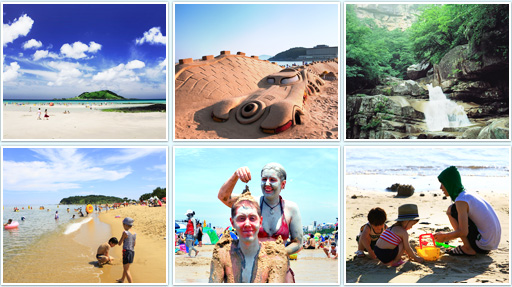 Summer is usually between June and August, with the hottest month being August when the mean temperature is between 23 to 26 degrees Celsius. The dryness characterizing winter and spring disappears in summer, replaced by high temperatures and humid air. Due to the high humidity, people feel that it is hotter than it actually is. Since the stuffy atmosphere tends to cause a high level of discomfort, the use of air conditioners and electric fans shoots up during this time of the year. The weather is particularly hot between the end of July and end of August. Generally, the period between the end of June and mid July is the rainy season in Korea. During this time there is no scorching heat. However, there can be clouds and frequent rainfall for as short as one week to as long as three weeks. The frequency of rainy spells called jangma* and typhoons can also have a negative effect as they can directly cause damage to crops.

In the summer, there are lots of fruits like watermelons, melons, and peaches, as well as vegetables, and the fields and mountains are covered in green. To escape the scorching heat, people go to the mountains, sea, or valleys to spend their summer holidays.
*Jangma

Jangma refers to the rainy spell in summer. This phenomenon is caused by a seasonal rain front that lingers across East Asia from east to west. The precipitation during jangma accounts for a significant percentage of the annual rainfall in Korea. This season also occurs shortly after rice crops are planted, so the rainfall can considerably affect the rice harvest.
Last updated on February 10, 2015