Jeju Olle A Walking Vacation on Jeju Island
[Photo courtesy: Jeju Olle Foundation]

Among today's physical well-being enthusiasts, no other activity has received as much interest as walking. If you're looking for a leisurely vacation spot where you can enjoy the beautiful scenery while walking on a well-maintained trail to stay fit, there's no better place to go than Jeju Island. Jeju Olle, a series of walking trails that stretch across the southern coast of the island, is one of the many attractions and activities that Jeju has to offer.
The trails pass through various landscapes along the way including small villages, beaches, farms and forests. Each specific route is an opportunity to soak in the beauty of Jeju and the island's culture.
The Meaning of "Olle"

In the local Jeju dialect, "Olle" was originally used to refer to the narrow path between the street and one's doorstep. In the past, this was a commonly used word; children would often say, "Let's meet at the olle." This word became more widely used across Korea, referring to a series of coastal walking paths on Jeju Island.
The Jeju Olle Routes
The first route opened in September 2007 and as of 2013, there are 26 routes (21 main routes, and five sub-routes). Each route offers unparalleled views of Jeju Island's unique, dramatic landscape. The shortest route can take three hours and the longest up to seven hours. The routes are also organized by level of difficulty, so choose one that is appropriate for you.
Following the Olle Routes

Blue arrows or blue and yellow ribbons serve as route markers. These can be found set against stone walls, tied to nearby trees, or drawn on the paths.
Bathrooms and Restaurants

Since the trails wind through unspoiled landscape, there may not be many restrooms and restaurants along the way. However, convenience facilities can be found at the beginning or end of each route. It is also advisable to bring water and some snacks with you.
What to Prepare

Shoes: Visitors are advised to wear workout or hiking shoes. During the summer, sandals will also be useful for walking along the beach area.
Clothes: Although the weather on Jeju Island is generally pleasant, it can be windy and rainy too. Wearing waterproof clothing or bringing a raincoat is recommended.
Guidebook: A guidebook is available free of charge at the Jeju International Airport Information Desk. The guidebook includes useful information about the Olle routes, accommodations and restaurants.
☞ Olle homepage (Korean, English, Japanese, Chinese)
Route 1


Siheung Elementary School – Gwangchigi Beach

As the first route to open, Route 1 offers a good introduction to Jeju Olle. The route takes you past a number of oreums (small mountains or hills created through volcanic activity) and beaches. In addition to Hallasan, Jeju has approximately 360 oreums scattered around the island.

The route begins from a small local school (Siheung Elementary School) and goes up Malmi Oreum and Al Oreum. From here, you can enjoy a beautiful view of Seongsan Ilchulbong Peak and Udo Island. The route continues along the Jongdal-ri Salt Fields and after passing Siheung-ri beachside road, the sight of Seongsan Ilchulbong Peak appears once again. The route ends with a spectacular sight of Gwangchigi Beach.

☞ Distance: 15.6 kilometers
☞ Hours: 4-5 hours
☞ Difficulty: Medium
Route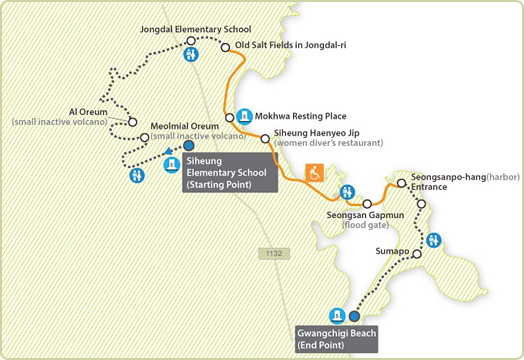 [Photo courtesy: Jeju Olle Foundation]
Siheung Elementary School ⇒ Malmi Oreum⇒ Al Oreum ⇒ Jongdal Elementary School ⇒ Jongdal-ri Salt Fields ⇒ Seongsanpo-hang (harbor) Entrance ⇒ Siheung Women Divers' House ⇒ Seongsangapmun Lock Gate ⇒ Seongsanpohang Harbor Entrance ⇒ Sumapo ⇒ Gwangchigi Beach