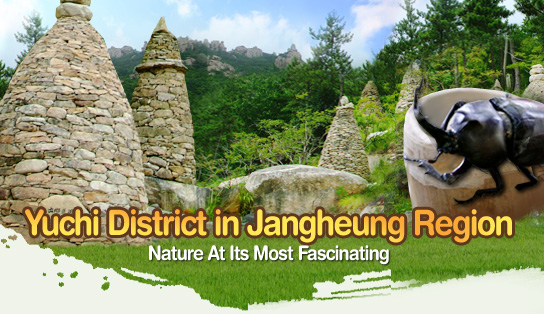 The district of Yuchi in Jangheung region of Jeollanam-do province has been designated a "Slow City". It contains Banwol village, a tiny village of approximately 40 households, which became famous in Korea after it was the filming location for a movie. In the past it was a secluded region cut off from the rest of the world, but it slowly made a name for itself by breeding beetles and cultivating shiitake mushrooms. To this day, the villagers here strictly adhere to organic farming methods to keep intact the area's pristine environment, which has been handed down through generations. Traditional houses and roads lined with low stonewalls are still well preserved and give the town a rustic, peaceful atmosphere.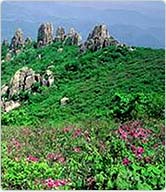 The Yuchi district is one of Korea's most famous producers of Slow Food, which is one of the reasons why it was designated a Slow City. The area is known not only for its organic farming methods, but also for its ecology. It is the habitat of dung beetles, which are on the verge of extinction in other regions of Korea. The area attracts many visitors who are keen to experience its rich ecology. It is the location of the Dung Beetle Festival, the Beetle Village and the Earthworm Farm. Visitors to the Yuchi district can take a tour of the forest inhabited by the beetles and learn about their ecology, and visitors can also gather shiitake mushrooms.
Special Products of Jangheung

Shiitake Mushrooms


Shiitake mushrooms, which are known as pyogo mushrooms in Korea, have been grown in Jangheung since 1454. Shiitake mushrooms, which grow on pine trees in the mild climate of Korea's south coast, are well known for their extraordinary flavor and fragrance.

The Jangheung region is actually the nation's largest shiitake producer with an annual production of 2,500 tons. Yuchi district in particular has a notable number of shiitake farmers. These gourmet shiitake mushrooms are cultivated on pine trees utilizing centuries-old traditional methods and no pesticides or artificial fertilizers. They are rich in fiber and vitamin B and can be used to naturally flavor savory dishes. You can pick and taste freshly picked shiitake in the Yuchi district. Dried shiitake mushrooms also make great gifts.
Things to See

Borimsa Temple


Borimsa Temple, located to the south of Mount Gaji, was established during the Silla Dynasty. The temple is very picturesque and is surrounded by pristine nature. The major buildings of the temple are hidden behind the Iljumun Gate and Sacheonwangmun Gate.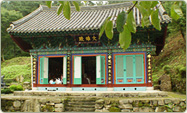 The mineral water fountain in the center of the temple was designated by the Korean Association for Conservation of Nature as one of Korea's Cleanest and Best-tasting Water Springs. Due to Borimsa Temple's long illustrious history, it contains a wide range of national treasures and cultural properties.


For temple inquiries: +82-61-862-2055
For general inquiries: +82-61-1330 (service available in Korean, English, Japanese and Chinese)

Nearby Tourist Destinations

Mount Cheongwansan Forest


Mount Cheongwansan, acclaimed to be one of the 5 best mountains in Jeollanam-do Province, is rugged and rocky. However, in spring it looks very pretty when it is covered in a sea of camellias, and in fall it is covered in pampas grass.

The mountain peak towers above the starkly beautiful landscape of the Dadohae Marine National Park with its scattered islands. The forest on the slope of Mount Cheongwansan is an ideal place to unwind, relax, and enjoy the fresh air; it is particularly suitable for families with small children and for those not fit for serious mountain climbing. There are plenty of rest areas in the forest, so visitors can rest their weary feet and take a break from their normally fast-paced lives.


Jeongnamjin Saturday Market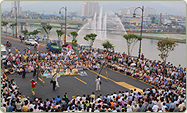 This traditional open-air market takes place every Saturday and offers an endless array of food, entertainment, and regional specialties. A great selection of authentic southern Korean dishes made from Jangheung comb pen shell scallops, Korean beef, short-necked clams, or soft tofu is available at stalls and restaurants.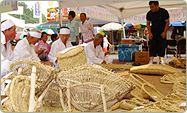 Traditional folk music performances, dances, and concerts are staged for the entertainment of market-goers. In one corner a space is set aside for shoppers to take part in traditional games, such as stick throwing, top spinning, jegi (a kind of shuttlecock) kicking, pottery making, fabric dyeing, and kite making. Fresh local produce and regional crafts, as well as basic necessities, are also on sale. The market opens at 10:00 am, but travelers are advised to come around noon, when the market is in full swing.

Things to Enjoy

Beetle Festival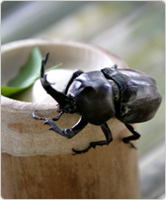 Banwol Village still strictly adheres to the organic farming methods established in the past; thus, it is densely populated with large oak trees, which are used to cultivate shiitake mushrooms. Farmers began to utilize the leftover sap and sawdust for breeding beetles. Beetles, which take a full year to grow from an egg to an adult insect, emerged as the major source of income for this village, and the Beetle Festival took off as crowds began to flock here to watch them grow.

The annual Beetle Festival takes place in late July, and visitors can gain hands-on experience in breeding beetles, collecting shiitake mushrooms, going on waterside excursions, and watching beetle wrestling matches.

Local Specialities


Jangheung region is often called the Home of Korean Flavors, because of its many creative, rich-tasting local dishes. Jangheung is famous for grass-fed juicy beef, raised on pasture. Also, not to be missed is namdo jeongsik - or a full-course meal accompanying steamed rice, kimchi and an overwhelming number of side dishes - made with Jangheung's local produce. During the summer months, restaurants near the Jangheung Saturday Open-air Market serve meals with ark shell clams caught from the mudflats.

Jangheung samhab - or the trio of Korean beef, comb pen shell scallops, and shiitake mushrooms broiled and eaten together - is a widely known delicacy of Jangheung. Jangheung samhab and namdo jeongsik are the two must-try dishes for visitors traveling in Jangheung region.

How to Get There

By train
From Yongsan station, take the train to Gwangju. The train runs 17 times a day from 6:05am to 11:10pm. The Mugunghwa (second class) train costs 21,400 won and takes 4 hours and 20 minutes. The Saemaeul (first class) train costs 31,700 won and takes 4 hours and 10 minutes. The KTX (express train) costs 35,900 won and takes 3 hours. -> From Gwangju station, take the bus to Jangheung. The bus runs 23 times a day from 6:50am to 9:50pm. -> From Jangheung Intercity Bus Terminal, take the country bus to Yuchi. The bus runs 12 times a day from 6:20am to 6:40pm.


By bus
From Seoul Central City Express Bus Terminal, take the express bus to Jangheung. The bus runs 4 times a day at 8:00am, 8:50am, 3:40pm and 4:50pm, and takes 5 hours. The premium bus costs 29,200 won and the regular bus 19,700 won. -> From Jangheung Intercity Bus Terminal, take the country bus to Yuchi. The bus runs 12 times a day from 6:20am to 6:40pm.


Travelers Tips
Jangheung region's attraction lies in its enchanting nature rather than entertainment facilities, so be prepared to do without some of the modern conveniences and facilities for the duration of your stay there. When traveling through Jangheung, relax, enjoy pristine nature, and experience the region's fascinating ecology.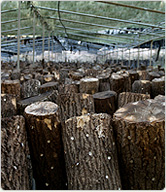 Gathering shiitake mushrooms and feeding beetles in Banwol Village will give you unforgettable memories. At Banwol Village, visitors have the chance to learn about farming beetles, long-horned beetles, freshwater crayfish and fireflies through a variety of programs, including feeding the insects, taking a tour around the breeding farm, making a kit for beetle breeding, and the educational class on breeding theories for the insects.
The duration of the entire program lasts about 4 hours. Snacks are given to participants. Contact us in advance for a hands-on tour to experience beetles. The program might not be available in English, but participant should still be able to enjoy Yuchi's fascinating ecology.


For farming experience inquiries: +82-61-862-6720
For general inquiries: +82-61-1330
(service available in Korean, English, Japanese and Chinese)