The Slow City movement (or Cittaslow movement) originated in Greve, a small town in the Chianti region of Northern Italy, and it received a sensational response from urban dwellers hungry for an escape from their daily chase around the clock. The word "slow" here actually means more than simply the opposite of the "fast." It implies a connection to nature, a respect for the environment, taking the time to appreciate things like the change of seasons, taking life a little easier, and making time for genuine soul-searching.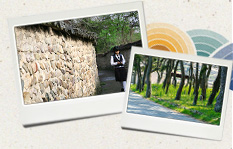 The meaning of a slow life is also conveyed in the manifesto of Cittaslow, the international network of Slow Cities. It explains that a slow life also means freely strolling around, listening, doing nothing or even daydreaming, contentedly waiting, soul-searching and pursuing "an analogue way of life". Above all it means rejecting the faster, fiercely competitive lifestyle of the modern digitalized world.
A city needs to possess certain characteristics in order to be designated a Slow City. Even if a city's pace of life is slow, this is not enough. For example, Slow Cities should have no more than 50,000 residents, should have local specialties that are made in the old way, without using machinery, and the city's traditional heritage should be well-preserved. The town should have no fast food stores or large discount stores, and genuine local dishes should be available. As of Spring 2009, only 111 cities in 16 countries had made the grade, indicating the difficulty in becoming a Slow City. Since 2007, eight places in Korea have been designated Slow Cities. These are Jeungdo district in the Sinan region, Cheongsando district in the Wando region, the Jangheung region of Jeollanam-do province, the Hadong region of Gyeongsangnam-do province, Changpyeong district in the Damyang region, Yesan region of Chuncheongnam-do province, Joan-myeon in Namyangju-si City, and Jeonju Hanok Village. A Slow City is one of the best places to discover the genuine flavors of Korea's traditional culture. Read on to find out more about the treasures waiting for you in Korea's Slow Cities.