Gwangyang International Maehwa Festival (광양매화축제)
Gwangyang Internatio...

Period
03.14.2015 ~ 03.22.2015
Address
55, Jimak 1-gil, Daap-myeon, Gwangyang-si, Jeollanam-do
전라남도 광양시 다압면 지막1길 55
Location
Seomjin Village and its vicinity.
Telephone
• 1330 Travel Hotline: +82-2-1330 (Korean, English, Japanese, Chinese)
• For more info: +82-61-797-3714, 3715 (Korean only)

VisitKorea does not guarantee the quality of products or services introduced on its site and is not responsible for any direct or indirect losses resulting from use of said products or services.
Sponsors / Management
Gwangyang-si / Gwangyang International Maehwa Festival Organization Committee
Introduction
Gwangyang International Maehwa Festival takes place in Seomjin Village, home of the largest number of apricot blossom trees in Korea. During the festival period, visitors can enjoy the walk beneath the apricot blossoms, and also sample and purchase local organic apricot products.
Transportation
[Bus]
From Dong Seoul Bus Terminal, take an express bus to Gwangyang (광양) Terminal. (Bus schedule: 06:30-22:10, 1hr intervals)
Upon exiting from the terminal, take a taxi to Seomjin Village. (During the festival period, shuttle buses run between Gwangyang Terminal and Seomjin Village.)
Event Map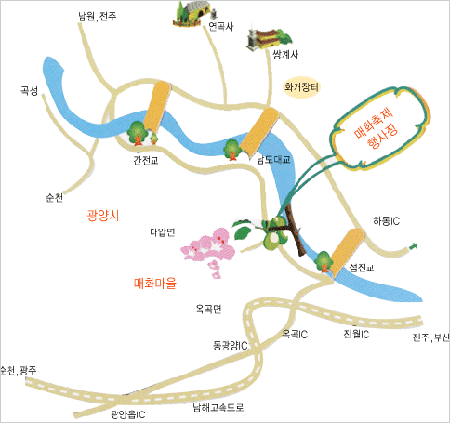 Homepage
gwangyang.go.kr/
(Korean, English)