Spring Festival of The Garden of Morning Calm (아침고요수목원 봄나들이 봄꽃축제)
Spring Festival of T...

Period
04.18.2015 ~ 05.31.2015
Address
432, Sumogwon-ro, Sang-myeon, Gapyeong-gun, Gyeonggi-do
경기도 가평군 상면 수목원로 432 (상면)
Telephone
• 1330 Travel Hotline: +82-2-1330 (Korean, English, Japanese, Chinese)
• For more info: +82-1544-6703

VisitKorea does not guarantee the quality of products or services introduced on its site and is not responsible for any direct or indirect losses resulting from use of said products or services.
Sponsors / Management
The Garden of Morning Calm / The Garden of Morning Calm
Introduction
The Garden of Morning Calm is one of Korea's major botanical gardens, attracting about 700,000 tourists from home and abroad annually. The garden aims to promote the beauty of Korean flowers and plants to the world. They also play a huge role in developing Korea's garden culture.

Every year during the Garden of Morning Calm's Spring Festival, the garden is covered with a rich tapestry of color from the thousands of flowers and trees in full bloom. From the promenade surrounded by a refreshing pine grove, to the 330,000-square-meter flower garden, the entire arboretum overflows with nature's beauty and grace. In addition, the garden holds a range of exhibitions, cultural events and educational programs during the festival.
Performance Times
8:30 ~ 20:30 (Last admission is 19:30.)
Admission/Participation Fees
- Adults: 9,000 won
- Student: 6,500 won
- Children: 5,500 won

* Refer to the homepage to see more information.
Duration of Performance
About 1 hr 30 min – 2 hrs
Additional Events
[Hands-on activities]
Period: April 13 - October (activities may be canceled during bad weather conditions)
Venue: Activity area in front of the audiovisual room
Time: 10:00-16:00 / Saturday-Sunday, national holidays: until 17:00
Type of activity: Making natural soap, topiary, wood pipe
Age Limit
Open to all ages
Transportation
[Bus]
From Sangbong Bus Terminal or Dong Seoul Bus Terminal take a bus bound for Cheongpyeong Bus Terminal.

OR

Take bus 1330 at Cheongnyangni Transfer Center (in front of Lotte Department Store) and get off at the Cheongpyeong Bus Terminal.

From Cheonpyeong Terminal, take a bus bound for The Garden of Morning Calm (아침고요수목원).

[Subway]
Cheongpyeong Station (Gyeonchun Line), Exit 1.
Go left until you reach the 3-way intersection and turn right. Continue straight toward the Cheongpyeong Catholic Church. Pass by Cheongpyeong Elementary School, turn left, and you will see the Cheonpyeong Bus Terminal.
From the terminal, take a bus bound for The Garden of Morning Calm.

※ Click here for the bus timetable.
Event Map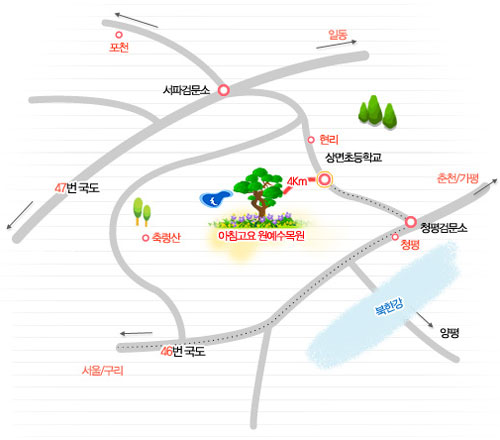 Fax
+82-31-584-9769