Daejeon World Cup Stadium (대전월드컵경기장)
Daejeon World Cup St...

Notices
On Friday August 15, 2014, a mass is taking place to celebrate the Assumption of the Blessed Virgin Mary. This event is going to be held at Daejeon World Cup Stadium and will also commemorate National Liberation Day.
Address
32, World Cup-daero, Yuseong-gu, Daejeon (Noeun-dong)
대전광역시 유성구 월드컵대로 32 (노은동)
Inquiries
• 1330 Travel Hotline: +82-2-1330
(Korean, English, Japanese, Chinese)
• For more info: +82-42-610-2900
Homepage
djsiseol.or.kr (Korean, English)

VisitKorea does not guarantee the quality of products or services introduced on its site and is not responsible for any direct or indirect losses resulting from use of said products or services.
Introduction
Daejeon World Cup Stadium is one of the stadiums where games during the 2002 World Cup Korea/Japan was held. The stadium can accommodate up to 42,000 fans. Korea advanced to the quarterfinals on this field and is still frequented by many when World Cup or Olympic games are broadcasted.
Administration
+82-42-610-2900
Structure Size
-Site area: 169,769㎡
-Total ground area: 100,689.92㎡
-Building structure: rectangular (205.2m × 168.3m)
-Capacity:
 1) Main stadium
  Area: 105m × 68m
  Number of seats: 40,535 (including 274 seats reserved for the handicapped)
  Parking spaces: 1,757 lots (underground level 478, above ground level 1,279)
 3) Electronic scoreboard: 2 (29m × 9.2m)
 4) Entrance (ticket inspections): 12 gates (36 inspection stalls)
 5) Exits: 55 gates
Rental Fees
For more details, visit the official website.

※ Public Relations Office
 Inquiries: +82-42-610-2900
 Office hours: 09:00 - 18:00 (Mon – Fri), Closed on national holidays.
Parking fees: Free (Namkwan (South Gate) Parking Lot)

※ Transportation
(Deajeon Metropolitan City Facilities Management Corporation Administration Office)
  Inquiries: +82-42-610-2900
  Fax: +82-42-610-2999

Directions
[Subway]
Get off at World Cup Stadium Station (Deajeon Metro Line 1), Exit 7.
The stadium can be seen from the exit.

[Bus]
Get off at Cheonnyangwon Childcare Center Bus Stop when using the following local buses.
*101 (Ansan Final Bus Stop - Daesung Daeseong Girls' Information Science High School)
*109 (College of Agriculture, Chungnam National University - Daepyeong-ri)
*114 (Wonnae-dong Bus Garage - Korea Baptist Theological University)
*116 (Ansan Final Bus Stop - Jugong Apt., Wolpyeong)
*121 (Toplip - Daeduck University)

※ Refer to the official website for more details.
Map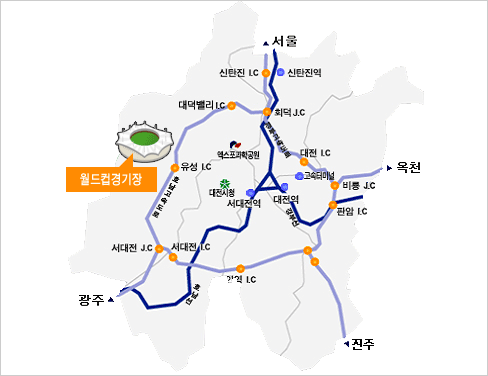 Related Tour Packages
Data not found