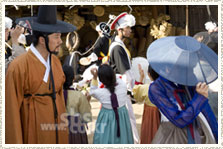 Directed by: Jang Taeyu, Jin Hyeok


Starring: Park Shin-yang, Moon Geun-young


Broadcasting Company: SBS


Aired: September 24, 2008~December 4, 2008


Website: http://tv.sbs.co.kr/hwawon/(KOR)
The drama takes us back to the 18th century Joseon era. Kim Hongdo is the royal court's best but most controversial painter. When he starts to teach Yunbok, he is stunned by the young painting student's huge talent. The two work together on many projects and develop a close bond. One day Hongdo and Yunbok receive a secret order from the king to investigate the murder of the painter, Seojing, who used to be a close friend of Hongdo. As they start to unravel the mystery, Hongdo begins to realize that Yunbok is actually a woman disguised as a man so she can be a court painter, and that Seojing was her father.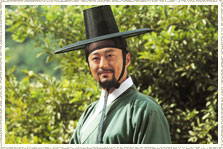 Kim Hong-do performed by Park Shin-yang
An unrivaled painter of the time, Hong-do always has people lining up to buy his paintings. His pride and his obstinacy continually gets him in trouble, as does his habit of challenging Joseon's art society. However, the King recognizes Hongdo's talent and unique vision and intervenes to save his favorite artist. At times he is jealous of Yunbok's talent, but he is startled by his attraction to her, even though at first he doesn't realize she is a woman.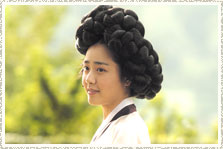 Shin Yunbok performed by Moon Geun-young
When she was young, her parents were murdered and then her adoptive father, realizing her extraordinary talent, disguises her as boy so she can become a painter in the royal court. She is rather emotional and loves her freedom, so she often breaks the rules and gets into trouble. However, she grows stronger under the training of Hongdo. As she and Hongdo start to unravel the mystery of her father's murder, Yunbok finds herself falling in love with him, but her long disguise as a man leaves her confused about her feelings.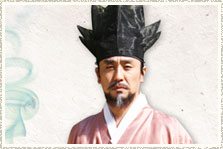 Kim Jonyeon performed by Ryu Seung-ryong
Jonyeon was born into a poor family and then abandoned by his parents at birth. However, he developed an exceptional talent for making money, due to his good intuition and decisiveness, and became one of the richest merchants of the time. He learned to appreciate works of art while traveling to foreign countries, and when Yunbok is kicked out of the royal court, he becomes her sponsor. He is also the owner of Jeonghyang, the most famous and beautiful gisaeng of the time, who actually has a close relationship with Yunbok. As the drama develops, we discover that Jonyeon has sinister links to the royal court, and was involved in the murder of Yunbok's father so long ago.

Mureung Valley

Located in the Buan region of Jeollabuk-do province, the Mureung Valley possesses spectacular scenery consisting of unusual rock formations, green valleys, and waters so clear that even the pebbles at the bottom can be seen from high above. This is the setting for the first scene of the drama, when Yunbok and the other students at the royal court go on a painting field trip. While there, they are entranced by the sight of three beautiful gisaeng riding horses across the bridge. This was also filmed in Mureung Valley on the way to Samhwasa temple. This area is also know as Mureung Dowon (the Mureung utopia) and contains many scenic hiking trails. A one-hour trail will take you from Mureungbanseok rock to Samhwasa temple, Dutasanseong fortress, and Dutasan mountain, whilst those looking for something more challenging can try the seven-hour trail, which takes you past Mureungbanseok rock, Sanhwasa and Gwaneumsa temples, Gojeok-dae, and Dutasan Mountain. Since Chuam and Mangsang beaches are located nearby, this is a good destination for a summer vacation.


Tourist Information Center: +82-33-1330 (KOR, ENG, JAP, CHI)


Admission fee: 1,500won


Getting There: From Cheongnyangni train station take a train to Mukho (07:00, 09:00, 12:00, 14:00, 17:00, 22:40, 5 hours 50 minutes ride)->From Mukho station get on a bus for Mureung Valley (runs every 30 minutes, 50 minute ride) ->Get off at the Mureung Valley stop and start climbing one of the trails!


Namyangju Studio Complex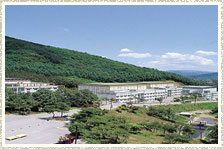 A number of scenes from the drama were filmed on at the Namyangju Studio Complex, which was originally built for the movie Chihwaseon. This was the setting for the linen shop where Yunbok first meets the gisaeng, Jeonghyang, the scene where she buys a norigae accessory in the market was also filmed here, as well as the scene with the girls making rice cakes on Dano Day. The studio complex also contains a film set for the movie <Duelist> (which starred Ha Jiwon and Kang Dongwon), a reproduction of Panmunjeom from the movie <Joint Security Area>, a nobleman's hanok (traditional house), and a set for a subway station in Seoul. The complex also contains facilities for visitors to watch movies and exhibition halls. Visitors are advised to bring food with them since there are no dining facilities in the complex.


Address: Sambong-ri 100, Joan-myeon, Namyangju-si, Gyeonggi-do, Korea


Inquiries: +82-31-5790-605


Admission fee: 3,000won


Opening hours: March through October 10:00~18:00, November through February 10:00~17:00 (Closed Mondays)


Getting There: Take the Jungang subway line to Ungilsan station->Take the free shuttle bus for Namyangju Studio Complex (departs at 08:50, 11:25, 13:25, 14:25, 15:25, 10 minute ride)


Dosan Seowon (Confucian School)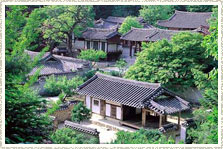 This is the location for the scene when Yunbok bumps into Kim Hong-do. When she realizes he is the famous painter, she almost falls down the stairs with the folding screen she is carrying, and Hong-do comes to her rescue. There is an emotionally charged moment when they both look into each other's eyes, which hints at the future of these two painters. This was filmed at the Dosan Seowon in Andong, which was originally built by King Seonjo in 1574 in commemoration of the prominent Confucian scholar Lee Hwang. The Confucian school buildings are modest and simple in appearance. Their total lack of decorations gives them a dignified air, and they blend in with the beautiful natural surroundings.


Address: Togye-ri 680, Dosan-myeon, Andong-si, Gyeongsangbuk-do, Korea


Tourist Information: +82-54-1330 (KOR, ENG, JAP, CHI)


Website: http://www.dosanseowon.com/ (KOR, ENG, JAP, CHI)


Admission: 1,500won


Opening hours: March~Oct 10:00~18:00, Nov~Feb 10:00~17:00


Getting There: From Andong Station take bus 67 to the downtown area (09:40, 10:50, 13:10, 16:20, 40 minute ride) -> Get off at Dosan Seowon


Korean Folk Village


This is where the houses of Kim Jonyeon and Yunbok's foster father were filmed, as well as the scenes of Yunbok's imprisonment. Located in Yongin, the Korean Folk Village is a short drive from Seoul and is an outdoor reproduction of life during Korea's Joseon dynasty. Visitors here can see traditional stores, noblemen and peasants' houses, as well as enjoying traditional folk performances. There are also plenty of hands-on activity programs held here. Museums, art galleries, and children's parks are also located nearby, making the village a good destination for a day trip. It is a popular filming location, and so visitors might even be able to see a drama or movie being shot here.


Address: Bora-dong 107, Giheung-gu, Yongin-si, Gyeonggi-do, Korea


Inquiries: +82-31-288-0000


Website: http://www.koreanfolk.co.kr/ (KOR, ENG, JAP, CHI)


Admission Fee: Admission 12,000won, Folk Village Package 15,000won, Free Pass 18,000won


Getting There: Take subway line 1 to Suwon station and take exit no. 4 -> Within 50m of the ticket office, you will find the Tourist Information Center, and from here you can take the free shuttle bus (departs 10:30, 11:30, 12:30, 1:30, 2:30, five trips daily, 30minute ride)

*Photos courtesy of SBS