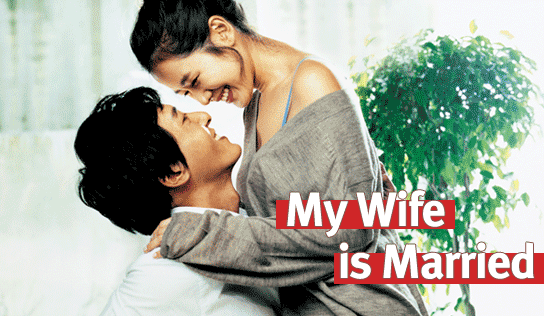 The film, <My Wife is Married>, has a rather unconventional story, and some scenes were even regarded as unsuitable for teenagers and younger children. The film is based on a best-selling novel of the same name and tells the story of a wife who decides to get married a second time, ignoring the fact that she is already married! The movie features realistic and refreshing characters, and actress Son Ye-jin is the center of attention. Son Ye-jin's bouncy charm shines throughout the movie and creates a lighthearted atmosphere, offsetting the seriousness of the storyline. Son Ye-jin's innocence and sexiness is well complimented by a passionate performance from heartthrob actor Kim Ju-Hyeok.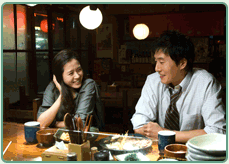 ● ● Film Information
Release Date: October 23, 2008
Director: Jeong Yun-su
Cast: Son Ye-jin, Kim Ju-hyeok
Genre: Romance
Running Time: 119 minutes
Homepage: http://www.2husband.co.kr/ (Korean)


● ● Film Synopsis
One day Deok-hun jumps onto the subway train seconds before the doors close and fatefully bumps into In-ah. Deok-hun had met In-ah one year earlier, when he was working at her office as a freelance programmer. He was immediately struck by her cute face and charming personality, but back then he'd never had the courage to talk to her. However, Deok-hun discovers they have a common interest in soccer, and he asks her out on the date of his lifetime. But dating the free spirited In-ah is not easy, and Deok-hun spends most of his waiting for her phone calls. Eventually, after she openly admits to sleeping with another man, he breaks up with her, but life without her isn't as easy as he thought it would be. He proposes to her in the middle of the World Cup Game and is happily enjoying their married life, when In-ah suddenly announces that she wants to marry another man!


● ● Character Introductions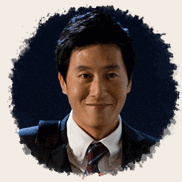 No Deok-hun played by Kim Ju-hyeok
No Deok-hun is a sincere romantic who, if given one wish, would wish for In-ah to give her whole heart to him. He promises to respect In-ah's personal decisions in order for her to accept his love, but he can't seem to stop thinking about her and wanting to know what she is doing. When In-ah announces she wants to marry another man, Deok-hun becomes very jealous. However, he talks to her and tries to understand her, and eventually he gives in and approves of her second marriage.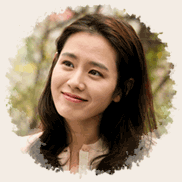 Ju In-ah played by Son Ye-jin
Ju In-ah is a free-spirited person. She doesn't believe she could love just one person for the rest of her life, so she decides that she will never get married. She has a wild enthusiasm for Spain's famous soccer club, F.C. Barcelona, and she even has a very unique hobby of collecting antique books because she adores their smell. In-ah is an extremely attractive woman, who is beautiful, charming and smart. She believes that if you share your love, it will grow two fold. Though she is happy in her marriage to Deok-hun, she decides on the shocking idea of marrying another man in order to create even more happiness.


● ● Filming Locations



Mauna Ocean Condo
In-ah choses this condiminium complex for her own personal residence. After she falls in love with Jae-gyeong, who she met when they worked on a project together, she begins her second married life here. Deok-hun sees In-ah and Jae-gyeong living together here and enters the house in a violent terror. This quiet and peaceful residential resort is located in Gyeongju, 500 meters above sea level. The many cozy villas create an atmosphere of an idyllic countryside garden. The resort is divided into villa-style condos and separate condos, which have incredible panoramic views over the ocean. This movie was filmed in a separate condo. The lime-plastered terrace house and bright white tones of the condo's exterior resembled a European country house. An 18-hole golf course is part of the complex, making the Mauna Ocean Condo perfect for golfers. Visitors also can stay in these idyllic condos. Reservations are required and can be made only by phone.

Address: Gyeongsangbuk-do Gyeongju-si Yangnam-myeon Sindae-ri San 140-1
Tourist Information Center: +82-54-1330 (Korean, English, Japanese, Chinese)
Reservations and Inquiries: +82-54-740-0500 (Korean, English)
Homepage: http://www.mauna.co.kr (Korean)
Rates: 152,000 won ~ 420,000 won (rates may vary depending on peak seasons, low-demand seasons, and size of the condo)
Directions: From the Gangnam Express Bus Terminal go to the Gyeongju Express Bus Terminal -> take a taxi to the Mauna Ocean Condo (est. travel time of 30min, 30,000 won ~ 40,000 won)
Ulsan Bus Terminal -> take a taxi to the Mauna Ocean Condo 20,000 won ~ 25,000 won, est. travel time of 30min

Nashville Steak House
The Nashville Steak House is a homemade hamburger restaurant in Itaewon. This is where Deok-hun confides in his friend about his complicated marital situation, and also where he meets his secret lover. This well-known restaurant has delicious food and a very casual atmosphere. There is a pool table at the center of the restaurant for diners to enjoy. The Nashville Steak House is a must for all those people who are craving good American food during their stay in Seoul.

Contact: +82-2-798-1592 (Korean, English)
Address: Seoul Yongsan-gu Itaewon-dong 128-9
Directions: Subway Line 6 Itaewon Station Exit #4 -> enter the Yuyeong Shopping Center alleyway and the restaurant will be located on the second floor


Beotigogae Subway Station
This is the location where the memorable first scene of the movie was filmed. Deok-hun rushes down the stairs to catch the subway train and fatefully runs into In-ah. The Beotigogae Station on Subway Line 6 is well-known since it has the longest escalators in Korea. You never know, just like the stars of the film, you might meet a long lost love as you go down the 43.1-meter long escalators.

Tourist Information Center: +82-2-1330 (Korean, English, Japanese, Chinese)
Directions: Subway Line 6 Beotigogae Station



Olympic Park
Here, Deok-hun and In-ah enjoyed a romantic stroll underneath the blooming cherry blossoms. In-ah hands Deok-hun a leaf, saying he should hand her a leaf if she ever becomes distant from him, but Deok-hun gets angry with her for talking about separation. It is from this point that their relationship begins to get shaky. Olympic Park is the perfect place to enjoy the beauty of spring. The park is located in the middle of the bustling city, and is always filled with citizens enjoying a walk or exercising.


Incheon International Airport
Incheon International Airport is the gateway to Seoul, and is also the scene where the two men both leave together, carrying their bags, after receiving a postcard from In-ah, who is in Spain. This airport has been a film location for many movies and dramas, and also provides a variety of convenience facilities including a hospital, pharmacy, shopping center, and more.


Seoul Plaza
Seoul Plaza is located in front of Seoul City Hall and was where over a million of spectators gathered for to support the Korean team during the 2002 Korea Japan World Cup. People all over the world saw photos of the waves of Red Devils soccer fans that filled the Seoul Plaza. Soccer fans Deok-hun and In-ah were filmed here excitingly cheering on the game, and this was also the location where Deok-hun proposed to In-ah. Seoul Plaza is a large, round grass area right in the center of Seoul. The historical sites of City Hall, Deoksugung Palace, and Gwanghwamun are located nearby, along with the Lotte Department Store and Cheonggyecheon Stream.