In the drama <East of Eden> actors Yeon Jeong-hun and Song Seung-heon made their eagerly anticipated return to Korea's TV screens, after their absence for military service. Men and women of all ages enjoyed this drama, which had high quality production values and was partially filmed overseas. It was also set in a casino, which provided plenty of action and a thrilling storyline. A strong cast of talented actors helped make this drama a big hit in Korea.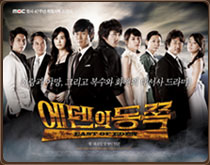 Broadcast Station: MBC
Broadcast Dates: August 26, 2008 ~
Director: Kim Jin-man
Cast: Song Seung-heon, Yeon Jeong-hun, Lee Da-hae, Park Hae-jin, Han Ji-hye
Homepage: http://imbc.com/broad/tv/drama/eastofeden (Korean)
The wives of Shin Tae-hwan and Lee Gi-cheol, a mineworker, have their babies on the same day at the same hospital. On that day Tae-hwan's ex-lover was working as the nurse, and in order to take revenge on Tae-hwan she decides to switch the babies.
Tae-hwan is the son-in-law of a wealthy family, and when he starts to believe that Gi-cheol is raising opposition to him, he kills Gi-cheol and pretends that it was an accident. Gi-cheol's wife, Chun-hee demands compensation as she now has to raise their two sons, Dong-uk and Dong-cheol, on their own, but instead Tae-hwan burns down her house.
Dong-uk, who unbeknownst to everyone is actually Tae-hwan's real son, takes revenge by burning down Tae-hwan's house, but it is his older brother, Dong-cheol, who is sent to the juvenile reformatory in his place. Dong-cheol grows up to be a gangster, and eventually Donk-uk leaves Korea to escape from Tae-hwan's tyranny.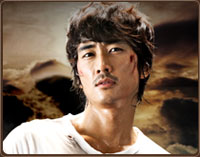 Lee Dong-cheon played by Song Seung-heon

After his father is killed by Shin Tae-hwan, Lee Dong-cheon vows to avenge his father's death, but he is soon forced into a juvenile reformatory, which is a very difficult period in his life. After going through several near-death experiences, he moves to Hong Kong and makes a living doing physical labor. Then one day, he becomes the right-hand man to a casino boss named President Guk and returns to Korea. Dong-cheon's family is very important to him, and he particularly loves his studious brother Dong-uk. Though he has a hasty and fiery personality, he is an extremely warm person to the people he loves.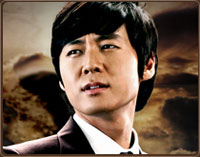 Lee Dong-uk played by Yeon Jeong-hun

Though he was born with Shin Tae-hwan's blood, he was raised by Lee Gi-cheol, and he believes that Lee Gi-cheol was his father. This leads him to confront Tae-hwan, who is responsible for Gi-cheol's death. Lee Dong-uk is extremely intelligent and is accepted into Korea's top law school as the top scholar. Even in times of difficulty, he is able to withstand adversity and grows into an honest man.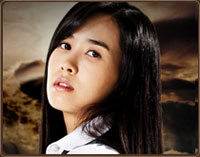 Min Hye-rin played by Lee Da-hae

Min Hye-rin is the second daughter of the President of Daehanilbo, the newspaper conglomerate, and was born as the result of an affair. Her personality is the complete opposite of her older sister, Hye-ryeong. She is very ambitious and graduated from Seoul National University's law school at the top of her class. Although she meets her first love, Dong-uk, in a mountain neighborhood, she then steals her sister's lover in order to further her own ambitions. In some ways she's an evil woman, but in some ways she can be sincere and genuine. Many men find her attractive.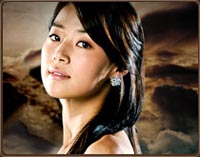 Ji-hyeon played by Han Ji-hye

Ji-hyeon is the granddaughter of the stationmaster Hwang-ji. She and Dong-uk and Dong-cheol grew up together. Although she is devoted to Dong-uk, her first love, she is forced to become Shin Myeong-hun's wife after becoming pregnant with his child. She develops a strong talent in hotel management, and thus earns the love of President Oh. Even though Ji-hyeon becomes a powerful businesswoman running the Taesung Group, she always maintains her childhood innocence and pure mind.
* Hapcheon Image Theme Park & Suncheon Open Set Location
<East of Eden> was mainly filmed at the Hapcheon Image Theme Park and the Suncheon Open Set Location, which are Korea's two main historical drama filming locations. They served as a variety of locations in the drama, including the coal mining town where the young brothers first live, and the mountain neighborhood where Dong-uk lives with his family after Dong-cheol leaves.
These set locations were used to reproduce 1930s to 1960s Seoul, portraying the harsh living conditions of the citizens who used to live in the mountain neighborhoods. The old worn houses, small alleyways, and even the shops that sold charcoal briquettes are constructed just like they looked in the old days.
Even the famous Bank of Korea building has been reconstructed to realistically portray the heart of Seoul. Visiting the Hapcheon Image Theme Park and the Suncheon Open Set Location is a must for all fans of <East of Eden> . The Hapcheon Image Theme Park has even constructed a special <East of Eden> set location.
Hapcheon Image Theme Park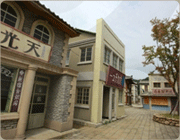 Tourist Information Center: +82-55-1330 (Korean, English, Japanese, Chinese)
Contact: +82-55-930-3756
Address: Gyeongsangnam-do Hapcheon-gung Yongju-myeon Gaho-ri 1
Park Hours: March~October 9:00am~6:00pm, November~February 9:00am~5:00pm
Admission Fee: 2,000 won
Directions: From the Nambu Terminal take a bus headed towards Hapcheon (10:08am, 12:00pm, 2:00pm, 3:00pm, 4:45pm, 5 buses daily, est. travel time of 4hrs 30min, 22,700 won) -> from the Hapcheon Bus Terminal take a bus to the Image Theme Park (8:10am~7:30pm, 12 buses daily, 1,100 won, est. travel time of 15min) -> get off at the Hapcheon Image Theme Park bus stop
* You may also take a taxi from the Hapcheon Bus Terminal; est. travel time of 10min, 10,000 won

Suncheon Open Set Location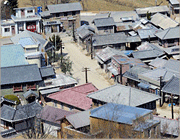 Location: Jeollanam-do Suncheon-si Jorye-dong 22
Contact: +82-61-749-3742
Hours of Operation: 9:00am~6:00pm
Admission Fee: 3,000 won
Directions: From Yongsan Station, take a train towards Suncheon (5:25am~10:50pm, 13 trains daily) -> from Suncheon Station take a taxi to the Open Set Location(est. travel time of 10min, 4,000 won)
* Seven Luck Casino
The Seven Luck Casino, located in Gangnam, is a vital location in <East of Eden> and should not be missed by fans. This is a special casino for foreigners, and its beautiful Korean interior and fully equipped state-of-the-art facilities, make it one of Gangnam's main entertainment destinations. The casino offers fifty-nine casino table games and a hundred and ten of the latest game machines, allowing guests to play Black Jack, Baccarat, Roulette, and much more. The Seven Luck Casino has a currency exchange booth and other convenient facilities. Any foreigner with a passport can apply for a Seven Luck Membership Card, and points accumulated on the card can be used to purchase food and drinks at the casino. Attractions near the casino include the COEX Mall, Hyundai Department Store, the Intercontinental Hotel, Oak Wood Apartment, Bongeunsa Temple, and more. There is a shuttle bus service that connects the Seven Luck Casino Gangnam Branch to the Millennium Seoul Hilton.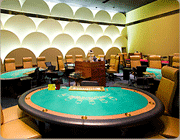 Address: Seoul Gangnam-gu Samseong-dong 159 Convention Annex
Contact: +82-2-3466-6100
Homepage: http://www.7luck.com/ (Korean, English, Japanese, Chinese)
Directions: Subway Line 2 Samseong Station Exit #5, 6 -> pass the Hyundai Department Store, then make a right and walk 100 meters to see the casino to your right
☞Click here to see the Seven Luck
Photos courtesy of MBC