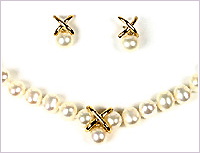 Precious jewels such as dazzling diamonds, gold, and elegant pearls can render a person merciless to their beauty. Koreans are especially interested in fashion and beauty, making precious jewels and metals, without a doubt, extremely important elements. Shopping for precious jewels and metals is a popular leisure activity. However, the trends are changing. In the past, people preferred expensive and large jewels, whereas today, more people prefer simple and practical jewels. The consumers are no longer middle-aged, but a younger generation that has now taken over.

Shopping areas for precious jewels and metals can be divided largely into three locations. Luxurious top quality jewels can be found in department stores. Less-pricy and more affordable shopping can be found in retail stores like Minigold and Lloyd with products in the mid-price ranges. Wholesale stores are popular for soon-to-be-wed couples looking for affordable quality jewelry for their wedding.

Therefore, let's compare the prices and the quality of products at the three shopping places mentioned above.



[Price Comparison]

Because jewel products usually are not manufactured in common designs, it is almost impossible to set a price standard for comparison. For that reason, as the next best price comparison standard, we will look at the price of a woman's simple 14k gold band weighing about 3.7kg, most commonly sold in all three types of stores.

[As of February 2007]
| | | |
| --- | --- | --- |
| Department Stores | Lloyd, Minigold, Retail Stores | Wholesale Stores |
| 180,000 ~ 220,000 won | 90,000 ~ 120,000 won | 70,000 ~ 80,000 won |



● Department Stores

: Here, the quality of the products is guaranteed, but very expensive. (A fixed price system)


● Retail Stores

: Price range falls between department store and wholesale store prices. (A fixed price system)


● Wholesale Stores

: Most affordable prices are offered because the products come directly from the factory. If you have strong negotiating skills, try shopping at a wholesale store. You can bargain for a slightly cheaper price depending on how well you talk.

[Design & Quality Guarantee]

● Department Stores: Department stores offer the most definite product quality guarantee. Also, department stores house a large variety of luxury jewelry brands. If you prefer luxury brands, shop in one of the department stores. The design quality is guaranteed, but the design range is wider in wholesale stores.

● Retail Stores: The most popular retail stores are Minigold and Lloyd, followed by various individual retail shops. Minigold and Lloyd are the largest retail chains, and they offer product quality guarantees. The variety of product designs is also quite large, and is targeted primarily to the younger generation. Other local retail stores offer product qualities similar to that of wholesale stores, and the customers are usually made up of middle-aged groups and older. There are retail shops specializing in luxury jewelry in the Gangnam, Cheongdam-dong and Apgujeong areas, noted for their quality design and products.

● Wholesale Stores: Small wholesale shops are housed in one large building complex. The numerous shops offer a wide range of designs to choose from. The range of designs offers more variety than the department stores and retail stores. The quality of products is usually credible, but the quality of precious stones like diamonds is not as high as those sold in department stores.