Traditional Markets in Korea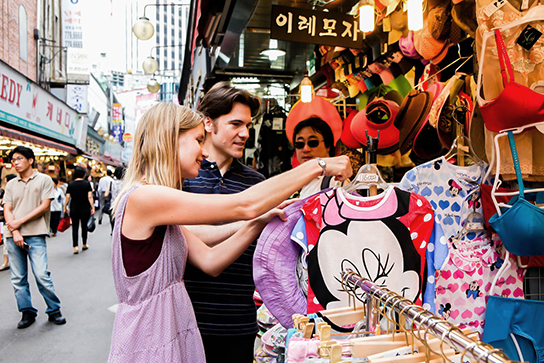 Photo: Tourists shopping at Namdaemun Market
Traditional markets in Korea offer a variety of unique scenes every day. Marketplaces bustle with life, activities, and the voices of vendors bargaining with customers. These traditional markets provide a livelihood for many Koreans. Vendors serving customers no matter the weather, the culture of "deom" (adding additional items to the purchase for no extra charge), and affectionate haggling are a few of the unique aspects of the Korean marketplace culture.
Popular Traditional Markets in Seoul
There's no better place to get a taste of real Korean life than the market. The biggest and most popular markets in Seoul are Namdaemun Market and Gwangjang Market, which not only sell Korean comfort foods, but also bustle with vendors of all kinds. When looking for place to either shop or eat, a visit to one of these Korean marketplaces is a must!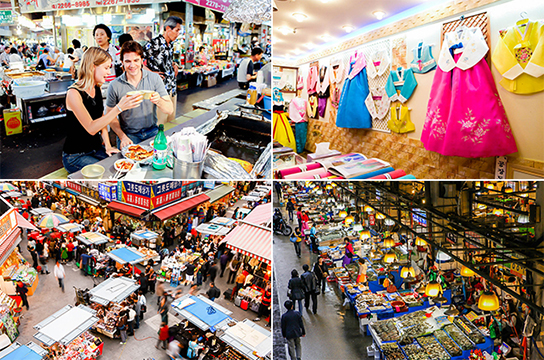 Photo: Tourists enjoying snacks at Gwangjang Market (top left) / Hanbok specialty stores at Gwangjang Market (top right) / Namdaemun Market (bottom left) / Noryangjin Fisheries Wholesale Market (bottom right)
Opened in 1964, Namdaemun Market is the largest traditional market in Korea with various goods in store. All products are sold at affordable prices and the stores in this area also function as a wholesale market. Selling variety of clothes, glasses, kitchenware, toys, mountain gear, fishing equipment, stationery, fine arts, accessories, hats, carpets, flowers, ginseng, and imported goods, coming almost 1,700 items in total, this site becomes just right for fun of scavenger hunt! Famous comfort foods like guksu (noodle), jokbal (steamed pig trotters) and galchi-jorim (braised cutlessfish) are not to be missed, along with nearby attractions (Myeong-dong, Deoksugung Palace, Gwanghwamun Gate) that one can check out!
Gwangjang Market was the first permanent market to be established in Korea and dates back to the year 1905. In its early days, the market only offered agricultural and fish products, but has since expanded its selection of goods to include silk, clothing, fabrics, hanbok, imported clothes, lacquerware, kitchen goods, imported products, fruits and vegetables, dried goods, and items for memorial rituals (food, dishes and other items necessary for performance of memorial services). The market also specializes in traditional wedding items like hanbok (traditional Korean clothing) and pyebaek (wedding food that brides prepare for their future in-laws).

Despite all these products, the first thing that comes to mind when one hears the words 'Gwangjang Market' is food. The endless line of food vendors all along the market pathways is quite unique and each place always has a few people lined up waiting to experience each vendor's mouthwatering delights. The market serves popular comfort foods like bindaetteok (Korean-style pancake made of ground mung beans, pork or beef, and kimchi), gimbap, bibimbap, and sundae (Korean sausage). It has gained more attention in recent years thanks to the appearance made in a popular TV show 'Running Man'.
The Noryangjin Fisheries Wholesale Market is the nation's largest wholesale fish market and boasts a history of more than 80 years. Though the market is open and busy 24 hours a day, the already bustling marketplace really picks up around dawn when the fish auctions begin. The market is connected to Noryangjin Station (Seoul Subway Line 1) by a bridge, meaning that even first-time visitors to Seoul will not have too much trouble finding their way around.

About 800 vendors selling fresh seafood populate the marketplace, offering prices lower than usual prices at big supermarkets. After you make your purchase, you can take your fresh fish to a nearby restaurant to have it sliced raw, grilled, or deep fried for a small fee. Restaurants serve fresh raw fish at much more affordable prices than elsewhere, explaining why the market tends to be popular among locals and tourists alike.
Opened in 1985 as the first public wholesale market in Korea, Garak Market offers independent sections for fruits, vegetables, garlic, fish, dried foods, and meat in a large area. Run by the Seoul Agricultural & Marine Products Corporation, the market is where agricultural and fishery products from around the nation are gathered for distribution and standard prices determined.

The market receives lines of freight trucks filled with fresh food all night long and the auction breaks into a tizzy at daybreak when the fish auctions begin, perhaps though the best time to visit is during evening hours when auctions take place with trucks and merchandises pouring in. Because the market is so big, it may be too time-consuming and tiring to look around the entire market, so make sure to get a map and decide which sections you want to visit.
Popular Traditional Markets Outside of Seoul
Probably only at the Korean marketplace, you will find most older generations manning their stands, ajummas (middle-aged Korean women) hunting for bargains, and groups of young ladies giggling and having fun. A trip to one of the city's busy marketplaces is an ideal place to soak up the genuine spirit of Seoul as an industrialized country with a lot of heart.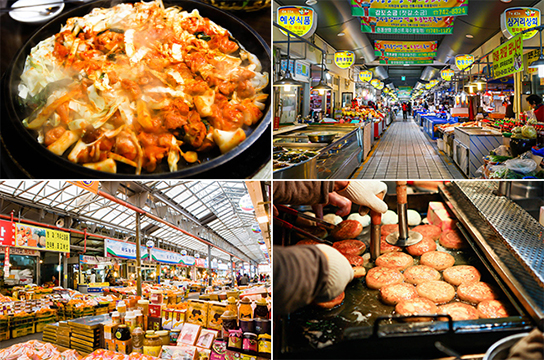 Photos: Dak-galibi at Chuncheon Romantic Market (top left) / Gyeongju Jungang Market (top right) / Jeju Dongmun Traditional Market (bottom left) / Ssiat-hotteok at Gukje Market (bottom right)
Established after the liberation in 1945, Dongmun Market continues to maintain its traditional heritages but took a several different looks in order to maintain a welcoming environment for visitors from inland as well as countries overseas. The market holds prestigious name for providing freshest ingredients caught right from the Jeju's seashores, therefore the market is always abundant with seafood and restaurants specializing in the dish. Being one of the most popular traditional markets in Jeju, Dongmun also serves the region's specialty items such as omegi-tteok (Jeju traditional millet ball cake), gogi-guksu (noodle soup with meat), hallabong (large tangerine with a protruding stem), diver's gears and countless more at inexpensive prices.
The market is very large and has almost everything including foreign products that are hardly seen from elsewhere, hence called 'Gukje (International) Market'. Therefore it is a popular place to go shop for foreign residences in Korea and visitors from abroad. For that reason, the place makes up an interesting mixes of customers making an attractive filming spot for many K-movies, K-dramas, often featuring as a backdrop of popular TV shows as well like '1 Night 2 Days'. Items sold here includes industrial products such as machinery, electronics, kitchen appliances, as well as clothing, food, agricultural products, fish, and dairy goods. Food in particular, it is famous for bibim-dangmyeon (Spicy Glass Noodles), yubu-jeongol (fried tofu stew), and ssiat-hotteok (sweet Korean pancake stuffed with seeds).
Busan's Bupyeong Market is also known as Kkangtong (tin can) Market. It earned that funny name when it had a variety of imported canned goods from the U.S. during the Korean War. Nowadays, the market greets customers with fun events like international food exhibition, exciting street performances, LED light shows and so on, along with extensive items displayed. Jagalchi Market, Yongdusan Park and Bosu-dong Book Street are also located nearby, giving plenty of opportunity for visitors to explore the neighborhood.
Chuncheon Romantic Market (formerly called Jungang Market) is a traditional market in Chuncheon that sells hanbok, bags, shoes, clothes, electronic appliances, jewerly, and food. The market's modern look is a product of a development project that started in 2002. The market also takes steps to attract more visitors by organizing various events and programs.
Jeonju is famous for handful of attractions as it hosts annual Jeonju International Film Festival, and presents beautiful villages filled with traditional charms. In addition to these, another place highly recommended to visit for local and international visitors alike is the city's Nambu Traditional Market. This commercial area was recently added with youthful energy accompanied by Cheongnyeon (Youth) Mall's. It was first introduced in 2011 for the purpose of city's continuous growth and fostering cultural development. Now tourists can not only enjoy delicious kongnamul-gukbap (bean sprout and rice soup) here but impressive changed made by ardent young entrepreneurs.
Recommended for one of the top destinations to go, the Jungang Market in Gyeongju was officially open in 1983. Nearly 700 stores selling clothing, oils, rice cakes, vegetables, general household goods, and other local specialties, the place has been successfully operating for more than hundreds of years. The market is held every fifth day, on 2nd and 7th day of each month, therefore visitors are advised to check and confirm the dates in advance.
Incheon Sinpo International Market
Often referred as a landmark representing Incheon, Sinpo International Market boasts a long history tracing back more than 100 years. The place is nowadays more known for tasty treats, having diverse traditional snacks in addition to the famous dak-gangjeong (sweet and sour chicken), jjinbbang (steamed bun with red bean stuffing), and mandu (dumpling) especially. Adjacent to Incheon Port International Passenger Terminal, lighthouse and a number of public parks where regional festivals and events take place, it is a destination enjoyable for shopping and leisure walk as well.
Paldalmun Market in Suwon is worth noting for its historical reason in particular. It is known to be founded by King Jeongjo of Joseon Era, and located closely to Hwaseong Haenggung Palace and Paldalmun Gate, which functions as the central commercial area as well as main tourist sites of current city of Suwon. It's more or less like any other traditional markets found in Korea, where fair amount of shops and food stalls are stacked one over another. Shoppers enjoy finding vintage items that are not only unique but also cheap, luring hails of customers of both young and old, making an interesting mix of visitors. Due to its convenient location, visitors can also partake in Moonlight Tour at Suwon Hwaseong Fortress and Suwon Hwaseong Cultural Festival held throughout the year.
Seomun Market of Daegu is steeped in history, and by far the largest and the oldest establishment found in the city. The market is sectioned into 6 major districts, housing roughly four thousands vendors and stores in total. It is second to none for offering high quality of fabric-related items like silk, satin, linen, cotton, knitted goods, and men's and women's wear. Visitors will also be delighted to find tasty foods including the famous Seomun's fish cake, dumplings, sujebi (soup with buckwheat dough flakes) and more.
* This column was last updated in August 2015, and therefore information may differ from what is presented here. We advise you to check details from the official websites before visiting.
<Last updated on September 9, 2015>