A Traditional Markets Tour in Korea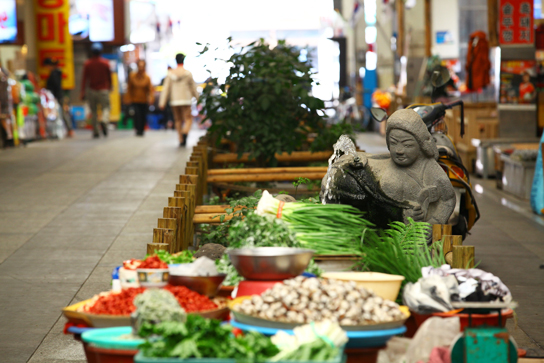 Traditional markets in Korea offer a variety of unique scenes every day. Marketplaces bustle with life, activity, and the sound of voices of vendors bargaining with customers. These traditional markets provide a livelihood for many Koreans. Vendors serving customers no matter the weather, the culture of "deom" (adding additional items to the purchase for no extra charge), and affectionate haggling are a few of the unique aspects of Korean marketplace culture.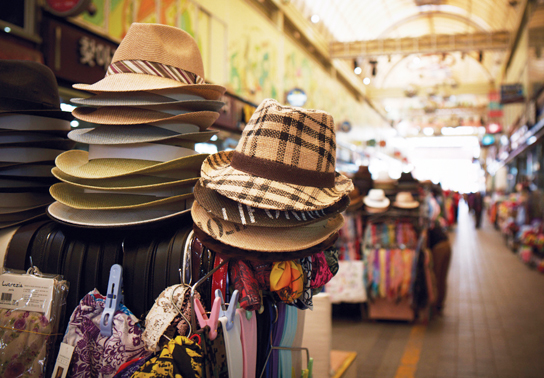 Jeonju is a charming city that brings to mind its local specialties like Jeonju bibimbap and kong-namul-gukbap, as well as its famed tourist destinations like the Jeonju Hanok Village and its yearly film festival. It is a time-honored city that has made its name thanks to its rich history and delicious food. The charming and festive mood of Jeonju are best captured at Jeonju Nambu Market. Opened in 1905, the market has a long history and over the years, it became popular enough to be selected as one of the five major markets in Korea in 1980.
The market spans approximately an 18,840m² area and has a wide variety of stores selling household items, food, marine products, and more. The marketplace is a daily go-to site for citizens of Jeonju and a unique travel destination for tourists. The most vibrant place at Nambu Market is where they sell food like the kong-namul-gukbap (bean sprout rice soup), pi-sundae (Korean sausage), and patjuk (red bean porridge), which is particularly good at the market.
The hanbok (traditional Korean clothes) street is another must-see at Nambu Market. In the past, those preparing for a wedding or other important ceremonies had their hanboks tailored at the Nambu Market. While travelers from overseas may find it difficult to purchase a tailored traditional outfit, you can always purchase a standard size, ready-made hanbok or children's hanbok on site.
On the second floor of the Nambu Market, a delightful space called "Cheongnyeon (Youth) Mall" was created, drawing an ever greater number of visitors to the market. This section was created in 2011 using ideas from the market vendors and young people as a part of the market vitalization project. Under the slogan "to earn moderately and live very well," every store brims with interesting merchandise. The mall, which was once an empty space, offers unexpected delights for visitors to the market and brings vitality thanks to some of its unique items.

From left to right: Kong-namul-gukbap, pi-sundae, fried chicken

If one were to pick a must-travel destination in Korea, many people would say Gyeongju. The entire city of Gyeongju is a historic site that is often referred to as a museum without walls. It has the greatest number of cultural assets in the nation and the culture and history of the ancient Silla Kingdom (57 BC – 935 AD) remains intact. One can say that most of the attractions found in Gyeongju are national treasures.
With the designation of Bulguksa Temple and Seokguram Grotto as UNESCO World Heritages, Gyeongju is seeing a growing number of visitors from around the world. You will have no time to be bored in this city full of things to see, enjoy, and taste.
Visiting a market is a must when you are in Gyeongju. Located close to Gyeongju Donggung Palace and Wolji Pond and Daereungwon Tomb Complex, Gyeongju Jungang Market is conveniently located and welcomes visitors with the kindness of the local Gyeongju people.
Opened in 1900, Gyeongju Jungang Market has over a hundred years of history. Though the market's history continues to carry on, its appearance has changed with the times. The market has an abundance of fresh raw fish brought in from the nearby port city of Pohang, as well as an array of dried fish, fruits, vegetables, marine produce, and meat. The market operates every five days on dates ending with two or seven.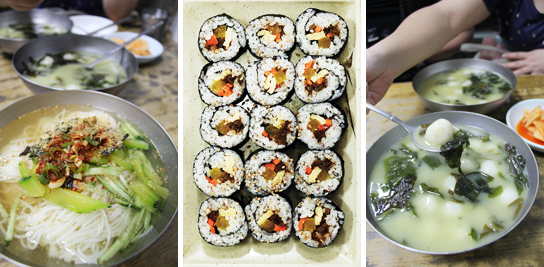 From left to right: Guksu, gimbap, sujebi
♣ Recommended Food: Someori-gomtang (ox head soup), hanjeongsik (Korean table d'hote), hanu (Korean beef), guksu (noodles), gimbap, miyeok sujebi (hand-pulled dough soup with seaweed), etc.

Walking towards the end of the bustling Chuncheon Myeongdong Street, a friendly sign reading "Nangman Market" will stop travelers in their tracks. Nangman (Romantic) Market, the oldest traditional market in Chuncheon, was initially formed by a small group of vendors selling American clothes and products from the nearby U.S. Army base. It was officially designated as a market in 1962, and it has since remained an important part of everyday life in Chuncheon.
To cope with the emergence of supermarkets and changing consumer culture, vendors at Chuncheon Nangman Market searched for ways to revitalize the market. Instead of pushing ahead with environmentally harmful reconstruction plans, they decided to keep the 50-year-old market buildings and alleys in their original form. As a result, the market made a fresh start in 2010 under its new name "Nangman Market" to add a romantic concept to the market space. Art work was hung in the previously murky alleyways and humorous murals were drawn on the market walls, transforming a once plain marketplace to its present-day form.
The first thing that comes into sight as you enter the market is the center aisle packed with stores and stalls selling various daily-use articles such as socks, hats, scarves, hairpins, and more. A variety of performances are held at the Nangman Theater, which utilizes the arcade space of the center aisle, and you can even watch a movie here on summer nights. About halfway along the center aisle, there are alleys to your left and right, each with a distinct atmosphere. The alley to your left is dedicated to stores selling meat, as well as restaurants serving sundae-guk (Korean sausage soup), which makes for a hearty meal. It is here that the ingredients used in cooking Nangman Market's gukbap (rice soup) are made and distributed across the market. There is also a Romantic Lounge for market visitors to take a short rest while looking around. As you take time to enjoy the market scenes and its art work, you will be able to take away special memories in a romantic ambience that is unique to this market.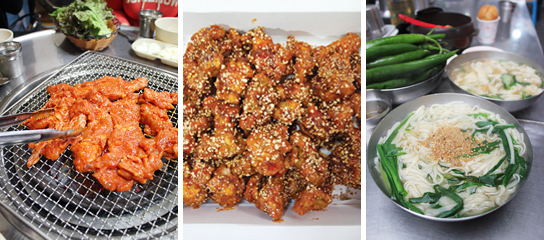 From left to right: Dak-galbi, dak-gangjeong, guksu

Jeju-do, the largest island in Korea, is the one of the best vacation spots in the nation thanks to its subtropical climate and an internationally recognized natural environment. The island's unique charms draw a constant stream of domestic and international visitors all year round. If you would like to experience more of Jeju than just the standard travel destinations, make sure to visit Dongmun Market for a glimpse into local life.
Dongmun Market is a time-honored market with a long history and tradition that showcases the lifestyles of the local people. About 80% of the restaurant owners on Jeju Island purchase food products from this market and most citizens come here to buy quality food such as fish, tangerines, and vegetables. As the market is located close to Jeju International Airport, it is always bustling with tourists who stop by at the end of their trips to have a meal or buy souvenirs.
Also known as a fish market, a public market, and a traditional market, Jeju Dongmun Market is clustered with stores that offer a truly wide range of goods including marine products, living goods, food, and more. It has about 320 stores and services about 10,000 visitors a day. The market is also the end point of Jeju Olle Trail - Route 17 (Gwangnyeong - Sanjicheon), which accounts for even a greater number of visitors.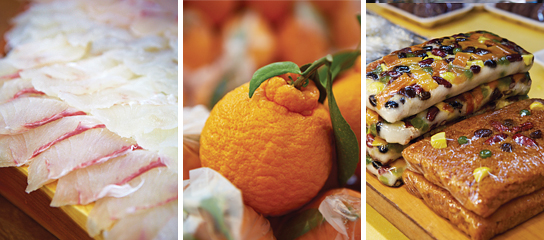 From left to right: sliced raw fish, hallabong, tteok