1. What is the tax refund policy?
Each and every product sold in Korea includes sales tax in the purchase price. These taxes are collected and invested in social welfare for Korean residents. Non-residents, or visitors to Korea, may be eligible for a tax refund on purchased goods they will take out of the country.
◯ Reimbursement:

Value-added tax (VAT) 10%
Luxury tax (e.g., high priced-goods such as jewelry)
◯ Refund Eligibility:

Purchased goods at retail stores designated and registered by the monitoring government ministry, must total 30,000 won or more (inclusive of tax) and be purchased within 3 months of your departure from Korea.
- Must be an foreign visitor who has been residing/visiting in Korea for less than six months; or
- Be an overseas Korean (holder of Korean passport and permanent resident) residing in/visiting Korea for less than 3 months; or
- Be a Korean student studying abroad for three years or more.
**Unavailable Customers: U.S. Armed Forces in Korea, diplomats in Korea, foreigners without passport, those who exceed their visa, foreigners working in Korea and liaisons.
2. Procedures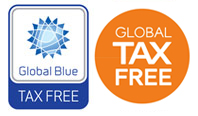 Step 1
Make a purchase of 30,000 won or more at a participating retail store. Participating stores are designated by the "Global Blue Tax Free" or "Global Tax Free" logo. Be sure to keep your VAT refund receipt when purchasing items.
Step 2
At Airports and Seaport Terminals
① Issue your boarding pass.
② Show the purchased goods to the customs officer and get the "All Goods Exported" endorsement on the refund receipt.
③ Proceed to the oversized baggage counter at the check-in area and check-in your bags.
④ After going through customs, proceed to the Refund Counter on the departures floor to get your cash refund.
Other Tax Refund Booths
① Present your purchased goods, VAT refund receipt, passport and international credit card (VISA, Master, American Express) at the VAT refund booth.
② The tax refund will be credited back to your international credit card upon departure or you can get an on-site refund in cash.
<Location of Tax Refund Booths>
*Note: Global Blue and Global Tax Free are two different organizations offering tax free services. Therefore, tax refunds for purchased goods from Global Blue can be made at designated Global Blue centers only, and the same applies for Global Tax Free.
Step 3
If you are at an airport or seaport where there is no refund counter, or if the refund counter is closed, place your forms in the designated mailbox (after receiving your endorsement from customs). Your refund will be sent by post (via money order) or directly deposited to the bank account associated with your credit card. Please allow one or two months for payment.
TIP!
During peak season, around Chinese New Year and other national holiday periods, heavy traffic often creates delays in the customs process, thus getting a tax refund at the designated booths prior to boarding is advised.
3. Other information
Visit the websites for more information.

Global Blue
Website: www.globalblue.com (English, Chinese, Russian)

GLOBAL TAXFREE
Website: www.global-taxfree.com (Korean, English, Japanese, Chinese)

☞1330 Korea Travel Hotline: +82-2-1330 (Korean, English, Japanese, Chinese)

Last updated, March 3, 2014