1. KTO New Delhi Office
The branch office of the Korea Tourism Organization was set up in New Delhi in May 2008 to boost Indian Outbound travelers visiting Korea. KTO India office based in Gurgaon is handling travel-related information about walk-in, telephonic and email queries. KTO India office is disseminating information brochures during our roadshows, product trainings, Consumer activities and walking Indians.

Establishing Brand Image & PR Activities.

KTO India office is running massive advertisement campaign to establish our Brand "Imagine Your Korea" in Indian market. The mode of marketing is through print advertisement in leading Newspapers, potential travel magazines, TV Channels, OOH Marketing. KTO India office is updating all the activities to all the media through press releases.

Relationship Building

KTO India office is continuously working on relationship building with potential partners including Korean Embassy, Korean Culture Centre, KOTRA, Korean Air, Asiana Airlines, Air India, Singapore Airlines, Thai Airways, OTOAI (Outbound Tour Operators Association of India), TAAI (Travel Agents Association of India) and TAFI (Travel Agents Federation of India), Media, Trade Media and Travel Fraternity and other media partners.

Product Training, Product Development & Co-Marketing

KTO India along with airline partnersas well as DMC's is educating Travel agents through product training on regional basis. KTO India is continuously working very closely with most potential Travel agents jointly with Airline partner and DMC'sto bring comfortable and competitive packages on regional basis as per the Indians outbound traveler's expectations. KTO India is doing Co-marketing advertisement campaign with the most potential partners in India.

Fam Trip

KTO India is organizingFamtrip to media partners (Print/TV) and wants to educate Indian travelers through Journalists and producers stories/series in leading newspapers, magazines and TV channels. Equally, KTO India is organizing Famtrip for most potential partners for them to share with their clients and sales pitch.

Exhibition Participation & Consumer Activities

KTO India is participating in important trade and tourism fair, travel marts and exhibitions in different regions of India. KTO India is participating in various consumer activities and doing many consumers engagement activities through KTO India facebook page.

Roadshows

KTO India is organizing roadshow to provide best platform between DMC's and Indian Tour Operator for their knowledge, information and future business.

Indian Film/TV Drama

Indian Movies and TV dramas have major impact on Indian Traveler's outbound decisions. KTO India is trying to convince Indian producers to do shooting in Korea in near future.
2. Visit Us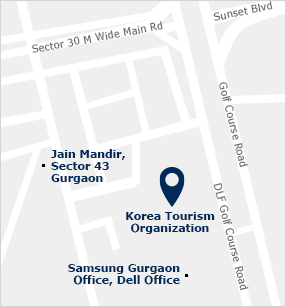 3. Staffs
DirectorByungsun Lee
Deputy DirectorMyongkil Yun
Marketing ManagerSandeep dutta
Assistant Marketing
ManagerVanshika Kapoor
Administration
OfficerRuhiKumaria