1. KTO New Delhi Office
The India office of the Korea Tourism Organization (KTO) was set up in New Delhi in May 2008 to promote Korea as a destination for travel and to boost Indian Outbound travelers visiting Korea. KTO India office based in Gurgaon is handling travel-related information about walk-in, telephonic and email queries. KTO India office is disseminating information brochures during our roadshows, product trainings, Consumer activities and walking Indians.

Brand Image & PR Activities.

KTO India office regularly runs various advertisement campaigns to popularize Korea as a travel destination and to establish the brand "Imagine Your Korea" in the Indian market. To reach out to a wide audience, various modes of marketing are employed, which include leading print, TV and Online channels. KTO India office also regularly updates the media about their various activities through press releases.

Relationship Building

KTO India office works continuously on relationship building with existing and potential partners including Korean Embassy, Korean Culture Centre, KOTRA, Korean Air, Asiana Airlines, Air India, Singapore Airlines, Thai Airways, OTOAI (Outbound Tour Operators Association of India), TAAI (Travel Agents Association of India) and TAFI (Travel Agents Federation of India), Media, Trade Media and Travel Fraternity and other media partners.

Product Training, Product Development & Co-Marketing

Along with DMCs and Airline partners, KTO India regularly conducts Product Training for Travel Agents on a regional basis. KTO India works closely with various Travel Agents to introduce new and interesting tour packages for the Indian market. Co-marketing with travel partners in the form of advertisement campaigns (print, TV and Online) is also frequently done to boost awareness in the Indian market.

Fam Trip

KTO India organizes Fam trips for media partners (print, TV and online) to spread awareness about Korea to Indian travellers through interesting stories and articles in leading newspapers, magazines and TV and Online channels. Additionally, Fam trips are also organized for Travel partners to help them gain first-hand experience of the destination and to make them aware about new products.

Exhibition Participation & Consumer Activities

KTO India regularly participates in key trade and tourism fairs, travel marts and exhibitions in different regions of India. KTO India also participates in various consumer engagement activities through social media and through events like Korea Festival.

Roadshows

KTO India organizes roadshows to provide a convenient platform for various travel partners like travel agents, DMCs and Airlines, etc. to exchange knowledge and information for successful business endeavours.

Film/TV

KTO India pioneered the sponsorship of Korean Blockbuster drama 'Descendants of the Sun' which aired on premium Indian entertainment channel Zindagi. More such projects are also in the pipeline for the near future.
2. Visit Us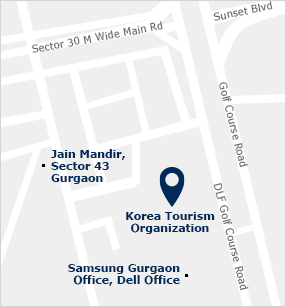 3. Staff
DirectorJong Sool Kwon
Deputy DirectorJae Hyoung Kim
Marketing ManagerSandeep dutta
Manager – Trade &
Public RelationsVanshika Kapoor
Marketing OfficerAufrin Rahman
Administration
OfficerRuhi Kumaria