The Basics of cooking Korean Food

---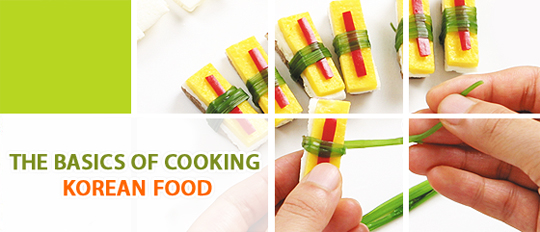 1) Mustard Sauce

Mustard sauce is a seasoning served with vegetables and fermented salads. Mix 1 part mustard powder to 2 parts warm water (about 40º℃). Let it ferment for 1 hour at room temperature, or in a warm steaming pot for 10 minutes. Fermented mustard is used for gujeolpan, gyeojachae, and other seasonings. Fermented mustard is spicier than raw mustard.
2) Soy Sauce Seasoning

Soy sauce seasoning is used for beef dishes. For 300 g of beef, mix the following ingredients thoroughly: 36 g (2 tbsp) soy sauce, 12 g (1 tbsp) sugar, 14 g (1 tbsp) minced green onion, 16 g (1 tbsp) minced garlic, 3 g (½ tbsp) sesame seeds, 0.5 g (1/5 tsp) ground black pepper, 13 g (1 tbsp) sesame oil. Korean pear juice and/or green onion juice may be added (for bulgogi seasoning).
3) Vinegar Soy Sauce

Vinegar soy sauce is a dip for fried dishes. Mix 18 g (1 tbsp) soy sauce, 15 g (1 tbsp) vinegar and 15 g (1 tbsp) water thoroughly.
4) Vinegar Red Pepper Paste

Vinegar red pepper paste is a seasoning mainly for raw fish. Mix 38 g (2 tbsp) red pepper paste, 15 g (1 tbsp) vinegar and 6 g (½ tsp) of sugar thoroughly.
5) Yaksik Sauce

Heat 24 g (2 tbsp) of sugar in a pot for 3 minutes on medium heat. When the sugar is melted, mix in 4 g (1 tsp) of edible oil. When the liquid turns brown, add a slurry of 2 g (½ tbsp) starch (such as corn starch) and 45 g (3 tbsp) warm water. Boil for about 1 minute while stirring.
6) Gangjeong Syrup

Heat 5 g (1 tsp) water, 12 g (1 tbsp) sugar and 28.5 g (1½ tbsp) glutinous starch syrup in a pot for 1 minute on medium heat.


* Source: The beauty of Korean Food: With 100 Best-loved recipes by Institute of Traditional Korean Food



---