Korea has a wide assortment of food and every province boasts its own specialty that lures of large crowds to come enjoy the regional cuisine. Visitors can not only enjoy delicious Korean food from the food-themed streets found nationwide but also have a deeper understanding of the local culture and culinary traditions. Read on to find the list of 14 food-themed streets that offer Korea's best locally-crafted cuisine!
Seoul

The Sindang-dong Tteok-bokki Town you see today was built in the late 70s, though this food-themed street has had its best days in the 80s. From middle-aged people who are reminiscent of the good old days when tteok-bokki (stir-fried rice cake) was a main staple to young people today who simply enjoy this street food, the Sindang-dong Tteok-bokki Town is always bustling with visitors.

The sauce that is used differs by stores and thus every tteok-bokki restaurant has its own unique flavors to offer. Some restaurant uses a mixture of gochu-jang (red chili paste) and chunjang (fermented soybean sauce boiled to color caramel). Moreover, basic ingredients such as eggs, ramyeon, dumplings, fish cake are primarily sold in a set menu but customers can also customize the dish by adding or removing any toppings of their choice.
Gangwon-do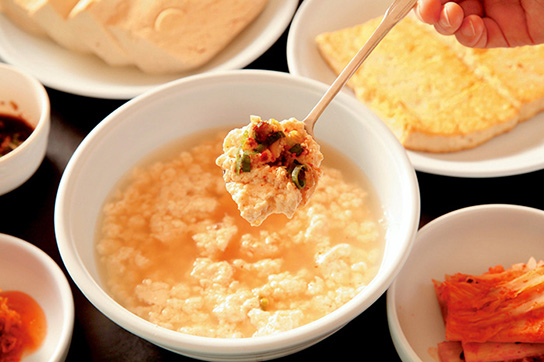 It was at the end of the 1970s that the first sundubu (soft tofu) restaurants began to open in Chodang Village as a way to endure the harsh poverty by making sundubu to sell and for delivery. Today, their businesses continue to prosper and they no longer sell food to make ends meet but because most of the restaurants are family-run, passed down from generations.

Chodang sundubu is the pure form of soft tofu that is served in a large bowl without any condiments. It is up to one's preference to add the soy sauce or not. For a soft and original taste, try eating the sundubu without any condiments.
Jeollabuk-do
Namwon-si Chueo-tang Street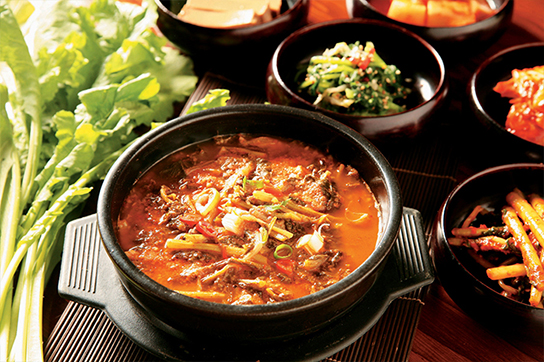 Namwon is not only famous for the tale of Chunhyang (Chunhyangjeon – Korean version love story of Romeo and Juliet) but also as the home of chueo-tang (loach soup). The Chueo-tang Street in Cheongeo-dong is lined with loach soup restaurants.

Loach is a health food that is best in the fall. What made Namwon Chueo-tang famous in Korea is because of its favorable environment for the growth of loach, with Jirisan Mountain and tributary of Seomjingang River flowing along to the Namwon Rivers. When eating the soup, eat the solid ingredients of the soup first and then have the broth with some rice, instead of putting all of the rice in the soup at the beginning. The soup also goes well with well-fermented kkakdugi (diced radish kimchi) and baechu-kimchi (kimchi).
Daegu
Anjirang Gopchang Town

Anjirang Gopchang Town in Daegu boasts an impressive 40-year history, which began when one gopchang (beef/pork tripe) restaurant after another opened on one side of the market. Today, gopchang restaurants naturally fill up both sides of a 500-meter long alley.

By either using traditional Korean medicinal herbs to give the dish more flavors and fragrance, or by inventing a special sauce, it takes great effort for the restaurants in Anjirang Gopchang Town to come up with something special in order to differentiate their eatery from the others. Additionally, the use of various heating power such as grilling over briquet fire, charcoal or natural gas is the secret to the creating different tastes.
Busan

Located in Millak-dong, Busan, Millak Raw Fish Town is a street with about 300 hoe (raw fish) restaurants that offer fresh raw fishes at inexpensive prices. Originally founded as a typical traditional market, the area has slowly transformed into a raw fish town and the restaurants located here are famous for the magnificent night views of the Busan Gwangandaegyo Bridge that you can get by looking out of the windows.

The way to order your food at the Millak Raw Fish Town is a little different from the usual way to do so at a typical seafood restaurant. You may purchase fish on the 1st floor of a raw fish center and then proceed to one of the restaurants located from the 2nd floor through the 10th floor (varies by buildings). The staff at the restaurant will then slice the fish that you had picked and serve it with sauce and some side dishes for a small charge. As most of the restaurants do not accept credit cards, you are advised to prepare cash when you visit here.
Gangwon-do

About a hundred meters away from the Central Rotary in front of Chuncheon City Hall is Chuncheon's famous Myeongdong Dak-galbi (spicy stir-fried chicken) Street. The street was formed in the late 1950s. In the early days, the chicken was grilled on a gridiron over a charcoal fire. However, the current form, which looks and tastes slightly differ from its origin, of dak-galbi where chicken is stir-fried with vegetables emerged in the 1980s.

The appearance of this dish on television made Chuncheon dak-galbi famous across the country. With the rise in international tourists visiting Namiseom Island recently, a growing number of tourists from Taiwan, Hong Kong, China, and Japan have visited the Dak-galbi Street for a taste of this scrumptious dish.
Jeollanam-do
Damyang Juksun (Bamboo Shoot) Food Village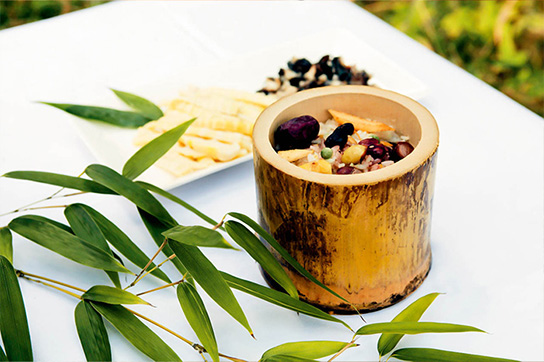 Damyang in Jeollanam-do is the home to the most number of bamboos in Korea. A variety of bamboo shoot cuisines such as steamed rice in a bamboo stem are available at the Damyang Bamboo Shoot Food Village.

The Juksun Food Village in Damyang is situated near Juknokwon (Bamboo Garden). It is a street of restaurants selling a variety of juksun (bamboo shoot) dishes and daetong-bap (steamed rice in bamboo stem). The bamboo shoots of Damyang have tight tissue and high amino-acid content, resulting in good texture and flavor. The juksun-hoe (fresh, thinly sliced bamboo shoots parboiled) is eaten dipped in a vinegary red chili sauce, but fresh bamboo shoots can also be eaten seasoned with red chili sauce with freshwater snail or squid.
Gyeongsangbuk-do

Yeongdeok Crab Village is a typical fishing village blessed with the natural beauty of the mountains and East Sea, located on the east coast of Gyeongsangbuk-do. There are about a hundred snow crab restaurants in Gangguhang Port, which has remained the center of the Yeongdeok snow crab scene since King Taejo of Goryeo Dynasty, and is now one of the top tourist destinations in the East Coast.

During the season of snow crabs, which lasts for about seven months between November and May, the area bustles with local and international tourists visiting for a fresh snow crab meal. Visitors can experience both romance and various cultural activities of the fishing community.
Gyeonggi-do
Gwangju Namhansanseong Baeksuk Street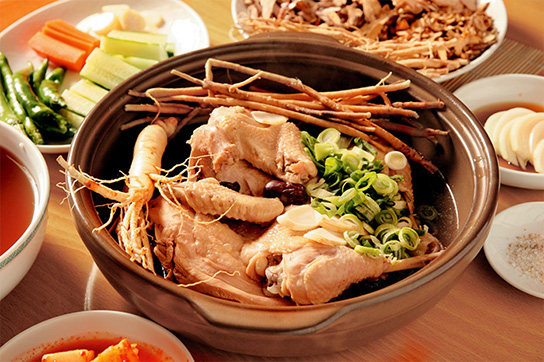 Baeksuk Street is a place located in Namhansanseong Provincial Park, where restaurants specializing in dak-baeksuk (whole chicken soup) are gathered. Dak-baeksuk is a traditional Korean health food, not too overpowering in smell, and the chicken is stuffed with ginseng, jujube, garlic, herbal medicinal ingredients and glutinous rice and left to boil for an extensive amount of time.

Much thanks to the beautiful scenic views of nature in Namhangseong Provincial Park, many people enjoy having this healthy dish here. In particular, large groups of customers who came to play volleyball, football and other forms of sports, tend to visit because of the spacious yard available. Take a walk around the UNESCO Cultural Heritage crowned Namhansanseong Provincial Park, and have a great taste of the nutritious chicken soup to satisfy your hunger toady!
Gyeongsangbuk-do
Pohang Gwamegi and Mul-hoe Street

There are about 50 or so restaurants in the vicinity of Guryongpo Port in the south of Pohang. On the menu are fresh raw fish, octopus, abalone, and gwamegi (dried saury), and mul-hoe (sliced raw fish and vegetables mixed in a spicy cold broth). Of them, the representative dishes of Pohang are gwamegi and mul-hoe.

Mul-hoe is made of fish with a less strong "fishy" taste like halibut and rockfish. It is popular for its refreshing broth and the fresh raw fish. The taste largely depends on the sauce that goes in the broth. Gwamegi is a winter delicacy, so most restaurants would not use the word "gwamegi" for their restaurant name, but would instead reference the words for fresh raw fish or snow crab. When gwamegi is in season, the dish can be found in almost all restaurants in the area.
Jeollanam-do
Hampyeong Cheonji Hanu Bibimbap Street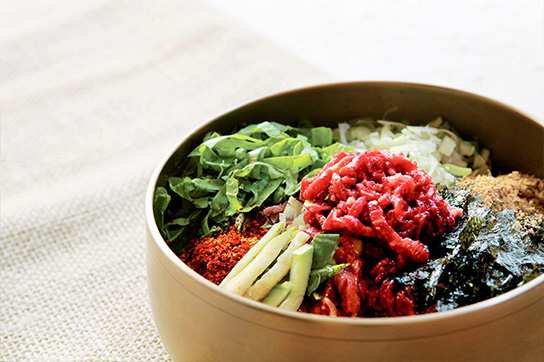 As nation's first hanu beef industrial special district, Hampyeong is where hanu beef is particularly known for its tender texture. Cheonji Hanu Bibimbap Street is located in downtown Hampyeong, with restaurants offering yukhoe (beef tartare) and yukhoe-bibimbap. Yukhoe is made with julienned fresh raw beef seasoned in soy sauce, sugar, and pepper. The tenderness of the beef mildly infused with Eastern medicinal herbs is a true delicacy.

Yukhoe-bibimbap is rice topped with yukhoe beef, bean sprouts, spinach, and other vegetables. It is mixed with a sauce of gochu-jang (red chili paste), sesame seed oil, and garlic. The dish is especially tasty when accompanied with the chewiness and nuttiness of the beef.
Gangwon-do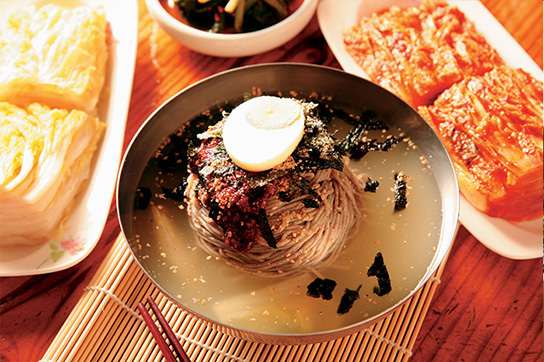 Buckwheat's prominence in Pyeongchang, Gangwon-do comes about largely from its pristine nature. The culinary hero, buckwheat, memil in Korean, comes in different varieties including memil-guksu (buckwheat noodles), memil-muk (buckwheat jelly), memil-buchim (buckwheat pancake), and memil-kkotsul (buckwheat flower).

Interestingly, the restaurants specializing in these menus are not centered together unlike other food-themed streets, rather found sparsely dotted throughout the village. Wherever you choose to go in, you're guaranteed to be offered with the tastiest memil dishes.
Daegu
Pyeonghwa Market Chicken Alley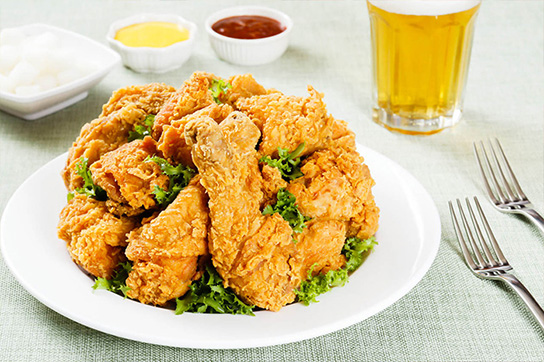 The Pyeonghwa Market Chicken Alley has a history of 40 years and it boasts as the place where most Daegu citizens would have visited without a doubt. This is a place where you can taste chicken cooked in variety of ways.

The inexpensive menu price that is offered in the Pyeonghwa Market Chicken Alley began in the 1970s, when fried chicken is sold relatively cheaply to laborers who consume it as a side dish with alcohol. The notion continues today, making the inexpensive yet generous servings one of the reasons for its popularity. As a special street with the specializes in selling chicken gastronomy, the Pyeonghwa Market Chicken Alley is the host venue for the Daegu Chicken and Beer Festival held every Summer since 2013.
Jeollanam-do
Yeongam Dokcheon Octopus Street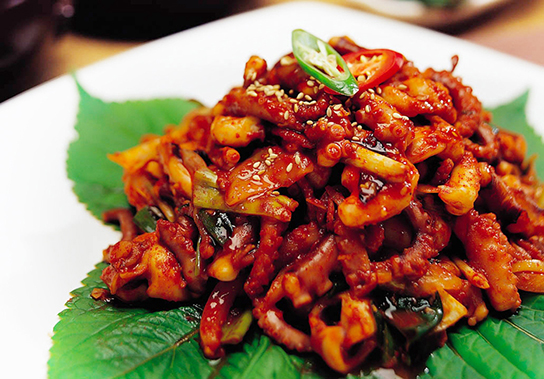 Dokcheon Octopus Street is made up of 30 restaurants selling various version of dishes uding fresh octopus, caught from Yeongsan River Estuary, including horong-nakji (octopus stick) and gallak-tang (beef rib and octopus soup) and so many more.

Before the building where Estuary Bank was built along Yeongsangang River, octopus from Dokcheon mudflat was rated as the top. Though the mudflat is no longer available today, the fame remains for Dokcheon Octopus Street. Besides gallak-tang, a variety of octopus-made dishes such as yeonpo-tang (octopus soup) and nakji-bokkeum(stir-fried octopus), nakji-muchim (spicy octopus salad), san-nakji (sliced raw cctopus) and nakji-gui (grilled octopus) are also available in the Dokcheon Octopus Street.
* This column was last updated in October 2015, and therefore information may differ from what is presented here. We advise you to check details from the official websites before visiting.
<Last updated on October 2, 2015>