Traditional Teas

---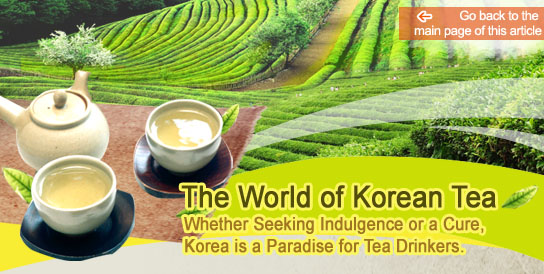 Grain-based Tea
Yulmucha (율무차, Adlay tea)
A perennial plant of the family Poaceae, yulmu (aka, Adlay or Job's tears) is a healthy grain with a higher protein and fat content than rice. The grains of yulmu are dried and ground into a powder, which is then added to boiling hot water. Valued by Koreans as a healthy pick-me-upper, the tea can be purchased in powdered form in grocery stores. It is also widely available in coffee vending machines.

* Recipe: Dry the grain of yulmu and grind it into a powder. Mix into boiling hot water.

Purchasing Information
Yulmucha is available for purchase in powdered forms in department stores, supermarkets, or local markets. It is also served in traditional teahouses.

Boricha (보리차, Barley tea)
Boricha is roasted unhulled barley tea that has a nutty flavor which sets it apart from other Korean grain-based teas. Not only does barley fiber activate bowel movement and help stop diarrhea, it is also believed to help hydrate the body, especially in people who are weak and perspire heavily. Nowadays, boricha is readily available in teabag form in grocery stores and in many households serves as a substitute for plain water. To enjoy, simply put a few teabags in water and simmer for about 30 minutes.

* Recipe: Roast unhulled barley and boil in water. Serve hot or cold.

Purchasing Information
Boricha can be purchased in supermarkets in teabag form.
---